"Faces of the Brave." How proud Las Vegas is of Las Vegan Randy Soard who put together a magnificent photo mosaic of the "FACES OF THE BRAVE" of the terrible 9/11 tragedy. "Faces of the Brave" artwork is a photo mosaic of images provided by the surviving families and is the only known 9/11 Memorial tribute legally authorized by the estate administrators of the fallen heroes of 9/11. It took five years to obtain legal permission from the surviving families and to create the artwork.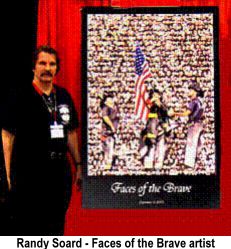 "Faces of the Brave" is a meaningful expression of heartfelt gratitude to the fallen "Heroes" of 9-11. "Faces of the Brave" was shown on Times Square in New York during the 10th anniversary of 9/11. Thank you, Randy Soard.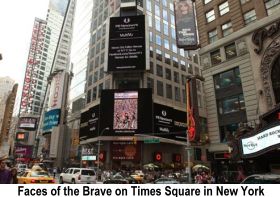 THE TEMPTATIONS – Otis Williams, Bruce Williamson, Terry Weeks, Ron Tyson and Joe Herndon bring classic Motown back to THE ORLEANS Showroom, September 30-October 2 at 8 p.m.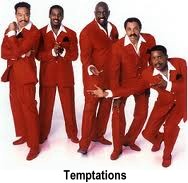 For more than 40 years, The Temptations have shined as pioneers of popular music with decades of smash hits and sold-out performances. THE TEMPTATIONS are central characters in the history of contemporary American pop, an essential component of the original Motown machine invented by Berry Gordy. Beyond their fabulous singing, The Temptations became known for smooth stepping and flawless presentations. The Temptation Walk became the staple of American style, flair, flash and class.
Guess who's coming to town? Enrique Iglesias, hot off the heels of an American Idol appearance, just announced a 25-stop tour to include the Amphitheatre at RED ROCK RESORT on Oct. 8. The show will feature Enrique Iglesias with special guest Pitbull. Tickets are hot and going fast. Call:702.547.5300.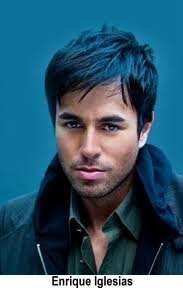 The bustling Downtown Las Vegas area is always packed with tourists on the street looking for fun things to do and they are out in full force both day and night. So, An Evening at La Cage at the FOUR QUEENS HOTEL/CASINO has decided that Saturdays and Sundays would be a perfect time to provide an afternoon show to give those crowds a great place to go. Now, An Evening at La Cage has added a 4 p.m. matinee to its schedule every Saturday and Sunday. Other show times of An Evening at La Cage are 9 p.m., Wednesday through Sunday.
La Cage is a high-energy, glitzy production that showcases top female impersonators who perform astounding impressions of the world's most famous stars, and also features the extraordinary comedic talents of Jimmy Emerson who not only hosts the show, but appears as some of the funniest and most unforgettable characters imaginable..
Good News! As First Friday Las Vegas approaches its nine year anniversary, new ownership promises to take the outdoor festival to a new level. The monthly event, which has anchored the 18b Arts District in downtown Las Vegas, will continue on Friday, Oct. 7, 2011, following its brief summer hiatus. The new ownership group, FIRST FRIDAY, LAS VEGAS, LLC, includes Zappos.com executives Tony Hsieh, Fred Mossler and Steve Hill, as well as downtown developer Andrew Donner and Vanas. First Friday founder Cindy Funkhouser and Whirlygig Inc. will consult on the event for the next two months to ensure a smooth transition.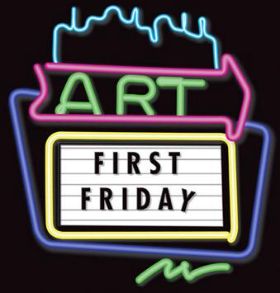 The city of Las Vegas has been a longtime partner with the private sector for First Friday. The outdoor event is anchored around Casino Center and Charleston Boulevard, and over the years has expanded to different areas of downtown. The new owners will bring the necessary resources and infrastructure to help the event grow into a larger, more diverse destination festival.
Oldies are goodies! Legendary comedy legend, 89 year-old Marty Allen is returning to the Louie Anderson Theater at PALACE STATION for a group of weekend performances, beginning Saturday, September 24. Allen is scheduled to perform on Sept. 24 and 25, Oct. 15 and 16, Nov. 12 and 13 and Dec. 10 and 11. Allen and his wife of 25 years, Karon Kate Blackwell, perform together.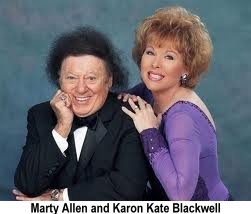 Marty Allen got his start in the comedy world performing at nightclubs while going to college during the day. It became so lucrative for him that he eventually quit college to pursue comedy full time. It was shortly thereafter that he became part of the popular '50s comedy duo Allen and Rossi with fellow comedian Steve Rossi. All shows begin at 4 p.m. Tickets begin at $49.95 Locals and Station Casinos hotel guests receive a $15 discount.
Opera was glorious when Giacomo Puccini's TOSCA was performed by three principles of the Metropolitan Opera - Elizabeth Blancke-Giggs, Soprano, Raul Melo, Tenor and Daniel Sutin, Baritone and featured Conductor, Gregory Buchalter from the Metropolitan Opera. This was OPERA LAS VEGAS' production that took place at The College of Southern Nevada's Nicholas Horn Theatre and also featured a brilliant cast of local and other guest artists.
This Opera was presented quite differently than most Opera productions, as the full orchestra was onstage and the Opera was presented in front of them. Although the settings were sparse on a small stage that had so much going on, the storyline and excellent performances overcame any lavish settings that are often part of Opera productions. Costuming was done quite well too. OPERA LAS VEGAS is to be congratulated on this fine production.
HOOTERS CASINO has a hot new topless show called RAACK N ROLL. RAACK N ROLL teases audiences every Friday-Sunday night at 8:30pm in the Night Owl Showroom. Not your typical topless show, as the women of Raack N Roll become everything from nurses to school teachers while dancing to some of the greatest rock songs of all time. The show also features comedy impressionist Robert Nash.

PBR ROCK BAR & GRILL at Miracle Mile Shops in PLANET HOLLYWOOD just celebrated their first anniversary in fine style. What a fun place this is with entertainment, a daunting, hydraulic mechanical bull to try riding on, an outdoor patio facing the Strip and great food and drinks that accompany a great crowd having a great time. It's also time for all die-hard football fanatics to enjoy the start of a new and exciting football season on Monday Night Football. There are 105 HD-TVs at PBR Rock Bar & Grill Bar's. The popular Strip-side eatery features a special football menu for patrons. Try it; I'm sure you will like it.
The CALIFORNIA HOTEL/CASINO will host an all-you-can-eat buffet and concert with Amy Hanaiali, beloved Hawaiian vocalist, songwriter, composer and performer, Sunday, September 18, from 10 a.m. to 2 p.m. Hanaiali has released 10 albums, three of which have earned her Grammy nominations for Best Hawaiian Music Album. Her second album, "Hawaiian Tradition," ranked on the World Billboard Charts, a first for an album written solely in the Hawaiian language. She has won 15 Na Hoku Hanohano Awards, including Female Vocalist of the Year four times.
"DO BIG GIRLS CRY? ARE YOU A RUNAWAY OR A WANDERER?" If so you'll love The Bronx Wanderers. From Doo Wop to Dion, this group pumps out the heartfelt '50s and '60s street harmonies so beautifully...BIG GIRLS DO CRY. Having taken the Eastern Seaboard by storm, this will be their first time to appear in Las Vegas. You can enjoy them at the SOUTHPOINT CASINO SHOWROOM on September 20 at 7:30 p.m.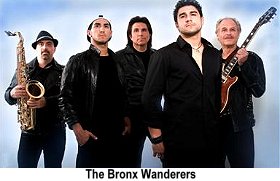 With superlative vocals and musicianship, dynamic enthusiasm and a genuine love of the music they perform, The Bronx Wanderers through their own spin, recreate the magic of that era and build an energetic bond with their audience, guaranteeing an evening of toe-tapping, hand clapping and dancing lasting the length of each and every performance.
An all Italian family, Bronx Wanderers is comprised of Vinny on lead vocals, Vinny "The Kid" on keyboard, Nicky "Stix" on the drums, Jimmy Frascassi on lead guitar, and John Tutino on various woodwind instruments. If you enjoy the Jersey Boys you'll love the Bronx Wanderers. Show Time: Prices: $20, $25, $30 Call Box Off. 1-866-796-7111

The 32nd Annual SAN GENNARO FEAST once again features a "Taste of Great Entertainment nightly with a lineup of elite Las Vegas entertainers hosted by entertainment director and performer Tony Sacca, who has been part of the feast for more than 25 years. I go every year and this year promises to be better than ever. This annual feast, which is "A Love Affair with Little Italy" honoring the patron saint of Naples, Italy, is now at the RIO in the northeast parking lot located off Twain between Dean Martin Drive and S. Valley View, Sept. 13-18. You can also enjoy great food, exciting shopping, children's carnival rides and so much more.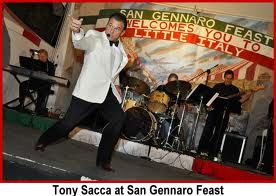 Every day, complimentary entertainment begins at 4 p.m. on the main stage featuring Philly Cuzz followed with traditional Italian folk music until 8 p.m. Nightly traditional Italian folk music 5 to 8 p.m. with Ciro Giorgio, Tony De Bruno, Enzo Selvaggi, Emilio Baglioni and Tony De Bruno. Headliners follow with TV personality/entertainer TONY SACCA hosting Las Vegas' finest entertainers backed by the Michael T Orchestra.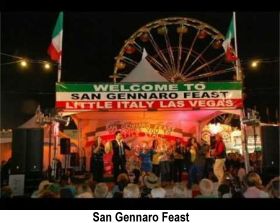 The event's Grand Marshals are "The Rat Pack Is Back" featuring two Italians – Frank and Dean, one Sicilian Sammy, and one "Jew" – Joey. Back for her fourth year is Grand Lady, Lena Prima, daughter of legendary Louis Prima. Also appearing: Greg London, Dick Contino, Mark Giovi, Chris Lista, Domenic Allen, Kevin Burke, Rick Faugno (Jersey Boys), Kim Styles, Tony Pace, Matt Lewis as Elvis, Dennis Bono, "Nunsense" the musical, Motown Divas, Nellie Norris as Cher, Amanda Kaiser as Pat Banatar, Gina Diane, Dian Diaz, Martin Andrew as Rod Stewart, Zowie Bowie, Dangerous Curves, Kelly Sheehan/Deanne Sheehan, LJ Harness, Jeneane Marie, Shades of Sinatra, plus more. WOW!
Every evening there's a game show give away with Mark Richards followed by different well-known groups: Déjà Vu Band, The Bronx Wonderers, Guilty Pleasures, State of The Art and the Patty Janura Band rocking out with dance music until closing. On Saturday evening, Terry Forsythe's tribute to the Temptations and Supremes will do the closing honors. The event goes from 4 – 11p.m. Tuesday -Thursday; 4 p.m. – midnight on Friday; 11 a.m. – midnight on Saturday; and 11 a.m. – 11 p.m. on Sunday. There is free parking in the Masquerade Garage and self-parking. Tickets are $8 for adults and $7 for seniors at the gate with $6 coupons on the Website www.sangennarofeast.com. Children 54 inches and under are free.
Disney's Phineas and Ferb: The Best LIVE Tour Ever! The Danville Tri-State Area Gang come to the Orleans Arena with a high-energy ride through their wildest invention yet in Disney's Phineas and Ferb: The Best LIVE Tour Ever! The tour brings Phineas, Ferb, Candace, Isabella, Baljeet, Buford and friends to the stage as they make the most of the last day of summer by building an invention bigger, better and more amazing than ever. Six performances are scheduled from September 30 through October 2. Friday, September 30 at 7 p.m.; Saturday, October 1 at 4 p.m. and 7 p.m.; and Sunday, October 2 at 12:30 p.m., 3:30 p.m. and 6:30 p.m.
JEWISH COMMUNITY CENTER of SOUTHERN NEVADA will celebrate its one-year anniversary at its home in Summerlin on Sunday, Sept. 25 from 1 p.m. to 4 p.m. The event is open to the public, and JCC of Southern Nevada will highlight all of its programs and activities by giving guests a "Taste of the JCC." Free activities for all ages, complimentary cake and live entertainment by AMERICA's GOT TALENT finalist and Acrobatic Magician Seth Grabel are just some of the highlights of the one-year anniversary festivities. In addition to Acrobatic Magician and America's Got Talent finalist Seth Grabel, the cast of VIVA OY VEGAS, teen rock group GUNSHOW and more will provide entertainment throughout the event. JCC of Southern Nevada is located at 9001 Hillpointe Rd, Las Vegas.
I went to see LOVE 2 DANCE at the SOUTHPOINT showroom because my friend who was a showgirl dancer in the Lido wanted me to write about it. I thought: "Well, another dance show I guess it will be good." Good, no, it was fabulous. Not only the dancing which was sensational by an all professional cast, but the singing and stories that the dancing was applied to was so interesting, inspiring and thought provoking, that it even brought tears. I am happy to say that this show will be presented again October 2 at the SOUTHPOINT. I didn't even know about it before, but somehow it was sold out. And I hope more people will now be aware of this show, as it is exceptional.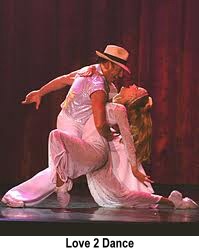 Due to the renovation of SUNSET PARK, THE AGE OF CHIVALRY RENAISSANCE FESTIVAL will move to SILVER BOWL PARK, located at 6800 E. Russell Road, to celebrate its 18th year. The location may be different, but the favorite costumed knights, knaves, fine ladies and wenches will be the same when Clark County Parks and Recreation presents the festival Friday, Oct. 7 through Sunday, Oct. 9.
Tempest, Wicked Tinkers, Lexington Field and Mullaney will headline the main Royale Miller stage at the festival this year. Several smaller stages will feature entertainment with costumed performers presenting more than 50 shows per day along with historical re-enactments, jousting tournaments, medieval pageantry and more than 100 artisans. Along with concerts all weekend, the fair will host a royal parade with kings, queens, warriors and peasants on Saturday and Sunday.
The festival is open from 10 a.m. to 10 p.m. Friday, Oct. 7; 10 a.m. to 10 p.m. Saturday, Oct. 8 and 10 a.m. to 5 p.m. Sunday, Oct. 9. Admission is $10 per day for adults and $5 per day for seniors and children ages 5 to 12, ages 4 and younger are free. Three-day passes are $25 for adults and $10 for children, ages 5 to 12, and seniors, ages 55 and older. VIP Passes are available for $50 per person, which includes a three-day pass, an event T-shirt, event poster, access to a private VIP parking lot close to the entrance, plus discounted beverages at the Miller VIP booth (must be 21+). All tickets are available through Ticketmaster.
The NEVADA BALLET THEATRE has announced that EVA LONGORIA will be honored as Woman of the Year 2012 at their Black & White Ball at ARIA on January 28, 2012. Tickets are now on sale as this is always a sold-out spectacular event. Last year's honoree was Pricilla Presley. For information and reservations call: 702 243 2623 ext. 230.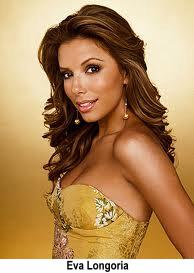 The inaugural Broadway Las Vegas series at THE SMITH CENTER for the PERFORMING ARTS finds early support from the community, as the first two weeks of season ticket sales have exceeded expectations. Broadway touring productions of THE COLOR PURPLE, Disney and Cameron Mackintosh's MARY POPPINS, MILLION DOLLAR QUARTET and MEMPHIS will be featured in the spring and summer of 2012. Season tickets for the Spring/Summer 2012 Broadway Las Vegas series are available for $139, $229, or $309 – FOR ALL FOUR SHOWS, depending on seating preference. Prices include any/all sales tax and handling fees. Individual tickets for the Broadway Las Vegas series will go on sale this November, after subscription sales come to an end. Tickets can be purchased by visiting www.thesmithcenter.com or by calling (702) 982-7805. These robust ticket sales validate the assumptions that there is an audience for high quality arts and entertainment in Las Vegas. Construction of The Smith Center remains on-time and on-budget.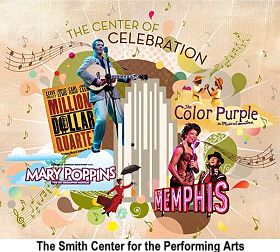 More good news from the SMITH CENTER: EXPERIENCE LEGENDARY JAZZ IN LAS VEGAS CABARET JAZZ WILL MAKE ITS DEBUT AT THE SMITH CENTER FOR THE PERFORMING ARTS. Jazz greats and cabaret stars from around the globe will now have a home in Las Vegas when Cabaret Jazz at The Smith Center for the Performing Arts opens in March 2012. Inside the Boman Pavilion, the new venue will feature a regular schedule of the top performers in an intimate club setting designed for live music. Jazz artists already scheduled to perform include the San Francisco Jazz Collective and Branford Marsalis, cabaret stars include Barbara Cook, Andrea Marcovicci and Las Vegas' own Clint Holmes who will begin a monthly residency the first weekend of every month. In addition to his performance commitments at The Smith Center, Clint Holmes will also play a key role in The Smith Center's community and education outreach programs. Tickets will go on sale later this fall. .
VOLUNTEERS in MEDICINE founded by Dr. Florence Jameson, is having their 3rd annual Ball on October 1 at THE PALAZZO. This wonderful organization is a nonprofit, Volunteer run Medical Clinic that fosters a "culture of caring" by providing free health care and wellness services to the working uninsured and unemployed residents of Southern Nevada. At the Ball there will be special performance by Phantom Stars Kristen Hertzenberg and Bruce Ewing. For information, contact Cristina Moon at 702 498 7510.
The SOLUTIONS FOUNDATION is a nonprofit organization that provides awareness, education and treatment to members of the community regarding alcohol and drug abuse. SOLUTIONS FOUNDATION does this in an attempt to strengthen communities and lessen the burdens of government within the state of Nevada. To this end, the SOLUTIONS FOUNDATION is having their 5th annual Reception in a magnificent home on October 19. Solutions President Dave Marlon will be there with Special Guests, former First Lady, Dawn Gibbons and Channel 3 News Anchors, Kim and Dana Wagner. For more information call: 228 – 8520 or email fchapin@carecoalitionnv.org.
Friends of the Israel Defense Forces (FIDF) raises funds for a broad array of projects and programs that the State of Israel cannot provide to the young men and women who serve in its armed services. FIDF eases the soldier's burden in times of crisis and provides educational, social, recreational, and cultural services in times of peace. FIDF programs fund educational scholarships; provide social services and financial aid to distressed young soldiers to help their families stay afloat; and support special programs for the children and families of fallen soldiers.
This year, FIDF will host an inaugural dinner in Las Vegas which will take place on Tuesday, October 4th at CAESARS PALACE. The evening will begin with a cocktail reception at 6:00 pm followed by dinner and program beginning at 7:00 pm. Tickets are $150. For more information and reservations, please contact FIDF Western Region Maura.chwastyk@fidf.org Tel: 323-843-2690.

CONTINUE ON TO...:
> Entertainment Tidbits Archives
>Las Vegas News - "Heard Around Town"
>Las Vegas Leisure Guide<