How proud can we be? Tremendously proud! We are the world's Olympic Champions. America has shown the world how wonderful our athletes are and with that, how wonderful America is. Congrats to all our great Olympians and especially the gals who even out won the guys.
Have you ever been to the Shark Reef Aquarium at MANDALAY BAY? Jack Jewell serves as the General Curator and oversees the department of Animal Husbandry, which includes the care of more than 2,000 dangerous animals ranging from Sharks and Piranhas to a Golden Crocodile and Komodo Dragons.
Most people don't realize that there are more than 400 species of Sharks that range in size from six inches in length and weighing less than a pound to 21 feet in length and weighing more than 2,000 pounds.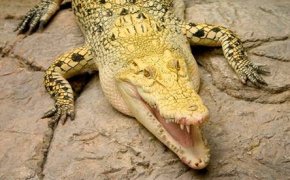 The most common misconception about Sharks is that they are non-stop eating machines. The fact is, the average large Shark – such as the Shark Reef Aquarium's Sandtigers or Sandbars Sharks, eat only one-half to two percent of its total body weight every seven to ten days. This is comparable to a human eating only one small hamburger per day. And, surprisingly, Sharks have no bones. A Shark's skeleton is made up entirely of cartilage, the material that our ears and noses are made of.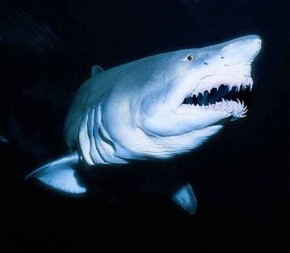 The Shark Reef Aquarium at Mandalay Bay is an amazing place where you can just lose yourself in a watery world surrounded by some of the most amazing predators on the planet. There is an area of a shipwreck exhibit. Visit, and you will have a fascinating time at the Shark Reef Aquarium.
---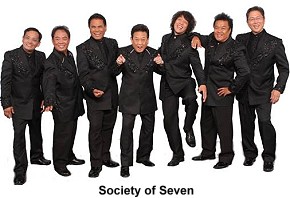 I am delighted to say that one of my favorite show groups SOCIETY of SEVEN are back headlining on the Las Vegas Strip in the Starlite Theatre at the RIVIERA Hotel/Casino at 9 p.m. nightly (dark Tuesday and Wednesday). SOCIETY of SEVEN (SOS) one of the greatest variety acts of all times, and American Idol star Jasmine Trias perform a high energy show with song and laughter for the whole family. Their show is a non-stop musical journey featuring show tunes and popular hits mixed with lots of comedy and dancing. SOS has been entertaining fans for more than 40 years. About 40 percent or more of the show will be new and two members have joined as drummer and lead male singer. Having performed to more than 10 million fans, these seven elite performers and one American Idol finalist make every show a "must-see." Tickets: VIP $59.95 Preferred $44.95 General Admission $29.95 Special $10 ticket "Under 7 or Over 70" with ID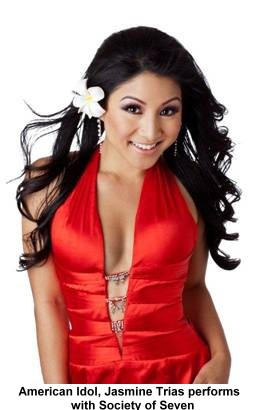 ---
Before Big Bad Voodoo Daddy came to fame, Art Vargas showed Las Vegas what Vintage Swing was all about. Art Vargas Vintage Vegas Bandstand will keep you snappin and tappin baby! At Sams Town 'Roxy's Lounge Sunday night,
August 26 from 7pm-11pm No cover!
Art says: "Hey all you Swingers & Hoofers, Cats n Dolls, come Swing with me & The Swank Set, as we play for your swingin' pleasure! Put on your dancin duds and come dig the scene baby, because you make it! Swingin' the Music that defined the Golden era!"
---
If you haven't seen "Phantom - The Las Vegas Spectacular" at THE VENETIAN, you only have until September 2 to see this fabulous production. After performing for more than six years in a $40 million custom-built theater reminiscent of the Paris Opera House, you still have the opportunity to see and hear the wonderful story and songs, lyrics, costumes, sets and the fabulous spectacular chandelier. I know I will miss seeing "Phantom" as I have seen it at least four times and have been thrilled each time. "Phantom" performs at 7 and 9:30 p.m. Monday and Saturday and 7 p.m. Tuesday-Friday.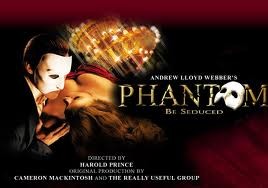 Jonathan Gorst, who is the Assistant Conductor of PHANTOM and plays a mean piano, has been busy all summer in addition to PHANTOM. He is the producer, director, pianist, singer and everything else at BONNIE's OLD WEST MUSICAL REVUE at Bonnie Springs Ranch. This Musical Revue with great entertainers is a Vaudeville type of song, dance and comedy show. It is lots of fun that will bring you back to the days of good old American entertainment and is certainly great for the whole family. However, at this time, BONNIE'S OLD WEST MUSICAL REVUE is scheduled to close August 26. But, never fear, there are plans to extend, revamp and perhaps even plan a Xmas show. I'll keep you posted, but make a trip to Bonnie's, which is 10 miles out of town and 10 degrees cooler for a really fun show.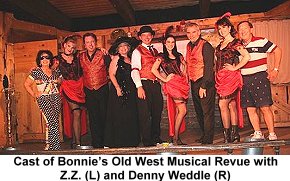 Award-winning Actress, Comedian and Producer Whoopi Goldberg Returns to Treasure Island August 31 AT 9 p.m. Whoopi Goldberg is a talent that knows no bounds. In 2002, Whoopi Goldberg became part of a very elite group of artists who have won a Grammy, an Academy Award, a Golden Globe, an Emmy and a Tony. She has also penned many books, has appeared in a variety of television programs, and has hosted the Academy Awards. Whoopi currently serves as moderator of "The View" (I love that show) and is making guest appearances in the Broadway musical "Sister Act," a show she also produces. Whooooooo Whoopi – keep it up gal!
MGM GRAND is now a one-stop shop for laughs and fun with a special offer from CSI: The Experience and Brad Garrett's Comedy Club. For only $45, guests receive one ticket to CSI: The Experience and one ticket to Brad Garrett's Comedy Club. With savings of more than $25, this exclusive deal allows guests to experience two of Las Vegas' favorite destinations.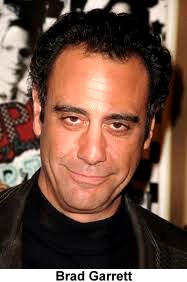 CSI: The Experience places guests into the role of crime scene investigators as they are challenged to solve one of three true-to-life crimes. Following the forensic fun, guests can enjoy a night of laughter at The Strip's top comedy spot, Brad Garrett's Comedy Club.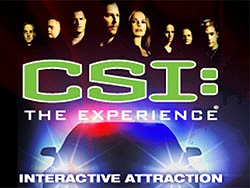 LVH - Las Vegas Hotel & Casino, formerly Las Vegas Hilton, is having their annual ultimate pro football handicapping contest, the SuperContest, and the inaugural SuperContest Weekend, August 24 – 25. The SuperContest is the ultimate pro football handicapping contest in the world's largest race & sports book, the SuperBook. Contestants can win their share of nearly $800,000 by paying a $1,500 entry fee prior to the start of the regular professional football season and then picking five games each week against the point spread throughout the season. The prize structure is based on the number of entrants. Early bird entries for the contest end at 4 p.m. on September 3. Final sign-up deadline is 11 a.m. on September 8. The prize pool is structured so that contestants receive 100% of the prize money paid in. Complete rules are available in the SuperBook® or online at www.thelvh.com/supercontest.
What do you get when a Pornographer and a Preacher meet? The Erotic Heritage Museum, (EHM) a spectacular 24,000 square foot, world-class, non-profit museum focusing on sexuality through the arts, of course! On September 1, 2012, you can join the sex mogul and the minister to celebrate the EHM's Fourth Anniversary in a Fundraising Celebration filled with Porn Stars, giveaways, delectable surprises, live music, raffles and much more from 9PM until 1AM! Admission to this epic event is by donation and a cash bar is available.
Iconic recording artist, record producer, actor and entrepreneur, Sean 'P. Diddy' Combs, will ignite Labor Day weekend as he hosts "The Sexiest Party in the City" at CHATEAU Nightclub & Gardens at PARIS Las Vegas on Saturday, Sept. 1. The three-time Grammy Award-winner is known for throwing larger than life parties all over the world. As an ambassador for Ciroc Vodka, Diddy has helped the brand grow to one of the most recognizable and successful vodkas in the country. The original "Bad Boy" will leave his mark as he revels with holiday partygoers at the Labor Day weekend celebration.
Enjoy Two Spectacular Shows for One Low Price of just $69 at New York-New York's Broadway Theater. Audiences can revel in two unforgettable, high-energy productions: "Spirit of the Dance" and "Dancing Queen." This limited-time offer is available through Sunday, Aug. 26.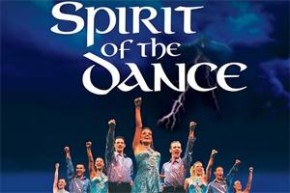 The international smash hit "Spirit of the Dance" has been seen by more than 30 million people worldwide, breaking box office records in more than 20 countries. World champion dancers entrance audiences with explosive choreography showcasing traditional Irish dance. The production also features the phenomenally talented Dublin's Irish Tenors, who perform several styles of music including Irish classics, opera, pop and swing.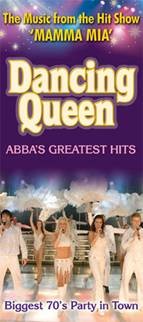 "Dancing Queen" is like a'70s party on the Strip. Audiences are taken back to a time when disco ruled and the fun was non-stop. The dance celebration features timeless songs of the era including favorites by the legendary group ABBA such as "Dancing Queen" and "Waterloo" and also celebrates highlights from the blockbuster '70s film "Saturday Night Fever." The glittering production stars singers and dancers clad in beautiful costumes stepping to dazzling choreography. Have fun and boogie with a show that gets audiences on their feet.
"Spirit of the Dance" performs nightly at 6 p.m. and "Dancing Queen" performs nightly at 8 p.m., Tuesday – Sunday (both shows are dark Monday).
---
The

Smith Center for the Performing Arts Fall Season will feature programming that spans the best in music, dance and special attractions from across the globe. The Fall 2012 Season showcases THE SMITH CENTER's commitment to bring culturally rich, diverse programming to Las Vegas and the line-up offers a show for everyone, and the opportunity to experience something new as well." Tickets for all performances go on sale August 17 at 10 a.m. Prices for individual tickets for the fall season begin at $24.
Highlights of the Fall 2012 Season includes:
Israel Philharmonic Orchestra - October 29, 7:30 p.m.
Steppin' Out with Ben Vereen - November 10, 7:30 p.m.
Anita Baker - November 29, 7:30 p.m.
Other Scheduled Programs are:
Dr. John & The Blind Boys of Alabama: Performing "Spirituals to Funk"Oct. 16.
A State of the Union Conversation: Frank Rich & Fran Lebowitz October 17
John Tesh: Big Band LIVE! October 21
Pilobolus Dance Theatre: October 24
Ballet Folklorico de Mexico: November 4 & 5
Clifford the Big Red Dog ™ – LIVE! November 6
JAZZ ROOTS: BRAZIL meets FUNK /Sergio Mendes & Candy Dulfer – Nov. 9
Jim Brickman's On A Winter's Night: November 12
The Irish Tenors: Wright, Kearns, Tynan - Irish Holiday Celebration:November 27
Classical Mystery Tour: November 30
Steve Solomon's – My Mother's Italian, My Father's Jewish & I'm In Therapy: September 28; September 29; September 30
Keyboard Conversations® with Jeffrey Siegel: Gershwin and Friends October 7
Late Nite Catechism: November 30; December 1; December 2
ZOPPÉ – An Italian Family Circus: November 1 & 2; November 3; November 4
---
BIG MUSICAL NEWS FOR LAS VEGAS: It's official! Country music's hottest couple Tim McGraw and Faith Hill bring their #Soul2Soul to THE VENETIAN beginning Dec. 7. Collectively, they've sold 70 million albums, won eight Grammy Awards, 14 Country Music Association Awards, 14 American Music Awards, seven People's Choice Awards and 26 Academy of Country Music Awards. This limited engagement, which opens on Dec. 7 and covers 10 weekends through April 2013, will take place in the 1,815-seat VENETIAN THEATER.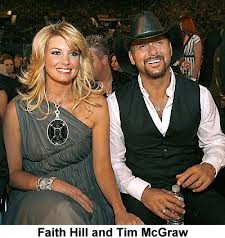 "Soul2Soul" at THE VENETIAN will mark the first time in six years that McGraw and Hill have performed together in the United States. I'm sure when Tim McGraw and Faith Hill hit the stage in December it will surely be the hottest ticket in town." Performances are scheduled for 8 and 10:30 p.m. on Dec. 7, 8; 14, 15; Jan. 18, 19, 25, 26, 2013; Feb. 1, 2, 15, 16, 22, 23, March 1, 2; April 12, 13, 26 and 27. Tickets are now on sale. Ticket prices are $95.50, $175.50 and $255.50 and $295.50 inclusive of tax. Tickets are available for purchase at any Venetian/ Palazzo Box Office, online at ticketmaster.com or by phone at 888-TAF-SOUL.
---
Only Three Weeks Left!

Don't miss the UTAH SHAKESPEARE Festivals' Summer Shows. Before you know it (September 1), five of our six shows will be closing (Les Miserables plays through October 20, along with Hamlet and Stones in His Pockets). So, if you want to see Shakespeare at its best (The Merry Wives of Windsor and Titus Andronicus), the history play that Shakespeare didn't dare write (Mary Stuart), a hilarious Moliére farce updated for today's wacky world (Scapin), and an adaptation of one of America's most popular novels (To Kill a Mockingbird)—you need to act now. Tickets are still available for all our summer shows, but they will be gone forever in a little more than a fortnight! Call: 800-752-9849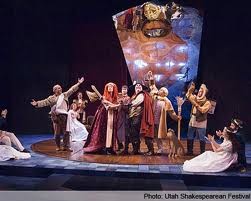 TOP OF NEXT COLUMN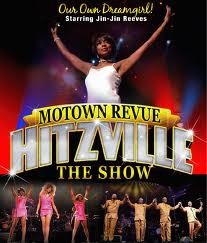 I just saw Hitzville The Show in the V THEATER at PLANET HOLLYWOOD's Miracle Mile, and what an enjoyable, authentic Motown show it is. The gorgeous and talented Jin Jin Reeves, winner of "Entertainer of the Year" at the B.M.A., and her sensational trio of women are absolutely amazing. Jin Jin brings to life the hits of Gladys Knight & The Pips, Diana Ross & The Supremes and wows the audience as Tina Turner. Remarkable too is the male quartet as they perform as The Temptations, The Four Tops and other great Motown groups. All the hits are memorable and you can't help but sing along. I would have loved to get up and dance, but you can't help but dance in your seat to this show that also includes a fantastic band as they rock the stage. Each performer is featured and terrific in a solo performance. In addition to the wonderful performers and band, the costumes, lights, settings are all topnotch. In addition to enjoying the performances, audience interaction and participation makes for a lot of fun.
ROCK and CLASSICAL MUSIC COLLIDE to bring a unique Concert experience. The SYMPHONIC ROCKSHOW returns to Las Vegas at THE SMITH CENTER on Friday, August 24 at 8 p.m. Vocalist Brody Dolyniuk reunites with Las Vegas' #1 Classic Rock group Yellow Brick Road, along with a hand-picked 21 piece orchestra and a quartet of backing vocalists as they take you on a two-hour journey through rock's biggest anthems. You'll hear the music of supergroups ranging from Led Zeppelin to The Beatles, Aerosmith, Queen, Pink Floyd and more, played to exacting detail, but with an added arsenal of a full orchestra, backed by a state of the art sound, lighting, laser and special effects show, for a concert experience that is unlike any other. Tickets: $24-79. The $79 ticket price includes an After Party with live music and a Meet & Greet with the Symphonic Rockshow producer and Lead singer, Brody Dolyniuk, The Yellow Brick Road Band and some of the orchestra members. Call: 749 2000
Another Evening of Pop and Doo Wop. Following last year's popular show, SAMS's TOWN Hotel and Gambling Hall presents Another Evening of Pop and Doo Wop inside the 750-seat Sam's Town Live! Venue on Saturday, September 8 at 8 p.m. The evening of music features Sonny Turner, former lead singer of The Platters; The Contours; and Fifth Avenue.
Sonny Turner burst onto the national music scene in 1959, when he was chosen from among 100 prospects to replace The Platters' original lead singer Tony Williams. Starting at the young age of 19, Turner toured the world with The Platters and gained popularity as the new sound of the group, with such hits as "I Love You 1000 Times," "With This Ring" and "Washed Ashore." He also re-recorded the groups' major hits including "Only You," "The Great Pretender" and "The Magic Touch."
The Contours charted eight songs in the '60s, including Motown's first million-seller and its fastest rising hit of all time "Do You Love Me." In 1988, the hit movie "Dirty Dancing" featured the song and it roared back on the charts, outselling its original release many times over.
Rounding out the evening is Las Vegas sensation Fifth Avenue. The high-energy vocal quartet with tight harmonies and blend infuses jazz, swing, pop, doo-wop, classic rock and barbershop with a sound and style, all their own.
---
PBR Rock Bar & Grill inside Miracle Mile Shops at PLANET HOLLYWOOD will offer a dining discount and complimentary admission to Rock Bar for those who attend the UFC 151: Jones vs. Henderson fight on Saturday, Sept. 1. When fans bring in their ticket stub they will enjoy 10 percent off their dining bill and complimentary admission to the new Rock Bar before midnight.
PBR Rock Bar & Grill offers beers and bulls in its sprawling, 16,800-square-foot venue. Open daily from 8 a.m. until the early morning hours, PBR Rock Bar & Grill offers guests hearty, American comfort food and barbecue around the clock. Beautiful babes and bad ass bull riders are dared to attempt to defy gravity on PBR Rock Bar & Grill's daunting, hydraulic mechanical bull.
---
Las Vegas Restaurant Week returns – August 27 through September 2 providing locals and tourists the unique opportunity to dine at many of the city's best restaurants at affordable prix fixe prices while helping to support Three Square Food Bank.
Taking part in Las Vegas Restaurant Week is simple. Diners can visit any participating restaurant during the specified dates and enjoy a multi-course, prix fixe menu specially created for Las Vegas Restaurant Week. Each restaurant will create their own delicious menu offering at price points ranging from $20.12 to $50.12, with a fixed portion of the proceeds benefiting Three Square and the fight against hunger in Southern Nevada. Visit www.helpoutdineoutlv.org for an updated list of Las Vegas Restaurant Week participants and menu details. The easy-to-navigate, mobile-friendly site allows diners to search by type of cuisine, restaurant location or donation amount.
---
NEVADA BALLET THEATER (NBT) 2012-2013 inaugural season at THE SMITH CENTER delivers cherished classics, brave new productions and inspired performances by acclaimed ballet companies by celebrating the past with an eye to the future.
2012-2013 INAUGURAL SEASON:
George Balanchine's Jewels: Saturday, October 13 at 7:30 pm & Sunday, October 14 at 1 pm. Sponsored by Van Cleef & Arpels
Performed by NBT, Pacific Northwest Ballet and Ballet West – with Orchestra.
Emeralds performed by Ballet West; Rubies performed by NBT; Diamonds performed by Pacific Northwest Ballet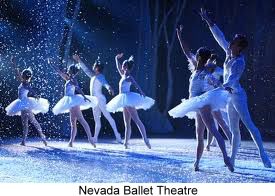 All-new production of The Nutcracker - Sponsored by the Caesars Foundation
Saturday, December 15 - Sunday, December 23, 2012
A brand-new, original production featuring new sets, costumes and complete with orchestra. Choreographed by Artistic Director James Canfield, his highly-anticipated rendition will be a treat for all ages and is surely to become a favorite.
The Joffrey Ballet, Co-Presented by NBT and The Smith Center
Tuesday, January 22 at 7:30 pm & Wednesday, January 23 at 7:30 pm. 2013
They were the first company to appear on television, the first to perform at The White House, the first American company to visit Russia, and they make their very first appearance at THE SMITH CENTER for the Performing Arts.
New York City Ballet MOVES, Co-Presented by NBT and The Smith Center
Tuesday, March 5 at 7:30 pm & Wednesday, March 6 at 7:30 pm, 2013
THE STUDIO SERIES: Extending Boundaries (For NBT subscribers only)
Thursday, March 19 - Sunday, March 24, 2013
This is power and passion up close and personal, an intimate series that challenges our dancers to push their creativity to new bounds.
ROMEO & JULIET
Saturday, May 11 at 7:30 pm & Sunday, May 12 at 1 pm, 2013
For tickets and information, call (702) 749-2000 or nevadaballet.org
---
RIVIERA Casino & Hotel will have its Endless Summer Labor Day Pool Party on Saturday, Sept. 1, from noon until 7 p.m. The perfect way to celebrate the ending of summer, this blowout bash is free of charge, open to the public and will feature live entertainment, a savory outdoor barbeque, drink specials floating beer pong, games, prizes & more! A 50% discount is offered at the outdoor barbeque to active duty and veteran members of the military and local police with valid identification.
---
Dive In Movies at The Cosmopolitan. Every Monday night through September THE COSMOPOLITAN invites you to enjoy a free movie at their Boulevard Pool. Snacks and specialty cocktails are available for purchase. Doors open at 7 and the movie begins at 8. Scheduled movies are: August 20 - Wizard of Oz; August 27 - Sixteen Candles; September 3 - Social Network; September 10 - Sleepless in Seattle; September 17 - Father of the Bride; September 24 - The Great Gatsby; October 1 - The Sandlot.
---
Hot off the heels of its successful inaugural run Dancing with the Stars: Live in Las Vegas at the New TROPICANA LAS VEGAS has announced that the spectacular live show is being brought back due to popular demand. The lively stage production, based on the smash ABC hit Dancing with the Stars, will return to entertain Las Vegas audiences in March 2013. I'll keep my readers posted as to the exact performance dates. However, fans are encouraged to check the Dancing with the Stars: Live in Las Vegas Facebook page and www.troplv.com for updates.
The new television season of Dancing with the Stars: All Stars will premiere on Monday, September 24 (8:00 – 10:00p.m., ET) followed by the premiere of Dancing with the Stars the Results Show on Tuesday, September 25 (8:00-10:00 p.m., ET) on the ABC Television Network.
---
KISS® By Monster Mini Golf®, the unique rock 'n roll-themed amusement attraction based around the legendary band KISS®, has a 'rock star' line-up for its weekly, free two hour rock trivia contest Are You Smarter Than a Rock Star? The rocking line-up even includes former KISS band member, Bruce Kulick, who will participate on Tuesday, Aug. 28 at 7 p.m.
Every Tuesday, for eight weeks, contestants will compete in a rock trivia contest that will consist of three, 30-minute rounds containing 30 rock related questions in each round. The first three rounds will be against fellow fans of rock while the fourth round will put you against one of rocks very own. Breaks will be given between rounds with refreshments provided by Brew Ha Ha. The grand finale will take place on Tuesday, Sept. 25, in downtown Las Vegas at Fremont Street Experience on the 3rd Street Stage.
---
At Crazy Horse III, four of the adult industry's most seductive starlets will host a sexy two-day celebration during the 20th Annual Gentlemen's Clubwners EXPO at 'Pornstar' Takeover' party on Monday, Aug. 27, and Tuesday, Aug. 28.
Bombshell film actresses Alektra Blue, Kirsten Price, Nicky Hunter and Candy Manson will treat patrons to two unforgettable evenings at the lavish hot spot, which has been nominated for "Best Club in The West" at the Exotic Dancer Awards. The gorgeous adult entertainment stars will sign autographs, pose for photographs and tantalize revelers with a sensual striptease onstage.
Revelers can get up-close and personal with the flawless four-some by taking advantage of the club's complimentary limo service, pending availability, by calling 702-673-1700.
---
RANCH HOUSE KITCHEN at TOWN SQUARE LAS VEGAS now has a new, weekly 'One Crazy Happy Hour' event hosted by local acoustic musician Hal Savar every Tuesday at 8 p.m. Patrons can take in the sights and sounds of Las Vegas' local art and music scene with some of the city's most talented local artists. During this time, guests can also take advantage of Ranch House Kitchen's Happy Hour specials, such as $3 cocktails, $3 domestic drafts, half-price bottles of wine and a $6 chef-selected menu. Open 8 a.m. to 3 a.m. daily, this high-energy eatery appeals to the entire family with all-American comfort cuisine served for breakfast, lunch and dinner. With line dancing, mechanical bull riding and karaoke, Ranch House Kitchen is the perfect mix of a country western atmosphere with a fun, contemporary edge for all ages.
---
THE SECRET IS OUT THAT THE PLACE TO BE IS AT THE VEGAS UNDERGROUND EVERY Monday Night FROM 7:30 TO 11:30 P.M.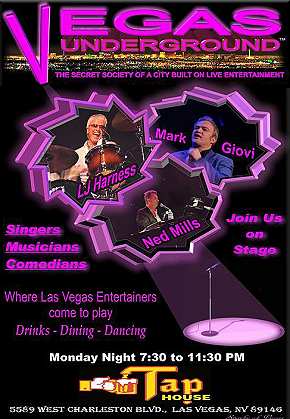 The Entertainment Capital of the World was built on spontaneous live performance, where you never know who would just 'show up' to take the stage. The Vegas Underground has brought back that same unique vibe, the real magic of Las Vegas with "Classic Vegas" entertainment like in the old days., All this happens every Monday night with THE VEGAS UNDERGROUND in the intimate lounge setting of the Tap House on West Charleston, with their Open Mic' Jam. Good food, drinks, and dancing, all at reasonable prices, while you mix, mingle, and network with entertainers, celebrities, and new friends.
I was there last week and the ongoing entertainment was ridiculously great. Then Frankie Scinta got onstage and absolutely tore the house down. You'll never know who will be there or what may take place, but it's sure to be fun!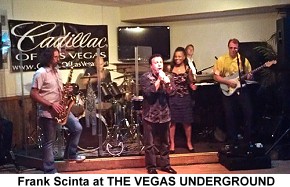 ---
In celebration of the PRIDE Night Parade, Fremont Street Experience will host a PRIDE Night Parade Party featuring a free concert by the popular 1980's cover band The Nancy Rayguns, Friday, Sept. 7 from 10 p.m. – 1 a.m. on the 3rd Street Stage.
Starting at 8 p.m. at the intersection of Charleston Blvd. and 4th St., the PRIDE Night Parade will travel up 4th St. through Fremont Street Experience and end at the intersection of 4th St. and Ogden Ave. After the parade, revelers are invited dance the night away as The Nancy Rayguns bring their "Revenge of the 80's" show to Fremont Street Experience.
---
Nearly half of all weddings take place between July and October. With wedding season in full swing, the Bachelor party is a vital tradition that celebrates the Groom's final days as a single man.
And, for the Bride-To-Be, there's no better way to get rid of those pre-wedding jitters (or at least forgetting about them for a little while) than spending a Bachelorette weekend in Las Vegas. So gather up the boys in Sin City and get together with the girls for an amazing weekend in Las Vegas. Check out the many bachelor party activities in Las Vegas for an event you will never forget.
---
Save the date! The Bronx Wanderers, an Italian family of musicians and performers, have become a musical rage on the Eastern Seaboard and took Las Vegas by storm last year. From toe tapping to tears of joy, The Bronx Wanderers captivated the hearts of their audience. Faster than a New York minute, this great group can go from Doo Wop to Dion and pumps out heartfelt '50s and '60s street harmonies beautifully. By popular demand, The Bronx Wanderers will return to the SOUTH POINT for one night only on Friday, September 28 at 7:30 p.m.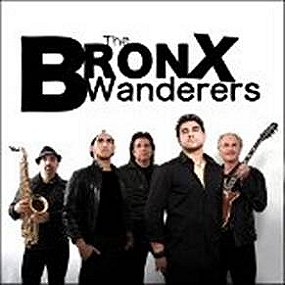 ---
It's your birthday, it's your birthday and Grimaldi's Pizzeria is helping you celebrate. Famous for its award-winning, hand-tossed, coal-fired brick oven pizzas and calzones, Grimaldi's VIPs will help celebrate with a free pizza on your birthday. To become a Grimaldi's VIP, simply sign-up at www.grimaldispizzeria.com/newsletter or fill out a form at your nearest location.
As a Grimaldi's VIP, you will be welcomed with a thank you gift upon registration. Five days prior to your birthday an electronic voucher for a free large one topping pizza will be delivered to your inbox and is redeemable at all Grimaldi's Pizzeria locations in Nevada. HAPPY BIRTHDAY! Mine is September 28.
---
Gary Waddell, 8 News KLAS anchor on evening newscasts for more than 32 years retired on Aug 3. Gary Waddell has the distinction of being the longest permanent anchor in Southern Nevada history. Since I arrived in Las Vegas in 1982, Gary Waddell has personally been my favorite newscaster and I believe the most professional mainstay for Channel 8 News. The news won't be the same without him. Enjoy your retirement Gary!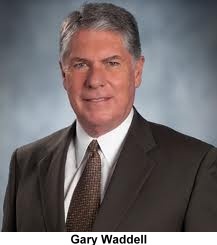 ---
The Clark County Commission approved a plan presented by Miracle Mile Shops and Caesars Entertainment to construct a northbound facing escalator at the pedestrian bridge that crosses Las Vegas Boulevard at Harmon Avenue. The project, which is estimated to take in excess of $2 million to complete, will be fully funded and continually maintained by Miracle Mile Shops. Construction is expected to begin in September with a projected completion date in the first quarter of 2013. There is currently a southbound facing escalator off of the bridge.
This initiative is a prime example of public and private entities coming together to create an overall better experience for Las Vegas Strip pedestrians.
CONTINUE ON TO...:
> Entertainment Tidbits Archives
>Las Vegas News "Heard Around Town"
>Las Vegas Leisure Guide<