The original boy band mega-group New Edition takes the stage at The Joint at Hard Rock Hotel & Casino on Friday, July 29 at 9 p.m. New Edition will be joined by special guest star Kenny "Babyface" Edmonds for an incredible night.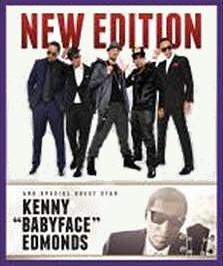 For more than 30 years, New Edition has mesmerized audiences with their signature choreographed shows, smooth vocal harmonies and electrifying showmanship.
Kenny "Babyface" Edmonds is an 11-time Grammy winner with 11 solo albums of his own with explorations of love, romance and relationships. Kenny was the third recipient after Michael Jackson and Whitney Houston of the BET Walk of Fame Award.
Country music legend Trace Adkins will bring his chart-topping hits and trademark baritone vocals to The Orleans Showroom July 30 and 31. Adkins rose to fame in the mid-'90s at a time when country music was blending its classic honky-tonk sound with components of gospel, blues and rock 'n' roll.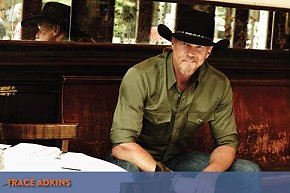 In 2005, Adkins released the song "Honky Tonk Badonkadonk" which peaked at #2 on the U.S. Hot Country Songs chart and reached Top 40 on both the U.S. Billboard Hot 100 and Pop 100 charts. His career spans more than two decades during which Adkins has sold more than 10 million albums. In addition to his success in the world of country music, Adkins raised more than $1.5 million for the American Red Cross as the winner of NBC's "All-Star Celebrity Apprentice" in 2013. Trace Adkins is also a spokesperson for United Service Organizations (USO) and has performed on 10 tours with the organization.
---
Cindy Williams, famed for her role as Shirley Feeney in the iconic television comedy Laverne & Shirley, will join Menopause The Musical® at Harrah's as a guest star this summer. The longest running scripted musical in Las Vegas history has played 4,200 performances in the city and just celebrated ten years in Las Vegas. While Williams is making her Vegas debut, this run marks the third time she will perform in Menopause The Musical®, having previously appeared in the Tampa, Florida and Laguna Beach, CA productions. The actress will play the role of the fifth girlfriend, joining current cast members Vita Cormibi, Earth Mother, Lori Legasy, Iowa Housewife, Jacquelyn Holland Wright, Soap Star and Lisa Mack, Professional Woman. Monica Heuser understudies all four roles. After each performance, Williams will greet fans and sign copies of her memoir, "Shirley, I Jest!" a hilarious and heartfelt book about her life in entertainment.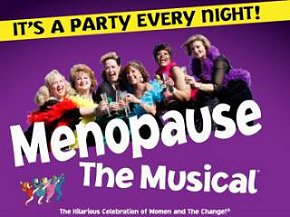 Menopause The Musical®, "The Hilarious Celebration of Women and The Change"&reg empowers audiences of all ages with its parodies of classic songs of the '60s, '70s and '80s in a show filled with memorable characters, optimism and laughter. Hot flashes, mood swings and weight gain - no subject is off limits. Menopause The Musical® has performances Monday at 7:30 p.m. through Saturday at 7:30 p.m., as well as an additional 4 p.m. matinee each Saturday and Monday. Tickets are priced at $49.99 for orchestra seats, $59.99 for premium seating and $74.50 for VIP seating.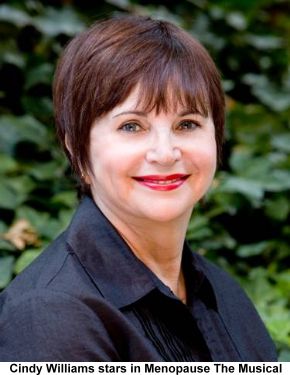 Xavier Mortimer, a daring, French export and fearless performer has a show called Magical Dream at Planet Hollywood's Sin City Theater.
After gracing stages in more than 30 countries and most recently starring in Cirque du Soleil's Michael Jackson One, he is quite a special performer.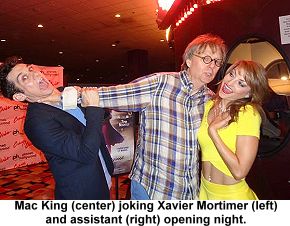 Mortimer's dream world has an unconventional cast of characters and a beautiful assistant. He takes the audience on an adventure through more than 14 acts in this wild dream. This is an all-ages production new, funny, daring, inspirational and a different hidden world of magic by a very charismatic talented magician.
---
Wet 'n' Wild, Las Vegas Nevada's premier water park has announced that for a limited time, guests who purchase a one day pass at $39.99 will receive the rest of the 2016 season for free. Las Vegas' summer playground features more than 25 slides, attractions and fun in the sun summer events. Ticket buyers can enjoy entry into family-friendly activities such as "Children's Story Time," held every Thursday inside Kiddie Cove at noon; "Dive-In Movies," screened at the Red Rock Bay wave pool every Friday at 8 p.m.; and "Saturday Sessions," a late-night pool party aimed at tweens, teens and adults with performances by young, local DJs every Saturday at 8 p.m. Wet'n'Wild is located at 7055 S. Fort Apache Road near I-215 and Sunset Road.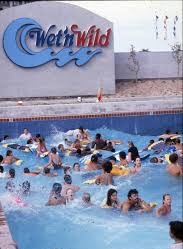 Ketchup, mustard and relish - Oh My! Nathan's Famous hot dogs, located inside Aliante Casino + Hotel + Spa, will offer a hot dog special for National Hot Dog Day on Saturday, July 23. Guests who purchase any combination meal of a hot dog, side and drink at Nathan's will receive an additional hot dog free of charge exclusively for the holiday. Originating in Coney Island, Nathan's opened inside Aliante last summer and has been serving premium hot dogs, crinkle cut fries and lemonade for nearly 100 years. Special limit one per-person.
---
Adult dessert brand, Momenti Spirited Ice Creams has expanded into the retail market by offering its super premium alcohol-infused ice creams and sorbets directly to consumers for purchase at Khoury's Fine Wine & Spirits, located at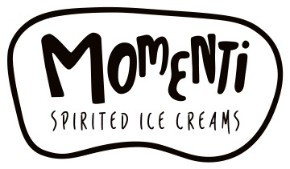 9915 S. Eastern Avenue. Launched earlier this year, Momenti is a family-owned and operated company manufacturing super-premium ice cream and sorbet infused with top-shelf liquors and wines. I was at their opening and loved their ice creams.
---
BEAUTIFUL - THE CAROLE KING MUSICAL award-winning Broadway sensation about the early life and career of the legendary and groundbreaking singer-songwriter, will be at The Smith Center for the Performing Artsfor two weeks, Sept. 20 - Oct. 2. Carole King might be a native New Yorker, but her story of struggle and triumph is as universal as they come - and her music is loved the world over including "I Feel The Earth Move," "One Fine Day," "(You Make Me Feel Like) A Natural Woman," "You've Got A Friend" and Beautiful.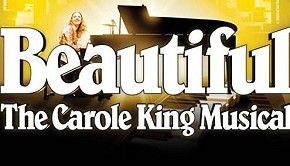 Long before she was Carole King, chart-topping music legend, she was Carol Klein, Brooklyn girl with passion and chutzpah. She fought her way into the record business as a teenager and, by the time she reached her twenties, had the husband of her dreams and a flourishing career writing hits for the biggest acts in rock 'n' roll. But it wasn't until her personal life began to crack that she finally managed to find her true voice. BEAUTIFUL tells the inspiring true story of King's remarkable rise to stardom, from being part of a hit songwriting team with her husband Gerry Goffin, to her relationship with fellow writers and best friends Cynthia Weil and Barry Mann, to becoming one of the most successful solo acts in popular music history. Tickets:www.TheSmithCenter.com call 702-749-2000.Prices start at $29.
---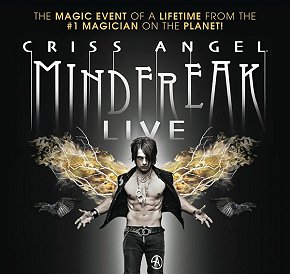 Criss Angel Mindfreak Live! new show does take you on a mindfreaking adventure with his mysterious, shocking, vivid magical illusions on a great stage with live music, talented sexy co-stars and comedy co-stars, special visual effects, terrific lighting, interesting videos, brilliant pyrotechnics, audience involvement, flying doves and much, much more. Criss' charisma and involvement with the audience is outstanding even onstage, and up close slight of hand magic. As the show starts out with videos showing Criss' life and career from a young child magician to a Las Vegas headliner, the audience begins to feel they know the real Chriss Angel. All this and more make for a spectacular creative show.
There are some serious moments in the show as Criss talks about his 2 year old son battling cancer. Criss Angel has an ambitious goal to raise $1 million in a single evening to benefit pediatric cancer research, treatment and ultimately a cure through the Johnny Crisstopher Children's Charitable Foundation. Johnny Crisstopher Children's Charitable Foundation is a nonprofit organization named after Criss' young son who was diagnosed with Acute Lymphoblastic Leukemia (ALL) last year. Rallying his celebrity friends and fellow entertainers, Criss Angel has assembled a superstar line-up with appearances and performances for this one-of-a-kind event. In addition to celebrity performances, attendees will have the chance to win incredible priceless experiences and memorabilia in HELP's live and silent auction. Tickets are available now at CrissAngelHELP.com.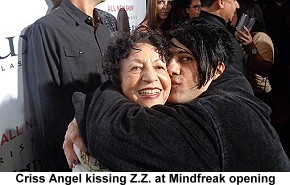 Clint Holmes 'Between The Lines' is a musical journey of contemporary hits, traditional standards, and Holmes' own songs that connects with the audience. Clint Holmes is at the top of the list of my favorite performers and happy to see him back on the Las Vegas Strip at the Palazzo Theatre. Featuring pianist Christian Tamburr, guitarist Pablo Gadda, saxophonist Rocco Barbato, percussionist Jakubu Griffin, bassist Dave Ostrem, singer Noybel Gorgoy, and keyboardist/vocalist Jamie Hosmer, Clint Holmes 'Between the Lines' promises a show as touching as it is lively. This is a tour de force that illustrates the intricate ties between artist, song, and inspiration for Holmes and the band. Clint Holmes 'Between The Lines' in the newly redesigned Palazzo Theatre performs Tuesdays through Saturdays at 10 p.m. Tickets can be purchased at any Venetian or Palazzo Box office or by calling 702.414.9000 or 866.641.7469.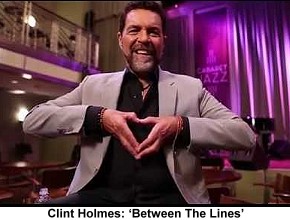 TOP OF NEXT COLUMN
Chris Isaak's upcoming tour in conjunction with his critically acclaimed new album, First Comes The Night, will include a performance at The Joint at Hard Rock Hotel & Casino on Saturday, July 30 at 8 p.m. Chris Isaak, who has a reputation as a supreme showman and one of the funniest live performers today, is a non-stop touring Grammy nominated singer-songwriter, actor and talk show host. With his bandmates, Silvertone, Isaak's haunting voice, fierce guitar, and glittered outfits, Isaak has entertained fans for decades.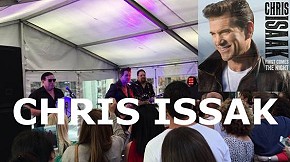 Renowned actors Leonardo DiCaprio and Toby Maguire returned to JEWEL Nightclub inside ARIA Resort & Casino for the second night in a row. In town to watch UFC 200, "The Great Gatsby" costars arrived to Vegas' newest nightlife destination around 1:00 a.m. with a large group of friends. The actors were seen in high spirits as they socialized at their VIP table near the dance floor while special guest host Jamie Foxx alongside DJ Irie were playing chart-topping hits for the packed crowd. They were all enjoying their night out, sipping on cocktails and mingling with friends before leaving around 2:30 a.m.
---
Crazy Horse III, the award-winning Gentlemen's Club and top after-hours party destination is celebrating National Tequila Day with a two-for-one "Double D" shot special on Sunday, July 24. Buy-one-get-one DeLeón Tequila shots will be available all night long, and other late-night specials include pizza and house-made sushi, dozens of hookah flavors and premium cigars, as well as the company of hundreds of the club's gorgeous entertainers.
---
BEER PARK at Paris Las Vegas will transform into the ultimate fight night destination for the championship between Robbie "Ruthless" Lawler and Tyron "The Chosen One" Woodley starting at 7 p.m. on Saturday, July 30.
UFC 201 will be headlined by the Welterweight Championship title fight between the current reigning champion, Lawler, and the top contender, Woodley, in Atlanta. Before the main event, defending champion Demetrious Johnson and Brazilian fighter, Wilson Reis, will face off for the Flyweight Championship. The winner will then advance to face FOX Sports' "The Ultimate Fighter: Season 24" championship bout. Guests can enjoy a selection of more than 100 beers and watch the fight on dozens of high-definition televisions spread throughout the rooftop bar. Viewing party packages start at $30 and are available for purchase upon entry at the venue.
---
The freewheeling, high-comedy spectacular Puppet Up! - Uncensored will start it's residency at The Sands Showroom inside The Venetian July 21. Created by award-winning director, producer, and writer Brian Henson and improv expert Patrick Bristow Puppet Up! - Uncensored promises to deliver a completely unique experience to adult audiences. Since 2005, the revolving cast of six world-class puppeteers and over 60 unruly puppets have been entertaining audiences, selling out shows and exciting critics from coast to coast and around the world. Now set to take over the Strip as the city's newest resident show, the laugh-out-loud production has been amplified and adapted to include a wide-range of added elements, heightened technology and a reimagined set, all designed specifically for Las Vegas audiences. Puppet Up! - Uncensored is never exactly the same show twice. Guests may choose to interact with the show through real time suggestions or just sit back and enjoy the ever changing antics presented on stage. Showtime 9 p.m. Tuesday, Thursday, Friday & Saturday; 7 p.m. Sundays & Mondays.

BRAVO! Cucina Italiana (BRAVO!) in Henderson is featuring a "Savory Summer Nights" special with a two-course prix fix menu for $16 and a three-course prix fixe menu for $20. Available now through Aug. 14, the seasonal special gives guests their choice of soup or salad to start, entrée and the option to add a dessert. In addition to a delectable menu, guests can save with 50 percent off on wine bottles valued at $75 or less. The special is available every Wednesday for a limited time only. "Cucina Italiana" means Italian kitchen in which all cooking is done in full view of the guest, creating the energy of a live theater. BRAVO's popular entrees include grilled steaks, chops, and made-to-order pizzas, pastas and house specialties, similar to an authentic 'ristorante' in Italy.
---
Actor and comedian D.L. Hughley returns to The Orleans Showroom July 22-23.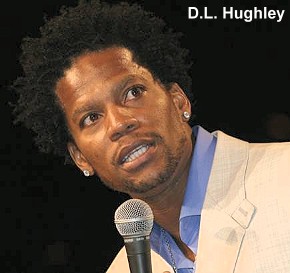 Hughley has been a fixture on the comedy scene for more than 20 years, entertaining millions throughout the course of his career. Since getting his start as the original host of BET's "Comic View" in the early '90s, Hughley has made several appearances on daytime, prime-time and late-night television, as well as film and radio, including a prominent role in the comedy special "The Original Kings of Comedy." He also appeared on season 16 of the ABC hit "Dancing with the Stars" alongside dancing partner Cheryl Burke.
D.L. Hughley is currently a weekly contributor to the nationally syndicated radio program "The Tom Joyner Morning Show." He continues to host his own afternoon radio show, "The D.L. Hughley Show," and currently stars as Dr. Hackett on NBC's new medical drama, "Heartbeat."
---
The 40th annual Mrs. America Pageant once again returns to its original home at the Westgate Las Vegas Resort & Casino. Hosted by actress Florence Henderson, star of the classic show "The Brady Bunch," the 2016 Mrs. America Pageant will be held Saturday, August 27 from 10 a.m. to 1 p.m. inside the renowned International Westgate Theater. Preliminaries for the 2016 Mrs. America Pageant will be held Thursday, August 25 from 10 a.m. to 1 p.m. A winner will be crowned during the final competition on Saturday, August 27 from 9 a.m. to 1 p.m. The winner of the 2016 Mrs. America Pageant will represent the United States in the internationally-televised Mrs. World Pageant.
---
Congrats to M&M American Dance Theatre for presenting an excellent show called Dancin' Fools. With a very talented cast of 12, M&M, Melinda Jackson and Michael Kessler's production had variety of entertainment for all to enjoy. M&M, a spectacular song and dance team well-known to Las Vegas and around the world danced, sang, narrated a story-line while others performed acrobats, vignettes, musicianship, great costuming and much more to a delighted audience.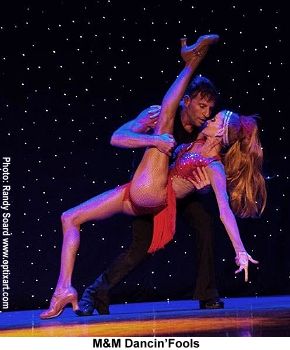 An interesting note in the program was that one of the M's, Melinda Jackson is the Great Granddaughter of President Teddy Roosevelt.
---
Win-Win Entertainment is celebrating the annual 5th Anniversary of Headliners Bash on November 18. Although November seems far away, Early Bird special pricing is now available. Win-Win Entertainment Headliners Bash annual event brings together on the same stage - for one night only - some of Las Vegas' biggest and brightest headliners and entertainers. The event is a unique opportunity to enjoy a night of celebration of philanthropy from the Las Vegas entertainment community. This is Win-Win Entertainment's single most important fundraiser of the year and will include an Evening Silent Auction and Show. The proceeds from Headliners Bash make it possible for Win-Win Entertainment to deliver their programs in hospitals, on military bases, in local schools and in senior communities, and to support local non-profit organizations entirely free of charge. Tickets: www.winwinentertainment.org.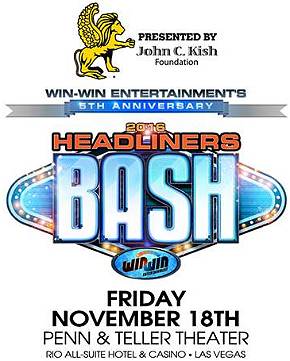 The "Kumukahi" Ukulele and Hula Festival will bring the spirit of Hawaii to Sam's Town Live! on Aug. 12 and 13. The two-day festival begins Friday, Aug. 12 with a number of fun-filled activities, including Kupuna, Ukulele, Wahine soloist, and kaikamahine competitions. On Saturday, Aug. 13, guests will be treated to more fun, including Makuahine 'Auana as well as group Kahiko and 'auana competitions. The festivities will close with Kanikapila, a concert featuring Unukupukupu, Kaumaka'Iwa and Kekuhi Kanaka'ole.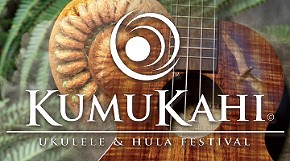 The festivities will pay tribute to the unique culture of the Hawaiian people.
Competitions are held both days, and the awards ceremony will be held on Saturday.
---
THE SOUND OF MUSIC new National touring production premieres August 2-14 at The Smith Center. This new lavish production of THE SOUND OF MUSIC is directed by three-time Tony Award® winner Jack O'Brien and introduces Jack O'Brien's brand new discovery, Kerstin Anderson as Maria. The spirited, romantic musical story of Maria and the Von Trapp Family with songs "My Favorite Things," "Do-Re-Mi," "Climb Ev'ry Mountain," "Edelweiss" and the title song THE SOUND OF MUSIC are always remembered by audiences. THE SOUND OF MUSIC with music by Richard Rodgers, lyrics by Oscar Hammerstein II, book by Howard Lindsay and Russel Crouse, suggested by The Trapp Family Singers by Maria Augusta Trapp.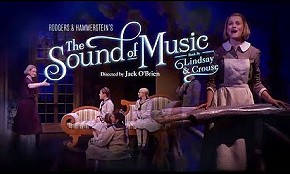 Super Toy Con, the largest diecast model car, toy, comic and pop culture convention in Las Vegas, will return to the Orleans Arena, Aug. 5-7.
The three-day event will welcome numerous celebrity guests for autograph sessions along with activities and events including an artist's alley way, downhill diecast racing track, costume contests, a Hall of Fame banquet ceremony and more.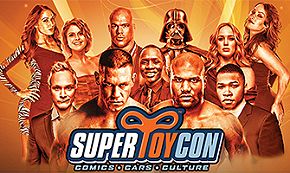 Celebrity guests include wrestling legends John Cena, the Bella Twins, Quinton "Rampage" Jackson and WWE's Kurt Angle; Rose McIver who plays Olivia Moore in the CW television series "iZombie"; Caity Lotz (White Camary) and Franz Drameh (Firestorm) in DC's Legends of Tomorrow; David Prowse who played super villain Darth Vader in "Star Wars;" FOX-TV's "Gotham" star Sean Pertwee (Alfred Pennyworth); William Zabka who played Johnny Lawrence in the 1984 hit film "The Karate Kid"; and many more.
Super Toy Con kicks off on Friday, Aug. 5 from 4 -10 p.m.; Saturday, Aug. 6 from 10 a.m. - 9 p.m.; and Sunday, Aug. 7 from 10 a.m. - 5 p.m.
---
Renowned singer and songwriter Chadwick Johnson will return to the Cabaret Jazz stage at The Smith Center for Performing Arts for the world premiere of his new show Remember Love. Chadwick Johnson is an award-winning singer and songwriter known for his soulful approach to music and love of original musical interpretation. He has played for and worked with some of America's most celebrated icons, including a command performance for President Clinton as well as legendary producer, David Foster.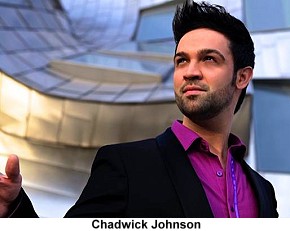 Winner of the 2015 Hollywood Music in Media Award of "Male Vocalist of the Year" for his original, "Song From Another Time." Johnson will present two soulful performances on Saturday, August 20 at 6 p.m. and 8:30 p.m. "Remember Love," the title song from Chadwick's new show, is just one of the many provocative originals being presented in this soul-stirring evening of music. Beyond his original tunes, Chadwick and his five-piece band will also be "revving up the vibe," by taking retro hit songs and infusing them with a fresh modern twist. Tickets start at $25 and are on sale now.
---
Gilley's Country Summer is back at Treasure Island, now through Labor Day (September 5) with food and beverage specials as well as great entertainment. Some of the live music in July is: July 21 - Coyote 102.7 Special Event - Tyler Farr 21-23 Chad Freeman and Redline Frontier 25-27 - Scotty Alexander Band 28-30. More live entertainment continues in August and September 5.
CONTINUE ON TO...:
> Entertainment Tidbits Archives
>Las Vegas News "Heard Around Town"
>Las Vegas Leisure Guide<