Major shows below, each with incredible celebrity performers on tour, and each will only make one stop in Las Vegas. So, get your tickets ASAP.
---
Move Live on Tour 2015 will hit over 40 cities and make its final stop at The Venetian on Saturday August 8. Starring superstar siblings Julianne and Derek Hough, the show will feature a brand new stage production to showcase the fresh, exciting and high impact choreography spanning across a multitude of different dance styles that all audience members are sure to love!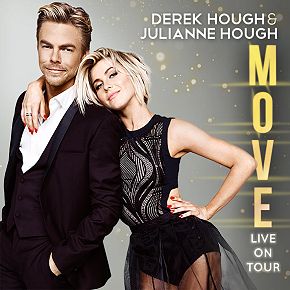 Melissa Etheridge, Academy Award and GRAMMY winning artist will take the stage at The Pearl inside Palms Casino Resort on Friday, August 7 at 8 p.m. Etheridge will perform songs from her new album, This is M.E., as well as some of her greatest hits like "Come to My Window," "I'm The Only One" and "I Want To Come Over" as the tour is in Las Vegas. Known for her iconic voice, profound lyrics and riveting stage presence; Melissa Etheridge will share personal stories about her remarkable journey through life and the inspiration behind some of her most beloved songs.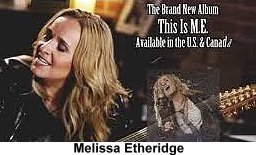 The World's Greatest Pink Floyd Show will bring its Space & Time World Tour to The Joint at Hard Rock on Friday, July 31. This will be its most ambitious tour to date with a spectacular new light show and an even bigger stage production. Celebrating five decades of Pink Floyd; from their creation in 1965 right through to the release of their brand new album, 'The Endless River'; this new show includes performances from all Pink Floyd's biggest selling albums, including The Dark Side of the Moon, Wish You Were Here, Animals, The Wall and The Division Bell plus a host of other Pink Floyd musical surprises.
Paying attention to every musical detail and faithfully recreating the 'true' live Pink Floyd concert experience, Brit Floyd will take you on an amazing musical journey, featuring the best moments from the incredible Pink Floyd back catalogue, and combine the latest state-of-the-art sound & light technology to create a performance that is as sonically perfect as it is visually awesome.
---
The Bacon Brothers, multi-talented musical siblings will perform their only West Coast appearance at The Orleans Showroom, Aug. 1 and 2. Long before Kevin Bacon starred in "Footloose," launching his prolific acting career, and before Michael Bacon became known as an Emmy Award-winning composer for film and television, they were just two brothers growing up in Philadelphia with a shared love and passion for music. The Bacon Brothers Band formed in 1995 is known for its gritty rock and Philly soul. The band consists of six members including Michael Bacon on vocals, guitar and cello; Kevin Bacon on vocals, guitar and percussion; Paul Guzzone on bass guitar and backing vocals; Joe Mennonna on keyboards and accordion; Frank Vilardi on drums; and Ira Siegel on lead guitar, mandolin and backing vocals.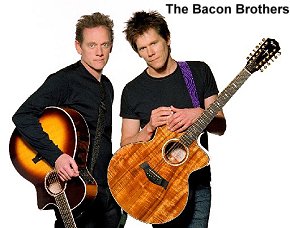 Golden Rainbow's 29th Annual Ribbon of Life fundraiser "Rockin' the Ribbon" held at The Tropicana Theatre was a spectacular production, featuring original performances with a cast of over 200 performers from nearly every show in Las Vegas. This year's awe-inspiring production remains one of the largest and most unique shows of its kind in Nevada and had the full house audience cheering.
A great afterparty for all attending at the Havana Room added to the great event.
Established by the Las Vegas Entertainment Community in 1987, Golden Rainbow is committed to providing housing and direct financial assistance to Southern Nevadans living with HIV/AIDS.
---
The glitz and glamour of Sin City will meet the hard-charging, high energy of professional wrestling when Global Force Wrestling brings its brand to Las Vegas for the first taping of its broadcast event shows on Friday, July 24 at the Orleans Arena. Global Force Wrestling (GFW) is looking forward to bringing the freshest brand of professional wrestling to fans from all over the world right here in the fight capital of the world. GFW's first three shows at the Orleans Arena will take place on Friday, July 24, Friday, August 21 and Friday, October 23. GFW has alliances with 13 affiliates on five continents, including New Japan Pro-Wrestling, Mexico's AAA and federations in Europe, Australia and Africa.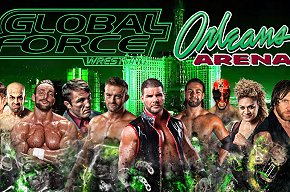 ---
I first saw Jan Rouven when he started performing in Las Vegas at Debbie Reynold's showroom that became The Clarion and I was very impressed with his performance. Over the years we met each other at many events and occasionally he would perform an individual act. I never saw his show at the Riviera and until last week at the Tropicana I never saw his full show since he originally began performing in Las Vegas. What an exceptional wonderful experience I had seeing this spectacular high energy Illusions show with an amazing master showman Jan Rouven who does magic, mystery, death defying escapes that thrills the audience.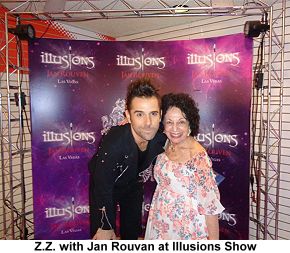 Jan has a charismatic fun personality and even chooses audience participants to perform with him. Jan Rouven Illusions is an elaborate full scale production with exceptionally great dancers, band, costuming, sets, lighting sound and more in the Tropicana state of the art Theater that features one of the largest stages on the Las Vegas Strip! A must see!
---
Dennis Miller, five-time Emmy Award winner and comic extraordinaire will perform at The Orleans Showroom, Aug. 8 and 9 at 8 p.m. Called one of the premiere comedy talents in America today, Miller emerged on the national scene during the 1980s as the "Weekend Update" correspondent on NBC's "Saturday Night Live." After leaving SNL in 1991, Miller moved to HBO, where he hosted the critically acclaimed talk show "Dennis Miller Live" for nine seasons.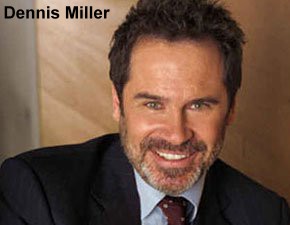 In a career that has spanned far beyond showrooms and interview sets, Miller also made a name for himself as a film actor and author. Miller's "rant" books have all been on The New York Times best-sellers list.
---
Australian powerhouse entertainer Greg Bonham returns to The Smith Center with "G'day Las Vegas" in the intimate Cabaret Jazz Room on Saturday, Aug. 22 at 8 p.m. Bonham's soulful voice and blazing trumpet-playing makes a highly anticipated return with a one-night only concert performance that music lovers will not want to miss. Backed by an all-star eight-piece band, Greg Bonham will perform today's hits from Michael Buble, John Legend and Pharrell, as well as classics from Maynard Ferguson, Blood Sweat & Tears and Chicago. Also featured are his moving originals and his show stopping versions of "Hallelujah" and "MacArthur Park."
---
Aid for AIDS of Nevada (AFAN) is partnering with Macy's to bring back the popular "Fashion Icon" award in celebration of the 29th Annual Black & White Party. The Black & White Party will be held on Saturday, Aug. 29 at The Joint at Hard Rock Hotel & Casino and boasts a unique experience of festivities, celebrations and revelry complete with gourmet food, beverage samplings, eye-catching atmospheric entertainment and live stage performances. As the largest non-profit supporting the HIV/AIDS community in Nevada, 100 percent of proceeds from the evening go to support AFAN's client services. Tickets are on sale now at afanlv.org.
Over the last 32 years, the Macy's Passport Fund has granted more than $32 million to HIV/AIDS organizations. Aid for AIDS of Nevada (AFAN) was founded in 1984 and is the oldest and largest AIDS service organization in the state of Nevada. 2014 marked AFAN's 30th anniversary of practicing its unyielding commitment to the community by providing unparalleled health expertise, support and advocacy for adults and children living with and affected by HIV/AIDS in southern Nevada. Over the years, AFAN has created various programs that offer consistent and comprehensive assistance including direct client service programs, food programs, prevention and education programs and community outreach. As part of AFAN's mission, these client service programs assist in enhancing the physical health and psychosocial wellness of the individuals they serve, while promoting dignity and improving the quality of their lives.
---
EKlectica Gallery, located at the Arts Factory, 107 E. Charleston Blvd., Las Vegas, Nev., 89104, suite 110, presents two exhibits in July. Both exhibits open through July 31. "The h.e.art of HE Kell" features the work of H.E. Kell, a 93-year-old painter from Minocqua, Wisconsin. Combining an extraordinary memory with sure technique on interesting substrates, Kell's small paintings are mirrors of the scenery which has surrounded him throughout life. The second exhibit, "String Theory: Explorations in Fiber as Art," features sculptures from three resident artists, Lynne Adamson Adrian, Bill Fravel and Debbe Sussman, who are each departing from their primary media.
---
Gilley's Country Summer keeps the party going at Treasure Island, now through Labor Day (September 7) with food and beverage specials and live entertainment. Throughout the summer, Gilley's features live country music Thursday - Sunday nights.
---
Azzurre Spirits will sponsor the 12th annual Adam & Eve Charity Love Fling to benefit New Vista from 6:30 to 10 p.m. on Friday, July 24, at Hyde Bellagio. The event will allow guests the opportunity to 'bid' on dates with local celebrities and eligible bachelors and bachelorettes with exciting date packages including helicopter tours; golf and spa packages; private wine tastings in Sonoma County, Calif.; a Diamond Membership to Front Sight Firearms; exotic car, Lamborghini and motorcycle rentals; luxury cruises and vacations; restaurant gift certificates and more.
Celebrity 'dates' up for auction include Las Vegas headliner Anthony Cools; professional BMX rider Ricardo Laguna; Miss Nevada USA Lisa Song Sutton; actress Minnie Foxx; and more. Along with the auction, guests will enjoy live music, food pairings and signature cocktails from locally-owned Azzurre Spirits, including The Forbidden Fruit and The Serpent made with Azzurre Vodka and Azzurre Gin, respectively.
Individual tickets to the Adam & Eve Charity Love Fling start at $25 and include a complimentary specialty cocktail from 6:30 to 7:30 p.m. VIP tables are available with bottle service from Azzurre starting at $350 per table. Tickets are available by visiting www.newvistanv.org or via EventBrite. The Adam & Eve Charity Love Fling was started in 2004 a way to raise awareness and funding for New Vista. New Vista is a local nonprofit organization with the goal to help intellectually challenged individuals learn valuable life skills and provide job development training that will allow the individuals to become more independent.
---
FANTASY, Luxor Hotel and Casino's tantalizing adult revue, introduces the "Summer of '15" ticket offer to Nevada locals. The seductive show will offer guests 15 percent off tickets with a valid Nevada ID. Following the show, guests are invited to a meet and greet opportunity with the cast for photos and autographs. Tickets are available for purchase at the Luxor box office, online at fantasyluxor.com or by calling 702.262.4400. This offer will be available now through August 31.

For the second year, Comprehensive Cancer Centers of Nevada (CCCN) has teamed up with Wet'n'Wild Las Vegas to encourage guests of the water park to keep skin safety top-of-mind. The elements of the partnership include a colorful sunscreen kiosk upon entrance to Wet'n'Wild, offering complimentary SPF 30 sunscreen to visitors for the remainder of the park's operating season. Two additional signs are located in the park and park-wide audio messages will play periodically throughout the day, reminding guests to reapply sunscreen on a regular basis. The screen is a paraben-free, oxybenzone-free and waterproof blend. The broad-spectrum sunscreen fully protects skin against potentially harmful UV-A and UV-B rays, when applied and reapplied appropriately. The sunscreen kiosk and additional elements comprising the partnership were designed with all ages in mind and to urge park visitors to stay proactive with skin protection.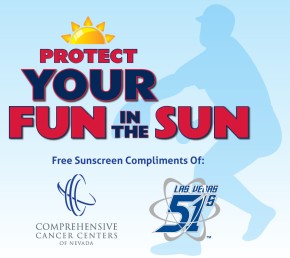 ---
Distill in Summerlin just made getting ready for brunch easier with a brand new dress code! Now, every Sunday, guests can roll out of bed and into the Summerlin hotspot for the Pajama Brunch from 8 a.m. - 2 p.m. in comfort. Guests dressed in their PJs will also receive a complementary mimosa and be entered to the weekly "Best Pajamas" drawing for great prizes. To officially kick off the weekly Pajama Brunch in style, Distill will host the Ultimate Pajama Party on Sunday, July 26. Starting at 11 a.m., guests can rock their favorite sexy, comfy or outrageous jammies to compete for cash prizes for the best PJ ensemble. In addition to friends, laughter and a bunch of fun, brunch-goers can enjoy $5 Bloody Mary's, $5 Mimosas, other drink specials and a Brunch Buffet.
Distill's Pajama Brunch and Ultimate Pajama Party takes place at the Summerlin location only at 10820 W. Charleston Blvd., Las Vegas. All guests at Distill Summerlin must be over 21 years-old with valid ID.
---
Murray (Celebrity Magician) & Chloe invite you to come support their charity show "Beggin' For Magic 111" at Planet Hollywood on Sunday - August 16. Red Carpet - 3 p.m. Show - 4 p.m.... It will be Murray, Chloe and a Variety of other guest acts to entertain you. Raffles and Prizes and ALL Profits will go to Friends For Life Humane Society a No Kill Shelter here in Las Vegas!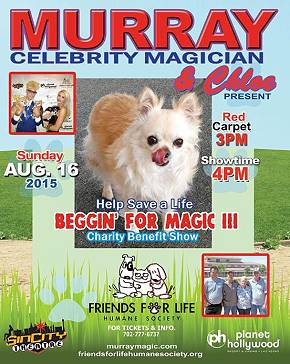 Tickets to be purchased at the box office (all standard ticket prices apply).