It's no secret - Las Vegas summers are scorchers. That's why the Neon Museum has introduced adjusted summer hours and brand-new evening tours of its open-air Neon Boneyard exhibition area. The Neon Museum founded in 1996 is dedicated to collecting, preserving, studying and exhibiting iconic Las Vegas signs for educational, historic and cultural enrichment. New, colorful up-lighting is now installed throughout the Neon Boneyard, dramatically illuminating the iconic signs in the museum's collection. While most of the signs themselves are not electrified, the new custom-designed lighting showcases them beautifully. The new lighting makes evening tours an attractive option for those who want not only to escape the heat of day, but also want to experience the signs from a dazzling new perspective.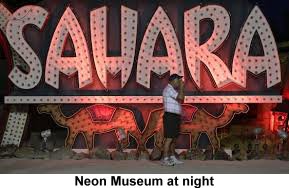 The Neon Museum is open seven days a week. Its La Concha visitors' center is open daily from 8:30 a.m. until 9:30 p.m. To tour the museum's Neon Boneyard exhibition area, all visitors are advised to pre-register for a guided tour on the museum's website at www.neonmuseum.org. Walk-up visitors without an advance booking may not be able to join a tour due to limited capacity. The summer schedule of available guided tours are: June 1 - July 31: Daytime tours: 9 a.m., 9:30 a.m., 10 a.m. Evening tours: 7:30 p.m., 8 p.m., 8:30 p.m., 9 p.m.
Daytime tours of the Neon Museum are $18; evening tours are $25. Call (702) 387-6366. Both the Neon Boneyard and the La Concha Visitors' Center are located at 770 Las Vegas Blvd. North in Las Vegas.
Dick Feeney's "Rat Pack Is Back" Entertains President George Bush and First Lady Barbara Bush.
Former President George H. Bush and First Lady Barbara Bush had a ring-a-ding good time attending a performance of the Rat Pack is Back show at the Ogunquin Playhouse. The cast just completing a sold out three week engagement at the famed Maine Theater were honored and overwhelmed when the President and First Lady wanted to go back stage and meet the cast. So impressed with the performance were the Bush's, they invited the cast to visit them at their famed and exclusive Kennebunkport, ME retreat.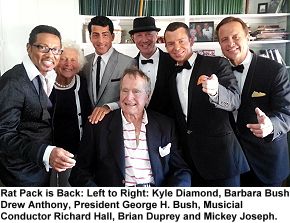 ---
If you watched the Tony Awards, you know that Kinky Boots ran away with six 2013 Tony Awards, the most of any show this season. Hurrah! Producers Daryl Roth and Hal Luftig have announced that Kinky Boots, the six-time Tony Award-winning musical that brings together four-time Tony Award-winner Harvey Fierstein (Book) and Grammy Award-winning icon Cyndi Lauper (Tony Award-winner for Best Score for Kinky Boots), will open its national tour in Las Vegas, September 2014 at The Smith Center for the Performing Arts.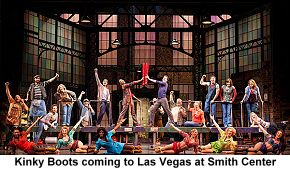 LVH has a terrific offer - FREE entrance to COOL BY THE POOL and a HAPPY HOUR Daily from 4 PM - 8 PM with DJ Entertainment & prize drawings
And, a ROCKIN' FREE FOURTH OF JULY POOL PARTY 4 PM - 10 PM
DJ Jace (4 PM - 7PM) and Tommy Rocker Band (7 PM - 10 PM)
KXPT "The Point" Broadcasts LIVE (6 PM - 8 PM)
Prize giveaways including San Diego Charger Getaway and Food and drink specials.
---
"Pin Up," the new show at The Stratosphere features a six-piece band with a horn section, and high-energy dancers who have the benefit of working with a celebrity dancer as their choreographer, Lacey Schwimmer of ABC's "Dancing With the Stars." Star of the show Claire Sinclair is former Playmate of the Year and guest starred in Crazy Horse Paris at MGM. "Pin Up" also benefits from the imput of Frankie Moreno who also does a great show at The Stratosphere. Frankie scored the music for "Pin Up," including original songs. Singing throughout the show is Anne Martinez, a member of a Sin City singing trio, BBR (Blonde, Brunette and a Redhead) and there are even magic acts. The show goes through the course of a calendar year, and each month tells a mini-story including vintage photos, costumes, music and choreography.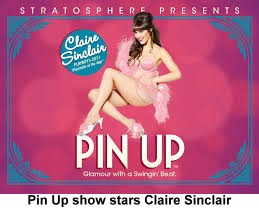 "Pin Up" plays Thursdays through Mondays at 10:30 p.m. Tickets are $49.99, with VIP seating available for an additional $10. And make sure to hang out after the show. Claire Sinclair and the other performers in the show stick around for photos.
---
EL SUPER CLASICO is Coming to Las Vegas for the first time EVER - Wednesday, JULY 3 at SAM BOYD STADIUM. Mexican powerhouses Club America and Chivas de Guadalajara are set to face off at 8 p.m. This is the biggest rivalry in Mexican soccer. Both Mexican clubs, America and Guadalajara, are the two most successful and popular Mexican football clubs with América holding 10 titles, and Guadalajara, commonly known as Chivas, with 11. The Tropicana Las Vegas is acting as the host hotel for the event.

PURE Nightclub inside Caesars Palace welcomes New Kids On The Block to host an evening at top nightlife destination Saturday, July 6. Taking a break from their busy schedules, the award-winning group will head to the mega-club directly following their performance from "The Package Tour" to celebrate with adoring fans.
---
Media was invited to the Popovich Comedy Pet Theater at the V Theater in Planet Hollywood, and I forced myself to go as I thought, Oh well, another pet show. Was I in for an amazing surprise? Not only is this a show with fabulous cats, dogs, ducks, parrots who do amazing tricks, but the amazing human acrobats, storyline, European type circus, comedy, costumes, music, settings etc, in this all around wonderful show, although exceptionally good for youngsters, is also a must see for all ages.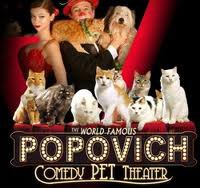 Gregory Popovich is a superb entertainer who does physical acts that are almost hard to believe that a human can do this. By the way, the dogs and cats that Gregory Popovich has expertly trained are animals that he has rescued from shelters.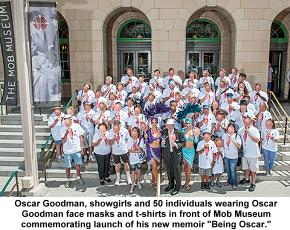 Oh Mr. former Mayor Oscar Goodman, you are like the energy bunny running around all over town launching your new book, "Being Oscar." No one else but you could have written such a memoir of interesting, funny, honest, naming names and not backing down and somewhat settling scores in a mix of so many fascinating stories. But, of course, who else but Oscar Goodman, could have gone from Mob Lawyer to Mayor of Las Vegas. Being Oscar by Oscar Goodman is out and about and ready to be read. Get it, you won't be sorry.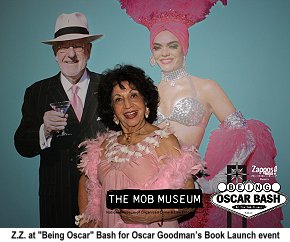 ---
Something fierce is brewing at Something's Brewing Café, where the cast of Divas Starring Frank Marino will join the mini divas from "Toddlers & Tiaras" for a special viewing party of the episode they star in together. The event will take place Wednesday, June 19 at 5:30 p.m. and is free and open to the public. The episode, filmed on Jan. 10, finds Marino, Las Vegas' longest running headliner, emceeing the Little Miss Nevada, LLC pageant, while his divas bring the glitz and glam from their show at The Quad Resort and Casino to the judging table.
---
Hyatt Hotels Corporation (NYSE:H) and MGM Resorts International (NYSE:MGM) announced an unprecedented relationship between their affiliates that will offer substantial benefits to members of their loyalty programs, Hyatt Gold Passport and MGM Resorts' M life. Starting June 20, Hyatt Gold Passport members will be able to earn and redeem Hyatt Gold Passport points at 12 iconic participating MGM Resorts destinations in Las Vegas, and M life members will be able to earn M life Tier Credits when staying at Hyatt hotels and resorts around the world.
---
"Dancing with the Stars" champ and country songstress Kellie Pickler takes the stage at Veil Pavilion inside Silverton Casino Hotel on Friday, July 5 at 8 p.m.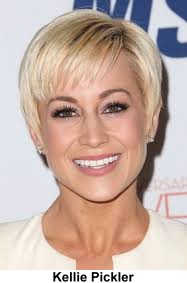 CMT Award winning singer Kellie Pickler captured America's hearts and votes on the wildly successful "American Idol." In 2013, Pickler took home the championship of the 16th season of "Dancing with the Stars," scoring multiple perfect scores and blowing away the competition.
Kellie has become a bona fide star in music and television. Her debut album
Small Town Girl entered the Billboard 200 at number nine and spawned the hit singles "Red High Heels" and the emotional "I Wonder." Her follow up self-titled album produced Pickler's massive country hit "Best Days of Your Life" co-written and featuring Taylor Swift. In 2012, Pickler released her third album 100 Proof, once again debuting in the top ten on the Billboard 200. Rolling Stone named the album No. 1 Country Album of the Year. Pickler has a new album forthcoming later this year.
TOP OF NEXT COLUMN
The D* Word-A Musical (*Ditched, Dumped, Divorced and Dating) is coming to Las Vegas in mid-July at LVH in the Shimmer Cabaret. Renowned Writer/Producer Jeanie Linders of Menopause The Musical has written her second show, What's YOUR D*Word? If you've ever been ditched, dumped, divorced or experienced the ups and mostly downs of dating, you'll get Jeanie Linders' hilarious new show, The D* Word-A Musical as it celebrates life's more challenging experiences with relationships. The 350-seat Shimmer Cabaret is an intimate setting for the musical production, offering an off-Broadway style experience to the audience by touching on subjects that embody the whole 'misery loves company' notion therapy, set to a jukebox score - with wine as each ticket comes with a shot glass.
The 90-minute show follows four single and single-again women who sing their way through the ups and downs of relationships with the aid of friendship, martinis and 'mojo makeovers.' With songs from I Will Survive and Hot Stuff to Before He Cheats, Turn Me On! and Kelly Clarkson's Stronger, the show is a celebration of living life happily EVEN after. Tickets for The D* Word-A Musical are now available starting at $39, with tickets also priced at $49 and a VIP ticket of $60 which includes priority seating, a show DVD and much more. Call LVH Box Office at (702) 732-5755.
---
Aliante Casino + Hotel announces season five winner of America's Got Talent Michael Grimm to perform at Access Showroom on Saturday, June 22 at 8 p.m.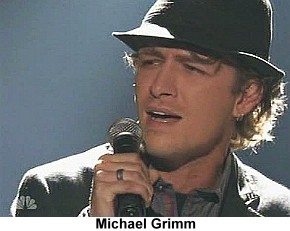 The soulful singer will charm hundreds as he performs his hits at the property's 500-seat theater. Grimm is the winner of the popular NBC show and headlined the first "America's Got Talent Tour." Following his win, he shared the stage with legendary musicians Stevie Nicks and Heart. He released his first self-titled album in the spring of 2011, working with Grammy-award winning producer Don Was. Michael Grimm is now giving back to his fans and returning to live performances, hitting the stage at venues all across America. Tickets are $5 and you must be 21 years or older. 702-692-7287.
---
One of Las Vegas' hottest new comedy venues is on the move. Starting July 3, Big Al's Comedy Club - named "Best Bargain Show in Las Vegas" by the Las Vegas Review-Journal - will move from The Orleans to a larger venue at the Gold Coast Hotel and Casino. At its new home in the Gold Coast Showroom, Big Al's Comedy Club will have additional seating and state-of-the-art equipment. Tickets will remain $19.95 (including one drink); showtime will move to Wednesdays through Saturdays, 7 p.m. each evening.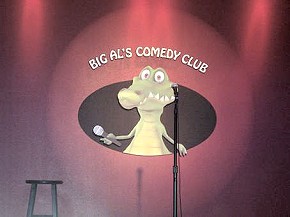 Big Al's Comedy Club has grown into one of the most popular comedy destinations in Las Vegas and Gold Coast will provide additional space to accommodate larger audiences, as well as a better experience for guests and performers. For the remainder of June performances will continue at The Orleans at 8 p.m. The line up includes: June 19-23: Timm Metivier with John Crist - June 26-28: Gary Caouette with Carla Rea
Beginning July 3, all performances will be at the Gold Coast, Wednesday through Saturday at 7 p.m.- July 3-6: Bob Golub with Penny The line Prince - July 10-13: Mike Marino with Murray Valeriano - July 17-20 – Rob Sherwood with Jen Murphy - July 24-27: Paul Ogata with Yoursie Thomas.
---
Commonwealth will keep the beats going all summer long in Downtown Las Vegas with rooftop performances during "Wednesdays," a stylish weekly event fusing art, music and fashion. The 2,000-square-foot rooftop will create an ideal setting for live music by talent from Las Vegas, New York, England and more.
Recently named one of the "7 New Reasons to Hit Las Vegas," by the New York Post, Commonwealth brings a stylish new social scene to the burgeoning bar district in Downtown Las Vegas. The swanky 6,000-square-foot cocktail bar is a collision of art and architectural influences inspired by pre-Prohibition era design and libations; complete with its very own backroom speakeasy. Crystal chandeliers bring a touch of elegance to the overall design. Located at 525 E. Fremont St., Commonwealth is open Wednesday through Friday from 6 p.m. to close and 8 p.m. to close on Saturday and Sunday.
---
Fabulous Palm Springs Follies Announces Final Season
After more than two decades of enthusiastic, wall-to-wall audiences and worldwide acclaim, The Fabulous Palm Springs Follies will be closing its doors forever. The Follies announces its final edition, 23rd season, entitled The Last Hurrah! opening November 1, 2013 with its closing performance on May 18, 2014.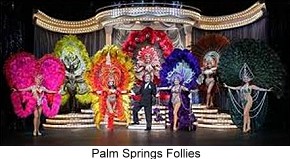 The longest running Follies of all time, the show was once credited with saving downtown Palm Springs, and is famous for the busloads of patrons who line up in front of the historic Plaza Theatre before every performance. The Fabulous Palm Springs Follies has been seen by nearly three million patrons, and celebrates the music and dance of Mid-Century America with a cast ranging in age from 55 to 83 years young. The show features lavish, Broadway-caliber production numbers, and plays five days a week. Founder, Riff Markowitz is also a part of the cast; in fact, as Follies master of ceremonies, he hasn't missed a single show since its premier in 1992.
The cover story of the October, 1997 edition of Palm Springs Life magazine was headlined: "How The Fabulous Palm Springs Follies Saved Downtown." The show has been bringing patrons into the heart of Palm Springs by auto, airline and tour busload. The historic Plaza Theatre opened in 1936 for the world premier of the motion picture Camille, with Greta Garbo reportedly in attendance. Since then, the theater's stage has featured performances by such stars as Bob Hope, Bing Crosby and Frank Sinatra.
---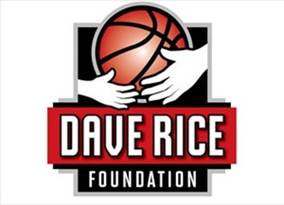 UNLV head basketball coach Dave Rice announced that Jimmy Kimmel, host and executive producer of Jimmy Kimmel Live!on ABC, will join the Board of Directors of the Dave Rice Foundation, a 501(c)(3) organization that supports families in southern Nevada affected by development disorders such as Autism, and other charitable causes. Jimmy Kimmel, who grew up in Las Vegas and attended UNLV, is a longtime Runnin' Rebel fan. Like Coach Rice, Jimmy has a family member affected by Autism.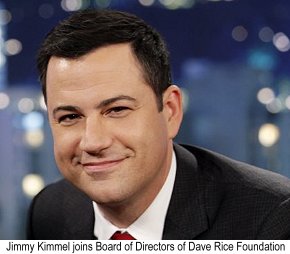 ---
While many bachelorettes have to worry about their husbands-to-be getting into trouble at their bachelor party, VH1's "Mob Wives" reality television star, Ramona Rizzo, will be the one celebrating her upcoming nuptials at a gentleman's club while her fiancé serves time in federal prison.
The brunette beauty will commemorate her engagement to Joseph Sclafani, who is currently serving a life-term in prison, with a bachelorette party at Crazy Horse III on Saturday, June 22. Granddaughter of the infamous Benjamin Ruggiero, also known as "Lefty Guns," Rizzo has been accustomed to the mob scene for years. She became engaged to her fiancé in February, and plans to marry in June.
---
A NEW MILLIONAIRE: On the morning of June 4, Benny Chen of Prince Edward Island, Canada was a restaurant manager; at the day's end, he was a millionaire. The 32 year-old amateur poker player bested a massive field of 6,344 entries to win his first gold bracelet and the first ever "Millionaire Maker" No Limit Hold'em Event at the 44th Annual World Series of Poker at Rio All-Suite Hotel & Casino. Chen emerged victorious from a lengthy final table, defeating Doctor and commercial pilot Michael Bennington heads-up for the $1,199,104 payday. Chen joins the ranks of WSOP-made millionaires. He is now the 257th millionaire the WSOP has created and the 26th player to earn a million dollar payday in a WSOP tournament outside of the Main Event.
In true Las Vegas style Chen was escorted on stage by two stunning Bally's Jubilee! Showgirls and presented with a giant $1 million poker chip in addition to his coveted gold bracelet at his award ceremony.
---
The newest additions to the Neon Museum's collection of donated and rescued signs will be installed in the Neon Boneyard. The new signs come to the museum from Terrible's Hotel & Casino and Telemundo Las Vegas.
The iconic Terrible's Cowboy was removed last month from Terrible's Hotel & Casino, which is in the final transition to become the Silver Sevens Hotel & Casino. The stages of an extensive renovation and rebranding initiative as the property new signage for the Silver Sevens Hotel & Casino will be unveiled the first week of July during a special celebration to introduce the rebranded property.
The Telemundo sign has graced the Neonopolis building facing the Fremont Street Experience since late January 2009, when the KBLR Telemundo Las Vegas station moved from its previous location to downtown. The sign was taken down on March 28, 2013 in conjunction with the installation of a newly rebranded Telemundo Las Vegas neon sign over the Neonopolis building, now facing Fourth Street over the Fremont Street Experience.
---
In a journey through an iconic time in music and movie history, Bill Fayne and Friends will perform "The Golden Age of Movies" at the Suncoast Showroom, July 20 and 21. "The Golden Age of Movies" will recreate some of the most famous, beloved songs and dances from legendary movies including "The Wizard of Oz," "Singing in the Rain," "There's No Business Like Show Business," "Annie Get Your Gun," "Easter Parade" and "Silk Stockings." The show will feature the music of Rodgers and Hammerstein, Cole Porter, George Gershwin, Irving Berlin, Lerner & Lowe and will remember song and dance favorites spanning 40 years of the movie musical greats including Fred Astaire, Gene Kelly, Cyd Charise, Debbie Reynolds, Judy Garland, Lena Horne and Ethel Merman.
Joining Bill Fayne in the musical event are George DeMott, Anne Martinez, Tara Palsha, James Allen, Gret Menzes and many more. Showtime each evening is 7:30 p.m. Tickets are available from $15.95. Call 702.636.7075.
---
Michael Mina's Pub 1842 opened at The District at MGM Grand. This is Michael Mina's 18th restaurant in many parts of the U.S.A. His first fine dining restaurant was in San Francisco and he has three fine dining restaurants in Las Vegas. Now, Michael Mina's latest creation has expanded beyond fine dining to include a more casual modern twist on Pub faire and he has opened his gastro Pub 1842 restaurant. Included are quite a wide variety of different faire such as unique Burgers, Fries, Fish and Chips, frickles — a crunchy fried pickle — homemade pretzels with a cheese fondue, lobster corn dogs, Peanut Butter Crunch Burger with bacon jam, potato chips and pimento cheese and sandwiches such as grilled chicken shawarma and even a vegetarian falafel burger with tahini sauce, tomato confit and tzatziki. 1842 was the year Pilsner Beer was created and many different drinks are offered.
---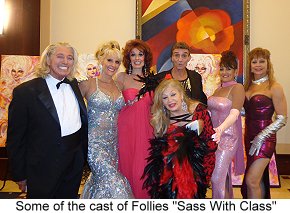 I had written about the Follies forthcoming show in my last column and I had a chance to see and enjoy it. Rich Rizzo's Las Vegas Follies performed "Sass With Class - an evening of song, dance and merriment" with the sassy, classy ladies and gents of the Follies. Although the show was long, an enthusiastic audience loved every minute of performers ages 56 to 82 and featured guest specialty acts at the Starbright Theater in Sun City, Summerlin.
CONTINUE ON TO...:
> Entertainment Tidbits Archives
>Las Vegas News "Heard Around Town"
>Las Vegas Leisure Guide<