The world-famous dance crew Jabbawockeez all-new show, "PRiSM," will begin preview performances Saturday, May 18 at Luxor. A celebration of imagination, the show is an eclectic mix of awe-inspiring choreography, captivating storylines and stunning special effects that embraces the unexpected.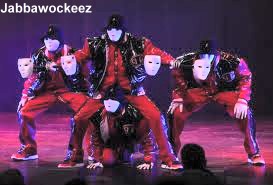 Jabbawockeez became the first dance crew to headline a show on the Strip in 2010 with the wildly successful "M.U.S.I.C." which premiered at MGM and later moved to the Monte Carlo. Jabbawockeez dressed in expressionless white masks and gloves, guides attention away from individual identities and toward a unified group to create a canvas for the audience to visualize the music by painting artistic imagery through their intricate moves. In its brand new 830-seat theater, the one of a kind dance crew will bring unparalleled energy and fresh creativity to their show. Tickets are now on sale at www.luxor.com.
---
Sapphire Pool & Day Club Grand Opening Weekend Party celebrated in typical Sapphire style with nothing short of spectacular. Adrian Grenier, Pam Anderson, Coco, Crystal Hefner, Dennis Rodman, Robert Horry, Swimsuit Models, World's Sexiest DJ Colleen Shannon & DJ George Acosta were part of the celebration. Beautiful women were partying and sunbathing in the $8 million Day Club which includes a multi-level, state-of-the-art pool utopia that can comfortably accommodate over 800 sun-worshiping party goers. In addition to the featured celebrities, the weekend's fun included go-go dancers, beautiful Sapphire entertainers, dining and drinking. Sapphire Grill by Kerry Simon satiated appetites at Sapphire Grill while experiencing the exhilarating atmosphere of the "Sexiest Pool Party in Las Vegas."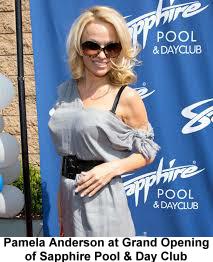 Just heard that Las Vegas is in for a big surprise - one of the world's most well-known actors will be making an appearance at the Sapphire Pool & Day Club that will host Charlie Sheen on Saturday, May 25 for a Memorial Day Weekend celebration. Sapphire is located at 3025 S. Industrial Road in Las Vegas and is the World's Largest Gentlemen's Club with now over 100,000 square feet.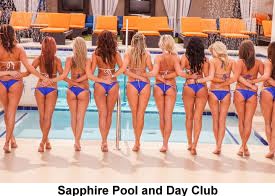 ---
THE VENETIAN and THE PALAZZO will come alive with the fantasy, food, fun and romance of Italy during CARNEVALE, a three-month celebration of the summer festivals of Italy, May 27 through Sept. 8. Based on the highly successful premier in 2012, the festival will be expanded to feature 300 experiences throughout the summer. From visual spectacles to themed characters and unexpected surprises around every corner, guests will be wrapped up in the pageantry of CARNEVALE
---
Comedy-Magician Mac King celebrated 13 years of performing "The Mac King Comedy Magic Show" at Harrah's Las Vegas at 3 p.m. on Saturday, May 11. After a special show, Christian Stuart, Harrah's regional vice president and assistant general manager, presented King with a cake and a proclamation from Mayor Carolyn G. Goodman naming May 11, 2013 "Mac King 13th Anniversary Day" in Las Vegas. King also received certificates of commendation from Governor Brian Sandoval and United States Senator Dean Heller.
Several of King's celebrity pals helped him celebrate the momentous occasion on the red carpet including: the cast of Million Dollar Quartet, Defending the Caveman's Kevin Burke, the cast of Chippendales, Maren Wade from iCandy Burlesque, Mark Shunock from Rock of Ages and his wife Cheryl Daro, Eric and Jayne Post from Marriage Can Be Murder, and more. King then performed a special show for his pals and guests of the hotel where he presented the newest member of his cast: Colonel Sanders.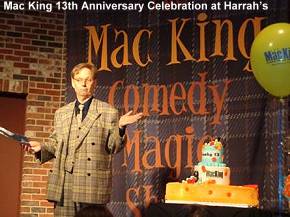 Mac King began his full-time one-man show "The Mac King Comedy Magic Show" at Harrah's Las Vegas in 2000. Since then, King has performed an unprecedented 6,760 shows to more than one million audience members at the main showroom at Harrah's Las Vegas. This translates to: 3,380 days of plaid suits worn; 20,280 feet of rope used for King's famous rope trick; 351,520 playing cards; 20,280 magically appearing fig newton pastries; And 33,800 audience volunteers!
Mac King is not only an exceptional entertainer who has entertained more than a million audience members since opening at Harrah's, but he is also an accomplished writer and an outstanding citizen who is an avid supporter of literacy programs.
---
La Comida's Grand Opening Party was a festivity not often seen in downtown Las Vegas. This was the latest creation by the Morton Group, led by restaurateurs Jenna and Michael Morton. Guests were greeted outside by a 35 foot Praying Mantis exploding fire from it's antennas (courtesy of Zappo's owner Tony Hsieh), Mariachi Performers, Piñata Smashing with Mayor Caroline Goodman and City Councilman Bob Coffin and a menu in the restaurant inspired by the cosmopolitan fare of Mexico City.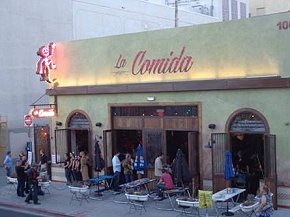 La Comida was designed to recreate a feeling of camaraderie in a fun, eclectic atmosphere. The menu offers familiar Mexican cuisine using true traditional ingredients and cooking styles from various regions in Mexico with the sophisticated influence of Mexico City. La Comida's signature fresh fruit margaritas were inspired by a dinner the Mortons had in Cabo San Lucas when the bartender pulled a tamarind from a tree to make a margarita for Michael, creating what he believes was the best margarita he had ever tasted. La Comida blends authenticity and tradition with a delightfully funky vibe in the restaurant and outdoor patio at 100 Sixth Street in downtown Las Vegas.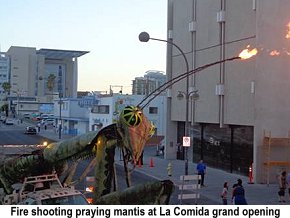 ---
The Mob Museum, The National Museum of Organized Crime and Law Enforcement, will celebrate former Mayor of Las Vegas and author Oscar Goodman on the occasion of the publication of his brand-new book with the "Being Oscar Bash," with three days of festivities May 23–25. Goodman's captivating new memoir, "Being Oscar - From Mob Lawyer to Mayor of Las Vegas, Only in America," is being released by Weinstein Books on Tuesday, May 21.
The "Being Oscar Bash" is sponsored by Zappos.com. on Thursday, May 23 with a celebration featuring live entertainment and surprise guest appearances from 6:30 to 9 p.m. at The Mob Museum. Admission is $10 for the general public; Museum members are free. Each attendee will receive a complimentary cocktail and a signature "Being Oscar" face fan.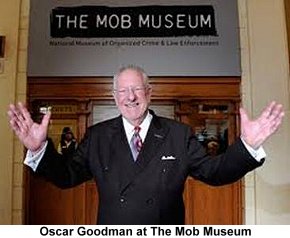 Friday, May 24 The Mob Museum will host the first official Las Vegas book signing with Goodman. All guests on this day will receive FREE admission to the Museum with the purchase of a book. Special programming throughout the day will include three 30-minute presentations by Goodman in the courtroom followed by book signings. These events will take place at 11 a.m., 1 p.m. and 3 p.m.
Saturday, May 25 At 10:30 a.m., Goodman will make a grand entrance at The Mob Museum, where he will gather with members of the public - all holding "Being Oscar" face fans - for a photograph on the Museum's front steps. All guests on this day will receive FREE admission to the Museum with the purchase of a book.
---
PURE Nightclub inside Caesars Palace will welcome GRAMMY Award-winning artist Pharrell Williams as he heats up Memorial Day Weekend with a live performance Saturday, May 25. The former Neptunes member recently debuted on Daft Punk's new album Random Access Memories with the single "Get Lucky," which is quickly climbing the charts. William's has been keeping busy as he is also featured on a new track, "Blurred Lines," with Robin Thicke and T.I.
---
What an incredible night was experienced by attendees at the Roast of Zowie Bowie (Chris Phillips). Nothing was off limits at the STRATOSPHERE Showroom when about 15 well-known celebrities verbally, in song, videos, photos and otherwise lovingly, but brutally attacked Chris Phillips who was seated on an enlarged red velvet and gold throne. The event was risqué and very blue, blue, blue, but so hilarious that my stomach was hurting for days after from laughing so hard.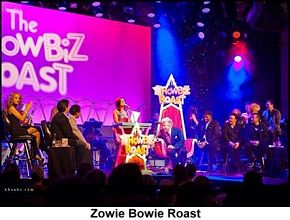 Zowie Bowie's band, featuring his significant other, vibrant violinist Lydia Ansel played throughout. No one was spared and Roastmaster Mike Hammer hammered everyone onstage that included: Gordie Brown, George Wallace, Clint Holmes, Kelly Clinton Holmes, Lorena Pearl, Vinnie Favorito, Frankie Scinta, Robin Leach, Dayna Roselli, Dennis Bono, Johnny Kats, Justin Spencer and Brian Thomas, BBR Vocal Group and Thunder From Down Under guy dancers. This was a 2 1/2 hour show that started almost at midnight, but no one wanted to leave. I finally did at 3 a.m. Hats off to Adam Walmsley who produced the Roast.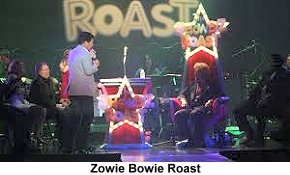 ---
The Australian Bee Gees Show - A Tribute to the Bee Gees will continue to bring Las Vegas audiences an unforgettable live concert experience through 2015. Capturing the look, sound and personality of one of the most successful groups in music history, the veteran performers will call EXCALIBUR home for an additional two years.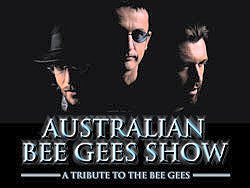 The Australian Bee Gees Show is much more than just a tribute. It's a live celebration of more than four decades of legendary music featuring iconic classics that changed the sound of music, including "You Should Be Dancing," "Stayin' Alive," "To Love Somebody," "Night Fever" and "How Can You Mend a Broken Heart," among others. Formed in Melbourne, Australia in 1996, The Australian Bee Gees Show features multi-media concert event state-of-the-art sound and superb lighting coupled with giant screens featuring video clips, live camera images and stunning graphics. Entering its 17th year as a group, the tribute band has performed more than 4,000 shows in more than 40 countries. The Australian Bee Gees Show takes the stage Saturday through Thursday at 7 p.m. nightly in the Thunder From Down Under Showroom at Excalibur Hotel & Casino.
---
The Smith Center - Free to the public:
The Smith Center for the Performing Arts offers free, guided walking tours of the world-class campus on Wednesdays and Saturdays at 10:30 a.m. highlighting its architectural accomplishments, artwork and historic overview. Tours last approximately 60 minutes and are limited to 20 patrons per tour. To register for a tour, visit www.TheSmithCenter.com.
Reynolds Hall Schedule:
The Tenors Sunday, June 2 at 7:30 p.m. Ticket prices start at $26 - "Lead With Your Heart," the Canadian quartet, The Tenors, return with their new album.
Jewel Greatest Hits Tour Thursday, June 6 at 7:30 p.m. Ticket prices start at $29
Green Day's "American Idiot" - Tuesday-Friday, June 11-14 at 7:30 p.m., Saturday, June 15 and Sunday, June 16 at 2 and 7:30 p.m. Ticket prices start at $24 - Based on Green Day's groundbreaking rock opera of the same name, this daring new musical tells the story of three lifelong friends forced to choose between their dreams and the safety of suburbia, and features the smash hits "Boulevard of Broken Dreams," "Holiday" and "21 Guns."
"Catch Me If You Can" - Tuesday-Friday, June 18-21 at 7:30 p.m., Saturday, June 22 and Sunday, June 23 at 2 and 7:30 p.m. Ticket prices start at $24 - Based on the hit DreamWorks film, "Catch Me If You Can" is the high-flying, splashy Broadway musical adventure based on an astonishing real-life story of being young, in love and in trouble.
---
Fremont Street Experience's Rock of Vegas concert series is adding more bands to its summer lineup. The headliner shows confirmed for July and August complete a concert series that is sure to provide a great alternative destination this summer. The free concert series starts the summer early with the first show set for Sunday, May 19 with Theory of a Deadman. Featured concerts on major holiday weekends include Fuel and Lit Memorial Day Weekend, Three Days Grace Fourth of July Weekend and Puddle of Mudd Labor Day Weekend. Other bands scheduled: June 8 (Saturday): Hinder, June 29 (Saturday): Summerland Tour 2013 Alternative Guitars starring Everclear, Live, Filter and Sponge.
TOP OF NEXT COLUMN
Have you been to Sushi Roku, the beautiful restaurant located on the third floor of the Caesars Palace Forum Shops? Sushis Roku has been at the forefront of the sushi revolution by fusing centuries-old culinary traditions with contemporary accents in a trend-setting environment that has spectacular view of the Strip. Sushi Roku is making a summer splash with a special menu and charitable incentives benefiting HELP of Southern Nevada from Memorial Day to Labor Day.
---
Two-time Grammy®-winning recording artist, LL COOL J featuring DJ Z-Trip, will headline the "Kings Of The Mic" Tour, which will prove to be this summer's ultimate Hip-Hop music experience. Joined by legendary artists Ice Cube, Public Enemy and De La Soul, the tour will come to The Joint at Hard Rock Hotel & Casino on Friday, May 24. This tour underscores what true authentic Hip-Hop music is based on, with these groundbreaking artists bringing their music to fans across generations. "The Kings Of The Mic" tour will be a great way for hip-hop fans to kick off Memorial Day Weekend in Las Vegas.
---
LAS VEGAS FOLLIES is back, with its dazzling array of dancers, singers, comedy and magic. Rich Rizzo is widely known for his direction and choreography of the world famous Lido de Paris in Paris, France and Jubilee, currently running at Bally's in Las Vegas. He had previously produced the Las Vegas Follies that was received with great acclaim. Rich Rizzo has now put together the new Las Vegas Follies "Sass With Class." The show has a wonderful group of lovelies who have passion and elegance in addition to baubles and bangles, and you will find it hard to believe the entire cast is composed of seniors.
In addition to the Rich Rizzo Dancers and Showgirls, the show stars the exciting internationally acclaimed impersonators, Frankie Kein and Manuel Arte and their special friends, Liza. Marilyn and Julie Andrews. Bambi Jones is back with a history of burlesque, as she lived it! Angelica will mystify you with her magic! You'll be surprised at what you think you saw and Geno Venezio, a former entertainer in "Splash", joins the cast with his unique form of dance.
Get in on the fun for an evening or an afternoon of entertainment at its best on June 15th at 7:00 PM or June 16th at 2:00 PM - at the Starbright Theater in Summerlin as Rich Rizzo goes beyond traditional in this edgy presentation of an adventure that proves age is not an element in timeless entertainment. For information and tickets, call 702-240-1301.
---
Hakkasan Las Vegas, the all-encompassing restaurant and nightlife mecca at MGM Grand opened with an A-list Grand Opening celebration with GQ Magazine. The action-packed June schedule continues the exceptional entertainment schedule planned for the nightclub and restaurant complex. The June DJ line-up includes frequent performances by the nightclub's exclusive resident DJs Tiësto and Calvin Harris along with its impressive roster of featured artists (in alphabetical order) Bambi, Bingo Players, Dada Life, Danny Avila, Fergie, Hardwell, Michael Woods, Nervo, Quintino, R3hab, TJR and Tommy Trash. Many well-know celebrities have be partying at Hakkasan such as Hilary Duff, Haylie Duff, Adrian Grenier and actor Neil Patrick Harris who was spotted partying at a VIP table in the main room while sipping on cocktails and hanging out with fans. Tickets are available for purchase at hakkasanlv.com. The nightclub is open Thursday through Sunday 10 p.m. until close. Guests must be 21 years of age or older. Cover charges and table reservations vary.
---
Legendary comedian and impersonator Rich Little has announced "Jimmy Stewart & Friends" has once again been extended at LVH - Las Vegas Hotel & Casino. The hilarious one-man show will conclude its run at the Shimmer Cabaret through July 1. Featuring more than 30 celebrity icon voices, including Cary Grant, George Burns, Ronald Reagan, Katharine Hepburn and John Wayne, among others, "Jimmy Stewart & Friends" will take you on an adventure through the life of the famed Jimmy Stewart. "Jimmy Stewart & Friends" is performed Saturday - Monday at the Shimmer Cabaret inside the LVH. All performances begin at 8:30 p.m. Tickets are $70.29 plus tax and applicable fees.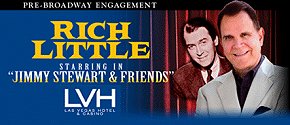 ---
SHe by Morton's, the stylish boutique steakhouse now introduces "Happy," a new bar and patio menu offering small bites and an array of drink specials available from 5 to 7 p.m. daily. Just steps away from the main entrance of ARIA at The Shops at Crystals, Eva Longoria's lavish new restaurant is the a place to enjoy early evening hors d'oeuvres and cocktails after work or before a night out. SHe's lush patio is filled with oversized furniture, ideal for lounging and the patio overlooks striking water features and stunning architecture. When the weather heats up, guests can cool down in SHe's lively lounge.
---
For the second year, WINDER FARMS, a premier grocery home delivery company in Southern Nevada, will "Go Pink" for Susan G. Komen for the Cure® by raising money and awareness for breast cancer screening, treatment programs and research. From May 1 through Oct. 31, 2013 (Breast Cancer Awareness Month), WINDER FARMS will donate a portion of the proceeds from one of its most popular flavored drinks - Strawberry Milk - to the local affiliate of Susan G. Komen for the Cure®. Winder Farms Strawberry Milk bottles are also getting more "pink" as the company shows its commitment by changing the labels on 16 oz. and half-gallon bottle to once again feature the iconic Susan G. Komen for the Cure® pink ribbon. Customers can order by calling 1.800.WINDER1 (1.800.946.3371) or log on to winderfarms.com.
---
Casa Fuente inside The Forum Shops at Caesars Palace is giving cigar lovers the opportunity to win a trip for two to Las Vegas and to attend Cigar Aficionado's Big Smoke by visiting the brand new CasaFuente.com. Now through October 1 those visiting CasaFuente.com can fill out an entry form when checking out the new website of the cigar bar. Destination Las Vegas is free to enter for those 21 and over, and one winner will be selected and receive airfare for two to Las Vegas, a two-night stay and two tickets to the annual Cigar Aficionado Big Smoke.
For those who can't pull themselves away from the tables until midnight or who don't have time to catch dinner before a show, Ferraro's Italian Restaurant & Wine Bar offers a delectable option for late-night fine dining: the Mezzanotte Experience. The restaurant, which presents an authentic Italian culinary experience in an elegant, family-run atmosphere, serves its full dinner menu every night until 2 a.m. From 11 p.m. until 2 a.m., guests receive 50 percent off all food items and 25 percent off of drinks. Ferraro's is located at 4480 Paradise Road (across the street from the Hard Rock Hotel and Casino.
---
Local celebrities, philanthropists and supporters gathered at the Orleans Arena for The Animal Foundation's largest annual fundraising event, the 10th Annual "Best In Show," presented by Zappos.com. The American Kennel Club-style dog show was hosted by entertainment legend Clint Holmes and successfully found forever homes for all 52 contestants while raising more than $225,000 for the organization.
---
Tickets for HIV/AIDS nonprofit Golden Rainbow's 27th Annual "Ribbon of Life" fundraiser are now on sale. "Ribbon of Life" returns to The Smith Center for the Performing Artson Sunday, June 30 at 1 p.m. Tickets are priced at $38, $56, $81, $109 and $212. Tickets are available for purchase at The Smith Center Box Office, thesmithcenter.com, ticketmaster.com and by calling (702) 749-2000.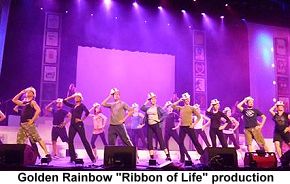 "Ribbon of Life" is an original production unlike any other in Las Vegas, featuring some of the best performers from premiere shows on the Las Vegas Strip. This year's extravaganza, "Tributes," will feature a wide spectrum of tribute-themed performances from contemporary to classic, Broadway to film, pop to hip-hop, music videos, television and political comedy.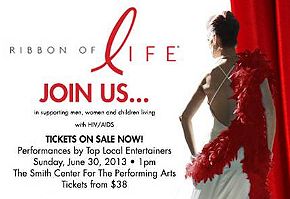 Last year, "Ribbon of Life" drew a record-setting crowd of 1,630 during its debut at The Smith Center for the Performing Arts. It raised more than $200,000, topping the previous year by $40,000, for the HIV/AIDS nonprofit. Golden Rainbow is a nonprofit organization that provides housing and direct financial assistance to men, women and children living with HIV/AIDS. Founded by members of the entertainment industry in 1987, Golden Rainbow is committed to serving the HIV/AIDS community through fundraisers like Ribbon of Life and HIV/AIDS related education. For more information, visit www.goldenrainbow.org or call (702) 384-2899.
---
Las Vegas is welcoming the 2013 Amazing Las Vegas Comic Book Convention on June 14-16 at the South Point. The Comic Book Convention brings STAR Power to Las Vegas. Guests include Jim Lee (Batman HUSH, Superman, Justice League, The X-Men); Stan Lee (Creator/Marvel Comics Legend); Greg Capullo (Batman); Rick Remender (Captain America, Uncanny Avengers, Uncanny X-Force); Humberto Ramos/Ryan Stegman (Spider-man); Skottie Young (Marvel Now); Gerry Duggan (Deadpool); Jessica Nigri (Cosplay Superstar); Mat Nastos (Phineas & Ferb) and Tony Fleecs and (My Little Pony).
Stan Lee will also be there. Stan is 90 years young and the creator of what is largely known as the Marvel Universe! Whether it's Iron Man, The Avengers, X-Men, Spider-Man or one of the many others, everyone knows and loves the Marvel brand! And, Jim Lee, an industry legend, known as the best comic book artist of all time! His launch of the X-Men franchise sold the most of ANY single comic book.
For more information and to see the other special guests visit the official website amazinglasvegascomiccon.com/special-guests/
---
Super Summer Theatre 2013 is celebrating their 38th year under the Stars at SPRING MOUNTAIN RANCH STATE PARK. Their season opener for 2 nights only on May 17-18 is BROADWAY MEETS HOLLYWOOD. Next productions are: Music Man: June 12-29; How to Succeed in Business without Really Trying: July 10-27; Legally Blonde The Musical: August 7-24 and The Producers: September 5-21.
For more information call: 702 594 7529
---
The 34th Annual San Gennaro Feast family fun festival celebrating the spirit of San Gennaro featured was bigger than ever with more than 70 restaurant food booths, more than 80 amusement rides and midway games including a petting zoo and pony rides.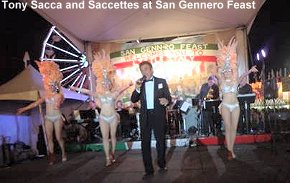 Tony Sacca, personality/entertainer has been host, coordinator and headliner for San Gennaro entertainment for more than 26 years. An opening ceremony featured Mayor Carolyn Goodman. Tony Sacca and the Saccettes plus top line performers backed by the Michael T Orchestra entertained on the entertainment stage from 8 p.m. till closing.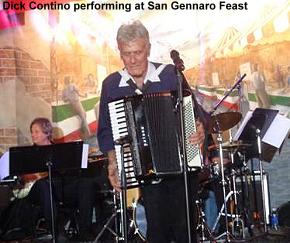 Great entertainment included the feast's grand lady Denise Clemente, grand marshal Tommy DiVito - founding member of The Four Seasons, Lena Prima, legendary accordionist Dick Contino, famed guitarist Esteban and violinist Teresa Joy, "The Rat Pack Is Back," "Shades of Sinatra," Aaron Caruso's tribute to Mario Lanza, Carman Jon "The Man With The Golden Voice," Italian music by Enzo Selvaggi, Italian Show and Neapolitan Songs by Ciro Giorgio, and many more well-known performers, plus strolling music by Emilio Baglioni,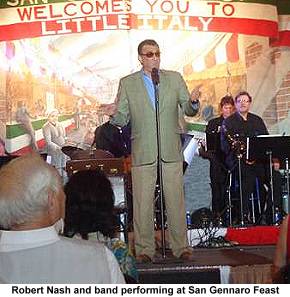 Watch for the San Generro's return in the fall of 2013.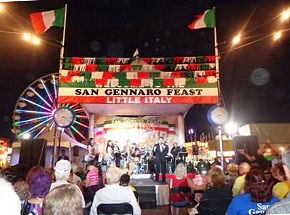 ---
Blue Man Group at the Monte Carlo invites families to double the fun with an exclusive offer for All-Day Ride Passes to The Adventuredome theme park at Circus Circus. Patrons will receive one All-Day Ride Pass to the theme park with the purchase of one Blue Man Group ticket.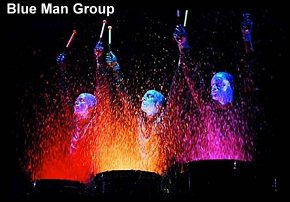 To receive The Adventuredome package, mention code "ADVENTUREDOME" at the Blue Man Group Box Office, any MGM Resorts International ticketing outlet or by calling 1-800-blueman. Performing nightly at Monte Carlo, Blue Man Group offers an experience never seen before. The offer can only be applied on Category A: Premium or Category C: Standard tickets and is subject to availability. The Adventuredome passes expire seven days after the selected Blue Man Group performance. All guests must be present when exchanging vouchers at The Adventuredome. This special offer expires Sunday, June 30 and is not valid for previously purchased tickets, holiday periods or Fright Dome admission. Visit www.blueman.com/adventuredome for more information.

---
Castle Walk Food Court inside the Excalibur will treat hard-working dads to one complimentary Original Glazed doughnut from Krispy Kreme Doughnuts, in exchange for a gently-used tie, this Father's Day from Friday, June 14, to Sunday, June 16. In addition, the "man of the house" can also celebrate his special day with a half-priced ice-cold beer from the Big Chill, with a same-day receipt from Hot Dog on A Stick.
Krispy Kreme will donate all of the ties they receive to Humana Guidance Centers. With the gift of giving delicious sweets to fathers, Krispy Kreme will also be giving back to the elderly and homeless veterans around the Las Vegas Valley.
CONTINUE ON TO...:
> Entertainment Tidbits Archives
>Las Vegas News "Heard Around Town"
>Las Vegas Leisure Guide<