The multi-award-winning "Billy Elliot the Musical" is coming to The Smith Center for the Performing Arts May 14 - 19. Based on the international smash-hit film and featuring music by Elton John, book and lyrics by Lee Hall, choreography by Peter Darling and direction by Stephen Daldry, "Billy Elliot the Musical" has earned critical acclaim around the world and was the winner of ten 2009 Tony Awards including Best Musical.

"Billy Elliot the Musical" is the joyous celebration of one boy's journey to make his dreams come true. Set in a small town, the story follows Billy as he stumbles out of the boxing ring and into a ballet class, discovering a surprising talent that inspires his family and his whole community and changes his life forever.
The production

has been awarded 81 national and international awards including ten Tony Awards, Best Musical by the New York Drama Critics Circle, Drama Desk, Drama League and Outer Critics Circle. Tickets are now on sale at The Smith Center Box Office or by phone at 702-749-2000 or 808-326-6868.
By the way! - Enjoy Try It Tuesday, a special offer allowing Smith Center patrons to experience something new. SAVE 50%.
---
On Sunday, April 28, loveable pups in need of forever homes will compete in The Animal Foundation's 10th annual "Best In Show" - Las Vegas' most famous dog show, held at the Orleans Arena and presented by Zappos.com. Singer, songwriter and entertainer Clint Holmes will host the event as more than 50 cuddly canine contestants from The Animal Foundation, Nevada's largest animal shelter and pet adoption center, vie for the audience's hearts and homes in an American Kennel Club-style dog show.

The 10-year milestone event will feature several exciting acts and personalities:
Siegfried & Roy will be honored for their vast contributions to "Best In Show" throughout the years. Celebrity Judge Holly Madison will present the "Special Needs" category. Las Vegas Valley news personalities will serve as individual category presenters. The cast of Tony® award-winning musical 'Million Dollar Quartet' will provide live entertainment. From noon to 4 p.m. a Vendor Fair will showcase unique pet-friendly businesses such as luxury pet food and apparel boutiques, expert animal trainers, local animal advocacy non-profits and more. Tickets for "Best In Show" are on sale now; $12 adults, $5 seniors and children 2-12 years of age.
---
The Scintas join the exciting entertainment lineup in the newly renovated showroom at the D Las Vegas. The group, known for their dynamic music, comedic antics and spot-on impersonations, will perform Wednesday – Sunday at 9 p.m., three weeks per month. Voted one of the top five shows in Las Vegas, brothers Frank and Joe Scinta along with Peter O'Donnell, continue to dazzle audiences with their passionate and energetic performance. Joe and Frank's impersonations of Frank Sinatra, Tom Jones, Ray Charles, Dean Martin and many other great entertainers give guests the opportunity to relive some of the most celebrated performances of all time. The new show will be a mix of Scinta favorites alongside new material and musical elements. The group plans to incorporate more spontaneous audience interaction in a less-structured setting than their previous shows. A new horn section will join the musical ensemble delivering the sounds of a full orchestra and notable names and friends of The Scintas will continue to make special guest appearances.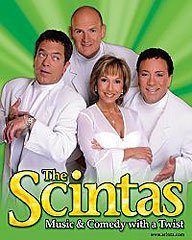 ---
Las Vegas sees its fair share of Wild Weddings, but this underwater affair is certain to be an unforgettable event. At first, Stephan and Andrea thought coming across the globe to have a very Vegas Wedding would most definitely include an Elvis. However, as the planning began, they realized that while the wedding would be in Vegas, something else might suit their personalities as a far better fit for their wedding. The Austrian couple found the Aquarium at Silverton Casino/Hotel and discovered a hidden underwater treasure and a way to make their special day memorable by marrying their mutual love for Scuba Diving, while actually marrying each other on April 18! The Bride and Groom will exchange their nuptials in complete Scuba gear, while wearing a specially weighted Bridal Gown and Tuxedo, of course. The lucky couple will have two of Silverton's Mermaids serving as Bridesmaids to mark the extraordinary occasion; while family, friends, hotel guests and 4,000 Sharks, Stingrays and Tropical Fish watch. Viewing is also available live by webcam on www.silvertoncasino.com. An Officiate will conduct the service from outside the tank, via microphone into the tank. Congratulations!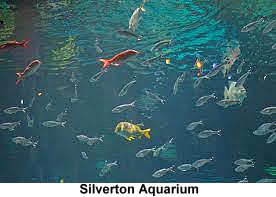 ---
The Plaza Hotel & Casino is the new home of the historic Bonkerz Comedy Club and its company of comedy acts beginning April 18. Bonkerz Comedy Productions opened its doors in 1984 and has more than two dozen locations nationwide. As one of the nation's longest-running comedy clubs, Bonkerz has been the site for national TV specials on Showtime, Comedy Central, MTV, Fox and "America´s Funniest People." Many of today's hottest comedians have taken their turn on the Bonkerz Comedy Club stage. At The Plaza, Bonkerz offers shows Thursday through Saturday at 7 p.m. with comic impressionist Rich Natole and at 9 p.m. with The Guidos of Comedy. On Sunday and Monday nights at 7 p.m., Bonkerz hosts the "Vintage Vegas Comedy and Magic Revue." Bonkerz Comedy Club is inside the Plaza's Zbar, just off the casino floor. Tickets can be purchased at the Plaza's box office or online at www.bonkerzcomedy.com. Discounted tickets will be available for locals, members of the military and seniors.
---
COMMONWEALTH, located at 525 E. Fremont Street, is off and running with a KENTUCKY DERBY PARTY. Commonwealth will be the odds-on favorite with a stylish Kentucky Derby celebration on Saturday, May 4. Running the same day as Race for the Cure, ticket proceeds from the event will be donated to the Southern Nevada affiliate of Susan G. Komen for the Cure. Guests will be off to a flying start for America's Race by receiving a free drink ticket and a betting ticket placed on a random horse upon entry. Lucky patrons with winning tickets can collect their earnings at the El Cortez Hotel/Casino. The marching band from the University of Nevada, Las Vegas will provide a traditional soundtrack while revelers flaunt their most fashionable Derby Day attire. Sponsored by Moët Hennessy, partygoers will win right out of the gate with live music, complimentary hors d'oeuvres and specialty cocktails featuring Moët & Chandon Imperial BTG, Belvedere Lemon Tea and a Prescription Julep created with rye whiskey and Hennessy V.S.
Guests may purchase tickets for $20 in advance at www.tinyurl.com/CWealthLV or at the door the day of the event for $25.
Recently named one of the "7 New Reasons to Hit Las Vegas," by the New York Post, Commonwealth brings a stylish new social scene to the burgeoning Bar district in Downtown Las Vegas. The swanky 6,000-square-foot cocktail bar is a collision of art and architectural influences inspired by pre-Prohibition era design and libations; complete with its very own backroom Speakeasy.
---
On Thursday, April 25 at 6:30 p.m., The Mob Museum, The National Museum of Organized Crime and Law Enforcement, will host "Protectors of the State – A Conversation with Three Former Governors," in its historic Courtroom. Featuring a panel discussion with former Nevada Governors Bob List, Senator Richard Bryan and Bob Miller, the event will be moderated by journalist and author Jack Sheehan. This Courtroom Conversation's discussion is part of the Museum's ongoing commitment to presenting informative and thought-provoking programming to the community. The event is brought to the Museum through generous contributions from Mike Sloan, Rogich Communications Group and Robin and Danny Greenspun.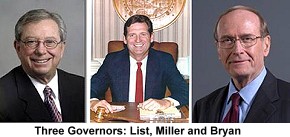 Beyond its borders, perceptions of Nevada have been challenged because of its libertarian social norms, times of economic hardship, and the presence of organized crime. "Protectors of the State" will feature three of Nevada's great leaders who navigated tumultuous waters while continuing to modernize the State and defend its image to the outside. In addition, the discussion will include stories from Gov. Miller's recently released book, "Son of a Gambling Man." A book signing with Gov. Miller will follow the discussion.
Doors will open at 6 p.m. with a reception including light fare and refreshments. The program will begin promptly at 6:30 p.m. in The Mob Museum's historic courtroom. Following the moderator-led discussion among the panel, audience members will have a chance to ask questions. The program will conclude by 8 p.m. and will be followed by Gov. Miller's book signing. Tickets for the April 25 event are $10 for members and $19.95 for non-members and include complimentary libation and light fare. To make reservations, call (702) 229-2734.
---
REMEMBERING THE GLORY DAYS: Hallelujah Hollywood opened On April 5, 1974 in the MGM Grand Hotel, and its Ziegfeld Showroom, designed for and by Donn Arden, was the largest stage and backstage area in the world. The 3 million-dollar extravaganza production paid tribute to classic MGM Hollywood musicals honoring the Ziegfeld Follies.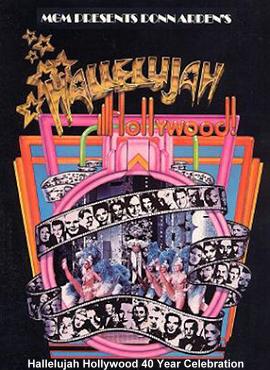 Now it is 6 p.m., April 5, 2013, 40 years to the day that Hallelujah Hollywood opened, and 120 Hallelujah Hollywood Cast Members gathered together in the same showroom that is now Bally's Jubilee Showroom to celebrate the 40th Anniversary of the opening of Hallelujah Hollywood!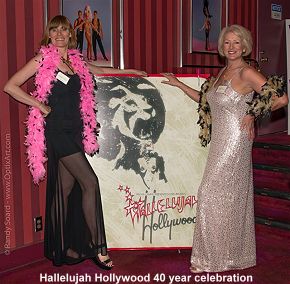 What an auspicious occasion this reunion celebration was! The main curtains parted and a large screen showcased the Cast of Hallelujah Hollywood! 1980. Members from that cast and others reacted with enthusiasm, nostalgia and camaraderie as they reminisced about their roles throughout the six-year run of the show, which closed on November 1980. Cast guests enjoyed a performance by original cast members Gary Oakes & Lou Garcia that was received with strong applause when they repeated their featured roles in a Vaudeville Medley. Appetizers, Champagne and a Chocolate Fountain added to the festivities. Jason Reddock and Lou Anne Harrison Chessik, (producer of the 2006 Stardust cast and crew reunion) organized this great celebration.

---
TOP OF NEXT COLUMN
The Las Vegas Philharmonic marks their 15th anniversary with the 2013-14 Love-themed season, "Love Your Las Vegas Philharmonic." The Las Vegas Philharmonic is Southern Nevada's only professional symphony orchestra, and the second full season as a resident company of The Smith Center for the Performing Arts that opened in March 2012.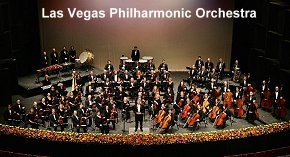 At the orchestra's core are 76 contracted professional musicians, many of whom are esteemed educators who perform in other professional productions in Las Vegas, bringing depth and variety to the organization. Since it was founded in 1998 by founding Music Director and Conductor Laureate Harold Weller and long-time Las Vegas arts supporters Susan and Andrew Tompkins, the Las Vegas Philharmonic has made a bold stake for artistic credibility with its first-ever concert, a performance of Mahler's Symphony No. 2, "Resurrection" in 1999. This devotion to classical music continues with the five-concert Masterworks Series, bringing top soloists and conductors to Las Vegas. Programming a season is about finding a balance between the serious classical music performed by top talents in the Masterworks Series and the lighter side of classical music with the more fun-focused Pops Series. The Philharmonic Orchestra presents a Pops Series which will increase to five concerts in the 2013-14 season. reflecting the growth of the organization in its new performance home.
Subscription ticket packages for the 2013 season (September 2013 through May 2014) are on sale now to renewing subscribers and the general public. Tickets for individual 2013-14 season concerts will go on sale on July 22, 2013. Subscription ticket packages are available from The Smith Center Patron Services, 702.749.2000 and will receive a FREE 10% discount on all subscriptions booked by July 1st. The highest priced ticket is $94 (A level) and a new low ticket price of $25 for selected balcony seats (D level) will be offered as a subscription package. For general questions about the 2013-14 season call 702 258.5438.
---
---
SUMMERTIME sunbathing OASIS venus pool club at caesars palace is open. Las Vegas' most enchanting summer destination, Venus Pool Club within Garden of the Gods Pool Oasis at Caesars Palace, returns for its seventh season, Monday, April 22. As one of the best-kept secrets in town Venus Pool Club brings an alternative topless poolside paradise to Las Vegas, perfect for sun worshipers seeking the relaxation of a European-style retreat. Surrounded by lush greenery and Romanesque elegance, the 10,000-square-foot lap of luxury serves up ultra-high end foods and an impressive selection of hand-crafted beverages. Light treats such as sushi rolls or crisp salads to sandwiches and sliders served straight from the grill are also available for guests. The stunning staff is comprised of a bevy of beautiful Goddesses. Services at Venus Pool Club include cooling Evian face spritzers, frozen towel presentations and the ultimate treat, requesting a poolside body massage to experience total relaxation on a blissful summer day. With beats spun daily by resident DJs, Venus Pool Club is a tranquil alternative from the chaos of daylife pool parties. The divine day club features an Olympic-sized pool and oversized gargoyle statues that surround the perimeter of the Garden of Gods Pool Oasis. The area is equipped with white décor of eleven cabanas, four couches, 14 daybeds and numerous chaise lounge chairs, making it effortless to find the perfect spot to catch rays, people watch or just take in the luxurious outdoor space.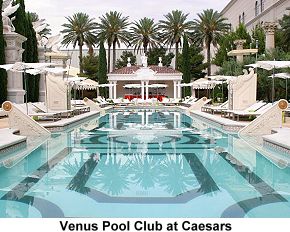 ---
BUSY FAT BAR CELEBRATES FIRST YEAR WITH RECORD BUSINESS
Tens of thousands of by-passers makes it the greatest people-watching place in Las Vegas. With approximately 50,000 people strolling by on weekdays and 80,000 on weekends, it's the epicenter of people watching. Directly across from where the Monte Carlo meets City Center, it's a great place to get out of the hustle and bustle of The Strip and relax while still being close to the action.
The Fat Bar celebrated its first anniversary on April 13 after a busier year than one could ever imagine. Why! People eat three times, a day not to mention drinking and the reviews have been phenomenal. The new outdoor café 'bordering the Strip sidewalk offers music or a DJ. On Thursday nights from 10 p.m.-2 a.m. a deejay plays '80s music. Fridays and Saturdays the deejay plays rock 'n' roll from 10 p.m.-2 a.m. It has all the right stuff for success. For $35 you get a two-hour open bar and burger and fries. The Fat Bar recently received a 23 Zagat rating overall. Relax, enjoy the food, and watch the parade of people passing by.
---
California Hotel and Casino hosts the 16th Annual Lei Day Polynesian Festival on Saturday, May 4 and Sunday, May 5, from 9 a.m. to 6 p.m. both days. The annual Polynesian festival brings together musicians, dancers, artists, craftsmen and food and beverage vendors to showcase the very best of Hawaii. Entry to the two-day event is FREE.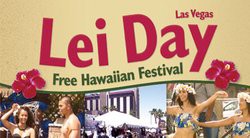 Throughout the festivities, a continual flow of Hawaiian and Polynesian musicians and dancers will entertain attendees. Special demonstrations and activities will highlight Hawaiian culture, and a number of vendors will be on hand to display and sell arts and crafts. Traditional Hawaiian dishes and delicacies will be available for purchase including kalua pig, lau lau, poi, beef teriyaki sticks and hot malasadas.
Further event information is available at www.thecal.com.
---
Central Michel Richard at CAESARS PALACE opened in 2010 to widespread acclaim. The restaurant has been named one of the "33 Reasons to Go to Vegas Now" by Saveur, "Best New Restaurant" by the Las Vegas Review-Journal and one of the "Top 10 Best New Restaurants in America" by Gayot. The 9,600-square-foot restaurant at Caesars Palace serves American favorites with a French twist, crafted by James Beard award-winning chef, Michel Richard. Central Michel Richard has just opened their new Patio.
Central Michel Richard will host 'Sin City Gourmand,' a Master Series Dinner that will be a celebration of wine, food and spirits for Vegas Uncork'd by Bon Appétit on Thursday, May 9 at 7 p.m. Chef Michel Richard and Executive Chef Todd Harrington will create a six-course gourmet meal to please the palate of every foodie enjoying Vegas Uncork'd. Tickets will be priced at $160 per person and more information can be found by visiting the Vegas Uncork'd website at http://www.vegasuncorked.com.
---
Grammy-Award winning star and Gospel music icon Kirk Franklin is joining forces with House of Blues and its venues across the United States to create a new Gospel Brunch experience as part of its year-long 20th Anniversary Celebration.
House of Blues Gospel Brunch has been a staple of Sunday morning family entertainment around the country for more than two decades. Now, House of Blues has reinvented the renowned dining entertaining experience with even more spectacular interactive energy and excitement.
Considered by many to be the most popular brunch experience in the country, Kirk Franklin's Gospel Brunch at House of Blues will be unveiled for the first time at House of Blues locations across the country this Mother's Day, May 12. The new Gospel Brunch experience will be infused with the same kind of contemporary energy that has made Franklin the biggest selling Gospel Music artist in the world.
---
As a special Mother's Day gift, Shine Alternative Fitness will encourage guests to bring their mothers for a free workout on Saturday, May 11, and Sunday, May 12. The Cirque-inspired studio will offer moms of all fitness levels a complimentary class of their choice which features an array of stimulating, fun and rewarding workouts. The 'women of the house' and their loved ones can tighten and tone-up for summer through a variety of classes focused on the natural gifts and abilities of the human body such as: Pole Fitness, Hip Hop, Aerial Arts, AntiGravity Yoga, Xtreme Boxing and Salsa. Shine Alternative Fitness is located in Loft Works at 6415 S. Tenaya Way #100, southwest of Rainbow Blvd. and Sunset Road.
---
'THE VOICES' starring nationally-known lyric baritone Grant Griffin, brings an evening of vocal artistry and dance performance to the SOUTH POINT Hotel on May 20th at 7:30 p.m. A cast of 17 will perform selections from the 1930's to contemporary music. Featured singers in THE VOICES are Jeneane Marie (opened for Frank Sinatra and Don Rickles), Robin Berry Vincent (opened for Lionel Richie and the Doobie Brothers), Gabriella Versace ("Showgirls", "Erocktika") and surprise appearances of Paul Stubblefield, Jessica Vanek, and Charles "Chas" La Forte. The show also features the Enrique Lugo Dancers. Live musicians include Ned Mills (keyboard, musical director), Steve Meyer (trombone), Bill King (trumpet), Steve Golden (sax), Bob Sachs (bass) and John Plows (drums). Mistinguett (with 26 years of experience, creativity and over 400 productions to her credit) is co-producing and directing the show. Tickets are $35, $40, $45 at the South Point Hotel box office or by calling (702) 797-8055.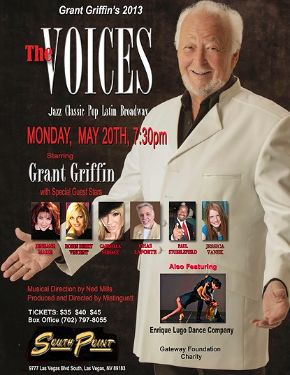 ---
Dinner in the Sky Las Vegas will bring the extraordinary fare of Las Vegas and gorgeous views of the Strip and surrounding mountains into one breathtaking experience through an open-air gourmet dinner served 180 feet from the ground. A dynamic addition to the Las Vegas skyline, Dinner in the Sky will break ground on Monday, April 29, and open early this summer on an 8.8 acre site just minutes away from Las Vegas Boulevard near Polaris Street and Tropicana Avenue.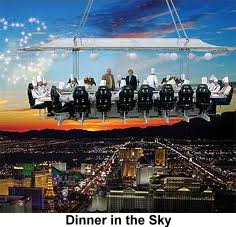 Dining enthusiasts and thrill-seekers alike will enjoy a night out unlike any other; strapped in by six-point harnesses for safety while enjoying dinner by Executive Chefs Ward Martin and Ivan Sanchez. Owned and operated by Janeen Hinden in partnership with Kelley Jones, Dinner in the Sky will be the ultimate pop-up restaurant and will give new meaning to "dining out" with 360-degree views of the city from two tables accommodating 22 guests each. To add to the grandeur experience of the meal, guests will be hosted by a maître d and skilled team of chefs and mixologists to ensure a memorable culinary experience.
---
On a sad note, Las Vegan, Peter Reveen has passed. Peter was a giant in the world of Magic. His Illusion Shows were lavish and innovative. As a stage Hypnotist he had no peer; he was simply the best in the business. Peter Reveen was also Lance Burton's Manager for 20 years and Lance's most trusted advisor and very close friend for 30 years. Peter Reveen will be deeply missed.
CONTINUE ON TO...:
> Entertainment Tidbits Archives
>Las Vegas News "Heard Around Town"
>Las Vegas Leisure Guide<