"RAIDING THE ROCK VAULT" kicks off a year-long run at LVH March 9. The history of rock 'n' roll will come to life like never before when narrated, sung and acted along with convincing imagery including historical footage transports the audience back to a magical musical journey from 1948 to 1989, traversing the musical history chronologically through the '40s, '50s, '60s, '70s and '80s. "RAIDING THE ROCK VAULT" features classics from The Rolling Stones, The Who, The Doors, Led Zeppelin, Jimi Hendrix, The Eagles, Queen, Van Halen, AC/DC, Journey, Free, Bryan Adams, Supertramp, Toto, Deep Purple, and more, boasting "The Greatest Set List Ever."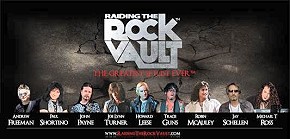 These timeless gems are translated on stage with a theatrical narration and visuals by acclaimed actor Richard Malmos who tells this unforgettable tale in front of the giant ROCK VAULT onstage. Live and loud performances are by an all-star band comprised of Howard Leese [Guitar] (Heart, Bad Company), Tracii Guns [Guitar] (LA Guns, Guns n' Roses), Paul Shortino (my neighbor) [Vocals] (Rough Cutt, Quiet Riot), Robin McAuley [Lead Vocals] (MSG, Survivor), Jay Schellen [Drums] (Badfinger, Asia), Andrew Freeman [Lead Vocals and Guitars] (Lynch Mob, The Offspring), John Payne [Lead Vocals and Bass] (Asia), and Michael T. Ross [Keyboards] (Lita Ford, Hardline). In addition, rotating special guests will be confirmed, kicking off with Bobby Kimball [Lead Vocals] (Toto), followed by Joe Lynn Turner [Lead Vocals] (Rainbow, Deep Purple) joining the show at the end of March.
"RAIDING THE ROCK VAULT" performs nightly (dark Fridays) at 9pm in the LVH Theater, the same stage where Elvis Presley performed 858 consecutive sold-out shows, breaking all Vegas attendance records. It's a rock-u-mentary you do not want to miss. Classic rock music…real rock stars…the legendary LVH Theater…the story of the greatest musical genre of all time. Ticket prices for "RAIDING THE ROCK VAULT" range from $49 to a special Rock Star Package for $100 (which includes tickets in first five rows, t-shirt, signed concert program, signed album, meet and greet and VIP pass) plus fees.
---
AMERICA'S GOT TALENT LIVE IN LAS VEGAS returns to the PALAZZO The seven-week run kicks off Feb 25 starring Comedian Tom Cotter, Olate Dogs and an All-Star Cast from the hit TV show. Tom Cotter, the first comedian ever to reach the finals will host the production that stars a diverse cast of season-seven talent such as: Lightwire Theater - who create unforgettable glow-in-the-dark performances: David Garibaldi and His CMYK's - Combine masterful painting and explosive dance moves: Jarrett & Raja –perform amazing and unique blend of magic, music and comedy and Anna Graceman – 13-year-old musician and singer/songwriter. There will also be past fan favorites and surprising guest appearances. America's Got Talent Live In Las Vegas perform six shows per week at 7:30 p.m.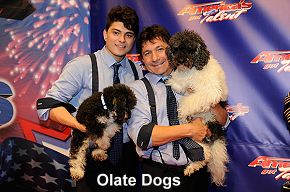 ---
At LVH, I thoroughly enjoyed the ESTEBAN show "Music From The Heart" featuring Teresa Joy, and so should you. ESTEBAN was a protégé of world famous guitarist Andres Segovia, however, because of a car accident he was unable to use his fingers to play for 10 years. Now, after many years of therapy, his ability to play his guitar is better than ever, and he certainly shows that in his remarkable performance.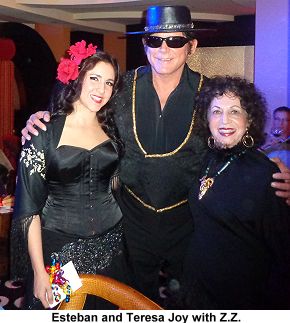 ESTEBAN, dressed in black, with a Zorro-like bolero hat brim pulled down and black sunglasses (needed due to eye sensitivity from the accident) plays his guitar while one leg rests on a small stand ala Segovia. His repertoire is extremely varied from Flamenco, Classical, Rock and even the first written music of mankind from 4,000 years ago. ESTEBAN's show "Music From The Heart" features his very talented daughter, violinist TERESA JOY along with two musicians on drums and keyboard. ESTEBAN is quite charming and connects with the audience as he tells about his life and about the music that is being performed. TERESA JOY is a joy to watch and listen to. In addition to her violinist ability, her beauty; varied costuming, dancing and undulating, certainly adds to the show. ESTEBAN "Music From The Heart" performs Thursday, Friday and selected Saturdays at 8:30 p.m. in LVH's Shimmer Cabaret.
---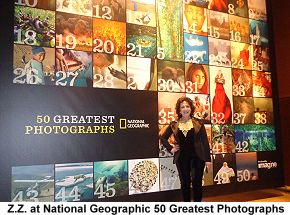 NATIONAL GEOGRAPHIC's iconic photo collection exhibition of 50 of their greatest photographs is now at THE VENETIAN. The traveling exhibition showcases some of National Geographic's most-remembered and celebrated photographs from its 125-year-old history, such as Steve McCurry's unforgettable "Afghan Girl," Nick Nichols' iconic image of Jane Goodall and chimpanzee, and Thomas Abercrombie's never-before-seen view of Mecca.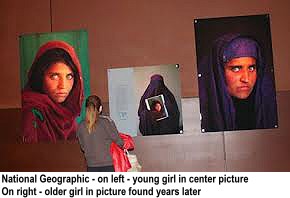 In addition to seeing the photographs and documentary videos, visitors to 50 Greatest Photographs of National Geographic will learn the stories behind the photos and about the photographers themselves. The exhibition will also serve as an exciting field trip destination for local schools and universities, giving students the opportunity to step out of the classroom and into the world of National Geographic. 50 Greatest Photographs of National Geographic will run for a limited engagement and is open daily from 9:30 a.m. – 7 p.m., last ticket sold at 6 p.m. General admission $16; students with a valid ID, Nevada residents, military and seniors $13; children 12 and under enjoy free admission when accompanied by a paying adult.
---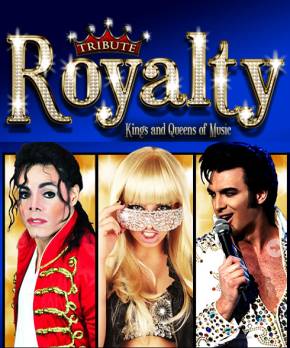 Tribute Royalty at V Theater inside Planet Hollywood is a captivating, high-energy concert that captures the essence of the legendary icons of the music industry. Astonishing re-creations of Lady GaGa, Elvis and Michael Jackson accompanied by amazing dancers are performed live. Erika Mone does a remarkable Queen of Pop Culture, Lady Gaga; Travis Allen gets the audience going as King of Rock-N-Roll, Elvis Presley and Edward Moss brings King of Pop MJ alive as Michael Jackson. The dancers too are really first class and the settings, choreography and costumes are exceptionally well done. Tribute Royalty is produced by Matt Lewis, a former Elvis impersonator with Legends in Concert. Enjoy yourself as you see a very entertaining show! Tribute Royalty performs daily at 4 PM (dark on Sundays) inside V Theater at Planet Hollywood.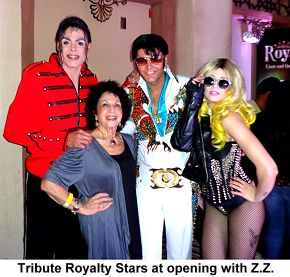 ---
There is so much going on at THE SMITH CENTER FOR THE PERFORMING ARTS that it would take my entire article to tell you all. However, here are some interesting and exceptional happenings.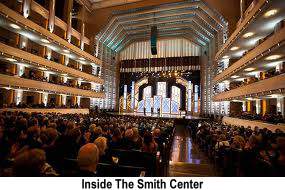 The Smith Center for the Performing Arts has announced an exciting lineup for the 2013-2014 Broadway Las Vegas Series with 10 of Broadway's classic and newest sensations. Combined, the celebrated roster of production represents an impressive 40 Tony Award wins. The upcoming season includes:"Les Misérables," "The Wizard of Oz," "War Horse," "Sister Act," "Evita," "Mamma Mia!" "Flashdance – The Musical" "The Gershwins' Porgy and Bess," "Once," and "The Book of Mormon."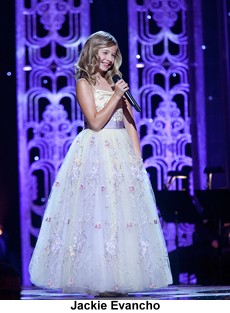 The Smith Center presents singing sensation Jackie Evancho who will perform in her first headlining show in Las Vegas on Saturday, April 13 inside Reynolds Hall. This amazing youngster has a voice that is unbelievable. When Jackie Evancho debuted on NBC's "America's Got Talent" people did not believe her operatic voice was her own voice. She certainly surprised everyone that it was, and has since risen to an international classical crossover star. Evancho's current album, "Songs From The Silver Screen," out now on Syco/Columbia Records, debuted at number one on the Billboard Classical charts and number seven on the Billboard Top 200. At just 12 years old, Evancho was named to Billboard Magazine's "21 Under 21" list for a second consecutive year in 2012. In March, Evancho will make her feature film debut in Robert Redford's upcoming film, "The Company You Keep," starring as Redford's daughter alongside Susan Sarandon and Shia Labeouf. In two years, Evancho's unique soprano has won her millions of fans and her recordings have dominated the music and DVD charts. Her warmth, charm and poise have helped her gain the support of legendary producers like David Foster, filmmakers like Robert Redford and the entire music industry. Tickets are now on sale.
---
Las Vegas Philharmonic presents 'LIGHTS, CAMERA…THE OSCARS!'
An evening of Academy Award-winning & nominated film scores & songs conducted by Randall Craig Fleischer with guest vocalists Teri Dale Hansen and Nat Chandler, Saturday, March 9 in THE SMITH CENTER's Reynolds Hall.
Tickets are $46-$94 and available at The Smith Center Box Office, Phone (702) 749-2000
---
MGM Grand and The Mirage have partnered with COMEDY CENTRAL to bring "COMEDY CENTRAL Vegas" to The Entertainment Capital of the World Friday and Saturday, Feb. 22 – 23. Comedy lovers can unite in Vegas for a weekend full of laughter with scheduled performances by some of COMEDY CENTRAL's hottest entertainers including Dave Attell and Jim Norton ( at MGM Hollywood Theatre), Amy Schumer, Nick Swardson and Anthony Jeselnik (at MIRAGE - Terry Fator Theatre).
---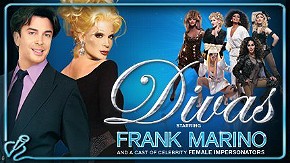 ADELE JOINS FRANK. No, not me, but the great Grammy-Award winning and multi-platinum recording artist, Adele joins the cast of Frank Marino's "Divas Las Vegas" at The Quad. Sammy Gonzales, who also impersonates Liza Minnelli and Mariah Carey, performs a disco mash-up of Adele's top hits including "Rolling in the Deep" and "Rumor Has It." Gonzales is joined on stage by some of the Strip's hottest dancers dressed in disco-inspired costumes. A contemporary and upbeat production, Frank Marino's "Divas Las Vegas" is chock full of female celebrity look-alikes impersonating some of entertainment's most beloved superstars from Cher and Bette Midler to Celine Dion and Janet Jackson. Frank Marino's "Divas Las Vegas" performs six nights a week (dark Fridays) at 9:30 p.m. Ticket prices range from $39 to $79 (plus tax and fees) and are available at The Quad box office, online at www.thequadlv.com or by calling (888) 777.
TOP OF NEXT COLUMN
Hard Rock welcomes America's rock 'n' roll comedy legend Andrew Dice Clay to his new home at Vinyl with a one-of-a-kind residency starting Thursday, March 14. Perfect for Sin City, the groundbreaking comedian and actor will thrill audiences with fresh, timely material highlighted by his signature shocking jokes and controversial topics. The residency kicks off with 20 shows.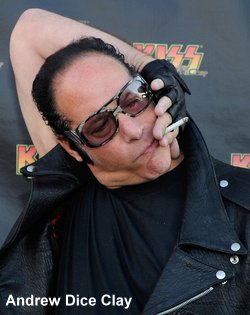 ---
This Valentine's Day, The Mob Museum, The National Museum of Organized Crime and Law Enforcement, celebrates its one-year anniversary. The Museum opened on Feb. 14, 2012, coinciding with the anniversary of the infamous St. Valentine's Day Massacre of 1929—an artifact of which is part of the Museum's collection. The Mob Museum is dedicated to telling the incredible story of organized crime and law enforcement and its impact both on Las Vegas and the world.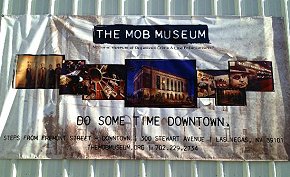 The Mob Museum has become a world-renowned, award-winning, must-see destination in Las Vegas, attracting more than 200,000 visitors from all 50 states and nearly 35 countries. The Mob Museum has made a significant impression on neighboring businesses with more than $2.5 million spent within the local community and the Museum's list of awards and accolades has accumulated quickly in just one year. Admission is $19.95 for adults ages 18 and over with special pricing for children, seniors, military, law enforcement and teachers; and $10 for Nevada residents of all ages. Museum hours are Sundays through Thursdays from 10 a.m. to 7 p.m.; Fridays and Saturdays 10 a.m. until 8 p.m.
---
Golden Rainbow, local HIV/AIDS nonprofit, is giving away a year's supply of condoms to one lucky winner during National Condom Week through Thursday, Feb. 21. The giveaway furthers Golden Rainbow's mission as advocates for HIV/AIDS education in Southern Nevada. Those interested in entering for a chance to win the year's supply of condoms (365 condoms total) must follow Golden Rainbow on Twitter at @GoldenRainbowLV and retweet any of the messages relating to National Condom Week. A winner will be selected at random and notified on Friday, Feb. 22.
The local nonprofit Golden Rainbow raised $265,793 and helped over 500 clients in Southern Nevada in 2012. Continuing its mission, the organization provided assistance to those affected by and infected with HIV/AIDS as well as spread education and awareness about the disease. The nonprofit collected nearly $40,000 more compared to the previous year. As a result of the successful 2012 fundraising efforts, Golden Rainbow provided 8,184 nights of shelter, 527 days of utility assistance, 1,054 days of transportation and medical and dental assistance to more than 500 households. Leading the fundraising efforts, "Ribbon of Life" drew a record-setting crowd of 1,630 at its premiere performance in The Smith Center for the Performing Arts collecting more than $200,000. This summer, Golden Rainbow will return to The Smith Center on Sunday, June 30.
---
Rock Of Ages Las Vegas lead cast members Carrie St. Louis (Sherrie), Justin Mortelliti (Drew) and Mark Shunock (Lonny) enjoyed Blue Man Group at The MONTE CARLO. Las Vegas' great performer Frankie Moreno was also in attendance that night with his family. All attended private meet-and-greets with the Blue Men and posed for pictures.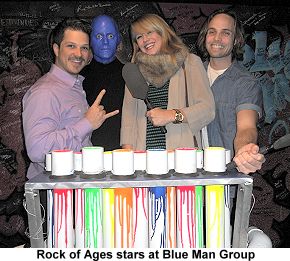 As a special thank you to Nevada residents, Blue Man Group will extend its two-for-one ticket offer through Sunday, March 10. Blue Man Group's latest production at Monte Carlo is complete with electrifying music, sensational technology, a captivating nightly procession and an interactive audience experience. To receive the two-for-one deal, locals just show their Nevada ID and mention the code "LOCALS" at the Blue Man Group Box Office or by calling 877.459.0268. The offer is available on Category C: Standard View tickets and subject to availability.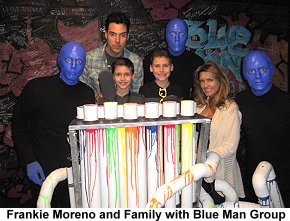 ---
Rockhouse celebrates its return to Las Vegas Boulevard at its new location at The Grand Canal Shoppes inside The Venetian with a grand opening party on Thursday, Feb. 28. The world famous ultra-dive bar will celebrate its grand opening with the first of many New Month's Eve parties. Partygoers will ring in each New Month in New Year's Eve fashion with a midnight countdown, noisemakers and celebratory toasts. The New Month's Eve Parties will continue on the last day of every month through the end of 2013.
Sin City's iconic party bar at 9,000-square-feet brings back the same let-loose attitude that made the original one of the most popular party spots. The interior of ROCKHOUSE is set up like an adult playroom, with tire swings for the bartenders and birdcages for dancing, as well as pool tables, beer pong tables and a mechanical bull. Like the original, ROCKHOUSE will offer drinking games in the daytime and DJs at night, with a sexy bar staff that keeps the party going all the time. With 83 flat-panel televisions, there is not a bad view to watch sporting events. The two-room venue features three bars, cocktail and high-top tables, and plenty of room for dancing. The new ROCKHOUSE will also have something the original did not: a full menu of bar food and will be open daily from 11 a.m. on weekdays and 10 a.m. on weekends, closing late into the night.
---
Bellagio Gallery of Fine Art debuts "Warhol Out West"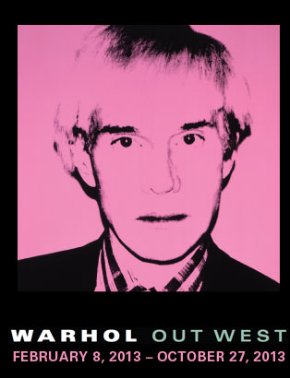 Bellagio Gallery of Fine Art highly anticipated exhibition includes "Warhol screen prints and wallpaper; Warhol's 1960s Pop paintings of celebrities and consumer products; the 1980s advertisement series; the beloved "Double Elvis" painting; and his rarely seen "Cowboys and Indians" series. One of the most influential artists in the visual art movement known as Pop Art, Warhol based his creative depiction of celebrity, advertisements, comic books and brand products within the realm of popular culture.
"Warhol Out West" is on view through October 27. Tickets: $16 general admission; $13 Nevada residents and seniors 65+; $11 for students, teachers and military with valid ID. Children 12 and younger are free. Audio tours are included in the price of admission and complimentary docent tours are available daily at 2 p.m. The Gallery is open daily 10 a.m. to 8 p.m. Last admissions are sold 30 minutes prior to closing.
More Exiting Art News: Regis Galerie, a high-end art collection boutique in The Canal Grand Shoppes at THE VENETIAN, is hosting a unique Asian Art Exhibition showcasing rare, museum quality pieces dating back centuries. The special display is open to the public throughout February and highlights approximately 60 individually selected pieces comprised of hundreds of exceptional pieces. Included in the display is a hand carved ivory Emperor and Empress, seated wearing a crown topped with finial and a brocaded robe, mounted on thrones dating back to the mid 20th century; a grey and white jade sculpture of a recumbent water buffalo and a child holding an umbrella dating back to 1880. Various mediums comprise the Asian Art collection, with everything from miniatures to sculptures to carvings, all paying tribute to Chinese culture.
---
Beauty to Reign at Statewide Pageants at the SUNCOAST on February 24 as "Nevada Princess" and "Mrs. Nevada-America" will be crowned. The Nevada Princess Pageant, starting at 2 p.m., includes divisions of Little Miss, ages 4 to 6; Young Miss, ages 7 to 9; Pre-Teen, ages 10 to 12; and Teen, ages 13 to 16. In each division, entrants will compete in the categories of evening gown, on-stage introduction and interview with the judges. The winning Princesses will each receive a crown, sash and prize package including a sterling silver princess tiara necklace.
Starting at 7 p.m. eight of Nevada's most accomplished and lovely married women will vie for the 2013 Mrs. Nevada-America crown. Contestants will be judged in the categories of evening gown, swimsuit, overall beauty and a four-minute interview with the judges. All of the contestants, from homemakers to business owners, represent the brightest and best of Nevada's married women. The newly crowned Mrs. Nevada-America 2013 will receive a prize package valued at more than $20,000 and the official crown of the Mrs. Nevada-America Pageant, presented by the reigning Mrs. Nevada-America 2012, Kristie Gulia-Jelinsky. The newly crowned Mrs. Nevada-America will go on to compete in this year's Mrs. America Pageant, to be held at the Loew's Ventana Resort in Tucson, Arizona, August 28, 2013.
Tickets for the Nevada Princess Pageant start at $20, while tickets for the Mrs. Nevada-America Pageant start at $25. Tickets can be purchased at any Boyd Gaming box office, by calling 702.636.7075 or visiting www.suncoastcasino.com.
---
Comedy-Magician Mac King has been a life-long advocate for childhood literacy and has made it his mission to promote literacy in Southern Nevada. For three days beginning Feb. 27- March 1, during Nevada Reading Week, King will make appearances at three local elementary schools to teach the importance of reading. King will perform tricks from his show and read a few short stories. Each student at the schools King visits will receive a book from The Public Education Foundation's Clark County READS initiative. Books for two of the three schools will be provided through the Reading Is Fundamental (RIF) program.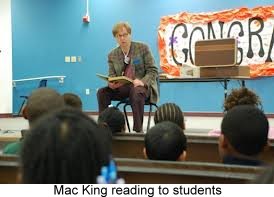 Donate three or more new or gently used children's books to receive a pair of tickets to The Mac King Comedy Magic Show and special offers from the host venue Sky Zone Indoor Trampoline who will collect books from Feb. 18-28. Also receive a one hour free jump pass to Sky Zone Indoor Trampoline Park.
Mac King is now in his 12th year of headlining, and I must say this. Although I have heard how great he is, I am usually an evening show person and never saw his show. I know Mac King and his wife as I have met them at many events and he always asks when I am coming to see his show. I had my grandkids ages 6 and 8 visiting from out of town recently and finally went to see his show. Now I know why he is headlining for 12 years. He is not only great, he is just fabulous. Mac King performs afternoons at Harrah's, Tuesday through Saturday, at 1 and 3 p.m. Tickets are $29.95 plus tax.
---
Grimaldi's Pizzeria, famous for its award-winning, hand-tossed, coal-fired brick oven pizzas, will host a special dinner for Susan G. Komen of Southern Nevada on Monday, Feb. 25 at the Rainbow restaurant (7155 S. Rainbow Rd.) A three-course meal, including salad, pizza and dessert, will be served for a cash-only donation of $15. The event is open to the public and two seatings will be offered for guests. The first from 4:30 – 6:30 p.m. and the second from 6:30 – 8 p.m. To RSVP for this event call Komen Southern Nevada at 702-822-2524.
---
Love is in the Air, a dance extravaganza was held at Cashman Center. Las Vegas Dance Starz produced the first annual Love is in the Air to raise money for scholarships awarded to young dancers who want to train in dance, but are unable to meet the financial commitment. Proceeds from the event go toward two scholarships for children who otherwise could not participate in a dance program due to the costs associated with dance class, attire, costumes, and competition fees. Since 2007, Las Vegas Dance Starz has provided $150,000 in scholarships to children in our community allowing them to fulfill their dreams of dance.
The evening was packed with great entertainment. Studio One Summerlin Dance Academy and the Innovation Dance team performed 20 performances that included: Jazz, Lyrical, Hip Hop and Tap. Innovation Dance is a competitive dance team comprised of a local dancers from ages 5-18. The young dancers were incredible. In addition professional performers entertained. Tony Delgado, from Dancing with the Stars fame performed with 12 dancers; H2H Duo Balancing, a duo previously with Cirque du Soliel performed hand-to-hand balancing; Chris Phillips, Zowie Bowie sang, a troupe of Las Vegas ShowGirls teamed up and danced and Steve Connolly, Las Vegas' Elvis, played guitar and sang. Congratulations for a very successful event.
---
MICHAEL BOYCHUCK, colorist to Hollywood's brightest stars and leading Las Vegas salon owner, will feature Kevyn Aucoin, a luxurious beauty collection of artistry-inspired tools and products, at his renowned COLOR Salon inside Caesars Palace. COLOR Salon is the only salon in Las Vegas selling the iconic makeup artist's signature cosmetic line. The late, legendary makeup artist and best-selling author, Kevyn Aucoin, created an upscale beauty collection that creates a timeless appearance for both consumers and makeup professionals.
CONTINUE ON TO...:
> Entertainment Tidbits Archives
>Las Vegas News "Heard Around Town"
>Las Vegas Leisure Guide<