Loved, loved, love ROCK OF AGES at THE VENETIAN from beginning to end. Not knowing anything about it and thinking I was going to see some sort of rock concert, which is not really my bag; but, I was invited, so I went anyway. Was I happily surprised! What a great high-octane show, with excellent, music, comedy, light enjoyable storyline, terrific costuming, and performances that are top-notch. As you enter the ROCK of AGES Theatre, you are given a small LED flashlight that the audience waves in the air during some heartfelt ballads and certain flashback tunes you remember.
ROCK OF AGES is about a hilarious feel-good love story set in L.A.'s infamous Sunset Strip in 1987. It tells the story of Drew, a boy from South Detroit, and Sherrie, a small-town girl, both in L.A. to chase their dreams of making it big. How they fall in love, and about the controversial closing by so called do-gooders of the BOURBON ROOM where Bands Rock. ROCK OF AGES takes you back to the times of big bands with big egos playing big guitar solos and sporting even bigger hair and celebrates the great rock songs of the '80s. ROCK OF AGES performs in the ROCK OF AGES Theatre Tuesdays through Fridays and Sundays at 8 p.m. Saturdays at 7 p.m. and 10 p.m.; and dark on Mondays.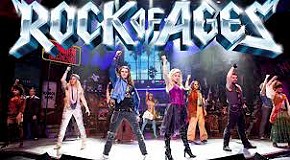 A pre-show for media was also fun with a flashingly dressed host getting us all riled up and ready for the ROCK OF AGES show. A BOURBON ROOM at the VENETIAN is now where the former lounge was, and it is really rockin'.
---
Harrah's will come alive with the untold story of four rock n' roll pioneers and how they came together for one magical night, when MILLION DOLLAR QUARTET begins performances on February 4. Inspired by the true story, MILLION DOLLAR QUARTET is a fascinating story about a little known, real ground-breaking event with spectacular music, performed live.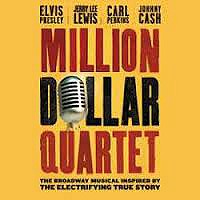 The Tony Award Winning musical, Million Dollar Quartet is set on December 4, 1956, when an extraordinary twist of fate brought Johnny Cash, Jerry Lee Lewis, Carl Perkins and Elvis Presley together. Sam Phillips, the "Father of Rock 'n' Roll" who was responsible for launching the careers of each superstar, brought the four legendary musicians together at the Sun Records storefront studio in Memphis for the first and only time. The resulting evening became known as one of the greatest rock 'n' roll jam sessions in history.
MILLION DOLLAR QUARTET brings that legendary December night to life with an irresistible tale of broken promises, secrets, betrayal and celebrations that is both poignant and funny. Relive the era with the smash-hit sensation featuring an incredible score of rock and musicians. Showcased hit songs include: "Blue Suede Shoes," "Fever," "Walk the Line," "Sixteen Tons," "Who Do You Love?," "Great Balls of Fire," "Folsom Prison Blues," "Whole Lotta Shakin' Goin' On," "Hound Dog," and more. Performances Thursday – Tuesday at 7pm, Thursday and Saturday at 9:30pm, dark Wednesday.
---
Celebrating the life of Dr. Martin Luther King, Jr.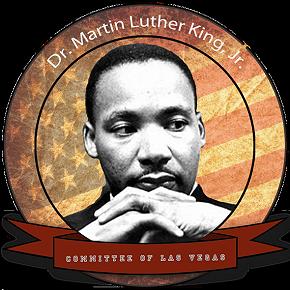 Theme: Living the Dream: Dream with a Vision; Live with a Purpose
KING WEEK ACTIVITIES:
Tuesday, January 15 - Young Dreamers Awards Program – Kim Fortson 524-6715
Wednesday, January 16 - 5th Annual Education Forum –Yvette Williams 596-2559
Thursday, January 17 - NAACP- Education Forum – Andrea Woods 638-1300
Saturday, January 19 - 31st Annual Dr. MLK Committee of Las Vegas Scholarship Banquet The Orleans - No-host Cocktails 6:00 p.m./ Program and Dinner 7:00
Keynote Speaker: The Honorable Gary L. Loster - Grand Marshalls: Lillian McMorris and Rev. Dr. Marion Bennett - Honorary Grand Marshall: KCEP 88.1 FM Contact: Tonya Fortson 702-525-6546 or Delois Reese 702-232-2452
Sunday, January 20 - Gospel Extravaganza – Second Baptist Church 232-2452
Monday, January 21 - The 31st Annual Dr. Martin Luther King, Jr. Parade
Monday, January 21 - MLK Dream Fest – Vendors and Entertainment, Edmond Town Center - 931 West Owens Avenue - 1:00pm Keysa Rogers 610-5018
Saturday, January 26 - Directions Breakfast- 8:30am Keynote Speaker & Parade Awards -Culinary Training Academy
---
If you've been wondering where the IMPERIAL PALACE went, you are not alone. To clear this up, with no mystery attached, THE QUAD is the new namesake of the soon to be forgotten Imperial Palace, except for the derogatory happenings that made national news years ago. I have to get used to the name THE QUAD, but as a longtime Las Vegas resident, I am pleased to see the name changed.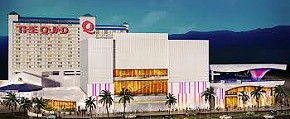 Along with the new name, comes a headlining act that had a successful two year run at The Tropicana. Recycled Percussion makes its debut at The Showroom at THE QUAD Jan. 26. Produced by one of Las Vegas' most highly-regarded producers, David Saxe, the new Recycled Percussion now promises to be the most impressive yet with an unprecedented combination of extreme percussion, engaging humor and extraordinary athleticism. As they play on buckets, ladders, grinders or sinks, Recycled Percussion's boundless energy and creativity is also an extremely interactive shows. Upon entrance to the show guests are equipped with a drumstick and instrument, encouraging them to play along to the junk rock fun.
Recycled Percussion band consists of Justin Spencer, who has been named the world's "fastest extreme drummer," fellow drummer Ryan Vezina, guitarist Matt Bowman and DJ Todd Griffin The band was introduced on the hit TV show "America's Got Talent."The group placed third out of more than 100,000 acts and became the first non-singing act to place in the top three in show history. Recycled Percussion takes the stage at The Showroom at The Quad Saturday through Thursday (dark Friday) at 7 p.m. Tickets are $65.98 and $76.98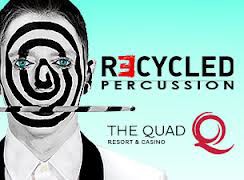 When visiting THE QUAD, you can enjoy Celebrity impersonating "Dealertainers" as they sing, dance and deal. Other top-notch shows there are: Jeff Civillico and Frank Marino's "Divas Las Vegas. A must-see attraction includes The Auto Collections, the world's largest classic car showroom with more than $200 Million of inventory on display and for sale.
---
The 2013 Consumer Electronics Show (CES) broke records as this was the largest in the show's 45+ year history, with 1.92 million net square feet of exhibit space. More than 3,250 exhibitors unveiled some 20,000 new products drawing more than 150,000 attendees, including more than 35,000 from more than 170 countries outside the United States. Innovation abounded at the 2013 CES and executives from every major industry that touches technology attended. Digital Health and fitness included new products and Audi and Lexus featured driverless vehicle while technologies musical icons, Hollywood stars and TV personalities promoting the latest technologies.
Highlights of musical performances by Adam Levine and two members of Maroon 5, and the Alicia Keys concert at the Monster Awards were highlights among dozens of celebrity appearances. Also featured were government officials from the U.S. and around the world.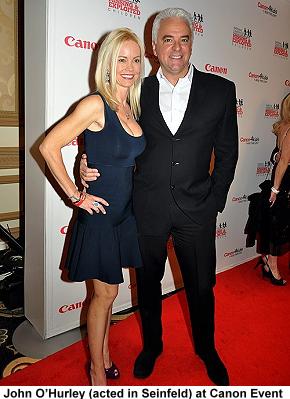 A major event at CES was the Canon U.S.A., Inc. 14th Annual Canon Customer Appreciation Reception at BELLAGIO and The National Center for Missing & Exploited Children (NCMEC) Celebrity Golf Tournament at Tournament Players Club.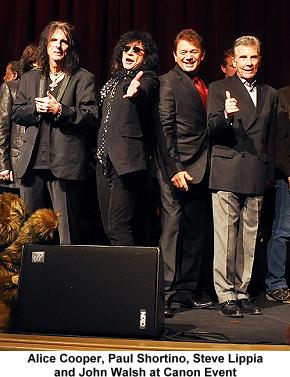 The gala started with a Red Carpet hosted by Celebrity Magician Murray Sawchuck (America's Got Talent and headliner at the Tropicana) and his gorgeous wife, Fantasy Star, Chloe. Seen on the Red Carpet and at the festivities were: Alice Cooper; Patrick Warburton, Rules of Engagement; Richard Burgi, Desperate Housewives; Bill Engvall, comedian; Michael Pena, Gangster Squad; Jeffrey Donovan, Burn Notice; Kevin Sorbo, Soul Surfer; Pia Zadora, singer, film star; plus over 40 celebrities and a host of dignitaries from Canon and the National Center for Missing and Exploited Children.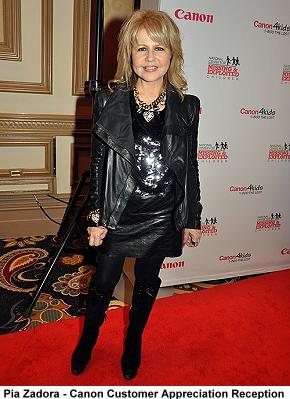 A silent and live auction Benefit Fundraiser was part of the event and was emceed by Award Winning Actor John O' Hurley with Special Guest John Walsh of "America's Most Wanted"and Mark Steines of Entertainment Tonight. Since 1998, Canon U.S.A. and NCMEC have collaborated to educate the public about the growing issue of child abduction. The Canon4Kids program, a partnership between Canon U.S.A. and NCMEC, donates products to help law enforcement disseminate photos and information about missing children, produces PSAs with missing children photos, and educates parents about maintaining updated photos of their children.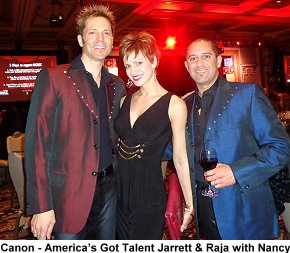 After dinner, guests were treated to an exceptional entertainment performance by Las Vegas' Frankie Moreno, his 10 piece band and soloists, that blew the house away.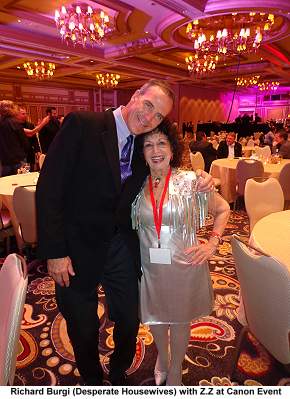 After leaving Canon's event, I went to PARIS to see and hear Alisha Keyes perform a concert for the CES Monster Awards. This gal's voice is so natural and awesome. Besides singing her heart out. playing piano and interacting with the audience, watching her perform in a perfect body that defies comparison, was amazing.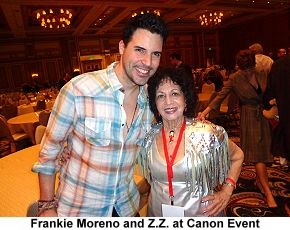 TOP OF NEXT COLUMN
The stunning starlets of the adult film industry will celebrate the Adult Entertainment Expo and the AVN Awards with pre and post event parties at Chateau Nightclub at Paris. The celebration will culminate with the Official Adam & Eve After-Awards Party on Saturday, Jan. 19, hosted by adult film actresses Teagan Presley, Alexis Texas, Sophie Dee and Eva Angelina.
Chateau features three separate nightlife experiences including a high-energy nightclub, magnificent Strip-side terrace and expansive rooftop under the Eiffel Tower. I was at Chateau the night of a CES event - and it is a really happening place. Chateau is open Wednesday, Thursday, Friday and Saturday nights from 10:30 p.m. to close. Chateau Wednesdays, the nightclub's industry night with resident DJ Hollywood, offers complimentary admission to locals with ID on Wednesday nights. Local ladies are always free, while general admission is $20 for women and $30 for men, excluding special events. Dress code is strictly enforced.
---
Celebrated Chef Carla Pellegrino's popular new Meatball Spot at Town Square, a dynamic restaurant and bar made for mingling has become a place where celebrities are often seen. Reality stars Ice-T and wife Coco Austin were seen dining together at Meatball Spot. Entering the eatery hand-in-hand, the duo tried dishes from Chef Carla Pellegrino's kitchen. They were presented with a specially-made Coco Coconut Sunrise punchbowl, which had Ice-T exclaim, "Oh, damn!" when he saw the 10-quart, Coco-themed drink. On another night, Jamie Spears, father of pop superstar Britney Spears was seen dining as was former "Peepshow" star, Holly Madison who made her weekly Meatball Spot stop to satisfy her pregnancy cravings.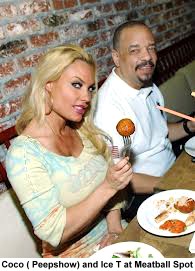 Meatball Spot has introduced new happy hour specials every Monday through Thursday from 3 to 6 p.m. that include meatball sliders priced at $2.50 each. Patrons will also enjoy two-for-one drink specials on all cocktails. The happy hour specials are available in Meatball Spot's bar area.
Couples can celebrate being struck by Cupid's arrow with a delicious dinner-for-two Valentine's Day on Thursday, Feb. 14. Carla Pellegrino has created a romantic Valentine's Day dinner that will leave guests in amore. Priced at $24.95 per person, the four-course feast includes a salad, appetizer, main course and dessert, as well as a glass of sangria to accompany the meal. The Valentine's Day meal will be topped off with a specialty heart-shaped ice cream sandwich for dessert
Meatball Spot is open for lunch, dinner and late-night dining, daily: Sunday through Wednesday, from 11 a.m. until 11 p.m., Thursday, from 11 a.m. until midnight, and Friday and Saturday, from 11 a.m. until 2 a.m
---
Who would have ever thought that owning a Pawn Shop would make you a Star Celebrity. Yes, that has happened in our day and age. So much so, that The Pawn Stars and the team at Gold & Silver Pawn are now holding Autograph sessions with themselves as stars of the show, as well as some of the show's favorite experts. With more than 4,000 people a day visiting the small store at 713 South Las Vegas Blvd., and filming taking place from 7 a.m. to 5 p.m. weekdays year-round, Autograph sessions will take place once a day during the week at random times when filming allows and the Pawn Star or expert signing will depend on the availability of the individual. Signings will take place Monday through Friday from January 7 to February 22; March 11 through April 5; April 22 through May 24; June 3 through 28; September 3 through October 11; November 1 through 22 and December 2 through 20.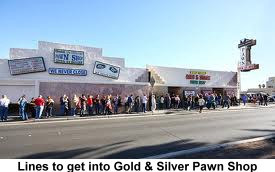 ---
The 8th Annual OUTMUSIC Awards rocked Las Vegas for the first time ever, live from PLANET HOLLYWOOD. The LGBT Academy of Recording Arts, for the first time ever, presented three days of events and performances to honor the contributions and achievements of LGBT (lesbian, gay, bisexual, transgender) recording artists. Celebrating the best recordings artists, performers and industry contributions in music each year with a message of inclusion, equality and freedom of expression, OUTMUSIC Awards has become one of the most anticipated events in LGBT music and entertainment since its founding 22 years ago.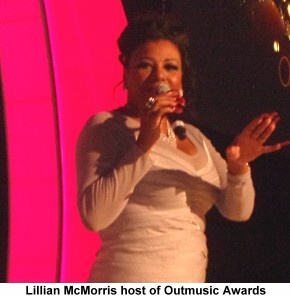 This year's OUTMUSIC Awards ably hosted by Lillian McMorris honored seven outstanding individuals who have positively impacted the LGBT music industry and community. Honorees include Bishop Yvette Flunder (Heritage Award), Ari Gold (Visionary Award), Joey Arias (Lifetime Achievement Award), Diana King (Vanguard Award), Storme Delarverie (Living Legend Award), Labi Siffre (Spirit Award), and Jobriath (OUTMUSIC Icon Award).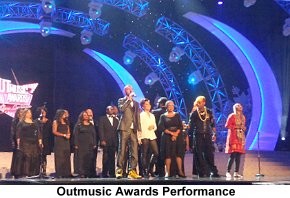 The centerpiece performance of the night was a spectacular LGBT tribute performance by Vicci Martinez, Bishop Yvette Flunder, B Slade, Diana King, and Jason Walker with the Las Vegas Mass Choir. The OUTMUSIC Awards After-Party at Planet Hollywood's Sin City Theater, hosted by Las Vegas star, Skye D Miles, enjoyably went on and on until the wee hours.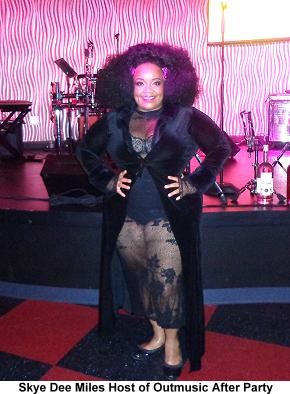 ---
House of Blues Las Vegas unveiled a 13-foot guitar sculpture "Wings of Legend" commemorating the return of Carlos Santana's residency " An Intimate Evening with Santana: Greatest Hits Live – Yesterday, Today & Tomorrow." The unveiling also honored the 20th anniversary celebration of the House of Blues brand. The sculpture is the creation of cutting-edge American artist Dale Evers, one of the most innovative and established sculptor/designers of centerpiece art. Evers has created this custom piece – a steel, glass and Bronze Replica of a PRS SANTANA signature guitar. Titled "Wings of Legend," it represents the tens of millions of guitars that have become an intrinsic part of American pop-culture and pays homage to the artistry of Santana and his relationship with PRS guitars. The sculpture unveiling created a discussion of the instrument needs in local Las Vegas schools and prompted Hermes Music Foundation, along with the International House of Blues Foundation's Action for the Arts program (IHOBF), to donate 200 guitars to local schools and programs.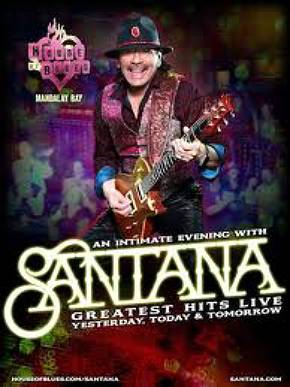 Suncoastlaunches a new Thursday afternoon entertainment program inside the 500-seat Suncoast Showroom — Suncoast Variety Show. The show will feature the best of Las Vegas talent, with a New Theme each week - a constantly changing line-up of musicians, singers, dancers, impressionists, magicians and comedians, all tailoring their acts around each week's unique show theme. Video clips, also relevant to the theme of the week, will tie the performances together. Upcoming show themes include "Broadway," "Songs from Disney Films," "Salute to the Greatest Duets," "Songs from the Silver Screen" and "Tribute to Dick Clark." Suncoast Variety Show is produced by Desert Productions, who represent many successful musical artists and acts in Las Vegas including Vocal Soup (Clint Holmes, Susan Anton, Domenick Allen and Martin Nievera), Shades of Sinatra, The Las Vegas Tenors and Lena Prima. Doors open at 1 p.m. and showtime is 2 p.m. every Thursday.
---
Celebrate Chinese New Year at the Gold Coast
The Gold Coast Hotel and Casino welcomes the Year of the Snake -- an earthly symbol believed to bring mystery and delight -- with Chinese New Year events and promotions in January and February.
In what has become a Las Vegas Chinatown tradition, the Lohan School of Shaolin will perform a traditional Lion Dance through the casino on February 13 at 7:30 and 10 p.m. Chinese New Year decorations and lucky citrus trees will adorn the casino floor through February, and popular restaurants Ping Pang Pong and Noodle Exchange will serve authentic and delicious dishes.
To celebrate the arrival of the Year of the Snake, the Gold Coast will hold multiple gaming promotions, including a $99 slot tournament on January 28 and 29, a $60,000 Bingo Bash on February 25 and 26, and a $5,000 Hot Seat Grab on February 27.
---
Rock Bar & Grill inside Miracle Mile Shops at Planet Hollywood will bring a taste of New Orleans to the Strip with its "Bourbon, Beads and Bulls" Mardi Gras celebration on Tuesday, Feb. 12. In honor of the famed Bourbon Street party, the Strip-side hot spot will offer Fat Tuesday partygoers a bourbon drink, colorful beads and bull rides for $10 all day.
Critically acclaimed, award-winning Chef Angelo Sosa debut his latest culinary eatery and first Las Vegas-based restaurant, Poppy Den, inside Tivoli Village. Poppy Den is an Asian gastropub with authentic flavors and handpicked ingredients served in a neighborhood eatery that is meant to bring people together. The 5,400 sq. ft. restaurant has a serene, rustic ambiance with interesting attention to detail.
---
Don Rickles will be headlining in the Entertainment Capital of the World for the 54th consecutive year, an all-time Las Vegas record. One of the most established names in Hollywood and Las Vegas – internationally renowned comedian, actor and entertainer Don Rickles has signed for a sixth consecutive year at The Orleans. Having earned the nicknames "The Merchant of Venom" and "Mr. Warmth," (the latter coined affectionately by Johnny Carson), Rickles' style of comedy is never mean-spirited and is all part of his act. It has been said that being "zinged" by Rickles is like "wearing a badge of honor."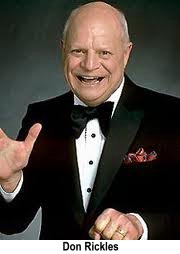 Don Rickles will make two weekend appearances at The Orleans in 2013: April 13-14 and September 28-29. Don is a true Las Vegas legend, and he's consistently sold out every engagement. Tickets to the April 13-14 performances are now on sale. For further information call 702.365.7075 or www.orleanscasino.com. In addition to recurring dates in Las Vegas at The Orleans, Rickles continues to be a popular performer in venues throughout the country.
---
The first "12 Inches of Sin" international winner of Best of Show, Allan Teger, will hold his own solo show "Bodyscapes®" at Sin City Gallery, Jan. 3-Feb. 16, 2013. On Thursday, Jan. 31, he will appear at Artist Talk at 8 p.m.
Teger has made his creative mark on the art scene by using the nude human form as a literal landscape for inquisitive fun-spirited scenarios that are often creatively suggestive. Examples would be a skier going down a breast or his winning image last year of mountain climbers going up a breast. Other images feature landscapes ranging from rolling farmlands to beaches and outer space.
Sin City Gallery is located in the famous Arts Factory, situated in the heart of Downtown Las Vegas' thriving arts community, at 107 E. Charleston Boulevard, Suite 100. Hours are Wednesday through Saturday, 7 to 11 p.m., and by appointment during the day.
---
After a successful seven-month run, Da Vinci – The Genius, the unparalleled look into the life and works of Renaissance mastermind Leonardo da Vinci, will leave Imagine Exhibitions Gallery at The Venetian on January 27. Since its opening in June– Da Vinci The Genius has given visitors the opportunity to see life-size inventions, interactive exhibits and dynamic explorations of Da Vinci's accomplishments as an artist, inventor, engineer, anatomist, sculptor and more. The month of January presents Las Vegas' last chance to experience more than 200 unique pieces and exhibits within Da Vinci – The Genius' 6,800-square-foot exhibition space:
As a way to thank the local community for its support of the exhibition, Da Vinci – The Genius now offers Nevada residents $10 off general admission. The exhibition also welcomes children ages 12 and under free admission when accompanied by a paying adult, and students of all ages with a valid school ID can visit for a discounted ticket price of $17. Tickets priced are as follows: $25 for general admission; $23 for military and seniors 65 and older.
Da Vinci – The Genius is open daily to the public from 10 a.m. to 8 p.m
---
Kudos to L.J. Harness and Jonathan Scott for their great show that benefitted "TOYS FOR TOTS." And, Kudos to Tony Sacca for his exceptional Annual Xmas Show.
CONTINUE ON TO...:
> Entertainment Tidbits Archives
>Las Vegas News "Heard Around Town"
>Las Vegas Leisure Guide<