This is another big wedding day for Las Vegas. Planning for this unbelievable date with three 12's started last year right after 11-11-11. Everyone knew it was going to be huge ever since the special calendar dates got started with 09-09-99. We knew this would be a marriage day that would never again be repeated. You ask .. Why?
1.It's cool that this phenomenon will occur once in this century.
2. It will be easy to remember your anniversary.
3. Off-season weddings will be cheaper. A weekday wedding might get you even more discounts.
I am the owner of LV Wedding Connection, which is a full service wedding company as well as I handle the Las Vegas sector for the Nevada Wedding Association, which is a statewide wedding organization funded by the Nevada Commission on Tourism. With all of that said, I am right in the thick of this blissful day.
The chapels had been preparing for this occasion for a long time: organizing staff, ordering flower, servicing limousines, charging batteries for camera equipment, setting up makeshift areas to accommodate everyone. The Clark Country Courthouse is gearing up for an influx of marriage licenses. They are even having a meeting with Ministers this week to brush up with them the procedures and preparations for this upcoming wedding date which is right around the corner. Everyone is over Thanksgiving and now preparing for Christmas, where as the wedding industry is preparing for this first! December is usually not a busy month for the chapels however; this will certainly give them in influx of business at a normally slow time.
Column Continues Below Advertisement
I have had many requests which have been varied. One has been to send a minister to a hotel suite, to marry a couple. Another was to send a photographer to the Vegas Sign at sunset to capture Elvis performing a ceremony there. A wedding cake has been ordered and flowers need to be delivered. Colleagues have been calling for assistance and all these events will have to be fulfilled. And this is all pre scheduled events.. We are always expecting non scheduled events last minutes as well and you never know where and when they will appear!
This is the last of the numeric dates like this......however I have already had two inquires this week for 03-13-13. I expect the same for 04-04-14, 04-14-14 and so on. People love these numeric dates and they are truly once in our lifetimes.
Almost all the chapels' are booked solid; however, the wedding industry always finds a way to accommodate couples in love. Many have asked couples to come at the end of the day so as not to compromise all of the pre-scheduled weddings and to stay on time, which was everyone's greatest feat. Remember most wedding parties are picked up by the chapel limousines and traffic is hard to predict. One accident on a major artery can really cause a delay.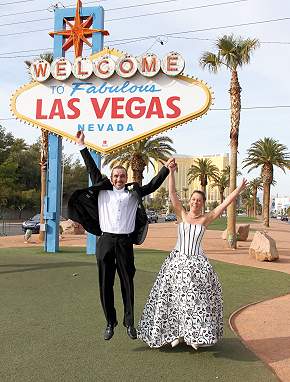 The chapels take pride in having satisfied customers who leave with happy memories about their entire wedding experience here in Nevada. Weddings are big business but it isn't just about the money, they are life-changing experiences for many people. So they are all gearing up as we speak.
One good wedding generates tremendous goodwill with tourists returning home and talking about the event. Everyone talks about getting married in Las Vegas. We see it in television shows, movies and even commercials. Chapels have a tall order to fill providing quality services and a memorable time so guests will pass the word along. The chapels have come a long way since the beginning of the practice of getting married in Las Vegas. They have upgraded their facilities with the most updated photo equipment, made larger seating areas, made webcasting available, and some of them actually assist with tours, show tickets, lodging, and all of the wedding amenities you may need in addition to the chapel usage.
We are the wedding capital and it is a huge part of tourism in Nevada. Remember when couples get married, they need a place to stay to eat, to see shows, take tours, hold bachelorette parties and the list goes on. Therefore, all entities are patronized. Actually all aspects of the tourism industry here are touched by a wedding party: makeup, hair salons, shoe and lingerie stores, etc.
Nevada issued approximately 92,000 marriage licenses in 2011 but that doesn't reflect how many people tied the knot. That is because renewal of vows and commitment services have no required legal documentation needed, therefore not any real statistics.
Today, the local wedding industry is in harmony with most companies agreeing there is enough business for everyone. We have so much to offer hear and everyone seems to have their own niche. Chapels are working together now as it has become clear to all the players who are fair and ethical, which for the most part everyone, that the whole picture blossoms with everyone's participation and cooperation.
Please feel free to contact me if I can assist you with your Vegas Wedding plan!!!!
CONTINUE ON TO...:
>VEGAS WEDDING ADVISOR MAIN MENU
>Return to Las Vegas Leisure Guide"
>Return to Las Vegas Weddings"