Having trouble figuring out when is the best time to have your wonderful celebration? We have some great tips for you!

The monster months: those months when it seems like everybody and their cousin is getting hitched. The big three are June, August, and September, with May, July, October, and party-happy December hot on their heels.

However in Las Vegas... We have weddings everyday. The average collectively put together is about 300 weddings all over town on a daily basis. October and March when we have the best weather... are very busy days in town for our wedding couples.

The more popular your wedding month the less choice you'll have about the site, vendors, and exact timing. Competition for services may drive up your wedding expenses, too. By opting for an off-season month, you're bound to get more inviting opportnities from your florist, baker, and officiate.

Days in demand: Saturday is the crowned queen of weddings, with Friday and Sunday the ladies in waiting. The attractions of a Saturday wedding are obvious; out-of-towners have ample time to get to your wedding without missing work and guests have roughly twenty-four hours to nurse any hangover before heading back to the office. With Fridays and Sundays, it's more of a scramble to get, respectively, to and from your wedding, and there's no chill-out-day but they're still far more convenient than a weekday. A midweek affair is not advisable if you're inviting a lot of out-of-towners or are planning an all-night bash, but it's a great way to cut costs and get a better pick of vendors.



Beware "Bummer" dates! Don't schedule your wedding for "bummer" days - any day during the week before tax day (April 15), an important work deadline, or the anniversary of your father's death. Also steer clear of the major tourist season in your wedding area, especially if you're inviting a lot of out-of-towners who need hotel rooms.
Blackout periods: One more thing to consider: religious restrictions. Often there are blackout periods when it is not acceptable to tie the knot. For example, conservative rabbis will not perform weddings between Passover and Shavuot, and many ministers are reluctant to officiate ceremonies during Lent. Consult a clergyperson about traditions that might affect you.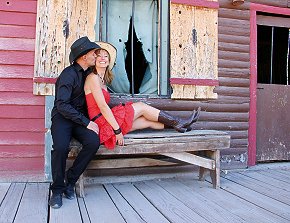 Power hours: when deciding on the time of day for your ceremony and reception, remember that the earlier the festivities, the lower the cost of the reception; a brunch or afternoon tea will set you back substantially less than an evening dinner reception, and there probably will be less demand for the time slot, too. Lunch and teas are exceptionally good choices if you're inviting lots of children. However, evening and night weddings are far more appropriate if you're thinking black-tie or boogie-woogie.
Anytime can be reception time!
Arrival time to indicate on your reception invite for:
Breakfast: 10 a.m. - 12 p.m.
Brunch: 11 a.m. - 1 p.m.
Lunch: 1 p.m. - 3 p.m.
Tea: 3 p.m. - 5 p.m.
Cocktails: 4 p.m. - 7 p.m.
Dinners: 6 p.m. - 8 p.m.
Drinks & dessert: 8 p.m. - 10 p.m.
Late night fare: 8 p.m. - 10 p.m.
Midnight madness: 9 p.m. - 11 p.m.
Please feel free to contact me if I can assist you with your Las Vegas Wedding plans!!!
CONTINUE ON TO...:
>VEGAS WEDDING ADVISOR MAIN MENU
>Return to Las Vegas Leisure Guide"
>Return to Las Vegas Weddings"