Wedding consultants are professionals whose lives revolve around all things nuptial; they're part party planner, stage manager, financial adviser, vendor, broker, shrink, and all-around wedding maniacs. You can hire a full-time consultant to help you prepare your entire wedding. You can hire a part-time consult to devise a wedding blue-print - including budget, schedule and list of good vendors and site choices - before you launch solo into the preparations. Or you can hire one just to play ringleader on the actual day.
Consultant pros and cons:
There are many good reasons to hire a wedding consultant, not the least of which is reducing your options ­given your budget and ideal scenario ­and ending with supervising vendors during cleanup, ensuring they hit the road in a timely fashion and leave minimal mess. An ideal wedding consultant plays bad cop to your good cop. The catch is that you'll pay for it. To the consultant, time is money, and depending on how long, s/he'll quote you a fee. As a general rule of thumb, make sure that price does not exceed 10 to 15 percent of your total budget if you're hiring a consultant for the whole wedding. So if your budget is $15,000, for example, $1,500 is a fair price to pay. Since fees for blueprint preparations or wedding-day coordination vary, we say "you better shop around." Before you say yes to a particular consultant, make sure you've got a great working rapport between you. You're hiring this person to help you make your dream wedding a reality. Don't lose sight of that. If you think you'd feel better doing it on your own, or with the help of your mom, maybe a consultant is not for you.
What a wedding consultant can do for you:
Set up a realistic wedding budget.
Devise a wedding master plan that maps out all the little details, from your ceremony music to favors.
Show you the best and most original locations in the area, considering your wedding size, budget, and vision.
Find the best florist, photographer, caterers, bands, and DJs in your price range. Consultants' Rolodexes are full of the names of wedding professionals.
Cut you choice deals. Consultants bring volume to favored vendors; often they'll reciprocate by slashing prices or throwing in extras.
Read over all your vendor contracts.
Create a timeline that tells everyone involved in the planning process­ - vendors, members of the wedding party, you soon-to-be-weds and your families - ­when to do what. Plus the consultant will make sure you stick to the schedule.
Handle the invitations, from the wording and ordering to the addressing and mailing.
Counsel you on proper etiquette and what's hot on the wedding front.
Coordinate with the photographer, florist, musicians, and caterer/ banquet manager to determine realistic setup times and when they should arrive on the wedding day.
Manage the wedding day, supervising vendors, handling emergencies, and soothing nerves.
Serve as your spokesperson, conveying your every whim and desire to vendors or family members when you just can't deal with doing it yourself.
Help plan and book your honeymoon.
Please feel free to contact me if I can assist you with your Vegas Wedding plan!!!!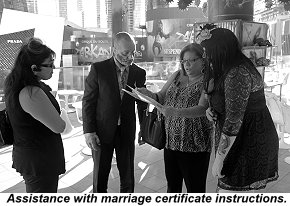 CONTINUE ON TO...:
>VEGAS WEDDING ADVISOR MAIN MENU
>Return to Las Vegas Leisure Guide"
>Return to Las Vegas Weddings"