Mystery and history await you along Lake Tahoe's north shore, one of the most beautiful spots on Earth. The exclusive Thunderbird Lodge was built in 1939. For decades it was only the destination of guests invited by the eccentric George Whittell. Now you can step into the glorious past of Lake Tahoe, and view how California's high society lived on the banks of this beautiful lakeside paradise. This is one of the most well-preserved architectural achievements in Nevada, added to the National Register of Historic Places in 2000.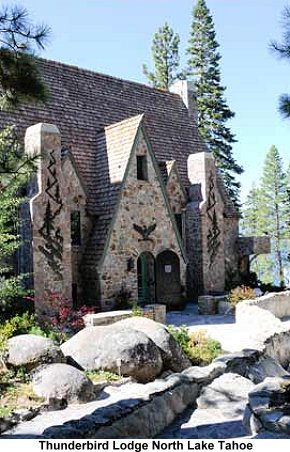 The Thunderbird Lodge is open for guided tours of a little over an hour Tuesday through Thursday from June to October. You can enjoy seeing the Old Lodge, Lighthouse Room, and the famous 600 foot underground tunnel, leading to the Boat House. This tunnel through the rock will lead you to the legendary Thunderbird, an elegant 55 foot mahogany speedboat. Legends of its speed and secrecy still swirl around the lake communities. You can hear some of the stories of shuttling show girls and celebrities between Thunderbird Lodge and the Cal-Neva Casino, also along the north shore. To make reservations for a tour call 1-800-468-2463 or visit www.ThunderbirdLodge.org.
TOP OF NEXT COLUMN
Another famous and infamous place was the historic Cal-Neva Lodge and Casino. The Cal-Neva was originally built in 1926 by wealthy businessman Robert Sherman. The Nevada-California state line runs right through the hotel and through the pool. This resort was later owned by Frank Sinatra and was frequented by Dean Martin, Sammy Davis Jr., Marilyn Monroe, as well as other celebrities and political figures. Its secret tunnels which were legendary, allowed access to certain cabins, as well as ways to hide liquor and money.

This was also the place where a young 11-year-old talent named Frances performed with her sisters and whose career became legendary after her performance as Dorothy of the Wizard of Oz! Unfortunately, the resort closed in September of 2013 to begin major renovations. We are hopeful that the old tunnels will be forever preserved for future generations to explore and enjoy! Stay tuned on that one!
The Hyatt Regency Lake Tahoe Resort is Incline Village's largest and most complete resort, offering a lakeside setting, full casino, spa and a variety of restaurants and activities. This ideal spot is perfect for vacationers in the summer and skiers in the winter.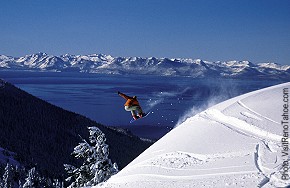 You can experience beautiful Lake Tahoe from the water on the M.S. Dixie, which will take you on a spectacular scenic tour of the lakeshore, forest and stunning mountains. Whether you prefer experiencing the breathtaking views during the light of day or enjoying the enchantment of the waters at sunset with a dinner/dance cruise, you are sure to agree with Mark Twain when he said, "It must surely be the fairest picture the whole world affords!"
You can find more information on lodging, ski resorts, boat tours and other Tahoe attractions at www.travelnevada.com.
CONTINUE ON TO...:
>TERI'S VEGAS TRAVEL TALK MAIN MENU
>Return to "Las Vegas Leisure Guide"
>Return to "Las Vegas Tours"