Who knew that you could find a broken up Delta Airlines fuselage in the middle of the Nevada Test Site? Or a house that withstood an atomic blast? What about a bridge section that looks like a bent up piece of Chicago's "L" Train?

Just an hour north of Las Vegas is the Nevada Test Site. This is a restricted area of government land that is rich in history, and even richer in legend. What really went on there, and what are they doing there now? Amazing enough, tours were once offered of this site. One simply had to sign up months in advance giving ample time for clearance and you were good to go!

Within the restricted area, visitors were entertained by signs such as:
Caution: Underground Radioactive Material
Controlled Area (on smaller roads that fork off from the main road)
Caution: Radioactive Material
Radioactive Area, Digging Prohibited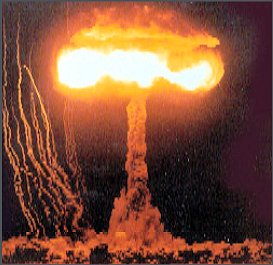 In one area, where they used to test nuclear bombs, elevated railroad sections were built, similar to Chicago's "L" train. You could see how the historic blast bent the steal and pulled out the rivets from the sections. Nearby, you could see how the aluminum and steel test domes were warped and wrinkled like paper or foil. Other structures of brick, wood and earth demonstrate their various abilities or inabilities to withstand a nuclear explosion.
In a different section, houses were built, stocked with mannequins, furniture and food to test the effects of atomic testing. Cars, airplanes, railroads and different types of buildings were constructed to see how they would hold up.
TOP OF NEXT COLUMN
The trenches where some of the military observed the blasts are still there. So is News Nob where reporters could watch the happenings.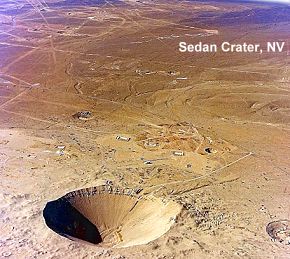 An interesting site is the massive Sedan Crater, blown out on July 6, 1962. This was to demonstrate the potential of Nuclear Excavation, which could save time on major building projects. 6.5 million cubic yards of earth were displaced. That number may not mean much to most people, but the 1280-foot diameter crater can be seen from earth orbit. Speaking of orbit, in 1970, NASA astronauts trained here to take advantage of the virtual lunar landscape.
A different section of the Nevada Test Site, called, Coyote Flats, houses a nuclear waste dump. Although we hear about these on television, most people do not see them. There are a number of large fields that look like manmade mesas which are 8-12 feet above ground level. Each is a finished "cell." A cell is a big, flat-bottomed pit that is dug into the ground into which large metal containers are stacked neatly, organized by size. The large metal containers, which look sort of like dumpsters, contain nuclear waste that is shipped in from all over the country. Most of the waste inside is concrete, debris or soil. A typical cell is 25 feet deep. When the cell is full, it is covered over with dirt to bury the waste. The cell may be finished, but it is constantly monitored for alpha, bet and gamma rays, as well as temperature and moisture to make sure it does not pollute the ground water or atmosphere.
Last year, there were 3 million cubic feet of nuclear waste received; this year a total 1.8 million is anticipated. Most of the land surrounding the Nevada Test Site in held by the BLM (Bureau of Land Management) with which they have agreements to manage the area.
Other places within the area include the cement plant, where they manufacture all of their own cement, and an epoxy plant, where they make the material to plug the holes after testing. There is also a Homeland Security Research and Development facility to develop new equipment and another area to train fire, police and other first responders to a radioactive situation.
Much of the rest of the vast site is mountains and valleys with sporadic mounds of dirt, pipes and tubes sticking out of the ground, locked shacks, warning signs and Joshua trees.
With any luck, you will once again be able to plan for your own tour of the Nevada Test Site by visiting: http://www.nv.energy.gov/outreach/tours.aspx

CONTINUE ON TO...:
>TERI'S VEGAS TRAVEL TALK MAIN MENU
>Return to Las Vegas Leisure Guide"
>Return to Las Vegas Tours"