One of the most scenic of Nevada's Scenic Byways, is Lamoille Canyon located just 20 miles south of Elko in Northeastern Nevada. This peaceful drive passes through the glacial canyon all the way to the base of the 11,249-foot Ruby Dome. Lookouts along the Lamoille Canyon Scenic Byway give you amazing views of waterfalls, foliage and wildlife. There is a self-guided car tour with interpretive signs explaining the landscape and geology of the area. At the end of this road is the Road's End Picnic Area perfect for a family gathering.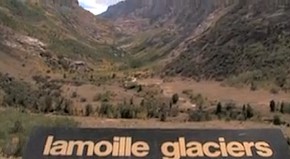 The lush Ruby Mountains are the wettest range in Nevada, and offer green landscapes along with wildflowers in the Spring and changing leaves in the Fall. There are over 100 miles of hiking trails for the outdoor enthusiasts—a great way to enjoy Mother Nature. Island Lake is an easy two-mile hike, with views of several alpine lakes. The 38-mile Ruby Crest Trail takes hikers, backpackers and equestrians across the Ruby Mountain Ridge, ending at Harrison Pass. There are numerous medium-length trails throughout the Lamoille Canyon area for those not quite so ambitious as to tackle a 38-mile hike! Trout Fishing is an added bonus along the Soldier Basin Trail, at Robinson, Hidden and Soldier Lakes.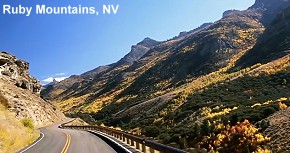 The Scenic Byway closes for driving in the winter, but that is when the canyon comes alive with snowmobiles and cross country skiers who depart from the parking lot at the entrance. Helicopters take skiers to untouched powder for true alpine adventure that some refer to as "high-adrenaline skiing". Ruby Mountain is one of only two heli-ski operations in the West, covering 500-square miles of ski terrain.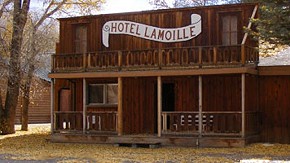 In the town of Lamoille, just beyond the entrance to the Scenic Byway, travelers can find comfortable lodging at a number of local, reasonably-priced establishments. One historic option is Hotel Lamoille which offers three 2-bedroom suites. Right next door you can enjoy a delicious dinner at the Pine Lodge Dinner House with quite a display of game animals. About four miles away, is Reds Ranch, a retreat with ten bedrooms and a guest house set on 125 acres of meadowland. For camping, the Thomas Canyon Campground at the end of the Scenic Byway offers 40 sites among aspens and cottonwoods. If you want to invite 50 of your closest friends and need a place to stay, you can rent Camp Lamoille, run by the Elko Lions Club.
TOP OF NEXT COLUMN
In June you can enjoy the Lamoille Country Fair, and September 20th, you can watch or participate in the 36th Annual Man-Mule & Trail Trial. For more information about this event, visit www.Steninger.us.
Anytime you are in Northern Nevada, make time to visit this spectacular destination. Visiting during any season, you will be surrounded by the natural beauty of Lamoille Canyon and the Ruby Mountains.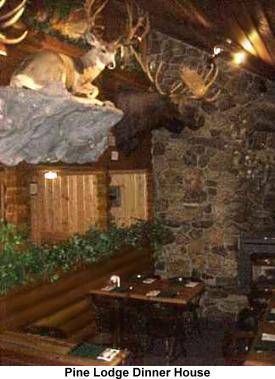 To get there: from Interstate 80 take the Lamoille Highway, State Route 227 from Elko, 23 miles Southeast, past Spring Creek. Follow the signs that say "Lamoille Canyon Recreational Area." Take the turn-off to the right about one-half mile before the town of Lamoille. The Lamoille Canyon Scenic Byway, or NF-660 is a well paved, 2 land road, extending about 12 miles into the canyon ending at major parking and a return loop-back.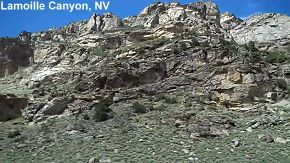 To find out more about this or any other area within Nevada, go to www.travelnevada.com.
CONTINUE ON TO...:
>TERI'S VEGAS TRAVEL TALK MAIN MENU
>Return to "Las Vegas Leisure Guide"
>Return to "Las Vegas Tours"