Located almost exactly half-way between Reno and Las Vegas sits the "Queen of the Silver Camps", Tonopah. Tonopah earned the prestigious title because it was once home of one of the biggest mining booms in the history of Nevada.

Not quite the bustling community of yesteryear, Tonopah is still quite a spectacular place to visit and explore. Visitors can get a real feel for the industry that put them on the map by enjoying the unique Tonopah Historic Mining Park. Silver was discovered here in 1900 and you can see actual equipment, mine shafts, and great local history on display. The mines were once owned by Howard Hughes. Walking tours are available or arrange for a special guided tour by any of the very knowledgeable guides.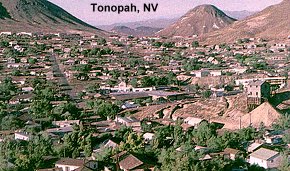 You can even arrange for your very own mining experience with Otteson's World Famous Turquoise tours. Dean Otteson will arrange for you to dig three hours in an open pit. He tells me that whatever you find, you bag! You can even select a piece to have mounted into jewelry. This could certainly become a conversation piece when you tell all your friends you dug the turquoise yourself. For more information about this adventure, call: 775-482-9889.
Now, that's not the only thing to experience in Tonopoah. On a clear, moonless night, you can see the stars in the heavens better in Tonopah than anywhere else in the United States according to USA Today. I tried it and I agree. After dark, I drove out of the parking lot of my hotel, and a couple miles down the highway before pulling over. As I turned off the headlights and got out of the car, I realized what utter darkness really meant. I could not even see where I was standing. Then, I looked up. As my eyes adjusted, a dazzling display of stars appeared. That is when I understood why Tonopah has taken on the name of the Star Gazing Capital. This was an amazing experience and truly a sight to enjoy. For more information about this favorite pastime, visit www.tonopahnevada.com/StarTrails/.
TOP OF NEXT COLUMN
Tourism is now a major industry for Tonopah. Some of the buildings of the past that still stand are the 1905 Nye County Courthouse, the 1906 St. Mark's Episcopal Church and the 1907 Mizpah Hotel. The Tonopah Public Library built in 1912 is now the oldest active library in Nevada.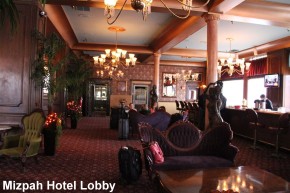 The Mizpah Hotel is certainly deserving of more discussion. This historic hotel was once the tallest building in Nevada and housed celebrities and dignitaries like Howard Hughes, Wyatt Earp, Jim Butler and many other famous characters. The Mizpah Hotel had always been known for its excellent service and plush accommodations. Unfortunately, like other Nevada businesses, when the mining dried up, businesses closed. That is until Fred and Nancy Cline of Sonoma, California pursued a dream and brought life back into this magnificent Nevada structure. Some say the hotel is haunted but most don't let that deter them from experiencing a night in this historic treasure!
Not far from Tonopah, a mere sixteen miles northwest of town, is a 3,000-acre open dune which is a favorite for anyone who enjoys ATVs or off-road bikes.
So, a trip to Tonopah could easily satisfy the thirst of anyone seeking history, astronomy, and outdoor adventure. For more information about this unique Nevada destination or any other Nevada destination, visit http://travelnevada.com/regions/central/tonopah.
CONTINUE ON TO...:
>TERI'S VEGAS TRAVEL TALK MAIN MENU
>Return to "Las Vegas Leisure Guide"
>Return to "Las Vegas Tours"