Just a short 3-hour drive from Las Vegas, sit a cluster of historic towns that offer a glimpse into Nevada's history. This cluster of historic towns, Pioche, Panaca, Caliente and Alamo each have their own story to tell and are surrounded by some breath-taking natural wonders.

As you depart Las Vegas on I-15 North past the speedway, take the Hwy 93 North exit to begin your adventure. You will pass some interesting mountains and rock formations, and eventually pass by Pahranagat National Wildlife Refuge. Depending on the time of the year, you may enjoy the lakeside picnic tables, and the many species of birds and other wildlife. This wildlife preserve is home to 264 bird species which is over half of all birds recorded in the entire state, so this is certainly a popular destination if you are a bird lover or a photographer! Overnight camping is also available at the Upper Lake.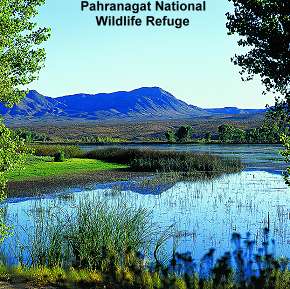 Continue north for a few more minutes toward Alamo for a quick stop at Windmill Ridge to enjoy lunch and their delicious bakery selections. Or, make it a long stop and plan an overnight stay in one of their cabins. The next leg of your journey is the scenic Great Basin Highway to Kershaw-Ryan State Park, which is situated in colorful Rainbow Canyon. This state park offers visitors trails for hiking, picnic tables, wading ponds, and lush greenery for relaxing!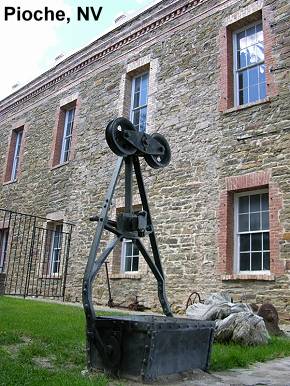 If you can pull yourself away, drive on to the historic mining town of Pioche. If your schedule permits an overnight stay, check into the Overland Hotel where you will enjoy staying in one of the themed rooms. You'll feel like you stepped back in time as you enjoy this small Western town, full of stories, artifacts and even the overhead ore cars that still hang high over the city.
TOP OF NEXT COLUMN
The next day, start off by visiting Cathedral Gorge State Park, just a few minutes from Pioche. There is a visitor's center along the highway, which is a great place to start. You can pick up information on trails and events inside the park, as well as the other state parks in the area. Drive into Cathedral Gorge to see this wonderland of gothic clay spires, unusual cliffs, and narrow caverns. You can take short hikes through many different geological sites such as the Moon Caves and see formations in the shape of dragons, wedding cakes, fortresses, elephants, and more yet to be named. There is also a shaded area for enjoying a picnic lunch after your adventure.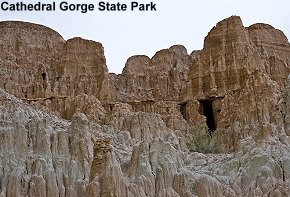 After your visit to Cathedral Gorge, you might want to stop for lunch in Panaca and plan your visit to the other state parks in the area: Echo Canyon State Park, which has peaceful and beautiful lake; Beaver Dam State Park offers hiking trails and a rainbow trout stocked reservoir; and Spring Valley State Park offering great hikes, water-oriented recreation, and tour of the Stone Cabin Museum.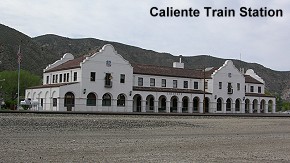 Caliente is the next stop on this historic and natural wonder tour. This town was established in 1901 as a railroad stop. Take time to explore the famous Caliente Railroad Depot, built in the Mission style architecture, and now home to an art gallery, shops, library and community information. You may choose to play a round of golf on the Rainbow Canyon Golf Course, where you will have to displace the deer in the early morning. You can find more information on lodging, parks and attractions at www.travelnevada.com or www.nevadasilvertrails.com


CONTINUE ON TO...:
>TERI'S VEGAS TRAVEL TALK MAIN MENU
>Return to "Las Vegas Leisure Guide"
>Return to "Las Vegas Tours"