It may surprise some people that at one time, the richest city on earth was right here in Nevada -- and it wasn't Las Vegas!

In Northern Nevada, just 23 miles from Reno, Virginia City is a spectacle that is sure to delight you. Within a twenty-six year period, over $700 million in gold and silver was mined from Virginia City and surrounding Gold Hill and Silver City mines. Due to this newfound wealth, the residents sent to the ends of the earth for the finest home furnishings, building resources, clothing, jewelry, and art. The town's fascinating mix of Western Cowboy and New Elite provided a wonderful character that still embodies the area today.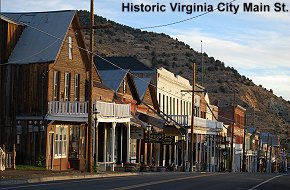 Landmarks such as Bucket of Blood Saloon and the Old Washoe Club offer a great insight into the rough and tumble days of the old west. Higher society attractions, such as Piper Opera House, St. Mary's in the Mountains Catholic Church, and the Mackay Mansion gives visitors a glimpse of the opulence that was abundant throughout the city in the mid-1800's. For a real treat, check to see if there is a performance scheduled at the Piper Opera House while you are in Virginia City. Piper's was home to Shakespearean greats like Edwin Booth. There are performances scheduled at this historic gem every now and again. You can enjoy a night at the theater, just like they used to.
TOP OF NEXT COLUMN
For a great experience, choose one of the mine tours, Chollar Mine or Ponderosa Mine. You can actually enter down into the mines to see what it was like for the miners in the late 1800's. These mines are the real thing and will be one of the most memorable aspects of your trip.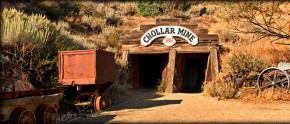 If you are visiting between May and October, something that can't be missed is a ride on the Virginia & Truckee Railroad. This restored locomotive will take you through Tunnel 4, onto Gold Hill and back. There are several trains available each day.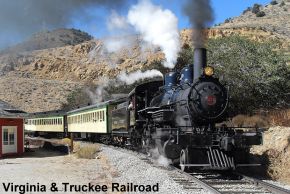 There are many things to see and do in Virginia City, which is why many visitors choose to make this an over-night experience. Some of the most inviting accommodations in Nevada can be found in this amazing town. Bed & Breakfasts, such as Virginia City Bed and Breakfast, The "B" Street House and Cobb Mansion will take you back to Victorian luxury and make you want to stay even longer. Several other excellent hotels, motels and inns provide good options in a range of prices. For more lodging and other detailed information, visit: www.visitvirginiacitynv.com.
CONTINUE ON TO...:
>TERI'S VEGAS TRAVEL TALK MAIN MENU
>Return to "Las Vegas Leisure Guide"
>Return to "Las Vegas Tours"