You may be surprised to learn that some people believe Las Vegas is the capitol of Nevada-or perhaps they think it should be. There are fewer people who also believe that Las Vegas is a state unto itself. As a resident of Las Vegas, I think sometimes we forget we actually do live in the fabulous state of Nevada. The spectacle and size of our city can occasionally dim our view of our proper place in our state. Many residents of the Las Vegas valley have not yet visited our state's capitol, Carson City.

Carson City has so much to offer any visitor, and even more to those of us who call Nevada home. The many historic buildings, museums, and community events will surely entice you to visit time and time again! It will also make you feel proud to be a part of our great state of Nevada!

Column Continues Below Advertisement


The 1800's will come to life as you learn more about the local history and how important Carson City was to the development of the West. Walk and drive the History Trail, including walking the Blue Line of the Kit Carson Trail. Details can be found at www.VisitCarsonCity.com and click on Trails. Even if a visit to Carson City isn't in your immediate future, you can "tour" the city using the interactive prompts on the site.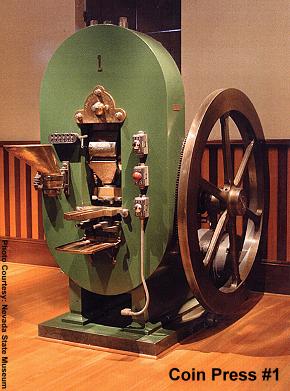 The Nevada State Museum presents many aspects of our state's natural and cultural history. An amazingly accurate walk-through mine will really help you grasp just how mining took place and show you the inventions that made it all possible. One of the museum's highlights is the famous Carson City Mint, with the actual Coin Press No. 1, which stamped millions of coins, both gold and silver, from local mines. Many collectors worldwide have valuable coins from this very press.
TOP OF NEXT COLUMN
You will enjoy several steam engines, passenger and freight cars as well as displays on history and nostalgia at the Nevada State Railroad Museum. The Foreman-Roberts museum displays Gothic Revival architecture and the Nevada Children's museum will especially delight your children or grandchildren.
You will want to make sure you walk or drive by the Governor's Mansion, a beautiful Southern Colonial home completed in 1909. Nearby is the historic Bliss Mansion, built in 1879. For a real treat, you can stay at the Bliss Bungalow, a charming bed and breakfast just a few blocks away. You can't miss the Paul Laxalt State office building, a distinctive, Victorian red brick building which is now home to the Nevada Commission on Tourism. This building also served as the local post office from 1891 - 1970 when it became a public library. It was built on the former site of the Carson City Opera House.
But, the most important building is our State Capitol, built in 1870-71, and featuring a distinctive octagonal, silver-painted cupola. Inside, you will find the Governor's office, historic legislative chambers and the Governors' portrait gallery.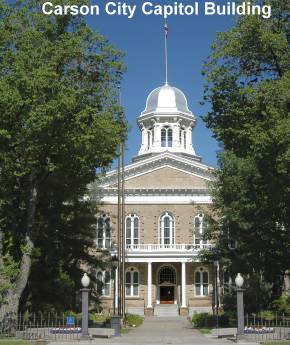 A great variety of options for lodging ranges from historic inns to modern hotels. Check www.TravelNevada.com and www.VisitCarsonCity.com from some great options. You will enjoy the dining choices as well from the Awful Awful cheeseburger at the Carson Nugget (named for being "Awful big and Awful good") to tasty Thai restaurants and locally popular Firkin & Fox. A good number of local diners, bakeries and grills offer plenty of delicious food with charming, small-town ambiance.
Carson City also makes an excellent base for visits to Carson Valley with Genoa, Gardnerville and Minden, as well as Lake Tahoe and Virginia City. So, be a Nevadan and plan a visit to our State Capitol.
CONTINUE ON TO...:
>TERI'S VEGAS TRAVEL TALK MAIN MENU
>Return to "Las Vegas Leisure Guide"
>Return to "Las Vegas Tours"