Las Vegas Shows
Concerts
Headliners
Events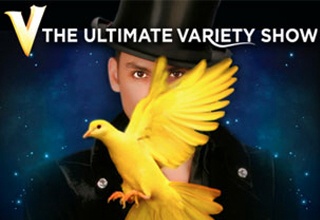 If you're looking for an evening of pure fun and excitement check out V- The Ultimate Variety Show,.

This show has it all. Beginning with an emcee who is plain hysterical and continuing through a host of fascinating variety acts which could only be found on the stages of Las Vegas.

Among the constantly changing and rotating cast are death-defying aerial acrobatics, tumblers, lightning-handed jugglers, mystifying magicians, impressionists and other attention-riveting acts which just plain defy description. No two shows are exactly the same.

This show will keep you laughing and watching from the edge of your seat. The modest ticket price is well worth the purchase. There is something for everyone at this awesome variety show.