Announcing the Wedding Of Anthony Nunzio Jr. and Valentina Lynne Vital.
You're invited to participate in the wackiest, wildest, and most talked about wedding in Las Vegas. As part of the special day ceremonies, you become a player in this renown Off-Broadway hit's funny interactive dining experience.
Join Tony n' Tina and their loved ones as they take you through this wild romp of an evening, from the wedding ceremony itself to the rowdy reception complete with a tasty Italian buffet dinner, champagne toast, wedding cake, and live dance music!

Each ticket price includes:
Admission to the wedding and reception
Italian buffet dinner
Champagne toast
Wedding cake
Live dance music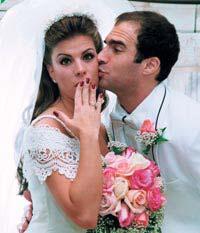 Here's what people are saying about this funny interactive dinner theater:

"One of the most successful and imaginative hits in Off-Broadway history." - Liz Smith, New York Daily News
"Just like a real wedding...only funnier!" - Chicago Tribune

You're more than a member of the audience, you're a part of the family!