Las Vegas Shows
Concerts
Headliners
Events
The Amazing Johnathan is an eccentric magician whose bizarre humor and unscripted antics have earned him widespread recoginition as one of the most original performers in Las Vegas.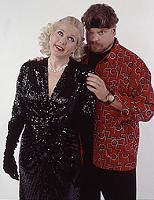 This vibrant comic magician keeps audiences on the edge of their seats with his impulsive raw and abrasive wit, all while exhibiting spontaneous magic and showcasing impressive special effects.

Having appeared on Comedy Central, David Letterman, Arsenio Hall, The X Show and many other national television specials, Amazing Johnathan still perfers his live shows where he literally destroys audiences with a style that has been described as a cross between Steve Martin and Alice Cooper. He has also been a two-time winner of the International Magic Award for "Best Comedy Magician."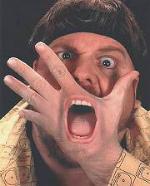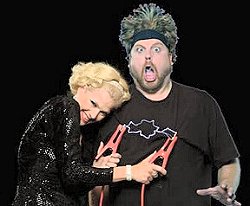 Along side The Amazing Jonathan is his show-stopping assistant and zany foil, Penny Wiggins. Also known as "Psychic Tanya", this skilled comedienne and energetic blonde supports his act with silly banter and spontaneous hilarity, adding a hysterical spark to this already off-the-wall production.

This is a show well worth the modest ticket price.

This show has adult themes and language. Those under the age of 18 will not be admitted without a parent or legal guardian.