Las Vegas Shows
Concerts
Headliners
Events
A true "Las Vegas Style" production, the stage spectacular Splash captivates audiences with gorgeous topless showgirls in glamorous costumes and dynamic dancers in rapid-fire, high-energy numbers lead by tribute artists with choreography calling for everything from street to jazz and classical dance.



Bringing an all-new version of this stage spectacular to Las Vegas in September of 2002, Splash now features new dance numbers, new costumes, and a red, white & blue celebration of freedom with an all-new grand finale "Tribute to America."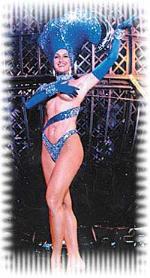 This ever-evolving entertainment extravaganza includes new dance numbers centered around the music and moves of pop-icons Janet and Michael Jackson including "Knowledge," "Rhythm Nation," "Billy Jean" and "Dangerous," as well as a full-production version of Madonna's blonde ambition "Vogue." A sexy salsa dance routine to the theme of "Dirty Dancing" and a series of vivacious numbers from Kander and Ebb's hit musical "Cabaret." As well as an all-American, high-energy, full-on grand finale: jazz, modern, classical, popping, locking, breaking, the Splash dancers do it all as they set the stage for the most fear-defying, white knuckle terror act of all time, Guinness World Record holders, "Bela Tabak's Riders of the Thunderdome". Four daredevil motorcyclists racing at breakneck speeds within a 14-foot diameter globe of metal mesh.

Splash also has brought an all-new kind of cool to Las Vegas with national and international ice skating stars Mikhail Panin and Margarita Barber performing unbelievable ice dance, figure and adagio skating routines on a custom designed ice rink sitting center stage. As well as a show-stopping, ever-changing, line-up of top specialty acts ranging from comedians to jugglers that keep visitors and residents buying tickets and coming back time and time again.