LAS VEGAS SHOWS
& Lounge Entertainment
TABLE OF CONTENTS:
Reservations & Tickets You can Buy Tickets Here. Get the Best Seats by reserving in Advance!
Showroom & Lounge Listings
Complete time, price, place listing details for Production Shows & Long Term Entertainment.

Last update: Aug 8, 2018
RELATED TOPICS:
Entertainment News!
Weekly news about upcoming Vegas happenings
Concerts & Headliners

Limited Engagements Stars, Top Entertainers, When, Where, Price
Nightlife
Ultra-Lounges, Clubs, Bars for Tonight
Attractions - Things to do
Unique Places to See, Parks, Museums
Restaurants
Tradeshows
Laughlin Shows, Headliners and Events Only two hours South of Las Vegas. You can be there by tonight!
Custom Search
Watch for this symbol:

for Free Tickets and Other Show Discounts.
Las Vegas presents many types of shows for your entertainment pleasure. Most performances are recurring long-term, daily or weekly engagements in either a casino showroom, lounge or stand-alone venue and charge admission. Free acts are usually in an open lounge. The schedule for these are all listed below by location.

"Headliners" offer short runs (i.e. comedians or singers with a less than a week gig) or "Concerts" (generally a one or two night appearance by a musical group). You can find these by clicking the Concert & Headliner Listings link on the left.

Seasonal celebrations, wine tastings, festivals, rodeos, sporting games, etc. sometimes held outdoors at a particular venue or at multiple locations can be found by clicking the Event Listings link on the left. Also linked at left, we offer weekly Entertainment News columns. These detail the very latest announced new acts, showroom changes and newly announced events complete with photos.

Our listing is as complete as possible. Due to the frequent closing and moving of performers without notice, some short-term inaccuracies may occur. Often we are more up-to-date than the websites of the hotels or performers themselves. There is no more complete source for Las Vegas shows tonight, concerts and events, than LV Leisure Guide which consistantly provides the most reliable information AND more ways to get to save you more on direct ticket purchases than you can find anywhere else. If you have authoratative knowledge regarding additions or changes on our listing please contact us via the Editor link at bottom.


This symbol:

means the venue frequently hosts Concerts and Headliners as well.

Reservations and Ticketing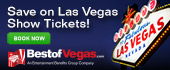 For everything Las Vegas, BestofVegas.com has the best prices on show tickets, tours, attractions and hotels.

- 1-800-947-1081

or

702-425-7513




Las Vegas Shows and Lounge Acts

All prices and phone numbers shown below are for purchase DIRECT from the primary promoter.


Aliante Station - 7300 Aliante Pky, North Las Vegas - 702-692-7777
ETA Lounge

Fridays: Rattle and Strum, Acoustic duo, 8pm-midnight
Saturdays: Country and southern rock hits with DJs, 9pm-2am

Access Showroom

See:
Aria Resort & Casino - City Center South 3730 Las Vegas Boulevard
Zarkana a Cirque Du Soleil production (FINAL SHOWS - CLOSING APRIL 30, 2016) - - A surreal world of characters inspired by American circus sideshows of the Art Deco era of the 1930's. Incredible sets and costumes including Tarantula and extraterrestial Jovians. A Must See! - Fridays, 7:00 & 9:30 pm, $69-$180, - 855-ZARKANA
Bally's Resort & Casino - On the Strip - 3645 South Las Vegas Boulevard - Tickets: (855) 234-7469 or (702) 777-2782 (unles otherwise noted)
Jubilee Theater

Jubilee! - - Don Ardens's spectacular and lavish showgirl revue began in 1981, and still thrills audiences. The show has been "reimagined and modernized" as of 2014. 85 performers and 50 topless dancers entertain with a medley of Cole Porter songs and their famous Red Feather Fan number. Sunday-Wenesday: 7:00 p.m. & 10:00 p.m.; Thursday: 7:00p.m.; Saturday: 10:00 p.m., Age 18+ required for attendance, $62.50, $82.50, $92.50, & $122.50 +tax and fees, 1-800-237-7469
Jubilee Backstage Tour - Jubilee dancers will escort guests through scenery, costume, lighting, makeup and even a costume change of this famous Las Vegas revue, Age 13+ required for attendance, $17 or $12 with a Jubilee! ticket, Mon, Wed, Sat only, 11am, Private tours for $20 include a make-up sesion done by a real showgirl
VÉRONIC Voices - One singer... Fifty voices. Talented entertainer, singer and comedian Véronic reproduces the most popular female recording artists in the world from Lady Gaga and Madonna to Pink and Celine in this tribute production. 90 minutes. Times TBA, temp hiatus, $35.50, $68.50, $99.50, $135 Incl.

Windows Showroom

Tony n' Tina's Wedding - - An exciting interactive production which gives audiences a chance to attend an actual wedding where there is a ceremony, reception, guests and lots of improvisation. The audience participates in all aspects of this fictitious event. 7 days a week, 6:00p.m., $109.99 & $134 +fees
50 Shades! The Parody - 2 for 1 Tickets Discount - Naughty satire that explores the steamy relationship between Christian Grey and Anastasia Steele, as seen through the eyes of a trio of girlfriends at a book club meeting. As the women devour the novel, the character's delicious affair comes to life before their eyes. 90 minutes. Must be 18+. Tues-Sun. 7:30pm, $75.85, $92.25, $101.20.
Country Superstars Tribute - A rotating cast of up and coming country music headliner artists performing their original songs, join music impersonators (4 per performance) who pay tribute to the likes of Garth Brooks, Tim McGraw, Reba McEntire, Garth Brooks, Shania Twain, Wynonna and more. Child friendly. - Sun, Mon, Tues, Thurs, 5:20pm & 7:30pm, $54.99+ plus tax
Zowie Bowie... Late Night Las Vegas - A mix of old time Vegas standards plus more modern hits, and special celebrity guests. Thursdays, 10:30pm, $38.49.
Frederic Da Silva - International mentalist voted "Best Mentalist in Europe." Thursday-Sunday, 4pm ,$44.99 & $54.99 +t/f
Las Vegas Comedy Club: The L.A. Comedy Club (CLOSED JAN, 2015)

Also see:
Bellagio Las Vegas - 3600 South Las Vegas Boulevard - On the Las Vegas Strip - Box Office: (702) 693-7722
"O" - A Cirque Du Soleil Presentation - - Another fantastic Cirque du Soliel masterpiece, this time on a water stage, performers entertain with an incredible aquatic production of romance, surrealism and artistic performance! - Showtimes 7:30 & 10pm on Wed thru Sun, Dark Mondays & Tuesdays - $98.50-$155 plus $10 fee for aisle seating
Tickets for "Cirque Du Soleil - O" are available at:

- Click Here to Buy Tickets and Get the Best Seats


- 1-800-947-1081

or

702-425-7513





Baccarat Bar - Listen to live jazz piano sounds 24 hours a day, indulge in the art of cocktail and watching high-end gaming
Bootlegger Bistro - 7700 S Las Vegas Blvd
Funny Fridays - A mix of local and Nationally known touring Comedians (often ones currently performing elsewhere on the strip) offer a late night performance with twice the bang for your comedy show buck in a more intimate setting than the strip showrooms. Expect some spontaneity and language not normally heard in the showrooms. Must be over 21 of age. Food and drink not included, but special drink/dining specials offered for show-goers - Fridays, 10:30p.m., $20
Boulder Station Hotel Casino - 4111 S Boulder Hwy
Railhead

Fridays, 2pm, Tony Sacca, FREE
Fridays, 9pm (doors 8pm), Yellow Brick Road, The Best Classic Rock Tribute Band in the City. must be 21. $5 Cover
Saturdays, doors at 10pm, Mundo Vacio - $5 Cover, Ladies Free, drink specials + 1/2 off bottle service until midnight, Reservations: 702-432-7946
Sundays, 11pm-3am (doors 10pm), El Moreno Carillo, $10 men $5 women
See Also:

Kixx Bar

Fridays, 8pm-11 pm, John Acosta, Free
Saturdays, 8pm-11 pm, Reflection, Free
Brooklyn Bowl - The Linq, Suite 22, 3545 Las Vegas Blvd. South - Box Office: (702) 862-2695
Superstar artists perform. See:
Buffalo Bill's Resort & Casino - Primm, NV - All Tickets: 702-679-5171 / (1-800) FUN-STOP
Carolee Theater - Cozy retreat to view latest released movies shown in an old town-style private theater
O'Mulligan's - Enjoy the craic at this Irish Pub, Live entertainment Fri 8pm-12am & Sat 9pm-1am
Stage Bar - An initmate cozy bar offers up-and-coming bands on Fri 7:30pm-1am & Sat 6:30pm-1:30am
Pete's Place - Pool, Darts, Brews, Dance and live music on Fri & Sat 8pm-1am
Ramon Ayala's Cocina & Cantina - Mexican cuisine combined with live mariachi bands. Latin-inspired lounge acts on Fri 8pm-12am & Sat 5pm-12am
Star of the Desert Arena - See Listings:
Caesars Palace Las Vegas Hotel & Casino - 3570 Las Vegas Boulevard, South - On the Las Vegas Strip - Tickets at Main Box Office: 888-929-7849 (except as otherwise noted below.)
Absinthe - A bizarre, risqué, circus, vaudeville and burlesque concoction featuring curious creatures, heavenly bodies and outrageous comedy, in the Roman Plaza. 90 minutes. Must be 18+. Sun & Tues-Sat, 8pm & 10pm, $119.90, $136.40 and $147.40p Incl. - (800)745-3000
Celine Dion - - Movie lovers will be astounded by Celine's newest Colosseum show, a theatrical spectacular which captures the love and grand romance movies of Hollywood. Colosseum Showroom, 7:30 p.m., Upcoming 2016 dates: May 17-18,20-21,24,27-28,31, Jun 1,3-4, Sep 20-21,23-24,27-28,30, Oct 1,4-5,7-8, Nov 1-2,4-5,7,9,11-12,15-16,18-19,22,25-26; $55.95-$250 plus fees and taxes, (877) 423-5463
Rod Stewart: The Hits - Featuring a list of the rock and R&B favorites covering his 5 decade career. Under 18 requires adult. Colosseum Showroom, 7:30p.m., Upcoming 2016 dates: Aug 3,6-7,10,13-14,17,20-21; $49-$250 +t/f
Elton John's - Million Dollar Piano - - A musical and visual theatrical production by the top singer / songwriter / musician in the past four decades, Colosseum Showroom, Select Dates Only, 7:30p.m., current schedule of future 2016 dates: Apr 17,19-20, 22-23, 26-27,29-30 - his residency is scheduled to continue through 2017!; $55-$250 plus tax/fees
REBA, BROOKS & DUNN: Together in Vegas - Award-winning, country music superstar, entertainers Reba, Kix Brooks and Ronnie Dunn join forces for a one-of-a-kind residency. 7:30pm, Select Sunday, Wednesday, Friday & Saturday. 2016 dates: May 3,6-7,10,13-14,Jul 12,15-16,19,22-23,26,29-30; $59.50-$250 +t/f, 866-320-9763
Mariah Carey #1 to Infinity (REOPENED 2016) - In celebration of her new album "#1's" Mariah Carey will be performing a limited residency featuring an unprecedented 18 of her timeless and beloved No. 1 hits as well as new tunes. 8pm, Select Sat, Sun & Wed. Current Schedule of 2016 dates: Jun 7,10-11,14,17-18,21,24-25, Aug 24,27-28,31, Sep 3-4, 7,10-11; $55-$250 +t/f, 866-320-9763
Shadow Bar - Seductive silhouettes of provocative shadow dancers provide a sensual backdrop while imbiding in high-energy cocktails. Bar open 5pm-2am with bartender flair on-going, Shadow Dance and DJ Performances Sunday-Thursday, 9pm-1am, Friday-Saturday 9pm-3am, No Minimum Drink, No Cover
Gossy Room @ Cleopatra's Barge - Dance aboard Cleo's floating barge to live music and DJ's spinning tunes. Dance & Listen 9pm-3am, No Minimum Drink, No Cover

Matt Goss - Multi-platinum recording, British crooner with his smooth vocal styling fills the Gossy Room at Cleo's Barge, a vintage Las Vegas like lounge, with his backing nine-piece band and sexy female dancers known as The Dirty Virgins. 9:30p.m., Fridays, Saturdays, Sundays, Tuesdays, $60, $80 VIP, $120 Meet and Greet + t/f -

Also see:
Cannery Casino and Hotel - 2121 E. Craig Rd, N. Las Vegas
The Club - Headliners on most weekends, check out for performers - (702) 346-7529
Pin-ups Cannery - A variety of live entertainment 6 days a week. Open 24 hours. No Cover Charge. No Drink Minimum.

Tues-Thurs, Sun: Luggnutt (8pm-Mid), FREE
Fri, Sat: Luggnutt + Patrick Puffer (7:30pm-2:30am), FREE

Victory's Bar & Grill - NASCAR themed lounge with video games, TV's and occassional live perfomers. Open 24 hours
Casablanca Resort and Casino - 950 West Mesquite Blvd, Mesquite, NV
Casablanca Showroom - Headliners perform frequently. Funny comedians take the stage for a FREE show on most Fridays and Saturdays at 7p.m., (702) 346-7529
Skydome Lounge - Dance to live music, Tuesdays thru Sundays
Circus Circus Las Vegas - On the Las Vegas Strip
Famous for its Circus Acts, you can see anything from trapeze artists to jugglers, aerielists and clowns. The FREE fun starts daily at 11am. - 702-734-0410
The D (Formerly: Fitzgeralds) - Downtown, Fremont Street - Box office: (702) 388-2111
Marriage Can Be Murder - Free $10 Off VIP Tickets - An interactive dinner theater lets you solve the murder mystery during a 3-course meal. Nightly, 6:30 p.m., $60.45 & $76.95, includes dinner
LaughterNoon 1/2 off Tickets - starring comic/magician Adam London. This hilarious afternoon comedy magic show combines tricks and a mix of wit and whimsy with clever slight-of-hand magic... and ducks?! - Daily 4p.m., $19.95, $27.45
"Defending the Caveman" - A hilarious insightful, one-man play and smash Broadway hit, about the ways men and women relate... or not, 8:30PM Daily, $34.95, $49.45, 65.95 plus tax and fees
Frankie Scinta - (CLOSED 5/20/15) - A brilliant variety and comedy performance featuring musical impressions.
Raack n' Roll Topless Revue - (CLOSED 10/14) - A Sexy Topless Female Review set to great rock and roll music from The Beatles to Metallica and featuring Comedy Impressionist Robert Nash
Purple Reign - (MOVED: SEE Westgate Hotel)
Fitz of Laughter - (CLOSED) - with Comic Genius Kevin Burke who somehow combines mentalism and fire eating with off-the-cuff comedy worthy of an award for Las Vegas Entertainer of the Year.
Downtown Grand
206 N 3rd St - Downtown
The Mob Bar

Thursday: Shaun DeGraff Band
Friday: The Witness Progression Program: 8pm - 12am
Saturday: Dueling Pianos: 8pm - 12am



More Show Listings Continue Below



Eastside Cannery Casino and Hotel - 5255 Boulder Highway
Marilyn's Lounge - Great Las Vegas lounge acts. Change monthly. Free Admission.

Mondays: Claudine Castro Band (Latin, 4-45min sets, 10pm-2am), FREE
Fridays: "Las Vegas Rocks Variety Show" hosted by Tony Sacca - a 1-hour, recorded for TV broadcast, weekly, variety show featuring local performers from other LV Strip acts and headliners. Fridays 2pm. FREE, first come-first seated, or advance reverations: 702-364-8669.
Fri, Sat: See Headliners Page

Pin-ups Eastside - Nightly Entertainment.

Mon: Monday Nite Jazz with Calvin Brooks + Anthony James Baker (7pm-11pm), FREE
Tues-Thurs, Sun: Van Deguzman (8pm-Mid), FREE
Fri, Sat: Van Deguzman + Michael Jackson (7:30pm-2:30am), FREE

Eastside Events Center - See performers:
Encore
See Wynn Las Vegas Hotel Below
Excalibur - 3850 S Las Vegas Blvd - All Box Office Reservations: (702) 597-7600
Thunder From Down Under - - Free Poster - Voted Best Male Strip Show, of hunky gorgeous Aussies men. Men welcome to attend. Must be at least 18 to enter, all 18-20 year olds must be accompanied by an older adult. Monday thru Wednesday 9:00p.m. Thurs, Sat & Sun 9p.m. & 11:00pm, Friday 7:00pm, 9:00 & 11:00p.m., $50.95, & $60.95 +t/f
The Australian Bee Gees - $20 Off Tickets - A Tribute to the Bee Gees - a 75-minute multi-media live concert perspective of five decade of the music of the Gibb Brothers. Extended through 2015 - Sat-Thur 7p.m., $49.95, $59.95 (+t/f)
Tournament of Kings - Medieval dining with an entertaining jousting performance, Mon & Wed 6p.m., Thu, Fri, Sat, Sun 6:00 & 8:30p.m. - Including Dinner, $55.00 + tax & gratuity, without dinner $44.35. 702-597-7600
Minstrel's Lounge - Live Music playing Sunday thru Thursday, 11:00pm-2:00am and Friday & Saturday, 11:00pm-3:00am, Age 21 or older
Flamingo Las Vegas - On the Strip - All Ticketing Reservations: 702-733-3333 or 800-221-7299
Legends In Concert - - $20 Off Tickets - Actor Impersonators covering the most famous Superstars of our time. Current tribute acts include Michael Jackson, Lady Gaga, Rod Stewart, Elvis and Britney Spears. Ages 5 and up. (75 minutes.) - Daily 9:30pm, Dark Fri., Plus: Sun-Mon 7:30pm; Wed, Thurs, Sat 4pm; $63.20, $75.20, $87.20, VIP $98.20 Incl.
Jeff Civillico: Comedy in Action - $20-$40 Off Tickets - Jeff's one-man comedy act is a combination of high-energy stunt antics, clean comedy and audience participation. Jeff was awarded 2015 Entertainer of the Year and the "Best of Las Vegas" Best Family Attraction. Jeff hosts a free Meet & Greet with pictures after the show. Fun for all ages. 75 minutes. Sat-Wednesday: 5:30pm, GA:$49.95, VIP:$129 Incl.
Donny & Marie - (Extended through 2016) - A little bit o' country mixed with a little bit o' rock 'n' roll makes this singing duo unstoppable. A great family show. Tue-Sat, 7:00p.m., $104.50, $119.90, $137.50 & $260 + fees.
"Summer Nights" - with Olivia Newton-John - (EXTENDED THROUGH DEC 2016) - The internationally-renowned singer-actress is backed by an eight-piece band and will take audiences on a musical journey through her life in film and music. From her co-starring role with John Travolta in "Grease" through her '80s hits like "Physical" to her recent Billboard hit album "Grace and Gratitude." Next Scheduled 2016 Shows: July 5-23, Aug 9-20, Oct 18-29, Nov 22-Dec 3. Select Tues-Sat, 7:30pm, $70, $110, $150, and $350 + fees.
Piff The Magic Dragon - Fresh from his success on "America's Got Talent", Larry David, in a dragon suit, performs jaw-dropping magic tricks with the help of his Magic Performing Chihuahua, Mr. Piffles, Debuting his long awaited one-hour solo show Piff will perform a selection of their greatest jaw-dropping magic tricks from a repertoire that stretches over six previous critically acclaimed solo shows. Mon-Wed. 8:00 pm, $52.95, $62.95, $72.95 +t/)
"X" Burlesque Show - From energetic acrobatics to sensual and slow ballet, X combines imaginatively choreographed dance with outrageous props from bathtubs to bungees which leaves crowds constantly wondering "what's next?" Must be over 18+ years old, Nightly 10 p.m., $44.95 & $55.95+tax
George Wallace - (CLOSED 2015)
Vinnie Favorito - (MOVED - SEE: Tommy Wind Theater)
Flamingo Showroom - Assorted headliners appearing most Saturdays and Sundays
Four Queens Resort Casino - Downtown - 202 Fremont Street - Call show reservations at (800) 634-6045
Mike Hammer Comedy Magic in the Canyon Club - Nobody in the audience is safe during this improvisation show, filled with cutting satire, gags and pranks, interspersed with a razor blade swallowing episode and mind reading. Recommended for 13+ although age 5+ children are allowed. Tue-Sat 7p.m., $20, VIP $32.50
Jay Bolan Acoustic Retro Rock in the Canyon Club - A one-man show in Las Vegas. just a voice and an acoustic guitar, will take you back in time with hits from the 60's, 70's, and 80's in a captivating musical experience, Tue-Fri, 9:00p.m., $24.95
Fremont Street Experience, The - Fremont Street, Downtown Las Vegas
Alibi The Show - You and your group hop from clue to clue in a group scavenger hunt to complete tasks and solve the mystery as you and your team progress through a uniquely involving story set among the streets, sights and landmarks of old, Downtown, Las Vegas. 2.5 hours, minimal walking required, Saturdays, 8 shows daily, beginning approximately 45 minutes apart from 11am, to 4:15pm, $65, ($35 under 12 yo; under 3 free) includes lunch, drinks, photos, etc. Reservations required: (702) 786 0577
VIVAVision - Watch overhead lighted performances on Fremont Street's Downtown canopy. each day of the week, scheduled every hour on the hour from 6p.m. until Midnight (starting later during summer months) - Light shows vary through-out the year. Selections now-playing include the following titles: "Area 51", "Don McClean: American Pie", "Bon Jovi: Wanted In", "KISS Over Vegas", "A Tribute to Queen" & "Doors: Strange Days" - Every night, 6:00, 7:00, 8:00, 9:00, 10:00, 11:00p.m. & 11:59p.m., FREE
Man on the Street - Monday-Sunday, 8p.m.-Midnight , various locations
Carl Ferris - 7 to 11p.m., Nightly, various Fremont Street locations
Third Street and First Street Stage EntertainmentDates & Times vary
also listed under
also listed under Las Vegas Events
Gold Coast Hotel & Casino - 4000 West Flamingo
Vegas Magic Theatre - Starting in the Magic Lounge one hour prior the audience is invited to close-up magic with audience participation. The main 70-minute show, varied weekly, is hosted by Singer/Magician Ben Stone and features three to four different magic, illusionist and specialty acts. Thurs, Fri, Sun: 7pm; Sat: 5pm & 7:30pm, $14.95
Big Al's Comedy Club - Must be 18 to attend. Wed-Sat 7:00p.m., $19.95 and up, includes one drink
Royal Dixie Jazz Band - Mon-Fri, 1pm-6:40pm
Karaoke - Monday, 7:00p.m.
Gold Coast Lounge - Live entertainment, 9pm-3am (Dark Monday)
Latin Breeze Dance - Salsa dancing to live Latin music, $10, Fri & Sat, 11:00pm-2:00am
Golden Nugget Las Vegas - Downtown Las Vegas - Box Office: (866) 946-5336
Gordie Brown - Sensational Singer and Funny Impressionist, this star keeps audiences entertained. Under 16 must be accompanied by adult, 7:30 p.m. on Tuesday thru Saturday, with dinner buffet only $34.95, call
Green Valley Ranch Resort - 2300 Paseo Verde Pkwy, Henderson 702-617-6800
Drop Bar -

Thursday: Jared Berry 7:00PM
Friday: Rick Duarte 6:00PM & DJ Andrew B 10:00PM
Saturday: Tony Venniro 6:00PM & DJ CB Shaw 10:00PM
Sunday: Ryan Whyte Maloney & Cali Tucker 9:00PM

Hank's Fine Steaks & Martinis Bar -

Tuesday & Thursday: Dave Ritz 6:00PM
Wednesday: Rick Duarte 6:00PM
Friday (& First Thursdays): Nick Mattera 6:00PM
Saturday: Jeremy James 7:00PM

Lobby Bar -

Thursday: Shai Peri & Christina L, 8:00PM
Friday: DJ L1 & Christina L, 8:00PM
Saturday: DJ L1 & Cayce Andrew, 8:00PM

Also see:
Hard Rock Cafe on the Strip - 3771 S. Las Vegas Blvd 0- Box Office: 702-733-7625
Night School 4 Girls - $10 Off Tickets - 70-minute class, taught by real Vegas showgirls, teaching students sexy moves, pole dancing tricks and a burlesque routine, complete with chairs, feather boas and diploma. $39 and up.
See also Headliners & Concerts List
Hard Rock Hotel & Casino - 4455 Paradise Road
Andrew Dice Clay (MOVED SEE TROPICANA)/LI>
The Joint & Vinyl Las Vegas - Superstar artists perform.
Michael Grimm - (CANCELLED)
ALICE, A Steampunk Concert Fantasy (CLOSED)
Harrah's - 3475 S. Las Vegas Blvd - Box Office: (855) 234-7469 or (702) 777-2782
Million Dollar Quartet - A Broadway musical hit about a true story of four rock 'n' roll pioneers coming together for one magical night. It takes one back to the fateful day in 1956 when an extraordinary twist of fate brought Johnny Cash, Jerry Lee Lewis, Carl Perkins and Elvis Presley together at the Sun Records studio in Memphis. (90 minutes.) - Tues, Fri, Sun: 7pm; Wed: 6:30pm; Mon & Thurs 5:30-8pm;, $57.52 & $79.73 + t/f
The Rightgeous Brothers - Original Righteous Brothers founder Bill Medley joins with vocalist Bucky Heard, to bring the Righteous Brothers back to the stage. Exclusive March-June residency. Fine for ALL ages. Wednesday thru Saturday, 6:00pm & 7:30pm, $39, $59, $79 and $125 +t/f VIP meet and greet
Mac King Comedy Magic - - An amazingly hilarious comedic act with original magic creations, sleight-of-hand tricks, gags, and quirky improv humor. Great for ALL ages. Tuesday thru Saturday, 1:00pm & 3:00pm, $31.95 and $42.34
Menopause The Musical® - - Women sharing their common middle age issues like night sweats, memory loss, hot flashes and sex make this parody of "The Change" a funny and entertaining evening. Age 14 or older, Monday 4pm & 7:30p.m., Tuesday thru Sunday 6:30p.m., $54.66-$76.16 + tax & fees
Rita Rudner - - Funny, funny comedienne - Select Wednesdays, 8:30pm, Started Feb 25, 2015, $45-$115 and VIP with prime seating, a Meet & Greet and commemorative photo taken with Rita Rudner
The Improv Theater -

The Improv - - Creating a new and unique comedy presentation each week with 2-3 different comedians performing.

Apr 5-10: Stagebenders, Rick Delia, Wendi Starling
Apr 12-17: Nick Griffin, Alycia Cooper, David Gee
Apr 19-24: Graham Elwood, Frances DilLorenzo, Jerron Horton
Apr 26-May 1: Tommy Savitt, Sammy Obeid, Tracey MacDonald

8:30pm & 10:00pm, Tuesday thru Sunday, $33.55 and $44.45 +t/f
X Country - (OPENED: NOV 2015) A kick'n topless revue, featuring a combination of traditional and modern chart topping country music and the X Country Girls dancers - Thur-Sun, 10:30 p.m., $47.94 GA, $62.95 VIP, $72.95 'Front Porch', Country Star pkg, $200 which includes an on-stage experience during the show where the X Girls will transform you into a country star.

"Defending the Caveman" - (MOVED See: The D)
Legends In Concert - (MOVED See: Flamingo)
Toby Keiths I Love This Bar & Grill - Enjoy country music live nightly, 9p.m., FREE
Carnaval Court Bar & Grill - Daily outdoor patio seasonal live entertainment


Early Bands - Daily 12p.m.
Late Bands - Daily 7p.m.

Piano Bar -

Twins Dueling Pianos, Identical twins Kim & Tamara Pinegar battle it out as the audience decides the winner, Tues & Thurs-Sun, 9pm-2am, FREE
Big Elvis, Mon-Wed-Fri, 2:30pm, 3:30pm, 5:30pm, FREE
Karaoke Club, Nightly, 6p.m., FREE
Cook E Jarr - (MOVED SEE PARIS)
Hooters Casino Hotel - 115 East Tropicana Ave - Tickets: (866)584-6687 (unless otherwise indicated)
Kevin Lepine Hypnosis Unleashed - Get hypnotized or watch your friends make complete idiots of themselves! An uncensored, comedy thrill ride that's definitely NOT for the kids. Must be 21+, Thurs-Sun 7:30p.m., $39.99 and up
House of Blues Las Vegas - Inside Mandalay Bay at 3950 South Las Vegas Boulevard - Ticketing prices include a facility $3 fee in the price. Call 702-632-7600 for ticket purchases.
"Santana - An Intimate Evening of Greatest Hits Live - Yesterday, Today and Tomorrow" - A two year residency by Carlos Santana. Scheduled Dates 2016: Jan. 27, 29-31; Feb. 3-6; May 18, 20-22, 25, 27-29; 7pm; GA: $99.50-109.50, Loge: $130-$180, Table: $232.50-$350 +Fees.
HOB Las Vegas World Famous Gospel Brunch - Enjoy a traditional breakfast of delicious soul food complimented by an incredible gospel hour of sensational song artists, each Sunday, seatings at 10:00am & 1:00pm, Children 12+ and adults $44.00 adults, children age 3-11 $21.50, children under 3 Free but still must have a reservation.
See also:
Italian American Club of Las Vegas - 2333 E Sahara Ave. - Reservations/Tickets: (702) 457-3866 (unles otherwise noted)
Lounge

Wednesdays - Rosanna Telford & Keith Neal - "The sultry and senusal sounds of Vegas' new sweetheart" - 7pm-Midnight
Thursdays - Genevieve Dew and Mark Giovi - R&B with an old-school feel
Fridays & Saturdays - Carmine Mandia croons as Frank Sinatra (as seen previously in "The Rat Pack is Back" and "Frank & Barbra"
Sundays - Chadwick Johnson: Soul Rising

Showroom

1st Thursdays of the month - Throwback Thursdays with Jeanne Brei and The Speakeasy Swingers @ 7-10pm Donations: $10.00; Dance Lessons Start @ 6:15pm: $5.00

Monthly special events:
Jerry's Nugget - 1821 Las Vegas Blvd, North Las Vegas
Royal Street Theater

Motown Acts, $5 cover, Fridays, 10:00pm-2:00am
Latin Explosion - $10 cover or $5 for single ladies, Saturdays, 10:30pm-2:30am
JW Marriott Resort Spa Golf Las Vegas / The Rampart Casino - 221 North Rampart Blvd
Addison's Lounge - Live Entertainment most Thursday, Fridays and Saturdays, 8pm-12am

Bonkerz Comedy Club - One of the historic nation-wide comedy clubs that will tickle your funny bone. Must be 21 or older. Comedians perform Thursdays 7pm, $15 includes one drink

Sept 17: Darren Moore as seen on FOX with Kirk Bonacci

Round Bar -

Sunday - Thursday: Live Music - 7pm-11pm
Friday - Saturday: Live Music - 6:30pm-3am - (702)869-7777

Also see
Las Vegas Grille - 7865 W Sahara Ave at Buffalo
Kevin O'Neal Comedy Hour - Las Vegas Strip-starring, nationally known touring Comedians at a locals venue for a locals price, and lucious BBQ food to boot. Admission does not include food or drink but includes dining/drink special offers - Saturdays, 7:30p.m., $10
The Linq (Formerly: The Quad, Imperial Palace) - 3535 S Las Vegas Blvd - On the Las Vegas Strip - Box Office: 888-777-7664 (unless otherwise indicated)
Divas Las Vegas - starring Frank Marino - Ticket Discount Coupons - A fun, up-beat, and contemporary 90 minute production, performed by male, performing female-look-alikes tributes or parodies of your favorite superstars. Frank Marino (Former star of the long-running "La Cage" at the Riviera) is narrarator by performing his infamous Joan Rivers including her inspired monologues of comedy. Nightly 7 days: 9:30p.m., $88.94, $99.94 and $113.44, Incl.
Mat Franco - This 26 year old magician, season 9 winner, of America's Got Talent in his headlining debut, offers a breezy-humor filled, and feel-good twist on magic that defies expectation. It's a full-scale production of never-before-seen routines, which keeps his love of getting up close with the crowd at the heart of every performance. Crowd-guided improv creates a once-in-a-lifetime adventure that's completely unique every time you see it. Fun for all ages. Thurs-Tues: 7:00pm, $46.20, $67.70, $90.20, $112.20 Incl.
Karaoke Club (located on the third floor) - Sunday thru Thursday, 9:00p.m., Friday and Saturday, 10:00p.m.
Jeff Civillico: Comedy in Action - (MOVED: See Flamingo)
Recycled Percussion - (MOVED: See Saxe Theater/Planet Hollywood)
Luxor - On the Strip - Box Office: 702-262-4400 or 800-557-7428 (Unless otherwise indicated)
Criss Angel - BeLIEve - Who could enter the inventive and mystifying mind of Chris Angel but Cirque du Soleil. This haunting performance of over 40 illusions by the most watched magicain in history. - Tues, Fri & Sat, 7pm & 9:30pm, Wed & Thur, 7pm, tickets starting at $50
Scott" "Carrot Top" Thompson - This prop trunk carrying red-headed comedian brings laughter to a new height with wacky inventions and lots of craziness. Age 18 and up, Mon 8:30p.m., Sun thru Wed, 8:30p.m., $49.95
Fantasy The Strip's Biggest Tease - Currently featuring Singer Jaime Lynch. Let these gorgeous dancers take you through your wildest fantasies in this provocative revue. Age 18 and up. - 10:30 p.m. every night, starting at $42.90, $55, $60.50, $64.90 plus tax/fee
Jabbawockeez PRiSM - The white masked, white gloved, dance troupe captivate with their intricate and synchronized dance routines to Hip Hop music in a new presentation started 2015, Thurs-Saturday 7pm &amp 9:30pm; Sun-Monday 7pm, $60.14, $80.14, $90.14
Titanic: The Artifact Exhibit - - Examine authentic artifacts recovered from the wreck of the most amazing luxury ocean liner ever built, rescued from their final resting place 2 miles below the surface of the ocean. The center-piece is a large section of the actual hull along with re-creations of Titanic's lavish state rooms and grand staircase. Walk into her decks, peer into her cabins, and meet her passengers and crew. Daily 10am-10pm, $27 (Youth 4-12), $33 (Sr. 65+), $35 (GA)
Menopause The Musical® - (MOVED Jan 2015 - See Harrah's) - Women sharing their common middle age issues like night sweats, memory loss, hot flashes and sex make this parody of "The Change" a funny and entertaining evening. Age 14 or older,
M Resort Spa Casino - 12300 S Las Vegas Blvd, Henderson
Marinelli's

Antonio Carnota - Spanish pianist who performs a mixture of classics, pop and contempory music, Free

Ravello Lounge

Jeremy Cornwell Project & DJ Arty - Get your party mood on with original versions of classic R & B, Motown, today's hits and more. No Cover, Fri & Sat 9p.m.-

See Also:
Mandalay Bay Hotel - 3950 S. Las Vegas Blvd
"Michael Jackson ONE" by Cirque Du Soleil - - A journey of transformation set to the music of Michael Jackson. Ages 5 and over - Saturday thru Wednesday, 7p.m. & 10p.m., $69, $99, $130 and $140, $155, $180 plus fees & tax
LIGHT Nightclub -

"For The Record: BAZ" - a 360-degree, completely immersive theatrical concert experience produced by Cirque du Soleil Theatrical. Part nightclub, part rock concert and part musical theater blended together to bring the audience into the musical mind of Austrailian filmmaker Baz Luhrmann (Moulin Rouge!, The Great Gatsby). Wed-Mon, 8pm, $TBA

Laughter Hours Comedy - Rotating selection of comedians hosted by BS Williams - Nightly, 8p.m., $10, must be 21+, 702-632-7600
See Also "House of Blues", listed above, which is located inside Mandalay Bay.
MGM Grand - On the Las Vegas Strip
KÀ by Cirque Du Soleil - - A fantastical story about separated twins with a shared destiny told through acrobatics, pyrotechnics and fire. - Tuesday thru Saturday, 7pm & 9:30pm, $69, $99, $130 and $150 plus fees & tax, (800) 929-1111
David Copperfield - See the famous illusionist in action in the MGM Hollywood Theatre. Nightly, 7pm & 9:30pm, Additional Saturday Matinee at 4p.m., $83.26, $116.26, $127.26 & $240.77 (meet and greet)
Beacher's Madhouse - All the energy of a circus plus the atmosphere of an A-list Hollywood party, this Vaudeville-inspired presentation pushes the boundaries of entertainment and fantasy. Experience never-before-seen acts and expect the unexpected. Guests are taken on a 2-hour sensory journey into an unconventional world and basically all-out madness via the hidden speakeasy-like tunnel passageway to a fantasy-filled realm full of spectacles and all-new dramatic performances. Must be 21+ - Thursday & Sunday 8p.m.; Wednesday, Friday, Saturday 8pm & 10:30pm, $75 (SRO), $125 (Reserved Seating) & $175 (VIP incl comp bottle and entry to nightclub) plus fee, 866-932-1818 or 702-260-7200
Brad Garrett's Comedy Club - Founded by the Emmy Award-winning actor and comedian the club highlights a line-up of fine comedians. Must be 21+ - Nightly 8p.m., $46.40, $57.40 & $68.40 plus fee, (Prices When Brad performs: $68.40, $79.40 & $90.40 plus fee) 702-739-2411
see also:
The Mirage - 3400 S. LV Blvd - Box Office: (702) 792-7777 or (800) 963-9634
The Beatles LOVE a Cirque Du Soleil Interpretation - - The Beatles like you've never heard them since they split, interpreted through aerial displays, acrobatic designs and urban dance. 7:30 pm & 10:30pm, Thur thru Mon, $79, $98.50, $104, $130, $155 and $180, plus 9.95 service fee plus tax,
Terry Fator - Incredible ventriloquist and comedian with the aid of crazy puppets, uncanny impressions. Mon-Fri 7:30p.m., $59.99, $79.99, $99.99, $129.99 and $149.99 plus $8.95 tax and fees,
Boyz II Men - with members Nathan Morris, Wanya Morris and Shawn Stockman. (Upcoming dates: TBA), 7:30pm nearly all dates, $43.99 - $76.99 +t/f
Aces of Comedy - Big name comedians including: Bill Burr, Daniel Tosh, Gabriel Iglesias, Jay Leno, Joe Rogan, Kathleen Madigan, Kathy Griffin, Kevin James, Nick Swardson, John Mulaney & Ron White. Irregular dates as announced. Must be 16yo, under 18 MAY require an adult. Generally Fridays and/or Saturdays, 8pm or 10pm, prices vary based on comedian generally approximately $39.99, $49.99 & $59.99 +t/f.

April 23: Sebastian Maniscalco
April 29-30: Ron White
May 6-7: Tracy Morgan
May 13: Jay Leno
May 14: Tim Allen
May 20-21: Ray Romano & David Spade
May 27: Jim Norton
May 28-29: Gabriel Iglesias
June 3: Wayne Brady
June 4: Jay Leno
June 10-11: Ron White
June 24-25: Jim Jefferies
July 1: Kathy Griffin
July 2: Jay Leno
July 9: Wayne Brady
July 15-16: Ron White
July 22-24: Bill Maher
July 29: Leslie Jones
July 30: Tim Allen
August 5: Kathleen Madigan
August 6: Jay Leno
August 12-13: George Lopez
August 19-20: Ron White
August 26-27: Chris D'elia
Monte Carlo Resort and Casino - 3770 LV Blvd S.
Blue Man Group - 30-40% off Tickets - A Newly updated, multi-media performance that is very musical and very percussive. Fascinating for the whole family, Daily 7 & 10p.m. (Subject to change), $74.90, $125.50, $149.70 and 236.50 VIP Backstage Experience +t/f, 877-459-0268
Jabbawockeez MUS.I.C. - (MOVED See: Luxor)
New York - New York Las Vegas Hotel - 3790 SLV Blvd.
Zumanity by Cirque du Soleil - - A sensual human experience through fantastic acrobatics and aerial displays, costumes can be offensive to some patrons. (Cirque du Soleil) - Cabaret Stools $69, Balcony seating $69, Upper Orchestra $79, Orchestra Seats $105, Duo Sofas $129 (pairs only), Thurday-Tuesday, 7:30pm & 10:00pm, Adults 18+, 800-963-9634
Bar at Times Square - 702-740-6466

Dueling Pianos - 7 nights a week: 8pm-2am, FREE
The Saxe Man - Sunday-Thursday: 3-7p.m., FREE

Nine Fine Irishmen Pub - 702-740-6463

Live entertaiment nightly starting at 9:00p.m.

The Broadway Theater - CLOSED
Orleans - 4500 West Tropicana Ave
Bourbon Street Cabaret -

Wednesdays: 9:30pm, Smokin' Smitty presents Hump Day
Thursdays: 7p.m., The Dave Rice Radio Program, ESPN Radio Program
Random dates: various rotating acts

Brendan's Irish Pub - Varied entertainment.
Orleans Showroom: see
Palace Station - 2411 West Sahara Avenue - Box Off / Tickets: 702-367-2470 or 800-745-3000
Jack's Irish Pub -

Karaoke with DJ - Wed, 8pm-12:30am
Radio Flyers - Thurs, 8pm-12am
Darby O'Gill, Fri, 9pm-1am,
Weekly Live Featured Band, Saturday, 9:00pm-1:00am

Louie Anderson Big Baby Boomer - (MOVED SEE: The Plaza)
The Palazzo Las Vegas (See Also Venetian) - 3325 S Las Vegas Blvd - Box Office: 702-414-9000 or 866-641-7469
The Palazzo Theater

FRANK - The Man. The Music. (CLOSED NOV 2015) - Bob Anderson, one of the most acclaimed singing impressionists of our time, presents a 90-minute, grand theatrical production honoring the life and music of the famous crooner and entertainer, Frank Sinatra. With the help of Frank's own former musical director Vincent Falcone, a 32-piece orchestra and world-class makeup effects, the production recreates the sounds and ambience of the old Vegas supper club atmosphere for which Frank is so well remembered. Tues, Wed, Thurs, Sat: 8:00pm; Fri: 9:00 pm. $71-$176
PANDA! - A Chinese-produced concept combining high-flying acrobatics, kung fu mastery, music, and dance to transport audiences to a realm of Far Eastern folklore and to illuminate two of China's national treasures, pandas and kung fu. The story follows the heroic quest of Long Long, a warm and caring panda on a quest to rescue his beloved Peacock Princess from the malicious Demon Vulture. The action features award-winning performers from the China National Acrobatic Troupe, Shaolin Monastery Kung Fu Monks Troupe and China Star Dance Troupe. Tuesday-Sunday 7:30pm, $48-$128
Palms Casino Resort - 4321 West Flamingo - Tickets: 702-944-3200
The Lounge -


Monday: Santa Fe & The Fat City Horns - 10:30p.m.
Tuesday: Rick Faugno - A modern, classic Las Vegas showroom, one-man act of blues, jazz, rock and Latin music. 10:00p.m., $10
Wednesday-Sunday: Strip Comedy Presented by Anthony Cools - The audience gets in on the action in this fully improvised theater created from their suggestions. 7:00p.m., $39.95
Paul Scally Comedy - (OPENED OCT 2015) - A New comedy venue hosted by British comedian Paul Scally and featuring local and world-class comedians.

Pearl Theater: See
Paris Las Vegas - 3655 S. Las Vegas Blvd - Ticketing: (702) 777-7776 (unless otherwise noted)
Jersey Boys - Recalls the four decade history of Frankie Valli and the Four Seasons through their unforgettable top hits music. (130 minutes.) - 12 and older only (stong language), Wed, Thurs, Fri & Sun: 7p.m., Tues: 6:30p.m. & 9:30p.m., Sat: 5pm & 8:15pm, Dark Mon - $59.55, $75.85, $99.95, $150.55, $200.05, Incl.
Tickets for "Jersey Boys" are available at:

- Click Here for Best Savings on Jersey Boys Tickets!


- 1-800-947-1081

or

702-425-7513





53X - (OPENED APRIL 2016) - From the producers of Chippendales, comes a new show for both sexes. The provocative dancers, four men and four women, bring 75 minutes of fun, sexy and unexpected play through a dynamic mix of musical numbers. Must be 18+. Wed-Sun:8:30pm, $39.95 Gen Adm, $59.95 VIP
Anthony Cools Experience - Cools uses his comedy hypnosis skills to bring out the risqué in people in his intimate 90 minute performance with audience participation. Must be 18+. Tues, Thur-Sun, 9p.m.; $48.35, $70.35, $81.35 +t/f
Napoleon's Lounge & Piano Bar:
See also:
Piero's Italian - 355 Convention Center Drive
Pia's Place - Info and Bottle Service: (702) 797-7518


Pia Zadora - Golden Globe winner, GRAMMY nominee, ShoWest winner, singer, film and Broadway star - Fridays and Saturdays, 9 pm, No cover
Planet Hollywood Hotel, Resort and Casino (formerly The Aladdin) - 3667 Las Vegas Blvd S
Sin City Theater/Crazy Girls Theater - All Ticket Reservations: 702-777-6737 or 888-746-7784

Crazy Girls (RUMORED MOVING FROM RIVIERA: OPENING 5/13/15) - - Las Vegas' Sexiest and Longest Running Topless Revue - Must be 18 or older, TIMES/PRICES TBA
Sin City Comedy Buy One Get One Free Tickets - Putting the sin back into Sin City, a comedy act that contains a touch of scantily clad burlesque, gags and one-liners and featuring weekly, nationally known headliner comedians. Must Be 18+, Daily 8:30pm, $42 and $52 +tax/fee.

Showroom at Planet Hollywood - All Ticket Reservations: 800-745-3000, unless otherwise indicated

Britney: Piece of Me starring Britney Spears - Features one of the largest, immersive indoor stage productions anywhere. The performace celebrates her career run of 20 hits worldwide, and includes a glimpse of new songs from her new studio album. 85 minutes. Upcoming 2016 dates: (TBA); 9pm, (prices may vary slightly) $77.40, $161.90, $216.90, VIP TABLE: 6x$525 Incl., 855-234-7469
JEFF DUNHAM: Not Playing with a Full Deck - In residency thru October 11, 2015 - Ventriloquist Dunham is joined on stage by his usual entourage of dummies including, Walter the Grumpy Retiree, Peanut, Achmed, Bubba J, and the spicy pepper from south of the border José Jalapeño. 100 minutes. Wednesday-Saturday: 7pm, Sunday: 3pm, (Select weeks only), $85 Incl.
Jennifer Lopez - All I Have (OPENS JANUARY 2016) - (A Limited 2-year residency of 72 dates) - Jennifer's fans can expect a mix of pop, R&B and other favorites all performed with her usual glamorous Latin flair. The high-energy production is backed by a live band, extravagant costumes, dancers and state-of-the-art stage technology. - Currently Scheduled 2016 Dates: Jan 20,22,23,27,29,30 Feb 3,5,6,9; $59, $162, $199, $219, $416 +t/f
"Murray: Celebrity Magician" Starring Murray Sawchuck - "America's Got Talent" semi-finalist and appears in numerous television shows. Magic in an intimate setting with a comical twist. Sun-Thurs, 4:00p.m., $38.45-$49.45 +tax/fees
RockTellz & CockTails -(CURRENTLY CLOSED)



Saxe Theater - Inside the Miracle Mile Shops - All Tickets: 866-932-1818 or 702-260-7200

VEGAS! THE SHOW - 30% Off Admission - - Provides a collage of some of the greatest performances in the history of Las Vegas. It relates a tale of many of the most famous and reknown celebrity entertainers who made Vegas what it is today! From old-school Vegas standards such as The Rat Pack and Elvis to the current headlining performers, this award-winning cast, full big band orchestra and a bevy of beautiful showgirls result in VEGAS! THE SHOW being the largest stage production on the Las Vegas Strip in many years. Nightly: 7pm & 9pm; $79, VIP $99 (Plus tax and fees)
BeatlesShow - 30% Off Tickets - There is not a more authentic Beatles concert experience anywhere in Vegas! In the 60's The Beatles revolutionized the rock and roll music scene and went on to become the biggest rock band in history. Everything you love about the Beatles presented just as if John, Paul, George and Ringo were on stage together again. From Beatlemania to the White Album you will hear all the familiar hits LIVE, performed by some of the best Beatle musicians, who will re-create some of the most memorable Beatle moments from every era of their career. Fine for all ages. - Daily 5:30p.m., $59.99 General Admission, $69.99 VIP
Nathan Burton Comedy Magic - Tickets only $12.50! - This fast paced, intriguing act keeps both children and adults on the edge of their seats with a variety of awesome illusions. VIP entry includes a bonus pre-show up-close magic act beginning 3:00pm. Tues-Sun: 4:00p.m., $49.99 & VIP $59.99



V Theater - Inside the Miracle Mile Shops - All Tickets: 866-932-1818 or 702-260-7200
Plaza Hotel - 1 Main St, Downtown - All Tickets 702-386-2507 unless otherwise indicated
Plaza Showroom -

Bonkerz Comedy Club - One of the historic nation-wide comedy clubs that will tickle your funny bone. Must be 18 or older:

October 10: Doug Benson (from: "Super High Me" & Comedy Central's "The Benson Interruption") will host a podcast and talk to his hilarious special surprise guests about... movies! For a chance to win some prizes, bring a movie themed name tag, 18+, 4:20pm

The Scintaas Featuring Janien Valentine, (Extended through Nov 2016)- - Las Vegas' first family of entertainment Brothers Frankie and Joe, "honorary Scinta" Peter O'Donnell and Janien Valentine rounds out, this 16 year Las Vegas fixture. 7:30 p.m., two select Friday and Saturday nights every month. (Upcoming dates: May 6-7, 13-14 and June 3-4, 24-25). GA: $29, VIP: $49, Dinner and a Show&rdquo: $99, which includes a three-course prix fix dinner at Oscar's steakhouse.
Red Rock Resort Casino - 11011 W Charleston Blvd
Rock's Lounge - Info and Bottle Service: (702) 797-7518


Thursdays: Marilyn Gray - Senior Line Dancing - 2pm-4pm, FREE
Fridays: Zowie Bowie - An energetic blend of today's dance, hip-hop and Top 40 music. Must be 21 or older - 10:00p.m., FREE
Saturdays: Live Local Entertainment 10:00p.m., FREE

Flying Pig Lounge @ Lucille's Smokehouse BBQ - Info and Reservations: (702) 220-7427


Saturday: Live Blues every Saturday Night 7pm-11pm:

See also: .
Rio All Suites Las Vegas Hotel & Casino - 3700 West Flamingo - All Tickets: (702) 777-7776 or (855) 234-7469
Penn & Teller Theater

Chippendales Theater

The Kings Showroom


Eddie Griffin - Non-stop, raunchy, stand-up comedy live from this movie and sitcom star. An uncensored and realistic outlook on pop culture and everyday life from race to religion. Must be 18+. Mon-Thurs, 7pm, $72.55, 119.95, 149.50 +fees
X Rocks - all-rock, topless revue starring the seductive X ROCKS Girls and featuring the comedy madness of Scandal with cutting-edge sets. Must be 18 or older. Thurs-Sun: 10pm, $52.75, $63.75, $80.25 +fees

Masquerade in the Sky; Thursday - Saturday, 6:00pm, 7:00, 8:00, 9:00, 10:00, 11:00pm; Free Viewing. A parade mianders through the casino before the skyshow. Float rides coat $12.95 each person
VooDoo Rooftop Nightclub, DJ's spin '70's, '80's '90's on Mondays. House band on Tuesdays, Wednesday thru Saturdays DJ's spin Top 40's, Sundays Latin Music, Doors open 9:00p.m., Music starts 10:00p.m., $30, Strict dress code and ID required
The Crown Theater


MJ Live! - (MOVED See: The Stratosphere)
Duck Commander Musical (CLOSED MAY 2015)
Sam's Town Hotel & Gambling - 5111 Boulder Highway
Sunset Stampede at Mystic Falls Park - daily 2:00pm, 4:00, 6:00, 8:00 & 10:00pm,
Roxy's - An intimate lounge featuring live music, dates and times vary
Sam's Town Live -

Variety Toast of the Town - Thursdays 2:00p.m., FREE

See also
Santa Fe Station Hotel Casino - 4949 N. Rancho Drive
Revolver Saloon Dance Hall - Ladies Night, Wed, $1 Cover, $1 drinks, free line dancing 8:30-9:00pm, 8pm-3am, Blackout Thursday, Top 40 tunes, 9:00-11:00pm Open Bar $11, 8pm-3am, Bottomless Friday, drink specials, 8pm-3am, Saturday Revolver Roulette, 8pm-3am, Dark Sunday-Tuesday
4949 Lounge - Live music and hot DJ's, Mon-Fri 4:00p.m. - last person standing; Sat & Sun 2:00p.m.- last person standing
Chrome - Boomer Wednesdays - features free performances of the hits of yesteryear by some of Las Vegas' top crooners, including Jerry Tiffe, Vegas Goodfellas and more. 6:30pm - no cover charge.
See Also
Sapphire Gentlemen's Club - 3025 S Industrial Rd
The Sapphire Comedy Show - A one hour performance of headlining, nationally touring comedians, magicians and even a burlesque dancer. The sexy Sapphire girls are on hand to serve drinks and/or dinner. Must be 21+ - Saturdays, 8:00p.m., $20, VIP $65, includes $50 drink card, VIP+ $70 x 5 persons, includes bottle/mixers, special booth & transportation.
Silverton - 3333 Blue Diamond Rd
Veil Pavilion:

Fridays: Friday Night Live - a variety of old school bands hosted by 105.7-The Oasis, 7:00-10:00pm, FREE

Shady Grove Lounge:

Thur-Sat: Party Pit - Food and drink specials and entertainment. 6:00p.m. - closing

See:
Smith Center For the Performing Arts - 361 Symphony Park Ave overlooking Symphony Park - 702-982-7805 or 702-749-2000 - (Ticket office: 241 W. Charleston Blvd, Suite 155)
Clint Holmes - - The multi-award winning singer and entertainer performs music from pop to jazz to Broadway, Appears First Weekend of Every Month in the Cabaret Jazz Theater, Fri-Sat 8:30pm, Sun 2:00pm, $32-$46,
See Also:
South Point Casino - 9777 S Las vegas Blvd - Info (866)-796-7111
Louie Anderson LIVE - Free $20 Discount Coupon - An Evening of Comedy with the famous comic Louie Anderson. Ages 10 and up welcome, under 21 must be accompanied by adult over 21. - Wed-Sat, 7p.m., Gen Adm: $59.95, $79.95, VIP:$109.95 (meet n greet at 6:30pm)
Wednesday: "Yellow Brick Road" - perform everything from Led Zeppelin to Doors - $5, 10:30-12:30p.m.
Thursday: "The Dennis Bono Show" - Syndicated, live radio program (CRN Network) broadcast weekly from the South Point showroom, 2:00p.m., Free, must obtain complimentary ticket at box office in advance.
Stratosphere - On the Las Vegas Strip - Box Office: 702-380-7777
MJ Live! - A live Michael Jackson tribute featuring all his biggest hits including "Bad," "Beat It," "Billie Jean," and many others and featuring Michael Firestone as Michael Jackson. You can relive the energy, excitement, spectacle and pure joy of this legendary superstar and his music. Awesome sound, lighting, effects and the talented MJ LIVE dancers round out this presentation. Child Friendly, under 18 must be accompanied by an adult. - Daily, 7:00pm, $49.95, $59.95, $69.95 & $79.95 +fees
Pin-Up featuring Playboy Playmate of the Year Claire Sinclair - An original production inspired by the famous pin up girl calendars. Thurs-Mon, 10:30p.m., $49.99 +t/f
David Perrico - Pop Evolution - With the help of his 18-piece band, David transforms popular songs from all genres with a big band sound unique to a stage-full of professional musicians, strong female vocals and the power of Perrico's trumpet. Must Be 21. 10:30pm, First Tues of each month, $20+tax
Air Bar - High in the sky on Level 108 with a scenic view of Las Vegas, Sun-Thu, 11pm-2am, Fri-Sat, 11pm-4am, hot spinning DJ's, Thu 10pm-2am, Sat-Sun 10pm-3am, No Cover
CBar - DJ Mac Thurs-Sun
Suncoast Hotel & Casino - 9090 Alta Drive - Box Office: 702-284-7777 or 877-636-7111
Suncoast Variety Show - Once weekly multimedia entertainment review, with a changing line-up of musicians, impressionists, magicians and comedians, with a different theme each week such as "Broadway", "Disney" and "The Silver Screen". Thursdays, 2:00p.m., Admission: Must have a player club card and earn minimum points Mon - Thurs.
Check listing under:
Sunset Station - 1301 W. Sunset Rd
Club Madrid -

Thurs: Lon Bronson All-Star Band (FIRST Thursday of month), 9pm, must be 21+, no cover
Fri: Nashville Unplugged, weekly guest songwriters perform, 8pm, must be 21+, $10 cover
Fri: Sam Riddle, great county music, 10pm, must be 21+, $10 cover
Sat: Lilian Garcia & The Fuse, 10pm, must be 21+, $10 cover

Refer to:
Tahiti Village - 7200 Las Vegas Blvd S. - 702-440-6800
Summer Sunday Luau - An evening of authentic Tahitian-style food and entertainment. Sundays 7pm-10pm, call for pricing (Summer through Labor Day weekend)
Texas Station - 2101 Texas Star Lane - 702-631-1000
A-Bar - Live entertainment Fri & Sat 7:00-11:00pm
South Padre Lounge -

Thursday: La Nueva, 10pm-4am, must be 21+, $10 cover, ladies free until 11pm
Friday: Sam Riddle, great country music, 9pm, must be 21+, Free
Saturday: Yellow Brick Road - perform everything from Pink Floyd to Van Halen. One of the best Free Las Vegas shows - 10:00-Midnight, Must be 21+, Free
TI (formerly Treasure Island) - On the Las Vegas Strip
Mystère Theater -

Mystère by Cirque du Soleil - - Mystere by (Cirque du Soleil) - Saturday thru Wednesday, 7pm & 9:30pm; $69, $85, $105, $119, (800) 392-1999
Bonkerz Comedy Club - One of the historic nation-wide comedy clubs that will tickle your funny bone. Must be 18 or older:

October 10: Doug Benson (from: "Super High Me" & Comedy Central's "The Benson Interruption") will host a podcast and talk to his hilarious special surprise guests about... movies! For a chance to win some prizes, bring a movie themed name tag, 18+, 4:20pm

Kahunaville -

Island Heat LuWOW Dinner Show - This high energy production combines the excitement of Polynesian dance with Vegas twists, like an Elvis' Blue Hawaii tribute and a Tahitian tribal drum performance to the Black Eyed Peas. Fun for all ages, recommend 4yo+. Dinner includes choice of Macadamia Crusted Mahi Mahi, Teriaki Flank Steak, Ahi Tuna or Pina Colada Chicken. Thursday thru Monday, 6pm & 8pm; $59.99 Adult Dinner Show, $39.99 Kids w/ Dinner (Ages 4-10), $39.99 without dinner +taxes+fees.
Tommy Wind Theater - (Formerly Boulevard Theater) 3765G Las Vegas Blvd S - Tickets: 702-776-8888
Tommy Wind: Music, Magic and More - Get 50% Off Tickets - A 75 minute production combining comedy and unique musical instruments with amazing magical illusions from daring escapes to vanishing harps and disappearing dancers. Fine for all ages. Thurs-Mon, 7:00 p.m.; Gen Adm: $39.95 + t/f
Vinnie Favorito "RELENTLESS" ('Vinnie is My Favorito') - - If you're looking for funny improv laughs, this Bostonian comedian will make your jaws hurt. Audience members become part of the fun as his fast thinking wit uses them to keep the laughter coming so no two performances are ever the same. Over 18 years only. Thurs-Sun. 10pm, $39.95, $59.95 & $79.95 + t/f
Evil Dead: The Musical in 4D (OPENING 12/1/15) - An interactive parody of the classic horror films of the same name about zombie-beleaguered teens in a secluded cabin in the woods. It's wise to beware of the VIP blood splatter-zone in the front. Tues - Sat. 7:30p.m., GA: $59.99 (no blood); VIP splatter Zone $79.99 + t/f
Men of Steele - An all male revue from the makers of the original Magic Mike. A 70 minute choreographed and costumed strip show depicting your wildest fantasies. Must be 18 or older. - Wed-Sun 9:30pm, $49.95, $59.95, $79.95 +t/f
Hip Hop Legends Tribute Show (CLOSED)
Justin Tranz - HIP-Notist - (CLOSED)
(The New) Tropicana - 3801 S Las Vegas Blvd. - Tickets: (702) 739-2411
Raiding the Rock Vault - The story of classic rock performed by members of some of the most iconic bands in history. Music from the 50's to the 90's is featured to a backdrop of historical imagery, narration and music by a rotating all-star band with members from the likes of Doug Aldrich (Whitesnake, Dio), Carol-Lyn Liddle (Masters of Rock), Stephanie Calvert (Starship), Howard Leese (Heart), Robin McAuley (MSG, Survivor), John Payne (Asia), Paul Shortino (Rough Cutt, Quiet Riot), Jay Schellen (Badfinger, Asia), Andrew Freeman (Lynch Mob, The Offspring), and Michael T. Ross (Lita Ford, Hardline) and others - Wednesday-Monday (varied schedule) 8p.m., GA: $59, Pref.: $74, VIP: $99 +t/f
Laugh Factory - 2 for 1 Tickets -


Rich Little Live - Presents the legendary comedian/impersonator Rich Little himself, with an autobiographical one-man show featuring a compilation of impersonations and sketches about the actors, politicians and personalities Little has worked with throughout his 50+ years in entertainment. - Sat, Sun, Tues-Thurs, 7pm, GA: $39.95, VIP Table: $49.95, Booth: $59.95, Golden Circle: $59.95 +t/f
Andrew Dice Clay - The usual rude, crude heavy-weight comedian takes up residency at the Vinyl at the Hard Rock. This legendary Bad Boy of Comedy has performed countless sold-out arena tours, done multiple nights at Madison Square Garden, made multiple gold and platinum selling albums and starred in films. Adult Content. Must be 18 or older. Selected dates - scheduled for 2016: April 21-23, May 28 , 10:00p.m., $49, $69, $79, $89 +tax & fees
The world famous Hollywood Laugh Factory comes to Las Vegas bringing with them today's top comedy stars and emerging talent as well. The lineup changes weekly so it's new each time you visit. Must be 18 with ID. Daily 8:30pm & 10:30pm, $34.95, $44.95, $54.95

Tropicana Lounge - All-new Lounge featuring a circular setting ideal for mixing and mingling, as well as free live music 9pm-1am on weekends and other seasonal specials.
The NEW Illusions (CLOSED) - Starring: Jan Rouven -
Tuscany Suites and Casino - 255 E Flamingo
Copa Room

The Rat Pack Is Back - Remember the good ol' days of the Rat Pack with this incredible foursome. This tribute features Classic music and skits by the original bad boys of Las Vegas - Frank Sinatra, Sammy Davis, Jr. and Dean Martin. Must be 18 or older. Mon-Sat 7:30pm, $49.95, $59.95, dinner option available, 702-947-5981
The Joe Show: (CLOSED: JULY 2015)

Piazza Lounge

Laura Shaffer and the Noir Nightingale Trio - bringing back the glamour and fabulous music that made the Jazz swing era iconic - Mon 7:30-11:30pm
Rockie Brown Quartet - Tues 8:30pm
Lou Lou White - Wed 8:30pm
Amanda Avila - Thurs 8:30pm
Kenny Davidsen's Celebrity Piano Bar - Fri 8:30 pm, no cover
Gloria Vivelo - Sat 8:30pm
Nik at Nite - Sinatra era music - Sun 7:30-11:30pm
Venetian - (See Also Palazzo) On the Las Vegas Strip - All Ticket Reservations: 702-414-9000 or 866-641-7469
Rock of Ages Theater

Rock of Ages - A dramatic yet fun boy-meets-girl love story set in LA's Sunset Strip of the 1980's featuring a soundtrack of nearly 30 hit rock tunes of the period. 130 minutes long! 5 years and over, under 14 must be accompanied by adult. Nightly 8pm; $74, $106, $134, $167

Sands Showroom

Human Nature Jukebox (NAME CHANGE) - The Ultimate Celebration of Motown - Featuring the top selling Australian quartet performing all-time hits from Doo-Wop to Motown & Soul - Tuesday-Saturday, 7:00p.m., $66.45-$120.45
Lipshtick - Rotating slate of female comediennes including many top billed TV and movies stars. Saturdays 9:30pm (and sometimes 8pm), $37.50-$96.25.


The Venetian Theater

The Essential Diana Ross: Some Memories Never Fade - A limited nine-date residency featuring the original diva, Diana Ross. The Essential Diana Ross: Some Memories Never Fade will feature a special set of hits from the iconic star's career, spanning over five decades. Scheduled 2016 Dates: TBA, 8pm, $59.50-$200
Westgate Las Vegas Resort & Casino (Formerly, LVH / Las Vegas Hilton) - 3000 South Paradise Rd - All Tickets: 800-222-5361 unless otherwise specified.
Showroom -

Dirk Arthur's Wild Magic! - Big cats, magic, comedy, beautiful dancers and large-scale effects are interwoven in this magic act. Children five and older welcome, under 15 must be accompanied. Mon-Sat: 4pm; $50-$90

Shimmer Cabaret -

Sexxy Featuring Jennifer Romas - Las Vegas' newest Topless Revue. Leave your inhibitions at the door as you enter this erotic, forbidden, tantalizing world of everything SEXXY. SEXXY brings you through a journey of sexual, sensual, fun and enticing vignettes incorporating the most popular erotic fantasies. Must be 21 or older. Wednesday-Sunday 11pm, GA: $29.95+, VIP: $39.95+
Purple Reign - The Prince Tribute featuring Prince tribute artist Jason Tenner - Roll back the years to the era of Prince the rock star and relive the energy packed performances. Also includes a tribute to the unforgettable Morris Day and The Time. Wed-Fri & Sun 10:15 p.m., $49, $69, $89 ($19.99 Local ID)
Elvis: The Experience - A large-scale Elvis tribute production replicating one of Elvis' legendary Las Vegas appearances. Stars actor Martin Fontaine and 32 musicians and choir members portraying the original musicians and artists on stage in one of Elvis' typical performances. Return to the early 1970s to experience one of the king's sold out performances on the very same stage where Elvis performed for millions of guests - Tuessday-Saturday, 7:30p.m., $49, $59, $80 + t/f
Sandy Hackett's Rat Pack - (CLOSED) A tribute to 50 years of the Rat Pack and Las Vegas, from the antics to the music of Joey, Frank, Danny and Dean.
Suzanne Sizzles - (DISCONTINUED AUGUST 2015) -

Headliners in concert. See also under:
Wynn Las Vegas - On the Strip - (702) 770-9966 OR (888) 320-7110
Le Rëve - The Dream - An aquatic production of mystery and romance in a water-theater-in-the-round, Fri-Tues 7pm & 9:30pm, $105, $134, $159, $195 + tax.
Tickets for "Le Rëve - The Dream" are available at:

- Click Here for Best Savings on Le Reve Tickets!


- 1-800-947-1081

or

702-425-7513





ShowStoppers - A music spectacular featuring a talented, vibrant cast of 66 singers, dancers and a full orchestra with dazzling scenery and costumes performing a collection of songs and dances that takes audiences back to the glory days of large Las Vegas production stage shows. Ages 5+, under 16 with adult. Tues-Thu 7:30pm, Fri-Sat 6:30pm & 9:00pm, $100, $125, $150 +tax



- Top -



Official additions and corrections should be addressed, the sooner, the better, to the Las Vegas Shows-Page Editor..
Readers: Please do not write to this address to inquire about additional listings! Everything we know about is listed here as soon as we know of it. We cannot reply to requests for additional info sent to this e-mail or send printed copies through snail-mail! Readers are welcome to print this page out or save to your hand-held device for your OWN PERSONAL reference.

Significant time and effort goes into producing this show listing and ensuring it is the most complete and accurate ANYWHERE! Print or internet reproduction and/or distribution in whole or part, without express permission and/or proper attribution to this website is strictly prohibited. We insert unique identifiable seed data, we WILL KNOW you copied!. We prosecute infringers!

---
Created by PCAP; © Copyright 1995-2019, All rights reserved