Southeast Las Vegas
Adult & Retirement Communities
Southeast living offers suburan quiet neighborhoods and Lake Las Vegas Resort activities. There are various types of Las Vegas adult and retirement communities. Neighborhoods such as Sun City communities are designed for active adults usually only allow residents older than a specific age. Seniors who prefer to live in a group residence but are able to prepare their own meals and maintain an active lifestyle should select Independent living. Housing best suited for non-active adults who require minor support in preparing meals and housekeeping would be assisted living arrangements and are also group residences. Many of these properties offer additional amenities such as a gameroom, parlor activities, swimming pool, and spa. Local transportation for shopping and appointments is often provided. Or contact nearby Las Vegas casinos which may offer complimentary transportation to gamble, shop or dine at their property.
It is a good idea to review each property to find an exact match to your tastes, budget and lifestyle.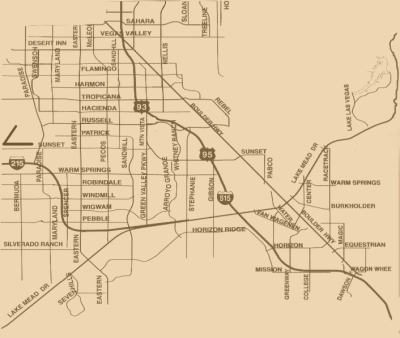 Southeast
Atria Sutton - Independent & Assisted Living
3185 E Flamingo - 702-436-9000
Cabana - Adult Homes
5303 E Twain - 702-456-7613
Carefree Villas - Senior Apartment Living
4330 S Eastern - 702-369-1552
Concorde - Independent & Assisted Living
2465 E Twain - 702-732-0020
Cottages of Green Valley - Assisted Living Gated Community
2620 Robindale - 702-992-0000
Fleetwood Home Center - Active Adult Homes
5837 Boulder Hwy - 702-450-9600
Montana Meadows - Adult Retirement Community
3150 E Tropicana - 702-435-3150
The Palms - Independent & Assisted Living
2910 W Horizon Ridge Pkwy - 702-614-8733
Portofino - Senior Apartment Living
1001 Las Palmas Entrada - 702-565-9900
Rose Cottage - Assisted Living
3985 Pearl St - 702-436-6400
Solera at Anthem - Active Adult Homes
2385 Somersworth Dr - 702-269-4300
Sun City Anthem - Active Adult Homes
1865 Hovenweep St - 702-914-4000
Vintage at Seven Hills - Senior Apartment Living
845 Seven Hills Dr - 702-361-1933
Willow Creek - Independent & Assisted Living
4025 S Pearl - 702-433-8445