Downtown Las Vegas
Condos, High-Rises & Vertical Living
Condominium living is on the rise in Las Vegas. Multi-million dollar high-rises are popping up all over the city. The downtown area with it's "Manhattanization" project is becoming the best value for vertical living. You'll be in the heart of the city within steps of shopping, dining, and gaming at popular Las Vegas casinos such as The Plaza, Binion's, Four Queens and Fitzgerald's. The Fremont Street Experience and its renown pedestrian mall offers a myriad os activities including concerts, parties and holiday events. Living here you'll find less hustle and bustle than the Strip but you'll see fantastic city views.
There has never been a better time to buy Las Vegas property. From apartment style, to townhouse style, lofts or condos, it's all here.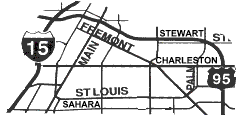 Downtown
CityMark Mixed-Use Loft Condos - 14 story, 334 lofts with 584 to 1728 sq ft plus retail stores and café below
255 East Bonneville Ave - 702-853-1853
Club Renaissance - Live-work units for artists, 24/7 valet, and rooftop pool
299 West Charleston Blvd - 800-332-7282
The Holsum Bread Complex - Live-work units for artists
299 West Charleston Blvd - 800-332-7282
L'Octaine - 51 garden apartments
802 Las Vegas Blvd South - 702-987-0415
Newport Lofts - 22 story, 137 art deco condo lofts with retail space
821 S Casino Center Blvd - 702-
Sandhurst Las Vegas - 34 Story, 398 unit condos with restaurant and fitness center
1023 Iron Horse Court - 702-699-8998
Soho Lofts - A Sam Cherry Development
- 702-
Streamline Tower - private terraces, resident valet, clubhouse and fitness center
150 Las Vegas Blvd - 702-648-9919
Summit Residential - 73 story, 960 units with retail space by Sahara Condominium Developers
Las Vegas Blvd and Sahara Ave - 702-