Well, gang, this will be my final column for 2011. I wanted to try and get as much information out to you about the various celebrations going on in Las Vegas on New Year's Eve. They are not in any order of preference, but I hope you can find a place to help bring 2011 to an end, because it has definitely been a rough one for many of us, including this writer. I want to see 2012 enter with a calm, peaceful celebration. As many of us await the New Year, we also anticipate the great fireworks display that Las Vegas has become famous for. It should be, once again, spectacular as it's truly hard to beat Las Vegas for celebrating the New Year, isn't it? This marks my 47th year celebrating in my village!

Fremont Street Experience is excited to announce that the premiere of Bon Jovi's Viva Vision show will be on New Year's Eve at 10:45 p.m. Bon Jovi's Cosmic Concert features three songs hand selected by Jon Bon Jovi, "It's My Life," "Who Says You Can't Go Home," and "Livin' On A Prayer." Using Jon Bon Jovi's original concept, the show takes on an otherworldly feel from the start, as the band is dropped onto the screen from a spaceship. Continuing with the unearthly images, the band performs their iconic songs, traveling across the universe all the while morphing and moving effortlessly on the 1,500-foot long, and 90-foot wide, Viva Vision screen. Fremont Street Experience's New Year's Eve celebration, the 4th Annual TributePalooza, goes from 6 p.m. – 2 a.m., and will feature two original bands, Steel Panther, with its "Balls Out" rock show, and Rock Sugar, the world's first metal-pop mashup band. Admission to TributePalooza is just $30 per person, and marks the only time of year when Fremont Street Experience has paid, ticketed admission.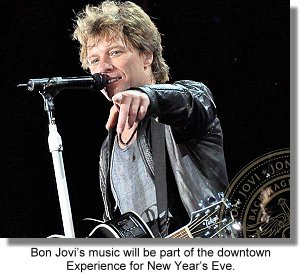 The South Point Hotel & Casino will be active with legendary Tony Orlando returning for his annual New Year's Eve party in the Grand Ballroom. The doors will swing open at 8 p.m., with tickets priced at $175, which includes a scrumptious dinner and open bar. At noon, the Grand Ballroom will present a special show featuring the Las Vegas Tenors, with a $25 price tag.
The Suncoast Hotel & Casino, will kick off its celebration at noon in the showroom, by presenting the vocal group, Voices 3, for a lively afternoon. That evening, the showroom will stage a dance party with the music of the Vegas Super Band. Tickets for Voices 3 are $25, while the dance party is priced at $29.95. And, Disco Inferno will hold forth for another dance party in The Orleans Hotel & Casino starting at 10 p.m.
Comme Ça, the sensational French brasserie brought to The Cosmopolitan of Las Vegas by acclaimed Chef David Myers, will celebrate New Year's Eve with an exquisite prix-fixe dinner created by Myers and Executive Chef Brian Howard. Located in the heart of Las Vegas Boulevard, with floor-to-ceiling windows and a patio that offers striking views of the iconic Strip, Comme Ça is an ideal location for partygoers to enjoy a one-of-a-kind dining experience. The popular eatery will offer two seating's for the special New Year's Eve. The first seating will be available from 5:00 p.m. until 7:30 p.m. and the second seating will be available from 8:00 p.m. until midnight.
John Legend will ring in the New Year in style with a performance of his smooth, R&B sound at the Pearl at the Palms Casino Resort at 9 p.m. Legend has sold more than five million albums worldwide, garnered multiple hit singles, received countless awards (including nine Grammys) and has wowed rapt audiences across the globe. Doors at the Pearl will open at 8 p.m. and show time is 9 p.m. The Pearl Box Office is open daily from noon until 7 p.m. Tickets begin at $99.
TOP OF NEXT COLUMN
Welcome to the Revolution! New Year's Eve 2012 will arrive in style as RPM Nightclub, inside the Tropicana Hotel, is joined by nine-time Grammy winner and multi-platinum songstress, Mary J Blige. The "Queen of Hip-Hop Soul" will celebrate the New Year, as well as the success of her latest release, My Life II…The Journey Continues (Act 1). General admission tickets to the New Year's Eve party, featuring Mary J. Blige, are $50 for women and $99 for men. All tickets are subject to tax and service fees. For more information or to make table reservations, please call 702-739-3688 or email Nightlife@troplv.com.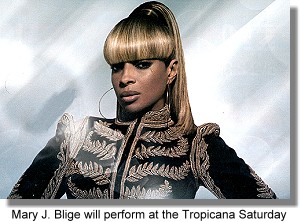 For the festive price of $201.20 per person, guests can welcome 2012, and watch Las Vegas' famous annual fireworks show from one of the best seats on the Strip: the terrace at Central Michel Richard at Caesars Palace. For the aforementioned price, guests will receive champagne and hors d'oeuvres from 11 p.m. to 1 a.m. The menu will feature Chef Michel Richard's signature American cuisine with a French accent. Space is limited for the party on the terrace. For reservations, call (702) 650-5921 and ask to speak with Tony Rodrigues, general manager.

Good Charlotte will kick off the biggest weekend of the year at Chateau Nightclub & Gardens at Paris Las Vegas for an unforgettable concert on Friday, Dec. 30. On Saturday, Dec. 31, Good Charlotte brothers, Benji and Joel Madden, will perform a special DJ set on the rooftop of Chateau Gardens to ring in 2012. The excitement will continue with a 2012 bash underneath the Vegas Eiffel Tower overlooking the Las Vegas Strip, giving club goers the best view of the famous fireworks. Benji and Joel will ring in the New Year with a DJ set at the stylish nightclub. The band will join a packed entertainment lineup for Chateau's New Year's Eve celebration that includes Mike "The Situation" Sorrentino on Friday night, and Scott Disick and Kourtney Kardashian Saturday night.

The M Resort Spa Casino will once again host its annual New Year's Eve celebration, inviting guests to partake in holiday festivities for all tastes and price points. Guests can celebrate around the Forbes four-star resort with no cover-charge. Attendees can dance the night away, dine at their leisure, enjoy the gaming action on the casino floor, and complete the evening with a champagne toast at midnight. The M Resort will offer complimentary party favors, cake, and champagne stations throughout the property's 92,000 square foot casino. Live entertainment will start at 9 pm in its Lobby Bar, entertainment lounge, center casino bar, and popular wine bar, which features more than 160 wines by the glass.

Leave the resolutions for another day and celebrate the night away, this Saturday at RHUMBAR inside The Mirage. DJ A+ will be manning the turntables as revelers dance to an eclectic mix of the top party jams to bring in the New Year. Guests will enjoy an unlimited bar package, featuring premium cocktails, wine and beer from 9 p.m. to 1 a.m., priced at $150 per person. Tickets are available for purchase at The Mirage concierge desk or by calling 702.791.7416.

Cabo Wabo Cantina, in Miracle Mile Shops at Planet Hollywood Resort & Casino, will host a rockin' New Year's Eve bash, in the center of all the action on the Las Vegas Strip. Revelers at Sammy Hagar's famed Mexican restaurant and party bar, will ring in 2012, with a panoramic view of the fireworks, and all-inclusive New Year's Eve party packages. For guests seeking the complete dining experience, Cabo Wabo will offer a three-course dinner menu and midnight champagne toast on the patio, available for $100 per person. Seating starts at 8:30 p.m., and advanced tickets are available for purchase online at www.cabowabocantina.com

Locals can evade the Strip's craziness and create their own chaos with Collective Zoo's Downtown Block Party at Bar + Bistro @ The Arts Factory and Artifice on New Year's Eve. Party animals can beat the crowded Las Vegas Boulevard and delight in a local's downtown block party, with doors opening at 8 p.m. featuring the sounds of three different DJs including from VegasStrEATS, MikeysWorld, and Kid Conrad, from the Griffin; live reggae performed by Oneness Vibe and fire dancers at Bar + Bistro; and the eclectic sounds of an acclaimed French DJ at The Artifice. General admission for this 21+ celebration includes a premium open bar package, sponsored by Bacardi and Martini & Rossi, from 9-11 p.m., and includes a champagne toast for every U.S. time zone, until the West Coast countdown at midnight for $40 per person. To purchase tickets or packages, partiers can visit collectivezoo.ticketleap.com/nye/.

Well, gang, hope this compilation guides you in the right direction. And, please, if you drink don't drive, 'cause the car you may crash into might just be mine! Have a safe and sober celebration out there! Happy New Year. I'm definitely outa here!

CONTINUE ON TO...:

>It's The Norm Article Archives
>Las Vegas News - "Heard Around Town"
>Las Vegas Leisure Guide<