Well, this will be the final column for the year 2008. I'm really looking forward to a slam-bang 2009, and I'm sure you readers are too. I've been told to look for things to get worse, before they get better. It's been pretty bad thus far, but we will survive and go into 2009, with that great American spirit that "everything will turn out alright."
There are some terrific shows I would like to tell you about for New Year's Eve. Of course the Las Vegas Strip will have its "America's Party" with the big fireworks show -- but, this year, from ground level instead of roof-tops. This means, we natives will have to struggle through the crowds to catch a glimpse of the show, or watch it on our favorite local television station. I personally will be watching on TV!

My first recommendation will be "Shades of Sinatra," starring Carmine Mandia, Larry Liso, Ryan Baker and Ms. Lisa Smith. This is a show dedicated to the music of "The Man," Mr. Francis Albert Sinatra. They will be performing at the Suncoast Hotel & Casino on New Year's Eve day at noon in the showroom. I've reviewed this particular act a number of times, and believe, me you can't go wrong heading for the Suncoast to catch a really dynamite show. Call for tickets or reservations at 702-636-7111.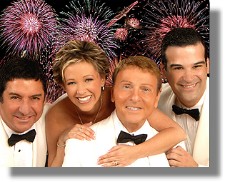 Following that drive out to the Suncoast, you might head a wee bit north to the Cannery where Sha-Na-Na will be performing in The Club. They will be doing two shows at 7:30 and 10:30 p.m. For ticket prices and further information call 702-507-5757.
Now, should you want to hear some more Sinatra music, mixed with good ol' Italian favorites, with some great comedy and music, then you should head for the new Eastside Cannery, at Harmon and Boulder Highway, where "That's Italian" will be playing.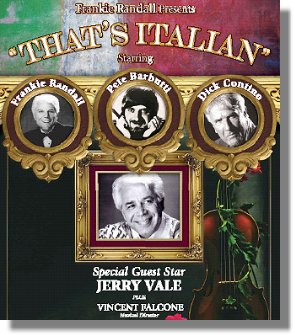 This is a fabulous collection of five guys, beginning with Frankie Randall, who was one of Mr. Sinatra's special guys for more than 40 years. So special is Randall, that Sinatra personally presented him with a number of his original musical arrangements. Randall will sing a number of songs made famous by The Man. Then there's Pete Barbutti, who appeared many times on the Johnny Carson Tonight Show, for the comedy stuff. One never knows quite what to expect from Barbutti--he could do his famous broomstick gag, or he might play the piano with his nose. Dick Contino, who started his career as a young accordionist, found fame by winning the first of 13 appearances on the Horace Heidt Talent Show on Dec. 7, 1948. He eventually won the Grand Prize and went on to become the most highly acclaimed accordion player in the world. Contino's "Lady of Spain" is considered a classic to this day. Billed as a Special Guest Star, Jerry Vale, who has headlined all over the world, will be singing some of the great Italian ballads, including "Innamorata" and "Arrivederci Roma," along with a number of his hits, which includes "Eternally," "You Can Never Give Me Back My Heart" and "You Don't Know Me." Musical conductor for this special trip back in time is none other than "The Conductor to the Stars," Vince Falcone. Falcone conducted for "Old Blue Eyes" for more than 10 years, and has toured the world with entertainers such as Steve Lawrence and Eydie Gorme. Showtime for this special Las Vegas performance is 7:00 p.m. in the 1,000-seat Casablanca Room. For ticket information or reservations call 702-856-5300. This is one terrific show, gang!
This still gives you time to drive south, following the "That's Italian" show, to catch another top-notch entertainer, Tony Orlando, in the Grand Ballroom at the South Point Resort & Spa. His performance will be a very special one this year, as it'll be a "good ol' fashioned" dinner show beginning at 9:00 p.m. with doors opening at 8:00 p.m. The show is set to begin at 10:30 p.m. Tickets are priced at $150.00 (inclusive) and includes dinner, open bar, party favors and a champagne toast at midnight.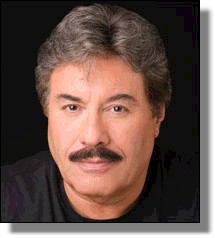 Now I've had the honor of being at Orlando's previous New Year's Eve outings, and all I can tell you is, you'll leave knowing you saw an entertainer give 120 percent to entertaining you. Tony loves entertaining and you can bet his family (many of whom live in our little village) will be in the audience. Call 702-797-8055 for further information
Well, gang, it's been a long year for this writer, and of course for many of you readers. My friend, Nancy Barr, and myself want to be sure to remind you, please don't drink and drive. There are ways to get home FREE of charge, so you have no excuse for having an accident or getting pulled over by the police. Have a safe and sane New Year's Eve.
I'm outa here and heading for 2009!

CONTINUE ON TO...:
>It's The Norm Article Archives
>Las Vegas News - "Heard Around Town"
>Las Vegas Leisure Guide