Just in case you are not aware of who, "The Man" is, I am of course referring to Mr. Francis Albert Sinatra. Over a span of many years, Sinatra met and befriended hundreds of entertainers, and one of those he really enjoyed sharing time and space with was Frankie Randall.
The two met when Randall, in his early 20s, was playing the piano and singing at one of Sinatra's favorite hangouts in New York City,"Jilly's.""Everyone knew that when Frank was in town, the one place he would head for was Jilly's," Randall recalled. Randall had been there for about four weeks, when Sinatra stopped in for a late night visit. "He had about four or five people with him at the time," Randall added. "Jilly closed the place and went back to the kitchen to prepare the food, while I continued to play." After the Sinatra entourage had finished their dinner, Jilly introduced the two entertainers. They hit it off right away and remained close friends until "The Man" passed away.
"I'll never forget that evening, it seemed like the room parted when he entered and headed for the rear of the room," Randall said, a twinkle in his eyes. "And, the first song he and I sang together that morning was 'Where or When."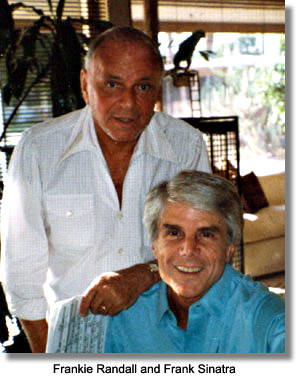 Randall and Pete Barbutti will be recreating some of those moments at Jilly's when they appear at the Rampart Resort, Jan 22, 23 and 24th.The two men will present, "An Evening With Frankie Randall and Pete Barbutti," which will utilize many of the songs made famous by their mutual friend, Sinatra. Showtimes will be 8 p.m. Friday and Saturday with a 4 p.m. show Sunday.
"It'll be a throwback to my roots at Jilly's," Randall explained. "I recently performed a similar type show at 'Feinstein's at Loews Regency,' in New York and it was very well received."
Randall's career really took off, after Sinatra helped him obtain a recording contract with RCA Records in 1964. It also didn't hurt when, one day while being interviewed, Sinatra said, "Frankie Randall is my favorite piano player, and is a marvelous talent who sings great and plays more piano than there are keys." That was all the public needed to hear. Since then, Randall has never looked back.
Sinatra had a way of showing his friendship that was very unusual, particularly if you were a singer. He would give you a chart, with complete orchestration, of a song he was known for singing. While Randall was in Atlantic City in 1983, Sinatra gave him his first orchestration gift. Over the years he gave Randall many charts. After "Ol' Blue Eyes" death in 1998, the Sinatra family tried to get those charts returned to them. But the courts did not agree, and Frankie retained the charts and uses them to this day. "My argument was that he gave them to me during his lifetime, and I used them while he was alive. He liked the way I used them!"
In 1996, Sinatra and his wife, Barbara Marx, were celebrating their 20th anniversary in Palm Springs. Randall wrote and recorded a personal song to commemorate the moment titled "Twenty Years Ago Today." The recording was a gift from Randall and Mrs. Sinatra to all their guests that evening.
The show at the Rampart will consist of some of "The Chairman of the Board's" music, the way it would have been presented, had he lived. It will also, of course, have Randall singing a number of songs from the "Great American Song Book," along with Barbutti's humorous stories—some could even possibly involve the two Franks. Who knows what Pete will do on stage? This is the type of show Sinatra loved. Randall may even sing an original song he wrote titled "I Can't Believe It's All Over!"
For a night to remember, don't miss this evening with Frankie Randall and Pete Barbutti at the Rampart Resort in Summerlin. I guarantee you a night you'll not forget.
THIS AND THAT QUICKLY:
Took in the Gala Grand Opening of the newest and biggest hotel/casino in our little village, Aria at City Center, last Wednesday. Wow! It's huge and beautiful inside and out. One can easily be lost for days once inside, but thankfully the employees know how to get out of the massive structure. The décor is definitely meant to be restful and soothing, in that the designers used lots of different woods, instead of steel or other metals. It's supposed to be part of the new movement to utilize natural building materials and to save energy. We also had the privilege of touring the various restaurants, located on the second floor (you get there via escalators located on the main floor). Let me tell you, they are top-notch!
Was given the opportunity to see a few scenes from the "Viva Elvis," show at a press conference on Tuesday (now in previews at the Aria). It is definitely a "Cirque du Soleil" presentation: In one scene, a huge guitar carrying two acrobats, swings from the top of the stage. There is a scene where a bunch of "Super Heroes" are bouncing all over the place to the music of "I've Got a Lot of Lovin'." To the best of my knowledge, there is only one scene where there is a live Elvis, and he's on stilts. The thread that keeps everything moving is the mysterious appearance by a Col. Parker impersonator, dressed in a white suit and hat.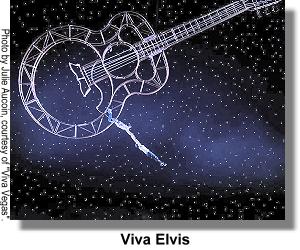 Viva Vegas is a tribute to the life and music of Elvis Presley. It's a fusion of dance, acrobatics and live music: all the great songs from Presley's catalog. It's created in the image of the King of Rock 'n' Roll and should satisfy everyone's taste. Priscilla Presley, who attended the press conference prior to our viewing, said, "This is a beautiful place (Aria and the showroom)…It has been a three year journey (work began on the production three years ago) and the fusion of Elvis and Cirque du Soleil is the proper mix…I can't imagine anyone else doing this." Priscilla went on to say, "The Aria Theater is the only one that could hold the bigness of Elvis."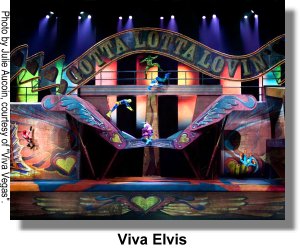 Well, gang, that's about it for this week.
I'm outa here!
CONTINUE ON TO...:

>It's The Norm Article Archives
>Las Vegas News - "Heard Around Town"
>Las Vegas Leisure Guide<