Every Century has had its Superstars and the 20th Century was definitely not an exception. Entertainers and teams like Caruso, Jeanette MacDonald and Nelson Eddy, Rudolph Valentino, Sinatra and his "Rat Pack", Abbott and Costello, Mary Martin, Douglas Fairbanks, Al Jolson and Bing Crosby were just a few of the greats that blazed across the last Century. Within the Century, there were decades when certain entertainers began to blaze their own trail. Men and women like the great Red Skelton, Ethel Merman, Martin and Lewis, Whitney Houston, Sammy Davis, Jr., Madonna, Wayne Newton, The Andrews Sisters, Robert Goulet, Barbra Streisand and the Jackson family to name a few more.
And, it appears, that tradition is continuing into the 21st Century, with a family consisting of two brothers and a sister having had the opportunity to blaze their own star in Las Vegas, after more than 25 years of working their way west! The act, consisting of Joe, Frank and baby sister Chrissi, are known as The Scintas. Along the way, the Scintas adopted an Irish drummer from their hometown of Buffalo, New York, Peter O'Donnell.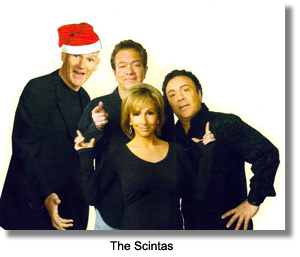 The Scintas will be appearing in the showroom at the Suncoast Hotel/Casino Friday, Dec. 18 through Sunday, Dec. 20.
The Scintas (pronounced SHIN-TAHS) have been called a throwback to the great comic acts of the '40s and '50s, to the vocal talents of the great Jolson, Streisand or Davis, Jr. To be quite honest with you, they are all of the above and more if that is even possible!
On April 5, 2000, , along with two financial backers named Joe Vicari and Dick Scott, the Scintas very possibly took the biggest gamble of their life, when they stepped out on the stage of the 360-seat "Night Club" (now the Shimmer Showroom) at the Hilton Hotel, on a four-wall (literally rented) deal with the hotel. Vicari, who owned Andiamo's Night Club in Detroit (where the group often worked), had promised them in 1997 that one day he would get them to Las Vegas. The opportunity presented itself in May 2000. The family discussed it for about a second. They had nothing to lose, but some time and a lot of effort. But, they were also confident enough to know they had a unique act that could very well become a hit in Las Vegas.
Now more than nine years later the Scintas are residents of our little village, and have a true following of locals, and tourists alike. They had a resident deal at the Rio Hotel & Casino for four years, working in the 750-seat Copacabana Showroom. The group continued to prove their popularity, when they moved to the Las Vegas Strip and the legendary showroom at the Sahara Hotel.
The Scintas were all born in Buffalo, New York. They have a middle brother, Tony, who is a retired Buffalo homicide detective, who also now lives in our village. Their father, Joseph "Bucko" Scinta was a Buffalo firefighter, while mom, Mary, like all good Sicilian wives, raised the family. Dad is no longer here, but the children know he watches them from above every night.

"Our act has always been geared more towards family entertainment. We feel that's why we've always been so well received wherever we perform," Chrissi explained. "We do a lot of kidding around, but one thing you can count on is a full 90-minutes of good, solid and clean entertainment and we're very proud of that!"

Peter "O' Scinta" (the Irish drummer) joined the group in 1986 and has become an integral part of the family. Peter adds greatly to the fun that exudes from the two brothers and sister every night.

Joe has been playing "straight man" to his younger brother's antics for a long time. Their fraternal bond transcends on and off-the-stage. Joe's impressions (Impressions are a vital part of the act) and characters range from Jerry Lewis to Neil Diamond. One of the funniest, and most requested, is his remarkable impression of Joe Cocker.

Frank's passion for music was evident from the day he was born. At age five, he was playing grandfather's banjo. Much like another great entertainer, who began his climb to fame in a downtown Las Vegas casino, Wayne Newton, Frank has the ability to play virtually any instrument, and does!

Then there is the baby sister with the "Big Voice!" Some have actually compared Chrissi to Ethel Merman (who, without question, had the biggest voice on Broadway)! Now Chrissi is not a big woman, but neither was Ms. Merman. If she weighs a hundred pounds it's well hidden in her finely tuned body. And, when she sings such hits as, "Don't Rain on My Parade", "I Will Survive" or "Last Dance," you know there's a Lady on stage that can sing the "hell" out of any song.

Showtime at the Suncoast is 7:30 p.m. Tickets are priced from $24.95 plus tax, and I highly recommend that you get your tickets now. Call 702-636-7075

Well, gang, that's it for this week.

I'm outa here









CONTINUE ON TO...:

>It's The Norm Article Archives
>Las Vegas News - "Heard Around Town"
>Las Vegas Leisure Guide<