Well, gang, went out to the Bootlegger Bistro Monday night for one of my infrequent visits to the Kelly Clinton's Open Mic Cabaret, where entertainers from around town, and out-of-town guests, get up and sing a song or two. It's honestly a fun night, and on this particular evening, there was some exceptional talent sitting in the audience.

Clint Holmes was there (he more or less has to because he's married to the beautiful hostess), and then two more friends arrived, Domenick Allen and his gorgeous wife, Leigh Zimmerman. I spotted a new friend sitting at one of the booths, Marco, who came by and said "Hi," to my companion, columnist and physic Nancy Barr, and my special guest, Rachel Tyler.

Clinton kicked off the show, and it went on for the next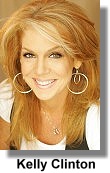 two hours (it starts at 9 p.m., and usually goes until about 11 p.m.). Some of those who entertained included: Kenny Davidsen of "Don't Tell Mama," Yvonne Silva, Jeff Neiman, Nicholas Brooks, Sarah Johnston, Mack Lee, Aloe Joel, and my personal contribution, Rachel who sang a Barbra Streisand song.
And, while on the subject of Clint and his bride, not only are they both going back to New York for another engagement (Clint at the Cafe Carlisle for three weeks, and Kelly at the Metropolitan Room for a week, early next year, but they have just completed recording a very special Christmas song. What's so special about a single Christmas song you may ask? The song was written by Rob Hyatt and Jerry Jones (they of the vocal harmony group," Fifth Avenue"). It's titled "One More Christmas With You," and is now available on I-Tunes and CD Baby. Now the very special part (not that the above is not special enough), all the proceeds (100%) will go to the Nathan Adelson Hospice!
Clint and Kelly do a lot for this city, and truly don't receive enough credit for what they do silently, and from the heart. We, the people who live and work in our little village of Las Vegas, are lucky to have these two special people as part of our "giving" community. Just wanted to toss that into the hat!
THIS AND THAT QUICKLY:
Annabelle, the celebrity cow perched two stories above the entrance of the legendary Old Homestead Steakhouse in Manhattan, New York, is moo-ving to Las Vegas. She began her cross-country trek Wednesday (Dec. 14), and will arrive in Las Vegas on Dec. 20, in time for the grand opening of Old Homestead Steakhouse at Caesars Palace.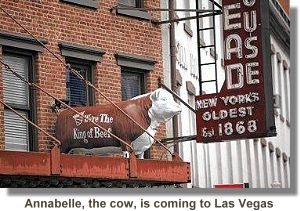 Fans of Annabelle should not be concerned, as the iconic brown and white cow isn't being put out to pasture. Dressed in white butcher coats, and wearing white gloves, a team of moo-ving men, specializing in bovine transport, will gently remove Annabelle from the restaurant's Broadway-like marquee, where she has been perched for the past 60 years as a fixture in the center of New York City's fashionable meatpacking district. Before setting her into – or more likely, onto – a super-stretch luxury limousine stocked with plenty of hay, corn feed, moo juice, a slot machine and a blackjack tutorial handbook, the team will groom Annabelle and dress her up in gown, top hat and bow tie. Taking full advantage of the limo, Annabelle plans to ride around Midtown before heading to the airport.
TOP OF NEXT COLUMN
Annabelle is no stranger to the spotlight, having been featured in several motion pictures, and on hit shows such as "Seinfeld," and "The Sopranos." She has also been photographed by renowned artist and filmmaker, Julian Schnabel, whose photos are displayed in the restaurant's Schnabel Room. Old Homestead Steakhouse is one of New York City's most historic restaurants, and with more than 6,000 square-feet, the new restaurant will feature a total of 250 seats, with a full dining room, private dining room, lounge and bar. Guests will be introduced to several signature dishes from the classic New York City menu, including the popular colossal crab cake, 32-ounce Gotham rib-eye steak and the Old Homestead New York-style cheesecake. Annabelle's admirers are encouraged to follow her journey to Las Vegas at www.twitter.com/oldhomesteadlv, and stay tuned for more details upon her arrival.
The Revolution! RPM Nightclub, at the all-new Tropicana Las Vegas, kicks off its Grand Opening festivities while introducing the next generation of nightlife onto the Las Vegas landscape. RPM's official grand opening on Dec. 30, also marks the debut of "WTF" Fridays with a superstar lineup of renowned house DJs: DJ Dan, Christopher Lawrence and Donald Glaude. "WTF" will showcase popular DJs in a variety of genres that will have the party rocking each and every Friday. The newly-renovated space features significant aesthetic and cosmetic improvements within the interior and exterior of the venue, including the addition of 15 plush party booths and upgrades to the club's lighting and audio/visual effects. General admission tickets to RPM's WTF Grand Opening are $30 for women and $50 for men including an open bar from 10-11:30 p.m. All tickets are subject to tax and service fees, and are on sale now. Call 702-739-2411 or online at www.troplv.com/nightlife.
A very dear and wonderful friend, and entertainer, returns to the South Point Hotel & Casino this weekend (Dec. 16-18). Shecky Greene, who in 1965 (when I arrived to become the featured sports columnist for the Las Vegas Sun), was one of the first entertainers I went to see at the original lounge inside the Riviera Hotel. Like all the great entertainers of that era, you practically had to know someone important, or be someone of importance, to get in to see them in an enclosed lounge: Don Rickles, Freddie Bell, Louis Prima or Fats Domino, to name just a few. Shecky is not just a stand-up comedian, like you see in the comedy clubs or on television today. He's also a story teller and a damn good singer. The first time I saw him, I was in the company of the former heavyweight champion of the world, Joe Louis and his wife, Martha (before I moved here). Naturally we got preferred seating. Well, about mid-way through the show, Mr. Green does a song from "Fiddler on the Roof," that just knocked me off the chair. It was magnificent! And, folks, he's still going strong and doing the one-liners, telling little stories (sometimes he forgets the ending on purpose), and singing a song or two.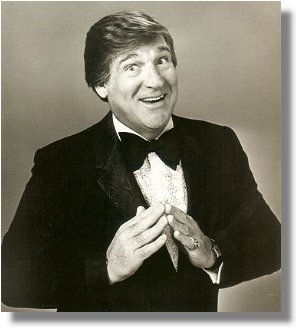 He, along with Rickles and Bill Cosby, are just three of the greats still walking out on a Las Vegas stage, and giving 110% to their audience! The three are what showbiz truly was and should be again today on the Strip! They helped to build this town. Showtime's for Shecky are 7:30 p.m. with tickets starting at $45.00.

Well, gang, that's it for this week. I'm outa here!


CONTINUE ON TO...:

>It's The Norm Article Archives
>Las Vegas News - "Heard Around Town"
>Las Vegas Leisure Guide<