Well, gang, now I've seen everything! Fireworks are not new. Catered food and a free bar are not new. Valet parking is everywhere. But, what made this experience so unusual was that all the above took place at a McDonald's Restaurant this past Tuesday. Not the one that's on the corner near your home either. No, gang, this was taking place at "Viva McDonald's" on the World famous Las Vegas Strip - right next door to Circus-Circus and across the street from the Riviera Hotel / Casino.
Of course when it opened to the public on Thursday (Dec. 11) there was no valet, no booze and no catered food, and there definitely was not an Elvis impersonator entertaining. But the feeling of something very special was there.
I must tell you; this particular establishment is most unusual. It actually has upholstered chairs, a designated lounge area, and places to work on your lap-top computer, while you dine on a Big Mac or one of those great salads McDonald's is so famous for. Oh, yeah, must not forget those fabulous French fries - they're still the best! There are high-tech television sets everywhere, showing the Discovery Channel or other appropriate choices fit for kids and adults.


James Woodrow and Michele Tell, who happen to own Preferred Public Relations, were hired to get the word out - and it appeared the world turned out: Valet parking was filled within minutes of the opening bell, forcing many guests to park elsewhere and walk over (including yours truly). But the walk was well worth it. James and Michele made sure they had enough staff to answer all questions. There were impersonators available for a special photograph (everyone got a nicely framed copy). The Rat Pack was there as was Marilyn Monroe and of course Ronald McDonald. There were a number of executives present (they all had great smiles and rightfully so). It was a terrific opening, fitting only for a Las Vegas Strip McDonald's!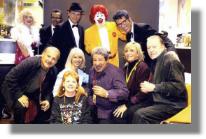 I forecast a great future for "Viva McDonalds," and who knows, one may be coming to your neighborhood one of these days!
Wednesday saw us (psychic Nancy Barr and this writer), along with another writer and her guy, attending a new restaurant re-opening. Let me explain: For years Chef Carmine Vento has owned a restaurant overlooking the Las Vegas Valley, he called it La Collina Cucina Italiana - the last two names somehow were hardly ever used. It literally meant - The Mountain.
As a well known Las Vegas restaurant entrepreneur for more than 30 years and founder of the locally famous Villa Pizza chain, Carmine kept being asked why his finest restaurant didn't carry his name. "I was raised in a very old school manner, and I didn't want to blow my own horn or be pushy with my name," Vento told us as we sipped on our wine. "So with the urging of my family (two sons, a daughter and of course Mamma) I agreed to change it to Carmine's on the Hill."
Vento was born in Milazzo, a small town on the northern tip of Sicily. His recipes come from his family and neighbors. "Many of my recipes, I took from my two grandmothers' kitchens. They have been passed down with love for many generations," Vento said. "I also worked and learned alongside some great chefs since I was 15 years old."
Carmine's on the Hill offers world-class Southern Italian cuisine in an upscale, very romantic atmosphere with the most unbelievable view of the entire Las Vegas Valley. It truly is a beautiful restaurant and the food is out-of-sight. The four of us had Veal Marsala or Piccata and it was to die for! Incidentally, Fierro Communications handled the invitations and made everyone feel comfortable and introduced every guest to Vento and his sons who were on hand for the occasion.
Located at 645 Carnegie Street in Henderson at Horizon Ridge Parkway, Carmine's serves food seven days a week from 11 a.m. to 11 p.m with its bar remaining open until 6 a.m. For reservations (suggested) call (702) 252-7474.
THIS AND THAT QUICKLY: KJUL 104.7 is sponsoring a very special Christmas Show at the South Point Hotel & Casino Dec. 17th from 6 to 8 p.m. The show will be hosted by Duke Morgan and Scott Gentry. Talent expected to perform include Clint Holmes (he's everywhere and his show at the Suncoast is already sold out), Rich Little, Susan Anton, The Swing Sisters and Kelly Clinton. Bring a non-perishable food item and get a free ticket as long as they last... Eastside Cannery (on Boulder Highway) will open its new One Six Sky Lounge on Friday, Dec. 19. More on this following Media night... "Baffled by the Bible" is a new book authored by A.P. DuBarry. Over the past 50 years, the author has discussed the bible with hundreds of scholars, etc., and many of these scholars were truly baffled (or had no answers to certain passages). What Mr. DuBarry has done is to bring the baffling passages to the reader and discuss them. It's an interesting book and may be purchased on Amazon or other outlets. Search by key word: Baffled by the Bible... Shades of Sinatra will be at the Suncoast Hotel & Casino New Year's Eve, where they will perform a special afternoon show at noon...
Well, gang, that's about it for another week.
I'm outa here!

CONTINUE ON TO...:
>It's The Norm Article Archives
>Las Vegas News - "Heard Around Town"
>Las Vegas Leisure Guide