Just in time to spread holiday cheer, The Scintas return to the Suncoast Showroom with their first-ever Christmas show, A Very Scinta Christmas, December 18, 19 and 20.
The Scintas are natives of Buffalo, New York, and from the day they landed in Las Vegas and on the stage of the Hilton Hotel Shimmer showroom, they have called our little village home. Brothers Joey and Frankie, sister Chrissi and "Irish Scinta" Peter O'Donnell entertain, surprise and provide an anything-but-typical performance filled with music, comedy and impersonations. As readers of this column know, this is one of my favorite groups and I honestly recommend their show.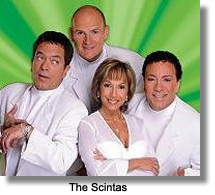 "Guest" appearances will be fruitful for these special holiday performances, as Dean Martin and Jerry Lewis, George Burns, Kermit the Frog and many other favorites help The Scintas celebrate this special time of year with their own holiday twist. And who knows what real life friends just might show up. After all, they have a lot of professional friends!
Collectively, The Scintas have dazzled sell-out crowds in Las Vegas showrooms and on the road. Individually, each member has enjoyed a stunning rise to fame. Frankie, recognized as a musical prodigy, appeared on The Merv Griffin Show at age 11. He plays the keyboards on the show and is also a master guitar, mandolin, banjo, drum and bass player. Joey, who originally intended to become a music teacher, developed and mastered his talent for comedy and impressions. The baby of the family, Chrissi, is known for her stunning renditions of the big ballads. Although not related, Peter O'Donnell has been a member of the close-knit clan since joining The Scintas in 1988. He has played gigs with more than 700 bands.
Families on stage and off, The Scintas often welcome their mother, Mary Scinta, affectionately known as "Mama Scinta," and their brother(,) Tony, a retired Buffalo homicide detective, and his family, as special guests at their shows.
Tickets are now available starting from $29.95, plus tax. Showtime is 7:30 p.m. Tickets can be purchased by calling the Box Office at 702.636.7075 or visiting www.suncoastcasino.com .
Went downtown last Saturday to partake of some free food, and a wee bit of wine at the new Las Vegas Rocks Café, located inside the old Neonopolis structure, 450 Fremont Street. Tony Sacca and his partner, Josette LeBlond, have come up with a really delicious menu. Everything has a theme such as its Vegas Rocks Salad (which was part of the tasting, and was very good). The Vegas Veggie Burger was really tasty and is a special recipe worked up by Ms. LeBlond, consisting of a unique blend of zucchini, squash and a mix of onions. There are all kinds of new names: The Siegfried & Roy sandwich (a triple deck) consisting of turkey, ham, Swiss cheese, etc. The Elvis Delight really sounds interesting: grilled banana, peanut-butter sandwich with another special blend of spices, along with a Vegas salad.
The menu itself is interesting in that it sorta tells the history of Las Vegas in photos and snippets of facts. Once inside, you are treated like a very important person (VIP). The waitresses are very attractive as are the costumes designed by the partners. Tony told the gathering that plans are underway to hold a Sunday Jazz Brunch featuring Grammy Award Winner saxophonist Gary Anderson and friends. Randy T will provide music and back up for special performances by some of Tony's friends: Lena Prima will be the first of many. Parking is underground on Fourth Street.
THIS AND THAT QUICKLY:
The daughter of a friend of this writer, who just happens to be married to Rafer Weigel, who just happens to be the sports guy on Headline News (part of the CNN family) channel 22 on Cox Cable, is not only a new mother, but is also a top notch photographer. Tiffany is a graduate of the Las Vegas school system and studied at some of the best photography schools in the country, ending up working for the Disney Studios in Hollywood. When Rafer was offered the position with CNN, they packed up and moved to Atlanta, Ga. She continues to work as a photographer, and I have taken the liberty of picking out one of my favorite photographs, to show you just how good this gal is. It's called "Winter in Central Park" and is a black/white photo of a path under a bridge in the park. If you would like to see more of her works go to www.tiffanyweigelphoto.com.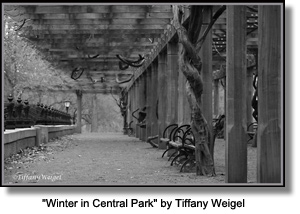 Marie Little will be the recipient of a Star on the Walk of Stars this Sunday in front of the Flamingo Hotel at 1:00 p.m. She is being honored for her many humanitarian efforts over the years. Her husband, Rich Little, was one of the first to have a star and Marie's will be right next to his.
The Comedy Stop at the Sahara Hotel has a really fabulous story teller, comedian in Cowboy Bill Martin through this Sunday. His vasectomy story is perhaps the funniest I've heard in a long time. Martin, and his buddy, Dan Davidson, just returned from a trip overseas to entertain the troops. Drew Thomas is hosting the show. Returning Monday (Dec. 14) through Sunday, Dec. 20, will be Al Ducharme, Mitchell Walters and Tom Segura. Tickets are still only $19.95 for locals (Nevada residents with proof) and $24.95 plus tax and fees for general admission. Showtimes are 9 p.m. nightly. The Comedy Stop will be closed from Dec. 21st re-opening Christmas night.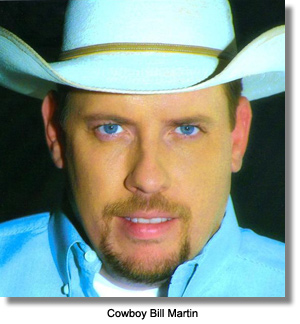 Well, gang, that's about it for this week.
I'm outa here!
CONTINUE ON TO...:

>It's The Norm Article Archives
>Las Vegas News - "Heard Around Town"
>Las Vegas Leisure Guide<