Rock and roll legend, and also a very great friend who is always available for a good cause, Domenick Allen, along with 10 of Las Vegas' finest musicians, VINYL, will rock the Suncoast Showroom for two performances, Saturday, December 10, at 2 and 7:30 p.m. Cadillac of Las Vegas is a co-sponsor of both performances.

The concerts will be the culminating event of a 16-day "Toys for Tots" drive at the Suncoast. Allen, the Suncoast, and Cadillac of Las Vegas, are inviting all attendees to bring an unwrapped toy to the concert for donation to Las Vegas-area children this holiday season. Anyone donating a toy will receive a 2-for-1 buffet coupon from the Suncoast.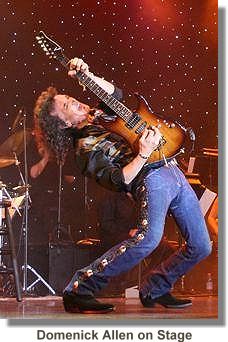 "For decades, the U.S. Marine Corps Reserve has brought joy to children across the country through Toys for Tots," Allen said. "We're thrilled to 'Rock the 'Coast' in support of such a great cause, and I hope everyone will join us in helping make sure that every kid in the Valley has a happy holiday."
Allen brings powerhouse vocals and unique interpretations of classic rock's most popular songs with VINYL. Neither a tribute band nor a group of impressionists, this collaboration of performers, and music is a celebration of classic rock, utilizing video, laser lighting and effects, and state-of-the-art sound design. Allen and the musicians will perform famed anthems first recorded by Foreigner; The Beatles; The Who; Jimi Hendrix; Eric Clapton; Journey; The Rolling Stones; The Allman Brothers; The Eagles; Aerosmith; Crosby, Stills, Nash and Young; Bon Jovi; The Doobie Brothers; Blood, Sweat and Tears; Rush; and, of course, Ludwig van Beethoven.
Allen is perhaps most well-known as a former member of the multi-platinum rock group, Foreigner, known best for such hits as "I Want To Know What Love Is," "Double Vision" and "Cold As Ice." In addition to Foreigner, he recorded and performed with the legendary Buddy Rich Big Band.
Allen is a professional actor, singer and musician, and toured the world for four years with the famed pianist, Liberace. In addition to appearing on London's West End for several productions, Allen co-starred with, Helen Reddy, in the musical, "Blood Brothers" on Broadway. Daytime audiences will recognize Allen for his long run as the evil, Simon Prescott on NBC's "Days of Our Lives." Allen has partnered with long-time friends Clint Holmes, Susan Anton and Martin Nievera as "Vocal Soup," a showcase of solo performances, duets and group numbers.
Tickets for Domenick Allen and Vinyl are priced from $15.95 plus tax and convenience fees.
THIS AND THAT QUICKLY:
One of the most iconic rock bands in American history has brought Texas-style barbecue and entertainment to Excalibur Hotel & Casino, with a ten day grand opening celebration of Lynyrd Skynyrd BBQ & Beer. The Grand opening celebration got underway on Thursday, Dec. 1, in conjunction with the first day of the National Finals Rodeo, and continues to run through this Saturday (Dec. 10). The packed lineup of live music and appearances included the Official American Country Awards after Party (Monday), complete with an informal jam session by some of the industry's top performers. The Jack Daniel's "Eat 'N' Greet" luncheon on Thursday (Dec. 8) was to be followed, later that evening, by a special benefit concert. The remaining schedule includes: Friday, Dec. 9 at 10 p.m. Felice Garcia, and Saturday, Dec. 10 at 10 p.m., again Felice Garcia.
TOP OF NEXT COLUMN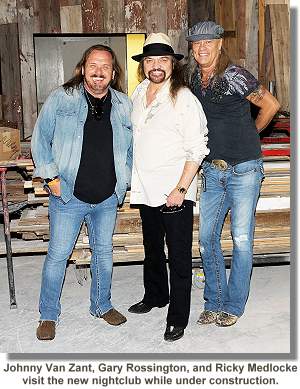 Lynyrd Skynyrd BBQ & Beer will serve fare from Kreuz Market in Lockhart, Tex. A tour of barbecue joints throughout the nation led them to the 111-year-old Texas institution, where the barbecue has been refined to perfection by the Schmidt family. Kreuz Market has been widely recognized as one of the top barbecue restaurants in the country; with top honors for their brisket and sausage by the Food Network and Travel Channel, and a rating as Zagat's No.2 barbecue spot in the nation. More information is available at www.LynyrdSkynyrdLV.com.
A "Rat Pack" themed event will commemorate the name change of Industrial Road to Sammy Davis Jr. Parkway. It will take place at Sapphire, which is celebrating its 9th anniversary as Las Vegas' premiere gentlemen's club, and they are doing it in style. "Rat Pack" style that is! The celebration will include music, martinis and more. The party is set for Thursday, Dec. 15, and begins at 7p.m. with an open bar until 10 p.m. For those too young to remember, the Rat Pack was a group of celebrity friends, and buddies, that whooped it up in Las Vegas in the '50s and '60s. The main members of the Rat Pack were Frank Sinatra (unofficial leader of the Pack), Dean Martin, Sammy Davis Jr., Joey Bishop, Peter Lawford, and sometimes Shirley MacLaine
Tropicana Las Vegas continues its transformation by introducing the next generation of nightlife with the addition of RPM Nightclub, commencing New Year's Eve weekend. Starting December 30, RPM Nightclub at Tropicana Las Vegas will be open Wednesdays, Fridays and Saturdays at 10:30 p.m., and will present club-goers with an interactive, unrivaled experience set to entice each of the senses. The nightclub will feature today's hottest stars and top recording artists, as well as a variety of world-class DJs, dancers and specialty acts. In addition to first-class bottle service, the sleek and stylish 16,500 sq. ft. venue will offer table games and roulette inside an elite gaming lounge, and three bars ensure guests are never far from enjoying their favorite libation or one of the club's signature cocktails. More details to come.
Hey, gang, want to see a great show, one that will possibly bring back some of those memories when we were young, carefree, and loved the sounds of Frank Sinatra and Barbra Streisand? Well take yourself towards the Strip and visit the Westin Casuarina Hotel (160 E. Flamingo) around 7 p.m. Monday through Friday. Casually get your ticket for the 7:30 p.m. show, and before you know it you're watching "The Concert That Never Was." Two absolutely wonderful performers, Sharon Owens and Sebastian Anzaldo, will be singing all the songs you would come to expect from the two icons of music, plus some great Holiday songs as well. During the month of December, Barbra and Frank, add a little holiday fun to the show with an extra flair of "Holiday Cheer," and the showroom decorated in a Holiday fashion. It's truly a show for all ages, and includes such songs as, "Christmas Song (Chestnuts Roasting on an Open Fire)," "Baby It's Cold Outside," "Jingle Bells," and more. So, do yourself a big favor, and have Merry Little Time with Barbra and Frank during the whole month of December. Tickets for locals are half-price at $28.99 inclusive.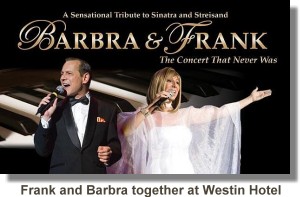 Well, gang, that's about it for this week. I'm outa here!


CONTINUE ON TO...:

>It's The Norm Article Archives
>Las Vegas News - "Heard Around Town"
>Las Vegas Leisure Guide<