In a deck of playing cards, the King of Diamonds is a pretty good card. Of course the Ace is the top card in any deck. On a stage, however, the "King of Diamonds" is a young man named Rob Garrett, who portrays the great Neil Diamond to perfection.
This writer had promised to stop by and catch one of Garrett's shows the next time he was in town. Rob, a resident of Las Vegas, was booked to perform at the Eastside Cannery Casino on Boulder Highway last weekend. So, Saturday evening, I drove the few miles from my home to catch him in action inside Marilyn's Showroom. It had been a long time since I saw Garrett working on stage, and that was when Rob was in "Legends in Concert" at the Imperial Palace.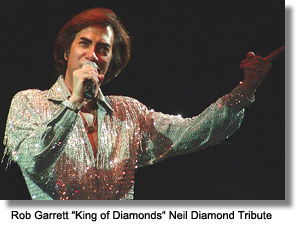 Las Vegas is home to some of the best impersonators in the world, and most of them work in one of two shows, "Legends" or "Superstars" at the Stratosphere Hotel & Casino. In my humble opinion, there are two great Neil Diamond impersonators, Garrett and Jay White at the Riviera Hotel. White has pulled the plug on his show after an eight year run, leaving the "King of Diamonds" as the sole Neil Diamond show in our little village.
Garret works with a six-piece band and back up singer, Michelle Rohl. It's a tight group of excellent musicians, and it shows during the nearly two hour performance. Most of the 22 musical numbers performed during his stint on stage are from the 1976-1981 era. Garrett covers a multitude of hits ranging from "Crunchy Granola Suite" to "Coming to America." Here is a list of just a few of the songs covered: "Hello Again," "Shilo," "Kentucky Woman," "Thank the Lord For The Night Time," "Sweet Caroline," "Love on the Rocks" and "I Am, I Said." His duet with Ms. Rohl, "You Don't Bring Me Flowers," is a definite show stopper.
Overall I enjoyed the show and so did the Standing Room Only crowd. So, the next time you read where Rob Garrett will be performing, do yourself a favor and go see him sing.
THIS AND THAT QUICKLY:
Tony Sacca and his partner, international Chef Josette LeBlond, are just a few steps away from opening their new restaurant in downtown Las Vegas, at Neonopolis, 450 Fremont Street. The old "Jillian's" sign has been taken down and the new "Las Vegas Rocks" signage is going up as you read this column. Founder Sacca hopes to open the historically themed restaurant this coming week. Both Tony and Josette are still busy creating new one-of-a-kind specialty items that will be exclusively theirs.
Kendall Tenney, on of our better news anchors and a solid newsmen, is leaving KVBC-TV, channel 3, effective Dec. 23. Tenney plans on opening his own full-service public relations company in partnership with The Media& Marketing Group (M&M), a major company out of New Jersey. We'll miss his informative and straight forward style of reporting. While on the subject of media types leaving their place of employment, the Las Vegas Sun notified some 30 staff members that their services would no longer be needed. Three of them, who this writer has known for a long, long time, are: Mary Manning (35 years as a top notch reporter at the paper), Jerry Fink (one of the best entertainment writers in our village) and Ron Kantowski (a top notch sports editor and writer). As a former sports editor at the Sun (when Hank Greenspun still called the shots), this writer just doesn't understand the thinking of those in high places at Greenspun Media.
Clint Holmes, his wife, Kelly Clinton and sister Gayle Steele will perform (along with some special friends, I'm sure) songs of the holiday season in the Showroom at the Suncoast Casino, Dec. 25-27.You can be assured this will be a very warm and personal family show (as all of Holmes' shows are). Get your tickets now as it's sure to be a sell-out.
An old friend, and an exceptional entertainer, MarQue (Munday) Smith, will be singing up a storm at the Bootlegger Bistro, Sunday, Dec. 13, beginning at 8:30 p.m. This is another Kelly Clinton production, as is the Monday night sorta Open Microphone Night featuring Ms. Clinton.
Lon Branson and his band, featuring singer Ellis Hall, will be at the Green Valley Ranch, Thursday, Dec. 10, then on Friday and Saturday, Dec. 11-12, at the Cannery Casino. Great music for every taste.
Long time local resident, now living in sunny (sometimes wet) Florida, sends word that he has decided to take a vacation from the cruise ships, and perform on a stage anchored to solid earth. Carme has created a new show, "The Lost Art of Burlesque, Ballet and Cabaret." Besides Carme, the show features Berri Lee, another long time Vegas resident, The Taylor's (a wonderful ballet team from the Lido in Paris) and singer Ann Graves. The show will utilize a 12-piece orchestra with its first performance scheduled for Jan. 12 at the St. Petersburg Palladium.
Well, gang, that's it for this week.
I'm outa here!
CONTINUE ON TO...:

>It's The Norm Article Archives
>Las Vegas News - "Heard Around Town"
>Las Vegas Leisure Guide<