Las Vegas legend, Clint Holmes, returns to the Suncoast Showroom, along with wife, Kelly Clinton, and sister, Gayle Steele, to perform songs of the holiday season December 17-18, each evening at 7:30 p.m.
Holmes has created a warm and inviting show, perfect to share with family and friends this holiday. Together the family of three will put their own spin on traditional holiday favorites, as well as performing by popular request, "William the Angel," and songs from Holmes' first-ever holiday CD, "Hallelujah." During the performances, Holmes will pay tribute to his late mother, Audrey, a former British opera singer, who passed away in October.
Holmes' fans know him as more than just a singer. He's famous for making every performance an original, and captivating the audience with his signature style. Among his many recordings is the Top 10 smash hit, "Playground in My Mind (My Name Is Michael)." His album "Edges" produced several standout songs, including the single, "Feel Like Makin' Love." Holmes and long-time friends Susan Anton, Domenick Allen and Martin Nievera regularly unite as "Vocal Soup," to perform a showcase of solo performances, duets and group numbers.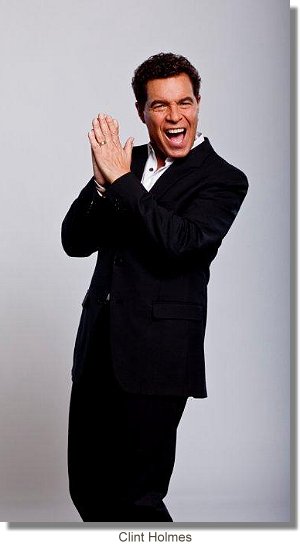 With a long history of entertaining audiences in Las Vegas, Clint is known for his six-year run in "Clint Holmes at Harrah's." Named Las Vegas' "Best Singer" for four times, and "Entertainer of the Year" three times by readers of the Las Vegas Review-Journal, Holmes' fame stretches far beyond Southern Nevada. He was also Atlantic City's "Entertainer of the Year" three times, and starred in "Clint Holmes' Sophisticated Rhythms," a dynamic stage show that traveled through music from the 1940s to the present.
His 1996 critically acclaimed musical "Comfortable Shoes," which opened in New Jersey, was a poignant and uplifting journey into Holmes' interracial family's struggle to find its identity. In 2002, an updated version of the musical opened at The Royal George Theatre in Chicago. Among the show's rave reviews, the Chicago Tribune called it "a night of fully realized theatrical entertainment."
In a career that began as a child, blossomed while in the United States Air Force, soared with an invitation from Joan Rivers, to be her sidekick and announcer on "The Late Show," Holmes has proven himself as a well-respected performer, even earning the honor of being the featured performer at the Democratic National Convention on the evening of Bill Clinton's 1992 presidential nomination. Also familiar to fans' ears, Holmes was the voice of Lowenbrau Beer for four years.
Column Continues Below Advertisement
TOP OF NEXT COLUMN
Tickets are available starting from $15.95, plus tax and convenience fees. Tickets can be purchased at any Coast Casinos box office, by calling 702.636.7075 or visiting www.suncoastcasino.com.
THIS AND THAT QUICKLY:
It's Holiday time at the Historic Railroad Pass Hotel & Casino. And, as part of the year- long 80th birthday celebration, they are bringing back a tradition from the 1800's with the artistry of Gingerbread Houses.
The history of Gingerbread is an interesting story. It first became known as a European staple in 992, when a Monk from Pompeii moved to France, and began teaching Priests and Christians the art of making Gingerbread. By the 17th century, it was popular all over Europe. In 1773 the city of Drayton in Shropshire, England, became famous for its Gingerbread creations, which were displayed and sold throughout England. In 1812, the Brothers Grimm published the book, "Hansel & Gretel," which had a famous house, made of Gingerbread and decorated with various stones and sugar windows. America picked up on the Christmas tradition during the early 1800s, and trumpeted the making of Gingerbread Houses for the Christmas season.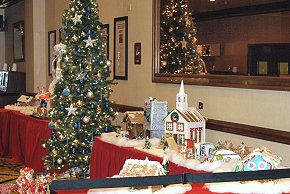 "We wanted to display the artistic talents of our locals in Southern Nevada, while making the holiday display available free, 24 hours a day, to the public in our hotel lobby here at the Railroad Pass," Curt Thompson, Director of Operations, said. "We anticipate the Holiday display will be available thru Christmas Day."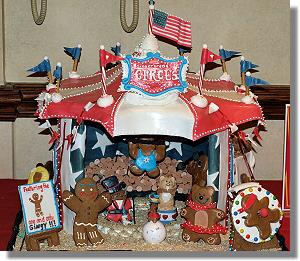 Thompson pointed out that while admiring each creation, please appreciate the time and dedication each baker put into creating their display. Thompson recalled that many years ago, Las Vegas Strip hotel chefs held Gingerbread House contests for all to enjoy, during the holidays. He plans to make the display an annual tradition at the Railroad Pass
The holidays are a bustling time for Sam's Town Hotel and Gambling Hall, as the resort has once again transformed its Mystic Falls Laser Light and Water Show into a winter wonderland experience, complete with weekly visits by Cowboy Santa.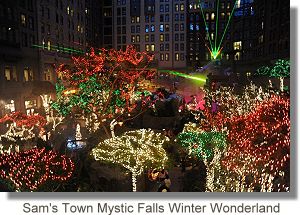 A tree-lighting celebration took place on Nov. 23, when Boyd Gaming Executive Chairman, Bill Boyd, Sam's Town Vice President and General Manager, John Sou, LVCVA Host Committee Chairman, Oscar B. Goodman, and Cowboy Santa, flipped the switch on the first run of the holiday show. The free 15-minute winter laser light spectacular will take place at 6 p.m., 8 p.m. and 10 p.m. nightly through January 1.
Well, gang, hope you enjoy the photos, and take a trip out to the Railroad Pass Casino to have a wonderful old fashioned experience, and then make a stop at Sam's Town. I'm outa here!

CONTINUE ON TO...:

>It's The Norm Article Archives
>Las Vegas News - "Heard Around Town"
>Las Vegas Leisure Guide<