This writer, accompanied by Ms. Nancy Barr, was once again invited to watch an award-winning movie, "Who Will Stand," a documentary film dealing with returning veterans from current conflicts in Iraq, Afghanistan and elsewhere. We first wrote about this film after watching a special viewing in October, 2008. This time the film was more finely edited and had already garnered seven prestigious awards at various film festivals, including the Sundance Film Festival in Park City, Utah.
The situation depicted in the film has not changed from a year go. If anything, it has gotten worse. A sad example is what happened at Fort Hood, Texas, last week, when a medical specialist, who was supposed to help returning warriors, suddenly flipped out and killed 13 soldiers and wounded some 40 others.
Column Continues Below Advertisement
The film's executive producer is prominent attorney Gerald Gillock. "Who Will Stand" was filmed by Michael Bedik and directed and narrated by Phil Valentine (all residents of Las Vegas) and their Red Line Production crew. According to Valentine, the hardest thing they had to do was edit the film down to a reasonable length (nearly two hours). "We had so much good material, it was really hard to eliminate certain pieces, but we had to do it," Phil told the special guests (including a number of veterans from past and present wars) Monday evening in Theatre 14 at the Cannery Galaxy Theaters in North Las Vegas.
The film opens with Clint Holmes singing the title song (he wrote it following 9-11-2001), which is a very moving presentation. Clint was on hand for the event and told the story of how he became involved with the project. "It was an honor to be asked to participate in such an important film," Holmes said to the more than 60 invited guests.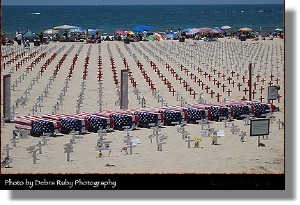 There is one section of the film that grabbed me the first time I saw it, and again gripped me Monday night. "Arlington West," located on the Santa Monica Beach, next to its famous pier, is where there are rows of white and red crosses beginning at the top of the beach and running down to the high tide line. Each white cross designates a fallen warrior from on-going conflicts. Because the number of dead keeps increasing daily, and the space is limited (the City and those responsible for the beach had said they could not allow it to keep expanding), there are now rows of red crosses (each Red Cross represents 10 fallen soldiers). The first thing you see in this section of the film is a gray metal sculpture of a fallen warrior. Then you see the rows of crosses and a number of wooden boxes with the American Flag draped over it. When the film crew shot this particular scene there was, I believe, five caskets (the number killed that particular week). It is without question one of many scenes that stirs my memory bank. If you would like more information check www.arlingtonwestsantamonica.org/.
An interesting comment by one of the doctors interviewed for the film, was the comparison of those men and women who served in World War II and the Korean War. We (I was in the Air Force during the Korean conflict) had time to decompress before arriving home. Most of us returned stateside via a boat, which in my case took two weeks to arrive in San Francisco after leaving Japan. Today, a soldier will leave Iraq or some other station and be embracing his wife, girlfriend, mother, etc. the next day. There is no time to talk about what you had been through with a buddy, or to put the experiences in the back of your mind. It is called Post Traumatic Stress Disorder (PTSD), and affects just about every returning soldier in one way or another.
The film lays out some very serious statistics: 46 ½ percent of combat soldiers have thought of suicide, and a little more than 1/3 have actually attempted the event. In July 2007, the Veterans Administration (VA) opened a suicide hotline, and within the first year more than 22,000 calls had been received. Today, statistics indicate that there is an average of 18 members of the military committing suicide every day of the year. And that particular statistic is in question, as the numbers keeps climbing. The divorce rate among various services has tripled since the beginning of the current conflicts. Another disturbing stat is that more than 50 percent of returning veterans are alcoholics.
PTSD, according to those interviewed for this film (which included psychiatrists, veterans and severely wounded soldiers still serving in the Army or Marines) leads to a myriad of other severe issues: unemployment, homelessness, divorce, substance abuse, child and spousal abuse. According to Gillock, who became interested in the situation after working with several amputees, nearly 90 percent of returning combat soldiers deal with some degree of PTSD.
The film does not just dwell on the unfortunate side of returning soldiers. The filmmakers spent a number of days following various organizations dedicated to providing aid for severely wounded veterans. The Wounded Warrior Project (www.woundedwarriorproject.org/) is one of the very good ones, in that the VA has nothing to do with it. The film shows men and women with limbs missing competing in various sporting events, using artificial limbs and special bicycles to compete in triathlons and marathon races. The spirit shines through their faces as they talk about their future. It also focuses on The Soldier Project (www.thesoldierproject.org/), where professional civilian psychiatrists volunteer their services (free of charge) to provide confidential psychological treatment, without the VA being informed, or the branch of service if the soldier is still on active duty.
See, one of the stigmas pointed out in the film and during the question and answer period following the film, is that the returning soldiers are scared to be honest when asked to fill out a questionnaire about their mental stability. According to a couple of the veterans who were at the filming, should a soldier answer the questions honestly, he is held over and not allowed to leave the base, or to be discharged.
"Who Will Stand" should be required viewing by every citizen of our great country. It should also be reviewed by every politician, and every senior officer in the service of our country.
If you would like to read more about the film please go to www.whowillstand4us.com/.
Well, gang, that's about it for this week. I'm outa here!
CONTINUE ON TO...:

>It's The Norm Article Archives
>Las Vegas News - "Heard Around Town"
>Las Vegas Leisure Guide<