Good news gang! Returning to the Suncoast Showroom will be Las Vegas legend Clint Holmes, along with his wife Kelly Clinton and his sister Gayle Steele, who will perform songs of the holiday season, the weekend of December 17, 18, and 19, with each show set for 7:30 p.m. Get your tickets now, 'cause this is sure to be a sell out. I'm telling you early, so you'll not be disappointed.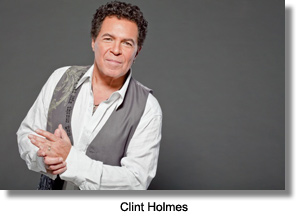 For the past few years, Holmes, with his wife and sister, has created a warm and inviting Christmas show, perfect for sharing with family and friends during the holiday season. Together they'll put their own spin on traditional holiday favorites, as well as performing one of their most requested songs, "William the Angel." Holmes is certain to perform songs that have long been associated with him throughout his illustrious career. He will also release his first ever holiday CD, "Hallelujah," in conjunction with the Suncoast appearance.
Clint's' fans know him as more than just a singer. He's famous for making every performance an original, and captivating with his signature style. Among his many recordings is the Top 10 smash hit "Playground In My Mind (My Name Is Michael)." His album, "Edges,"produced several standout songs, including the single "Feel Like Makin' Love." Holmes and long-time friends Susan Anton, Domenick Allen and Martin Nievera, regularly unite as "Vocal Soup,"to perform a showcase of solo performances, duets and group numbers.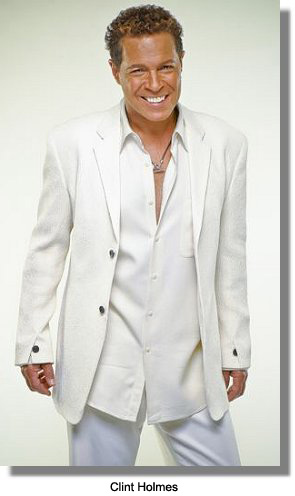 With a long history of entertaining audiences in Las Vegas, Clint is known for his six-year run in the Clint Holmes Theater at Harrah's. Holmes has been named Las Vegas' "Best Singer" four times, and "Entertainer of the Year" three times by readers of the Las Vegas Review-Journal. His fame stretches far beyond Southern Nevada, as he has also been honored in Atlantic City by being named, "Entertainer of the Year" three times. The energetic entertainer starred in "Clint Holmes' Sophisticated Rhythms," a dynamic stage show that traveled through music from the 1940s to the present. His 1996 critically acclaimed musical, "Comfortable Shoes," which opened in New Jersey, was a poignant and uplifting journey into Holmes' interracial family's struggle to find its identity. In 2002, an updated version of the musical opened at The Royal George Theatre in Chicago. Among the show's rave reviews, theChicago Tribune called it "a night of fully realized theatrical entertainment."
In a career that began with an invitation from Joan Rivers to be her sidekick and announcer on The Late Show, Holmes has proven himself to be a well-respected performer. One event, which he is quite proud of, was when he had the honor of being the featured performer at the Democratic National Convention on the evening of Bill Clinton's 1992 presidential nomination. He has also been asked several times to sing the National Anthem at various events, including for President Obama.
Showtime is 7:30 p.m. Tickets are available starting from $29.95, plus tax and fees. For more information or reservations call 702.636.7075, or go to www.suncoastcasino.com.
THIS AND THAT QUICKLY:
David Saxe has added a third show at his newly re-opened, self named theater inside the Miracle Mile Shopping Mall at Planet Hollywood. "Liberace—Music & Memories," starring Wayland Pickard, plays Sunday through Thursday at 2 p.m., with tickets priced from $39.99 plus tax and fees. To show you just how accurate a performance Pickard does, when portraying the man who helped make Las Vegas the "Entertainment Capital of the World," it takes him nearly four hours in the process of applying the make-up alone. Wayland is a master pianist and performs live, and incidentally, he is the only "officially licensed" Liberace musical revue in the World.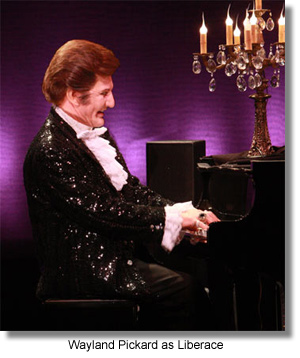 Nevada's most beautiful women will come together as they compete to become the 2011 Miss Nevada USA, and Miss Teen USA, at the Nickolas Horn Theater on the campus of the College of Southern Nevada this Sunday (Nov. 14), beginning at 1:30 p.m. The pageant will be hosted by "8 News Now" anchor/reporter, Chris Saldana, and Miss Nevada USA 2009, Georgina Vaughan. According to Maureen Atwell, executive director for the Nevada organization, there will be 23 contestants in the Miss competition and 18 in the Miss Teen portion of the pageant. Tickets, priced at $25, will be available at the door. For further information, go to www.missnevadausa.com.

Dick Feeney, producer of the original "Rat Pack is Back" show, announced recently that the Plaza Hotel has inked a three-year extension for the show, that continues to play before an appreciative filled showroom nightly. The classic show, which brings back the glory days of its famous cast of characters, performs nightly at 7:30 p.m. in the Copa Room at the downtown Hotel/Casino.

Well, gang, that's about it for this week. I'm outa here!




CONTINUE ON TO...:
>It's The Norm Article Archives
>Las Vegas News - "Heard Around Town"
>Las Vegas Leisure Guide<