Let's be perfectly clear here as I start to write this column. I have known Mr. Wayne Newton since I first arrived in Las Vegas in 1965. I have been in his company on numerous occasions, going all the way back to his days at the Flamingo to his present gig at the Tropicana Hotel. I have rubbed shoulders with him. He has always been very kind to me and my friends. That said, here are my thoughts about his new show at the Tropicana.
I am not happy over what I heard a week ago Wednesday evening. Wayne's voice has left him, but his stage charisma has not. Newton's new presentation is a well produced trip down memory lane—I think there should've been more of the stuff that made him the Midnight Idol or Mr. Las Vegas. What a lot of NEWBIES (reporters and critics) to our town do not know is how hard Wayne has always worked to please his audiences. In the late '60s to the '90s, he performed two shows a night, six nights a week (just like all the star performers in a main room). If the last show didn't run at least 2 ½ hours, the audience was disappointed (but the casino was happy). Often times, Wayne would still be entertaining well past midnight (much to the dismay of the casino brass). I can remember when he was at the old Frontier, and he would still be on stage, doing his thing with about 12 instruments and singing his butt off until it was past 1:00 a.m., and not one person was getting bored.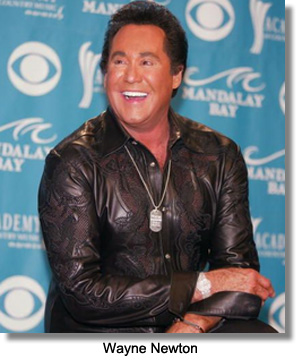 Wayne Newton is a man with an ego like all of us humans. He wants to be on that stage no matter what—failing voice or whatever. He has earned the right to expect some modicum of respect from his peers, and of those of us who can remember the good days!
I personally felt very sad Wednesday night. Not so much for the performer, but for those who walked out shaking their heads and saying, "too bad, he used to be so good…" He is still the same man that never failed to show up for a benefit, or to hold a benefit for someone in need. I remember when columnist Forrest Duke of the Las Vegas Review Journal was in financial trouble because of a serious illness. Wayne decided to stage a very special performance, paying the orchestra himself and all other costs, with every penny going to the Duke. That's just one of many kind things this man did over the years.
Newton has his faults like all of us. And God knows he has been through the ringer a few times. Has he stepped on toes? You bet! Has he not always been a nice guy? Or course! But take a moment to look in the mirror and answer the same question about yourself and your friends.
The show as presented last Wednesday night for invited guest and media was a classic Wayne Newton—except it was timed to the minute. It was a trip down a long lane of memories. Forget the vocals and remember the man, and you'll enjoy the show.
THIS AND THAT QUICKLY:
The movie guy, Harry Basil, a whacky comedian who takes a movie and rips it apart and makes it funny, will return to the Comedy Stop in the Congo Room at the Sahara Hotel.. Basil has been brought back by Bob Kephart by popular demand and will, open Monday, Nov. 9th. Harry will share the stage with Tim Harmston and Tom Clark. Basil literally takes his audience on a 30 minute trip though time and various movies, ranging from Superman to Star Wars, with lots of stop between.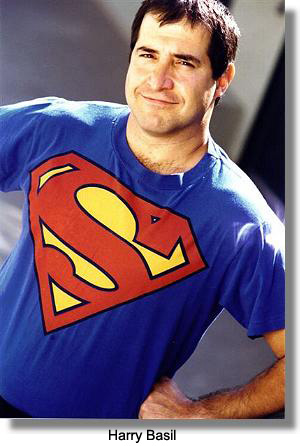 Good news gang, Shecky Greene will be back in Las Vegas, but this time at the South Point Casino. Greene will perform Jan. 8-9 in the beautiful main room at Michael Gaughan's great hotel/casino. We covered his last show at the Suncoast and that was one of the best (you can check archives for May 22, 2009). We look forward to seeing our old friend once again. He's the greatest.

This Sunday (Nov. 8th), our good friend, Nelson Sardelli, will emcee and host the 25th Anniversary 76 Trombones plus 4, featuring Bill Booth, Eliot Mason, Irv Wagner, with special guest Harry Betts, at Artemus Ham Hall on the grounds of UNLV. General admission is only $10 in advance and $12 at the door. Students, seniors and military tickets are $5 or $7. Great event!

After an eight year run, Josette LeBlond, is shuttering the blinds and locking the door at her intimate French restaurant, Josette's, 4983 W. Flamingo Road. The vibrant and exciting hostess has decided to put all that excess energy she has stored up, and help her friend, Tony Sacca, open a new eatery at 450 Fremont Street. The new establishment, inside Neonopolis, will be named the Las Vegas Rocks Café, and Ms Josette is creating an entirely new menu following the theme of the room: The Bugsy Burger. The Louie Primavera Pasta, Lake Mead Dip, Charo's Chili and Casino Chip Nachos. Josette's will officially close on Saturday, Nov. 21st with the new establishment set to open on December, 1. We will continue to keep you informed on the process.

Well, gang, that's about it for this week. I'm outa here!

CONTINUE ON TO...:

>It's The Norm Article Archives
>Las Vegas News - "Heard Around Town"
>Las Vegas Leisure Guide<