November and December will be bustling months at Sam's Town Hotel and Gambling Hall, when the resort will host a "Cell Phones for Soldiers" drive, hold a public tree-lighting ceremony and launch the Winter Wonderland experience at its renovated Mystic Falls Park Laser Light and Water Show, and host weekly visits by Cowboy Santa Claus.

From November 1 through 23, Sam's Town will accept donations of used mobile phones, chargers and other accessories for the Cell Phones for Soldiers program. Each phone donated to the program will provide an hour of talk time to soldiers abroad. Guests should drop off used cell phones, chargers and other accessories at the B Connected Club at Sam's Town. All guests participating in the promotion will receive a two-for-one coupon for Sam's Town's Firelight Buffet.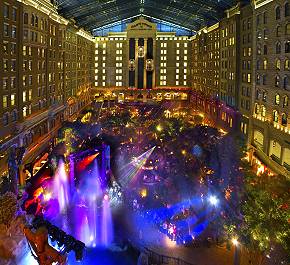 Later in November, the, pioneer-themed Mystic Falls Park Light and Water Show will transform into a popular winter wonderland for the holidays. A tree-lighting celebration will be held on November 23 at 6 p.m., when Boyd Gaming Executive Chairman, Bill Boyd, Sam's Town Vice President and General Manager John Sou, and a representative of the U.S. Armed Forces flip the switch on the first run of the holiday show.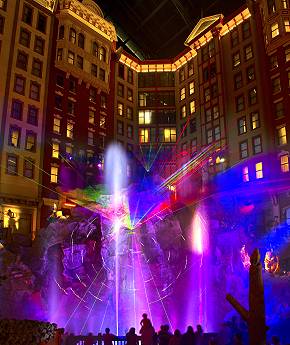 The Sam's Town winter wonderland experience begins in the valet porte-cochere, with festive lighting and decorative snowflakes leading to Mystic Falls Park. Garland streams, wreath-adorned lampposts, and white-light and snow-covered trees will fill the atrium, while Santa's workshop takes residence at the gazebo. Poinsettias, red garlands, and ice crystals add to the themed visuals, while the main fountain will host an ice sculpture. Lighted sculpture polar bears and the holiday show highlight – indoor snow – create a whimsical magical winter wonderland experience in the heart of the Boulder Strip. The free 15-minute winter laser light spectacular will take place at 6 p.m., 8 p.m. and 10 p.m. nightly.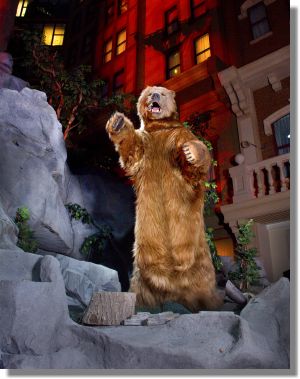 Finally, Sam's Town will be hosting Santa Claus this holiday season, decked out in venue-appropriate cowboy gear, from November 25 through December 23. Santa will appear on Thursdays and Fridays from 4 p.m. to 8 p.m., and on Saturdays and Sundays from 12 p.m. to 8 p.m. Photos will be available from $11-$17.
Column Continues Below Advertisement
On the heels of her hit CD, "Volare," Deana Martin, and Big Fish Records, has proudly announced the release of her new CD, "White Christmas." Already hailed as an, "Instant holiday classic," Martin's new CD is a fabulous mix of Christmas classics and brilliant interpretations of 10 holiday evergreens as only Deana can deliver them! This Christmas collection is in the proud tradition of Deana's iconic dad, Dean Martin -- and Uncles Frank (Sinatra) and Sammy (Davis Jr.). With each song Deana sings, she offers up a shiny musical bauble, to make the holiday bright and hearts glow.
TOP OF NEXT COLUMN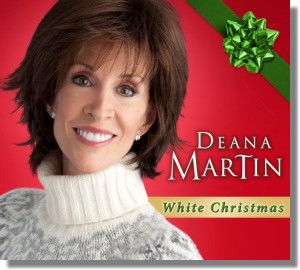 The tenderness of the season is conveyed beautifully by the talented Ms. Martin on "What Are You Doing New Year's Eve?," "The Christmas Song," "I've Got My Love To Keep Me Warm," "Silver Bells," and "Jingle Bell Rock." And, while the chestnuts are roasting on that open fire, check out Deana's interpretation of "My Favorite Things," from the musical, The Sound of Music. Deana preserves the distinctive essence of the Rodgers and Hammerstein song. Joining Deana on the title track, "White Christmas," is Andy Williams, a man closely associated with the season, and nicknamed "Christmas" by none other than her Dad. Deana and Andy harmonize beautifully on the Irving Berlin classic, and create one of the most memorable Christmas duets ever recorded. The new CD may be purchased online at: www.DeanaMartin.com, Amazon.com, iTunes.com, and wherever great music is sold.
THIS AND THAT QUICKLY:
On Wednesday, November 2nd, Don Hill celebrated his 90th birthday. Why is that so important? Well, Hill was an integral part of one of the most fabulous musical groups to ever work in Las Vegas, the fantastic Treniers! For more than 50 years, The Treniers made music in every lounge in our little village. And, the saxophone player who made those wild and crazy sounds, Don Hill, is still blowing that horn, and sounds as good as he did a half century ago. This writer ran into Don when I moved to Las Vegas in 1965, and started making the rounds of the various showrooms and lounges. Like all residents during those wonderful early years of our village--the lounges were where we hung out a lot. Heck the comps were easy to come by in those days. And, it wasn't long before I became a huge fan of the group which was led by identical twin brothers, Cliff and Claude Trenier, and also included their nephew, Skip.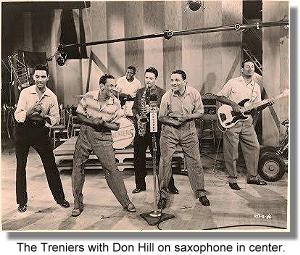 I had danced in a movie called, "Don't Knock the Rock," produced in 1956, starring Bill Haley and the Comets, and the Treniers, so I sorta knew them—but not really. That's a time when I was finding my way in life, and was thinking, I wanted to be a movie star—what a joke that was! That same year, I also danced in another movie starring Haley, "Rock Around the Clock," featuring another Las Vegas legend, Freddie Bell. I would one day become his personal agent and friend. Gosh, those were the fun days for me, and a lot of us gray haired-journalists. Did you know Hill had another distinction? He was good with the Kodak. Anyhow, back to Don's birthday. Hill had a party in his honor Thursday evening (if you're reading this on Friday) at the Italian American Club (I was unable to attend). But, I'll be attending the all-star tribute show hosted by Pete Barbutti, in the Ovation Showroom at the Green Valley Ranch, Tuesday, Nov. 8th starting at 8 p.m. (doors open at 7 p.m.). I've been told there will be a $15 cover charge.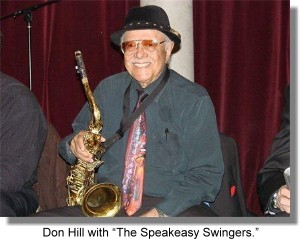 Capo's Restaurants, a subsidiary of Elite Management Services, has revealed that an agreement has been reached to acquire the "Capone Family Secret" trademark and company, located in Cicero, IL. Dominic Capone, reputed grandnephew of Al Capone, and Trademark Trustee Desiree Alonzo, were summoned to Las Vegas where Nico Santucci, CEO and owner of Capo's Restaurants, made them, "an offer they couldn't refuse." Santucci, a Las Vegas celebrity restaurateur, is making a move onto the international scene with the launch of his new Italian Pasta and Specialty Sauces utilizing the Capone family secret recipes. The deal is said to be worth well into six figures with stock and cash options. The recipes have been under wraps for nearly 80 years, and were recently discovered in an undisclosed location.

"We hope to bring some of these incredible specialty sauces and recipes the light they deserve," Santucci said. "The savory marinara recipe may be the best I've ever sampled. In fact, my Capo's restaurant in Las Vegas has adjusted the menu to include the Traditional Red Sauce and Spicy Rustico."

Capo's Restaurants have been a staple on the Las Vegas restaurant scene for years and the brand is often referred to as "The Original Las Vegas Speakeasy." Capo's is known as a celebrity hangout where major headliner acts from the Las Vegas Strip come to relax. For more info check it out at: www.caposfoods.com.

Well, gang, that's about it for this week. I'm outa here!

CONTINUE ON TO...:
>It's The Norm Article Archives
>Las Vegas News - "Heard Around Town"
>Las Vegas Leisure Guide<