Once again, The Strip at the Las Vegas Motor Speedway will be alive with the most powerful cars, and bikes, in America gunning down a shortened quarter-mile track this weekend, as the National Hot Rod Association (NHRA) arrives to possibly crown a champion, or two. The biggest names in professional drag racing - past and present - will be competing in the crucial NHRA Big Tires Nationals. This weekendsí race is the second to last on the 2011 NHRA Full Throttle Drag Racing Series schedule, and the points battle in three of the series' four classes appears to be going right down to the wire. A win or a miscue by any driver, or rider, this weekend, could spell the difference between delight and disaster. All the action gets underway at 10:30 a.m. Friday with the first pro qualifying event.

Jason Line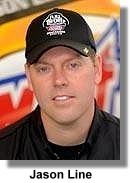 could clinch the NHRA Pro Stock championship, but Top Fuel Dragster, Funny Car and Pro Stock Bike points races still are up for grabs, with at least three drivers or riders still in contention in each category. One of those may just be Larry Dixon, whose 2011 season hasnít gone how he had hoped, but with just two races remaining, he might end up with the ending his Al-Anabi team was working towards--a repeat championship. As the NHRA Full Throttle Drag Racing Series heads to the penultimate race of the season, the 11th annual Big O Tires NHRA Nationals at The Strip, the Al-Anabi pilot sits in striking distance of series leader Antron Brown and his Matco Tools dragster. At this point last season, Dixon had collected 12 wins in 12 final round appearances and had all but locked up the championship. This season, however, has played out a little differently. The dominant car Dixon had last year has transformed into a sleeper this season, coming on strong when it counts during the Full Throttle Countdown to the Championship. After beating points leader, Brown, at the most recent race in the Countdown in Phoenix, Dixon leap-frogged Spencer Massey, and Dixonís Al-Anabi teammate Del Worsham, in the standings, moving up from fourth to second. Between Brown, Massey and Worsham, they won 16 of the 20 races so far this season and Dixon has won two, yet he sits second in the Countdown with two races to go.
Defending event winner and fifth place driver, Tony Schumacher, is still trying to collect his first win of the season, and is hoping that itíll come at the track where he last won. John Force (Funny Car), Greg Anderson (Pro Stock) and LE Tonglet (Pro Stock Motorcycle) are also defending winners of the event that will be telecast on ESPN2HD Sunday, Oct. 30 at 7 p.m. (ET)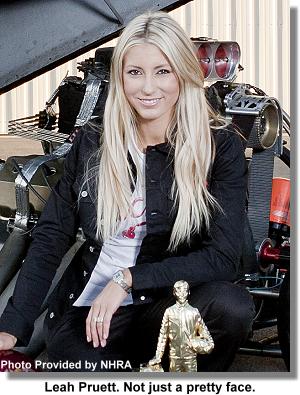 Leah Pruett has one mission heading into the Get Screened America Pro Mod Series season finale at this weekend's Nationals -- keeping the season record of her ProCare Rx turbocharged Ford Mustang perfect. The R2B2 Racing machine is a perfect 2-0 this season, after wins in Indianapolis (with Eric Dillard behind the wheel) and the last Pro Mod race in Charlotte, where Pruett edged teammate Melanie Troxel in the final round.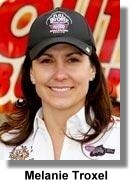 This weekend at The Strip will mark just the fifth race of her Pro Mod career, and Pruett has packed a lot of experience into just a handful of races. Currently third in the Get Screened America Pro Mod Drag Racing Series, Troxel will have to hold off five drivers in the final Pro Mod race of the season to maintain her current ranking. She certainly has the power to do so, as she holds both ends of the Pro Mod national record with a pass of 5.772 seconds at 258.71 mph run in New Jersey.
TOP OF NEXT COLUMN
The more the pressure mounts in the battle for the NHRA Pro Stock Motorcycle championship, the more relaxed Lucas Oil Buell rider, Hector Arana Jr., seems to be. Arana Jr. is second in the Pro Stock Motorcycle points standings entering this weekend's, being only 10 points out of the lead with two races remaining in the Countdown to the Championship. Hector, a 22-year-old rookie, failed to qualify for the first race of the season and won only four rounds in the first eight national events. But since then, Arana Jr. has won three races and been to two other finals.
THIS AND THAT QUICKLY:
Two of the sport's all-time most popular drivers - Don "The Snake" Prudhomme and Tom "The Mongoose" McEwen - will help the NHRA celebrate its 60th birthday at The Strip this weekend. McEwen and Prudhomme will meet race fans and sign autographs in the NHRA tent in the pit area from 2-3 p.m. on Friday, 10-11 a.m. and 1:45-2:30 p.m. on Saturday and 12:30-1 p.m. on Sunday. They also will head the track walk at 9:30 a.m. on Sunday and then serve as grand marshals during opening ceremonies.
The Sun City Anthem Performing Arts Group will present their new fall musical play "The Show Must Go On!" in Freedom Hall at Independence Center, on Nov.3, 4, 5 at 7:00 p.m., and a matinee on Sunday at 2:00 PM. This production is themed to present what they do best - putting on a show! Writer/Director, Julia Dodson, has used some familiar, and not so familiar Broadway tunes, to tell a story of heartache and triumph, surrounding the process of putting on one small show in one small town. Annette Falcone, George Gingerelli, Harriet Wise and Chuck Simmons lead the cast along with an incredible ensemble. The creative team also includes Musical Director, Joe Demideo, and Choreographer, Georgia Bridgen, who along with Dodson have produced four successful musicals in the past years.
Southern Nevada Pug Rescue (SNPR), a non-profit organization, celebrates 10 years of Pug-O-Rama on Saturday, October 29, from 11 a.m. to 3 p.m. at Silver Springs Recreation Center Amphitheater in Henderson, 1951 Silver Springs Parkway. Pug-O-Rama helps SNPR to raise funds for spay, neuter, shots, exams, and other medical necessities that take place when a rescue Pug is brought into the organization.
Don't forget the "Day of the Dead Party," this Friday, October 28, at 6:30 p.m., at the Corner Gallery. Psychic Nancy Barr will be on hand to give readings, while Christine Frausto will hold a potluck Mexican food affair, and the decorated skull auction for the homeless will take place. Singer Kelsie Ann will be on hand to entertain until closing. Frausto would like to see everyone in costume this year, and the entire event is free and open to all. The Corner Gallery is located at 1325 Arizona Street, Boulder City, Nevada 89005. For more information, call Christine at 702-501-9219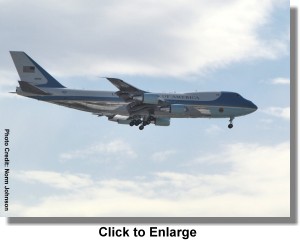 Well, gang, thatís about it for another week. Oh, yeah, take a look at the little airplane on its way for a landing at our village airport. I took it from my back yard. Iím outa here!


Column Continues Below Advertisement


CONTINUE ON TO...:
>It's The Norm Article Archives
>Las Vegas News - "Heard Around Town"
>Las Vegas Leisure Guide<