The Las Vegas Chapter of Speedway Children's Charities will host its ninth annual Cards for Kids Texas Hold'em Poker Tournament on Thursday, Oct. 25, at the Stratosphere Casino Hotel & Tower. Player registration will take place at 6:30 p.m. and the tournament will start at 7:30 p.m.

This reporter has been invited to compete in the event. The last time I personally competed in a Hold'em Poker Tournament, was at the old Binions Horseshoe Casino, downtown, on Dec. 16, 1987. The event was a media invitational for charity, staged by the casino as part of a professional tournament. Oh, yeah. Guess who took home the winner's trophy? That's right. None other than this writer. Can it happen again? Come on over to the Stratosphere and try your hand at playing the game. Race fans, and poker enthusiasts, are invited to play against some of their favorite local celebrities and NHRA Full Throttle Drag Racing Series drivers. The poker tournament will be run in conjunction with the Oct. 25-28 NHRA Big O Tires Nationals at The Strip at Las Vegas Motor Speedway.

Poker professional, Perry Friedman, of Las Vegas will play in the tournament. Friedman has cashed 23 times in the World Series of Poker and was a winner at the 2002 WSOP. "As a poker player in Las Vegas, I enjoy supporting organizations right here in our valley," Friedman said. "I'm proud to support the efforts of Speedway Children's Charities. I encourage others to come out to Cards for Kids and play with me."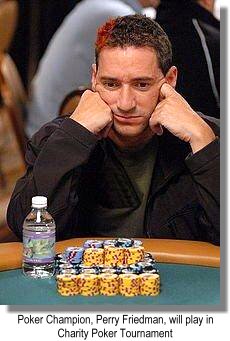 Comedian Kevin Burke, star of the "Defending The Caveman" show at Harrah's Hotel & Casino, also has signed up to play in the tournament. "Speedway Children's Charities does so much for our Las Vegas community. Now it's time for us to give back," Burke said. "I encourage everyone to take time to attend this incredible event and support a great cause."
Local actress D.D., who stars in "Marriage Can Be Murder" at The D Las Vegas Hotel & Casino, will serve as hostess for the tournament. D.D. will be joined by fellow "Marriage Can Be Murder" actor, Eric Post. "Eric and I have lived and performed in Las Vegas for many years and appreciate the work that's done through Speedway Children's Charities," said D.D. "They distribute thousands of dollars to deserving local children's charities with various needs in our community. We would love to see our fans come out and play with us!"
NHRA drivers, who have committed to playing in the tournament so far, include Shawn Langdon, Morgan Lucas and Brandon Bernstein. More are expected as the event date draws near. The tournament is limited to a maximum of 100 players, and participants are urged to register as soon as possible. All players must be at least 21 years of age to compete. The top nine players will receive a percentage of the $5,000 purse. The player who finishes 10th, will receive a free entry into next year's tournament. Buy-in is $250 and players will receive $2,500 in tournament chips. The Stratosphere will provide hors d'oeuvres for the players. All players will receive a commemorative, card for Kids poker chip. Raffle items include: Two entries to the Color Me Rad charity run, a $150 gift card to First Food & Bar in The Palazzo, a $100 dining certificate for the Stratosphere's Top of the World restaurant, a gift certificate for Stratosphere's Sky Jump, John Force Racing limited-edition die-cast cars and collectibles from The Strip at Las Vegas Motor Speedway.
Spectators are welcome to watch the tournament and participate in a live auction for two autographed NHRA helmets. The annual event is sponsored by the Stratosphere Casino Hotel & Tower, Coca-Cola, Nevada Beverage and Budweiser. To register or obtain more information, please contact Speedway Children's Charities Las Vegas director, Paulette Anderson, at (702) 632-8242 or panderson@lvms.com. Making a difference in a child's life is the focus of Speedway Children's Charities. SCC strives to do this in collaboration with the non-profit organizations it supports nationwide. Individually, SCC's local chapters identify the needs of children in their communities, and award grants to organizations that address them. Last December, the Las Vegas Chapter of Speedway Children's Charities granted $260,000 to 46 local children's causes during its annual grant distribution ceremony.
TOP OF NEXT COLUMN
THIS AND THAT QUICKLY:
Batman and Superman each have one. Now, 15-time NHRA Funny Car champion, John Force, also has his own comic book title. "Destination Force," was inspired by the career of one of professional drag racing's most successful and popular drivers. And now, there's a race car of the same name and it will debut in Las Vegas. NHRA Funny Car superstar Ashley Force Hood, her legendary father, John Force, and many other stars will participate in the free NHRA driver autograph session on Fremont Street on Thursday from 5-7 p.m. In addition to meeting the famous father-daughter duo, fans can see the new John Force Destination Force Castrol GTX HIGH MILEAGE Ford Mustang Funny Car that he will race this weekend at the NHRA Big O Tires Nationals at The Strip at Las Vegas Motor Speedway. The comic book will be on sale at the Fremont Street event. Force Hood released her first comic book, Destination Force, at the end of last season, to positive fan feedback.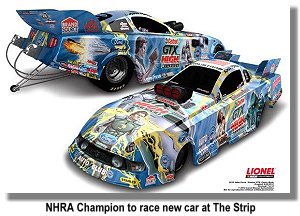 "Finally racing the car in Las Vegas just seemed like the perfect place to debut the Destination Force Funny Car on the race track," Ashley explained. "I have gotten a lot of positive feedback from the first Destination Force comic book, and it was so much fun to work on, we thought it would only make sense to have an actual Destination Force Funny Car. My dad is excited about racing the car, and I think he has a few surprises to go along with the Funny Car." In addition to the Destination Force Funny Car being on display at the NHRA autograph session on Fremont Street, Thursday night, Lionel NASCAR Collectables has produced commemorative hero cards for the Destination Force Funny Car. The collectible hero cards will be available on Thursday night, as well as throughout the week at the NHRA Big O Tires Nationals. Tickets for this weekend's NHRA SummitRacing.com Nationals may be purchased online at www.LVMS.com, at the LVMS ticket office or by calling (702) 644-4444. Follow LVMS on Facebook and Twitter.
---
The gorgeous ladies of FANTASY, the sexy revue at Luxor Hotel & Casino, had a lot to celebrate as they revealed their seductive 2013 "Barely Bejeweled" calendar and celebrated the show's 13th anniversary last week. The stunning showgirls dazzled on the pink carpet in black corsets and nude pumps as they posed while displaying the pages of the new calendar. It was a star-studded event, as Luxor newcomers Jabbawockeez, the hunky Australians of Thunder From Down Under, comedic magician Nathan Burton, pliable dancer Alonzo "Turf" Jones from "America's Got Talent," comedian Murray Sawchuck, and Jeff Timmons, who flew in a day early from Los Angeles for the event, joined the ladies on the pink carpet. Renowned photographer, Oscar Picazo, who shot the calendar, also walked the carpet.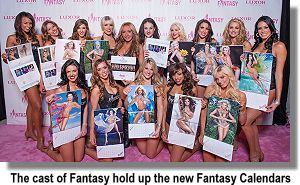 Following a reception at Rice & Company, we made our way to the Atrium Showroom, where everyone enjoyed the debut of four racy new numbers, including, "All Jacked Up" and "We Will Rock You." British bombshell, Tracey, performed her new solo inspired by Jessica Rabbit, and comedian Sean E. Cooper kept us laughing with hilarious new material. Voted "Best Showgirls" in the Las Vegas Review-Journal 2012 "Best of Vegas" poll, FANTASY has shaped itself into one of Las Vegas' leading topless shows. Dynamic lead singer, Lorena Peril, adds an exciting and unforgettable element, with her amazing powerhouse vocals. Great for singles and couples alike, the sexy production showcases 15 high-energy numbers set to a variety of today's top music genres. While the gorgeous dancers lure guests into their wildest fantasies, comic relief Sean E. Cooper keeps audiences on its toes with his spot-on impressions of some of pop culture's most recognizable personalities. FANTASY (fantasyluxor.com) performs nightly at 10:30 p.m. Tickets start at $39, plus taxes and handling fees. Guests must be 18 years of age or older. Tickets can be purchased at the Luxor box office, online at www.luxor.com or by calling 800.557.7428 or 702.262.4400.
---
Legends in Concert, the most acclaimed tribute show in entertainment history, has announced, that after a record-breaking four-year engagement at Harrah's Las Vegas, Caesars Entertainment and Legends have mutually agreed that the tribute spectacular's last performance at the casino hotel will take place Sunday, December 30, 2012. Many shows have come and gone, but the lasting success of the Legends in Concert brand is due in large part to the loyalty and commitment of the Las Vegas community. "It is the unwavering support of the local fans, ticket agents and brokers, concierges, entertainment publications and local and national media, whose consistent support has helped make Legends the longest-running independently owned production show in Las Vegas. We wish everyone at Harrah's Las Vegas well and best of luck in the future including all their current and future entertainment offerings," said Connie Clark, Assistant General Manager of Legends Las Vegas production.

Legends' sensational fall 2012 line-up of tribute artists at Harrah's Las Vegas, including Adele, The Blues Brothers, Whitney Houston, Barry White, Michael Jackson and Elvis, continues its previously announced line-up and schedule, performing at 7 and 9:30 p.m. nightly except Saturdays. Then dust off your Santa hat, beginning November 23, and get ready to trim the tree, because Legends in Concert will once again be bringing the holly jolly spirit to the Las Vegas Strip with its annual holiday extravaganza.

For reservations, call (702) 369-5111. Visit www.harrahslasvegas.com or www.legendsinconcert.com.

Well, gang, that's about it for another week. See ya at the Stratosphere Thursday. I'm outa here!


CONTINUE ON TO...:
>It's The Norm Article Archives
>Las Vegas News - "Heard Around Town"
>Las Vegas Leisure Guide