Tonight is the night (Friday, Oct. 23) you want to be at Bob Kephart's Comedy Stop in the Congo Room at the Sahara Hotel. Not only will you be well entertained by three of the best comedians on the comedy circuit, but you'll be helping out a wonderful charity: The Las Vegas Rescue Mission.
"The Comedy Stop has been in Las Vegas going on 19 years now," Kephart said in announcing the benefit a few weeks ago. "We are a part of this community and, when we have an opportunity to give back, we will always answer the call. And, right now during these economic times, there's a real need for charities like the Las Vegas Rescue Mission. I'm very happy that we can help them in this way."
The Mission, at 480 West Bonanza Road, serves daily hot meals in a beautiful new building that was just dedicated last week. Dinner is served at 5:00 p.m. to anyone who is hungry, with breakfast supplied for overnight guests, and lunch for those who are part of the residential program. Bag lunches are provided for those working off-site. In total, the Mission provides more than 350,000 meals annually.
Headlining this week at the Comedy Stop is Steve Shaffer, a whacky comedian who has been doing stand up for more than 30 years. Appearing with him is the diet queen of comedy, Chrissy Burns, and veteran comic, Patrick O'Donnell.
Shaffer is one of those stand ups who works super clean. "You used to be considered a clean comic if you did like a television appearance... that was working clean. Now if you work cruise ships that is considered super clean. Television is no longer the standard for clean comedy." Shaffer said.
The New York Post said, "Steve Shaffer is vibrantly creative," and the Boston Globe agreed that Steve is a "prodigious talent." Shaffer has appeared on numerous television shows including, "The Tonight Show," "Comic Strip Live," An Evening at the Improv," and "Caroline's Comedy Hour."
Chrissy Burns is making her second stop in the Congo Room and is considered a bright and wonderful story teller. Burns especially likes to regale her audiences with true-to-life dieting, dating and life experiences. Chrissy's outrageously funny road stories can be found in her book, "I Killed-True Stories of the Road from America's Top Comics."
Patrick O'Donnell has been a working stand up comedian for more than 20 years. O'Donnell is a high energy act who spices up his performance with his knack for impressions. Former presidents, movie and television stars could pop up at any time during his performance, as he searches for the humorous side of life.
Tickets for the Special Evening at the Comedy Stop can be purchased only at the main box office of the Sahara Hotel, located at the valet entrance to the hotel. Tickets are priced at $35 plus tax, with a major portion of each ticket going to the Las Vegas Rescue Mission. Call (702)-737-2515.
Does the name Peter Lemongello ring a bell in your memory bank? It sure did mine! For your information, the dapper singer was the first to sell more than One Million albums on television back in the 70s and 80s. Well, he has not been sitting idle all this time, and could very possibly be appearing in our little village in the very near future. That's what a little mouse (the mouse was in a corner of a room when Peter's name cropped up in a conversation recently) whispered to me. God, how I do love my mouse. Anyhow. Lemongello recently appeared in the Florida Atlantic University Performing Arts Center with the world famous Glen Miller band. Now that is high company!
Lemongello has performed in some of the most important venues in the country, including such prestigious event centers as Carnegie Hall, Madison Square Garden, and Lincoln Center for the Performing Arts. For the past five years Peter has had his own entertainment center in Branson, Missouri. More on this when my little mouse returns with the inside scoop.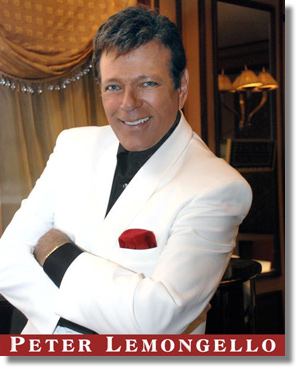 Great news for those who would like to have a career in auto racing. Don Anderson, co-founder and co-owner of the extremely popular U.S. F2000 National Championships in the nineties, announced this week that he is re-establishing the series and has reached an agreement with the Indy Racing League (IRL) to sanction the events. The IRL sanctions the IndyCar series and the Firestone Indy Lights.
The F2000 series is constructed to be an entry-level step for drivers striving to reach the top ranks of open wheel completion. When the league was going strong in the nineties, such racing stars as Indy 500 champions, Dan Wheldon, Buddy Rice and Sam Hornish Jr. were graduates of the series. For further information call 914-723-3900 or e-mail at info@F2000.com.
Popular Las Vegas entertainer (part of the group, Vocal Soup) and "Concert King" of the Philippines, Martin Nievera, returns to the Suncoast Hotel & Casino, in concert, Nov. 13-15. More on Martin as the date nears. But, it is sure to be a SRO crowd, so order your tickets now.
The wonderful 76 trombones plus four will stage its 25th Annual Concert Sunday, Nov. 8, at 2:00 p.m. inside the Artemus Ham Concert Hall on the grounds of UNLV, 4505 S. Maryland Parkway. General admission tickets purchased in advance are $10 and day of concert tickets will be $12.00. For information call 702-895-2787.
The Smothers Brothers, who have been bringing their very special brand of comedy to Las Vegas audiences for more than 40 years, will be performing in The Orleans showroom, Nov. 5-8, with tickets starting at $34.95 plus tax. For more information call (702) 365-7075.
Well, gang, that's it for another week.
I'm outa here!
CONTINUE ON TO...:

>It's The Norm Article Archives
>Las Vegas News - "Heard Around Town"
>Las Vegas Leisure Guide<