Well, gang, the entertainment community of our village pulled together last Sunday afternoon at the South Point Hotel and Casino, to help one of their own fight a gallant battle against leukemia. Michaelina Bellamy, who has been entertaining folks of this town since the late '70s, and has been singing all over the world for most of her life, and who was always one of the first to volunteer her service when she heard someone needed help—be it a veteran, a child, a fellow entertainer, or a charity. She was "Mikie on the Spot."

Mikie needed the help this time, and she got it big time! Domenick Allen, Gary Anderson, John Katsilometes, and this writer, got together, and in about four weeks, put together a galaxy of stars, to entertain for two hours, and to raise some badly needed cash for the Lady of the Day, Michaelina. And, you readers and residents of this great village, showed up and purchased the $25.00 tickets, reached into your pockets or purses and bought her CDs, and many of you just wrote out a check. As of this writing, the Lions HealthFirst Foundation—the Michaelina Fund, had a little over $9,500.00 in the till. We thank you!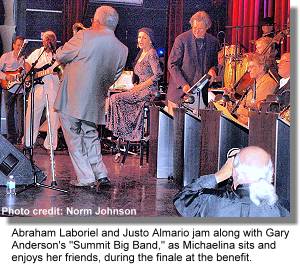 There are so many people to thank, and I just hope I don't leave anyone out. First and foremost, Michael Gaughan for lending us his showroom, stagehands, sound techs, and lights for the afternoon. Damian Costa and Carrie Proffitt-Boyle of the entertainment department, who, when we needed something, it was provided—no pause no delay. And, of course, my two special friends who manned the booth outside the showroom, Nancy Barr and Rachael Tyler.
Hey, and without the fabulous "Summit Big Band" assembled by Anderson, there wouldn't have been any music. Here they are: On SAXOPHONES, Tom Hall, Alex Jackson, Eric Torcaso, Ernie Hensley, Garrett Hypes; TRUMPETS, Tom Ehlen, Greg Van Boven, Eric Sande, Bill King, Lou Gonzales; TROMBONES, Matt Johnson, Curt Miller, Jon Konclow, Sonny Hernandez; PIANO/Assistant Conductor, Vincent Falcone; SYNTHESIZERS: Billy Moran, Uli Geissendoerfer; GUITAR: Mark Speights, BASS, Steve Flora; DRUMS, Gabriel Falcon, Jim Belk; PERCUSSION, Reno Bellamy, and special guests Abraham Laboriel and Justo Almario, who flew up from Los Angeles to be part of the band, and to perform in the jam session during the finale.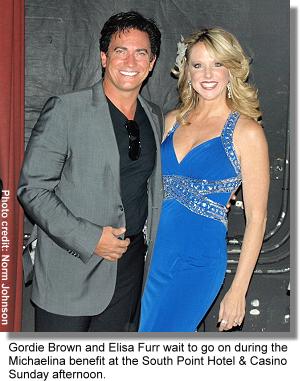 And, last but not least, were the entertainers who gave of their time and energy to make it a success. Without their talent and promise to be there for Mikie, it would not have happened. I'm not going to pick out any single entertainer for applause, I am personally sending out my Standing Ovation to each and every one of the following: Deana Martin, Gordie Brown, Santa Fe and The Fat City Horns, Dennis Bono, Lorraine Hunt-Bono, Elisa Furr, Linda November, Frankie Randall, Artie Schroeck, Rob Garrett, Cayleigh Capaldi, The Great Tomsoni & Co., and the hosts for the afternoon, Katsilometes, Tricia McCrone, Allen and Leigh Zimmerman.
Column Continues Below Advertisement
TOP OF NEXT COLUMN
THIS AND THAT QUICKLY:
Bob Anderson. regarded by critics and peers alike as "the best singing impressionist of all time," and Vince Falcone, former musical director and pianist for Frank Sinatra, have combined their talents to present a fresh new show that will take audiences on a musical journey unequaled by any other entertainer today.
Yep, you read it right! Bob Anderson, in conjunction with the Las Vegas Philharmonic Orchestra, will present his very special show, titled "A Tribute to Frank Sinatra and the Great American Songbook," on the stage of the UNLV's Artemus W. Ham Concert Hall, Saturday evening beginning at 8:00 p.m.
Anderson and Falcone, who also have a personal insight with many of the entertainers they performed with, will delight audiences with a one-of-a-kind musical homage to "Ol' Blue Eyes" and some of his famous friends, while interjecting their own personal stories and special memories of the great entertainers they performed with over the decades. Bob stands alone when it comes to conveying the style, substance and spirit of their era with such skill. In addition to his right on the nose impressions, Anderson is a highly acclaimed singer in his own right, whose own vocals provide uncanny resemblance to the likes of Tony Bennett, Bobby Darin and Ol' Blue Eyes himself.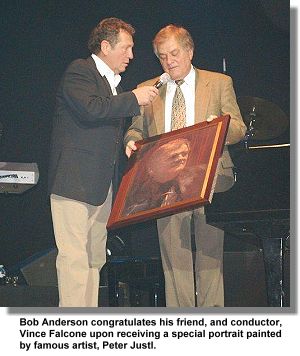 Having earned international acclaim and praise of the show business elite, Anderson's talent speaks for itself. Vince's credentials are equally impressive. He provided musical direction and piano accompaniment for Frank Sinatra for more than 10 years, an experience he chronicled in his book, 'Frankly-Just Between Us: My Life Conducting Frank Sinatra's Music,' released in 2005. Vince has also been the musical director for entertainment legends Tony Bennett, Paul Anka, Sammy Davis Jr., Jack Jones, Robert Goulet, Andy Williams, and Steve Lawrence and Eydie Gorme.
For advance reservations call 702-895-2787. Tickets range from $38.00 to $78.00 plus tax and fees.
ON A PERSONAL NOTE:
The racing fraternity lost a friend, a competitor, a husband and a father last Sunday at the Las Vegas Motor Speedway. Dan Wheldon, (33) was all of the above, and he was a two-time Indy 500 Champion—the ultimate prize as a racer! Wheldon was gunning for a huge prize, once again, in the IRL race, with a special jackpot just for him of $5,000,000.00, if he could go from last place and win the race. On lap 10, he had passed about 10 of the 33 race cars in front of him. On lap 11, his race suddenly ended. We will never know what thoughts went through his mind during those last thousands-of-seconds, as he lost control of his race car. I'm sure of one thing… Dan never thought his life would be taken away. He, like all racers, never would allow that nasty little thought to enter the mind during a race. Before and after, perhaps, yes. But not during! The many interviews told the story if you listened carefully: The experienced drivers and veterans all knew the track was fast, and even voiced that the odds were there would be a lot of crashes. But, not one of them said they would not get in the car and race.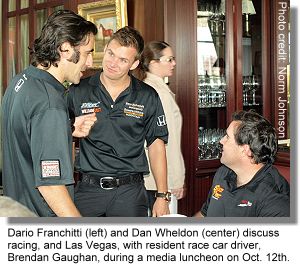 As many of you may know, I began racing when I was about 14, at the old "J.C. Aggie" Agajanian owned dirt track in Gardena, California, and I loved it until I was forced to quit a couple of years ago, because of a simple little device called a defibrillator. I never raced an Indy race car, but had I ever been given the chance, I would've jumped at the opportunity. I have lost some very close friends to race accidents.

My Mom explained it better than I could: Mom took a ride with me one day at the road course at the Las Vegas Speedway, before she passed away at age 87. I took two laps with her in the car—helmet and all. When we came to the pits, and we got out of the car, she looked at me, and my friend, and said: "Now I know why you love it so!"

I know Dan Wheldon "loved it so"…too!

I'm outa here!

CONTINUE ON TO...:
>It's The Norm Article Archives
>Las Vegas News - "Heard Around Town"
>Las Vegas Leisure Guide<