Went to the Suncoast Hotel & Casino last Saturday night to see and listen to the music of Stephen Sondheim, as produced by one of the biggest talents to ever move to Las Vegas, Bill Fayne. Let me tell you right now, my friend, Nancy Barr, had her grandson, Devan, (14) visiting, and we took him along to see this production. Now he's a kid, right? He hardly knew of, or even heard of any of the songs. But, as we were leaving he asked, "Is this what a Broadway play is like? If it is, I want to see more of this stuff…."

And so does the SRO crowd that was at the Suncoast showroom Saturday and Sunday. It was titled, Bill Fayne and Friends: A Celebration of Stephen Sondheim. The musical homage featured some 22 singers, a seven-piece orchestra, performing tunes from Sondheim's canon of shows, including "West Side Story," "Gypsy," "A Funny Thing Happened on The Way to The Forum," "A Little Night Music," "Follies," "Sweeney Todd," "Anyone Can Whistle," "Sunday in the Park with George" and "Passion."

The cast was magnificent, and it would be impossible to pick out any one or two who stood out more than any other. There were two exceptions to that rule, and that was the appearance of Michaelina Bellamy, who is fighting cancer, and who sang beautifully the wonderful, "Somewhere," as she sat on a stool center stage. Michaelina will also perform in the Benefit Concert in her honor, Sunday, Oct. 16, in the showroom at the South Point Hotel & Casino, which starts at 2 p.m. Tickets for the benefit are only $25, with a slew of Las Vegas entertainers scheduled to perform for two-hours. The other standout was Sydney Peca Story, a 14-year-old freshman studying theater at the Las Vegas Academy of Performing Arts, who is an amazing talent.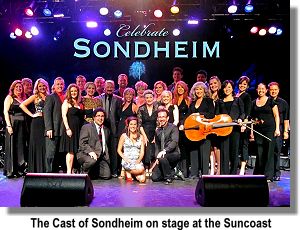 The outstanding cast was made up of many of Las Vegas' best performers, including (alphabetically): James Allen, David Andino, Doug Baker, Natalie Carson, Christie Copeland, Kelly Clinton-Holmes, Vita Corimbi, Lisa Davis, George DeMott, Bill Fayne, Felice Garcia, Mark Giovi, Lydia Gladstone, Jay Joseph, Richel Kompst, Ellen Lawson, Benjamin Loewy, Margaret Menzies, Lisa Smith, Ron Smith, Kara von Aschwege, and Robin Vincent. If I left anyone out, I'm sorry, but I listed according to the program.

In addition to performing, Fayne served as the musical director and creator. Credit also must go to the fantastic staging by Natalie Carson, and the show producer, Ed Mathews, who convinced the entertainment director, Terry Jenkins of the Boyd Group, to give it a chance. I asked Fayne, following the show, if he had any indication or ideas for the future. "I have at least 10 projects I'm working on, and I hope to be able to present them over the next couple of years-here at the Suncoast, or at the new Smith Center," Bill smiled. "This has been my dream and passion ever since I saw my first Broadway play, West Side Story."
THIS AND THAT QUICKLY
Singer-actress Deana Martin will sing the national anthem Saturday, Oct. 15th, prior to the Smith's 350 NASCAR Camping World Truck Series race at Las Vegas Motor Speedway. She is the daughter of legendary singer-actor and Las Vegas Rat Pack member Dean Martin. Driver introductions for the Smith's 350 are set for noon Saturday and the race is scheduled to start at 12:30 p.m.
Column Continues Below Advertisement
TOP OF NEXT COLUMN
Martin made her television debut in 1966, performing on her father's legendary television show, "The Dean Martin Show." A successful nightclub entertainment career soon followed, including appearances at Caesars Palace in Las Vegas and the hallowed Whisky A-Go-Go in Hollywood. In addition to performing on her international concert tour, she is the author of a best-selling book, "Memories Are Made of This," and just recently appeared at the Rampart Hotel & Casino in Las Vegas. Deana will also perform in the Michaelina Bellamy Benefit Concert, Sunday at the South Point Hotel & Casino.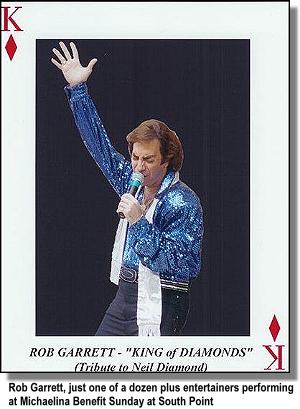 The final race of the season, and the race to determine who will walk away with the championship for the IZOD IndyCar Series, will take place Sunday, Oct. 16th, at 12:45 p.m. The title battle is between two men, Dario Franchitti, who has won the last two titles, and Will Power, who trails by a mere 18 points. Also, making her last appearance as a regular competitor in the IndyCar series will be Danica Patrick, who is moving on to NASCAR in 2012. Tickets for the Oct. 14-16 Smith's 350 NASCAR Camping World Truck Series and the IZOD IndyCar World Championships Presented by Honda weekend, including the fabulous Neon Garage fan experience, may be purchased online at www.LVMS.com or by calling the LVMS ticket office at (702) 644-4444.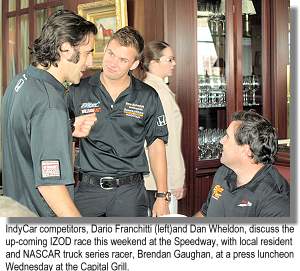 And, in two short weeks, NHRA will visit The Strip at Las Vegas Motor Speedway for the 11th annual Big O Tires NHRA Nationals (Oct. 27-30), the 21st of 22 races in the NHRA Full Throttle Racing Series for 2011, and the fifth of six Countdown to the Championship playoff races. The race will feature competition in all four pro categories: Top Fuel, Funny Car, Pro Stock and Pro Stock Motorcycle. The race will be televised on ESPN2 HD. Defending winners are Tony Schumacher in Top Fuel; John Force in Funny Car; Greg Anderson in Pro Stock; and LE Tonglet in Pro Stock Motorcycle. Tickets are available by calling 800-644-4444 or via the Web at www.lvms.com

Green Girl Music & Arts Festival, a three day festival, will make its stop at Tivoli Village, 302 South Rampart, across from the Suncoast, the evening of October 14th. The festival helps raise awareness about their need to green our environment by reusing, repurposing, reducing and recycling, and at the same time empowering women in the arts. The festival will feature performances by both local and touring female musicians! Scheduled to perform are Megan Marie, Sharon Ludlam, Katy Dorrien, Dangerous Curves, Eryn Woods and Shauna Burns. And, the nice part is it free.

Well, gang, that's about it for another week. See ya at the races, and the benefit. I'm outa here!


CONTINUE ON TO...:
>It's The Norm Article Archives
>Las Vegas News - "Heard Around Town"
>Las Vegas Leisure Guide<