A few days ago, I traveled to the LVH Hotel/Casino (formerly the Hilton), and the Shimmer Cabaret, to watch a master of entertainment do a one-show special. Domenick Allen, whose family are very close friends of this writer, does it all folks. He sings, he plays just about every instrument in the musical genre, and, on this particular evening, the show was dedicated to the early days of Rock'n Roll, with a little mix of today and tomorrow thrown in for good measure. Allen had named the show, "Vinyl…The Classic Rock Experience," and it truly was just that!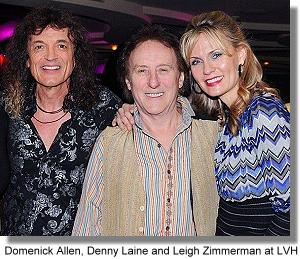 The opening number was a killer: "Fanfare for the Common Man," and was quickly followed by, "Heart Beat of America." With his band in complete sync (considering they only had a half-day of rehearsal before the sound check), they were off and running with a "Tommy" medley." Leigh Zimmerman, a star on her own and Dom's wife, came out of the audience and joined her husband on stage to sing a duet of "Rock Steady," which literally brought the house down. After doing nearly an hour of great songs, it was time to bring out the very special superstar guest of the evening.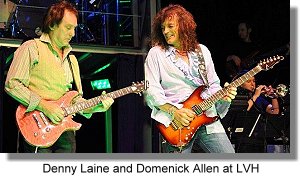 Denny Laine, who was one of the original members of "Moody Blues," and, along with Sir Paul McCartney, helped to form the great group, "Wings." As he walked out on stage from the wings, it was like a living Icon had just descended on the audience (well it really felt like that to me). The two men then went into a series of remembering just a few of the songs made famous: "Band on the Run," "Go Now," "Minor Swing," "I've Just Seen a Face," "Live and Let Die," "Silly Love Songs," "Vinyl Closer," "Let The Good Times Roll," "I Go Crazy," and closing with "Rockestra."
I just have to tell ya, gang, this was truly a very special evening of great music, a fantastic presentation, and a wonderful night of remembering when I was young! Don't miss the next one.
---
Bill Fayne, another personal friend, is a well-known and highly respected name in the musical business, as a director/conductor/arranger/and performer. Bill has lived in Las Vegas for 13 years, and has been a vital part of what, this writer thinks is one of the best entertainment communities in the world! He has made it a passion and a mission in life, to try and provide more musical theater opportunities for both the entertainers, and the audiences. Fayne who has been a close friend, and a musical collaborator with Clint Holmes since the two were in College, is working closely with Andrew Wright and RagTag Entertainment to produce three special musicals. And to accomplish the task, he has teamed with a fund raising web site, to raise $9,500.
"In Las Vegas today, where entertainers are required to pay to perform in showrooms and theaters, it costs $3,000 a night to just 'rent' the venue," Fayne explained. "My goal is to do three performances, of two different shows, featuring 40-plus performers, and a 20-plus piece orchestra. I believe we can sell enough tickets to pay the entertainers, but only if we can guarantee payment of the 'rental' fees. The three nights will cost $9,000."
TOP OF NEXT COLUMN
Fayne believes there is a hunger for this type of production in a city filled with theatrical talent, but, unfortunately, not that much of an opportunity to display the talent today. Bill has done a variety of critically successful shows of this type over the past few years, and wants to provide an affordable alternative to the more expensive Las Vegas shows and touring productions. Bill is aware, that with today's economy, many people can't afford the $100 and upward priced tickets. Your contribution will allow his people to produce these amazing, and entertaining productions, and to price the tickets at a reasonable price.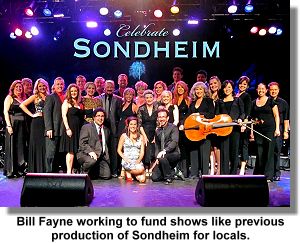 "If you can pass this information on to your friends it would help everyone," Fayne asked. "Without a successful campaign we can't produce the shows. Remember any contribution, small or large will help us reach our goal!" To find out what you get in return for a donation, go to: http://www.indiegogo.com/showstoppers?a=1159710. The group has until Oct. 31st to raise its goal of $9,500.

THIS AND THAT QUICKLY:

Race fans now can have their say in helping the Las Vegas Motor Speedway improve its overall fan experience during the speedway's NASCAR events. The speedway is taking applications from fans, who would like to become "delegates," to the LVMS Fan Forum, a committee that will work with speedway management in bringing ideas from the fans' perspective. Delegates should be current ticket holders for the NASCAR Sprint Cup Series race at LVMS. Once chosen, delegates will be asked to take part in periodic conference calls, and there will be a live forum during the 2013 NASCAR Weekend at the speedway.

"Many of the improvements we've made to the facility over the years have come as a result of feedback from race fans," Chris Powell, president of the speedway, said. "Delegates to the fan forum will be able to make suggestions that will enhance the fan experience even more. In no way will this prevent all race fans from continuing to offer feedback, but having a dedicated group of fans with whom to communicate on a regular basis, will assist us in making the facility better for everyone. We hope to create new fan forums for our NHRA and Bullring fans next year."

Race fans, interested in becoming delegates, must fill out the online questionnaire on the speedway's website, www.lvms.com. Delegates will be chosen from a cross section of fans, including local and out-of-town residents, campers and those who stay in hotels, those who travel to the speedway by both car and mass transportation, or those who need special assistance, as well as fans who visit the Neon Garage.

Great news for those who remember a few years ago when one would go to the speedway in January, and watch NASCAR Sprint Cup teams test new cars for the up-coming season. Well, those days will return in 2013. Las Vegas Motor Speedway has set aside two days to test at the 1.5-mile superspeedway in preparation for the Kobalt Tools 400. NASCAR's announcement last week, that it would allow all NASCAR Sprint Cup racing organizations to have four tests (not including Daytona), prompted speedway officials to open up the dates on the speedway's calendar. NASCAR prohibited testing at tracks hosting Sprint Cup events following the 2008 season. Up until 2008, NASCAR test sessions at LVMS routinely drew 30 drivers or more for the two-day test sessions

"Before the testing ban was implemented, every major race team used Las Vegas as a key test heading into the season," Powell said. "There are a lot of tracks very similar to Las Vegas, so between the favorable January weather, and the amount of data that can be collected by testing here, we hope many of the teams will choose to test in Las Vegas prior to the start of the season."

Tickets for the March 10 Kobalt Tools 400, March 9 Sam's Town 300 NASCAR Nationwide race, and the March 8 Stratosphere Pole Day are on sale now at www.lvms.com, or by calling 1-800-644-4444.

So, gang, now you know the rest of the story. I'm outa here!


CONTINUE ON TO...:
>It's The Norm Article Archives
>Las Vegas News - "Heard Around Town"
>Las Vegas Leisure Guide