On Friday, Oct. 23, Bob Kephart, producer of the popular Comedy Stop in the Congo Room at the Sahara Hotel, will host a fundraiser to benefit the Las Vegas Rescue Mission. Headlining the special night (actually opening on Monday, Oct. 19), will be wacky comedian and impressionist, Steve Shaffer; dieting specialist (not really), Chrissy Burns, and veteran Patrick O'Donnell.
The Las Vegas Rescue Mission, 480 West Bonanza Road, has been feeding, housing and guiding homeless men and women in long-term programs, since 1970, in an effort to return them to society as productive self sufficient individuals. Daily hot meals are served at 5:00 p.m. to anyone who is hungry, with breakfast supplied for overnight guests, and lunch for those who are part of the residential program, including a bag lunch for those working off-site. In total, the Mission provides more than 350,000 meals annually. The monies raised through the Comedy Stop's efforts will be used for the Mission's expanding building program.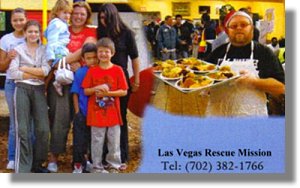 On Thursday, Oct. 15, the Mission will have a ribbon cutting ceremony to celebrate the opening of its new $2.5-million, two story dining and training facility, which is a major part of its present $3.5-million building fund. In 1970 the original Mission was established in a tiny storefront. Today, it has grown to nine buildings, reaching from "D" to "F" streets in downtown Las Vegas. The Mission receives no regular funding from any government source, relying primarily on donations from individuals, churches, businesses and special benefit events.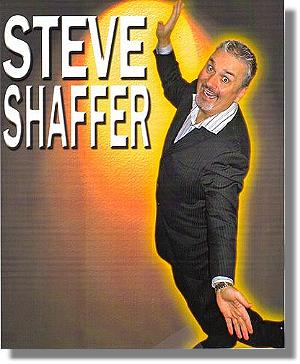 Shaffer has comedic flair for impressions and is a favorite of comedy club audiences everywhere. The New York Post said, "Shaffer is vibrantly creative," and the Boston Globe agreed that Steve is a "prodigious talent. Shaffer has appeared on numerous television shows including, "The Tonight Show," "Comic Strip Live," An Evening at the Improv," and "Caroline's Comedy Hour." Chrissy Burns is making her second stop in the Congo Room and is considered a bright and wonderful story teller. Burns especially likes to regale her audiences with true-to-life dieting, dating and life experiences. Chrissy's outrageously funny road stories can be found in her book, "I Killed—True Stories of the Road from America's Top Comics." Patrick O'Donnell has been a working stand up comedian for more than 20 years. O'Donnell is a high energy act who spices up his performance with his knack for impressions. Former presidents, movie and television stars could pop up at any time during his performance, as he searches for the humorous side of life.
Tickets for the Special Evening at the Comedy Stop can be purchased only at the main box office of the Sahara Hotel, located at the valet entrance to the hotel. Tickets are priced at $35 plus tax, with a major portion of each ticket going to the Las Vegas Rescue Mission. Call (702)-737-2515.
At this time of the year, the younger set (and some adults) are anxiously awaiting the annual opening of Fright Dome at Circus Circus. Well, gang, the wait is over. The Fright Dome opened last Friday evening and is already filling up with attendees. It's not just the little ones that seem to get excited, but the kid in all of us appears to come out as Halloween approaches. And, under very strict controls, where better to get scared out of your wits, but in The Adventuredome at Circus Circus.
This year, Lionsgate and Twisted Pictures have created two new haunted houses themed after the legendary "SAW" horror franchise. Handcrafted replicas of the "games" set by Jigsaw in the popular saga will be among the many things you can expect to experience.
Created from the mind of Jason Egan, Fright Dome has been horrifying the masses since 2002. Dark and fog-filled, Fright Dome sets a chilling atmosphere with roaming characters that are sure to scare one right out of….hummmm, their pants! Adventuredome encompasses five acres of space, completely redesigned for this special adventure. Just keep your eyes open and be forewarned: watch out for falling ghosts and things that go "Boo" in the night!
Barry Manilow, who opened at the Hilton Hotel on Paradise Road in February, 2002, has made it official. He will be leaving the Hilton Showroom on Dec. 30, and will not return. Manilow had a great run, performing more than 300 shows before an estimated audience of 450,000. If you want to catch him before he leaves, call 702-732-5755 for remaining dates and reservations.
Another one of my favorites (gosh, I sure have a bunch of favorites, don't I??) will be at the Suncoast Hotel & Casino, Oct 30-Nov. 1. Of course I speak of The Scintas: Joey, Frankie, Chrissi and Peter O'Donnell. They've been touring the past few months and, of course, they always return to their adopted "hometown," following a tour.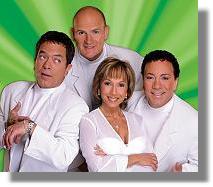 I remember when they first arrived in Las Vegas as a young group of talented (but fairly unknown in Las Vegas) entertainers. Their first gig was in the lounge at the Hilton Hotel, where word quickly spread through our little village that a very talented new group was performing there. This reporter was one of the first to spot the talent and interviewed them for a national magazine. Within a year, The Scintas were the "Toast of the Town" (they had earned it too). The next move was into the showroom at the Rio Hotel & Casino, where they stayed for a number of years.
I tell you the above to letcha know that when you go to the Suncoast to see and listen to this fabulous group, you are seeing years of honing (which began in their real hometown of Buffalo). Nothing happens overnight anymore! If you plan on going please, do yourself a favor, call now to make sure you have a ticket. Prices start at $29.95.
Well, gang, that's it for another week.
I'm outa here!

CONTINUE ON TO...:

>It's The Norm Article Archives
>Las Vegas News - "Heard Around Town"
>Las Vegas Leisure Guide<