Ba-Da-Bing is like no other show in town. Its been around for a while and has grown to become a very well produced show for all ages. I liked it! Went to see it a few weeks ago at the Orleans Hotel & Casino and came away impressed with not only the show but also the dinner!
That's right gang this is a true interactive musical dinner theatre inside Gustav Mauler's fabulous Sazio's Restaurant at Michael Gaughan's beautiful and expanding hotel.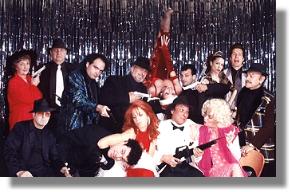 Packed with lots of comedy, some great singing and lots of testosterone you (as a guest) became a part of the entire evening. The Goombas and gangsters are everywhere and they carry some big guns. It's sorta weird to be dining on a fine three course meal while a murder takes place right before your eyes, but you realize it's not for real so you continue to eat: at least I did. This gives adults and children alike a chance to mix it up with the Ba-Da-Bing cast.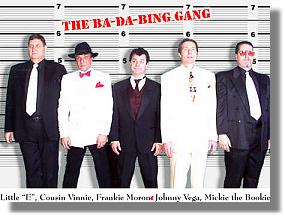 It all takes place at the social event of the year, a surprise birthday party for the Don, otherwise known as Mister Big. There are lots of surprises in store for the guests as well. This is where just about anything can happen and usually does. If you go to the show say Thursday evening and come back Sunday night you will not be seeing the same thing. It changes from night to night and from minute to minute. That's what's so neat about interactive theatre: It's scripted but each actor is allowed to ad-lib. And, they do! The fun is all in the Family, the Spaghetti Family, the Antipasto Family, the Pepperoni Family and so on (Our table was the Pizza Family and I quickly became the Don, which was okay by me).
It's truly a fun evening gang and I recommend it to everyone. Dinner show times are 7:30 pm Thursday through Monday. Doors open at 7 pm. It's the perfect show, incidentally, for private parties, etc. For further information call (702) 257-0297.
Another fantastic evening was spent in the Le Bistro Theater at the Riviera Hotel, where we discovered a wonderful talent. Ray Brown, Jr., son of the legendary Ella Fitzgerald and renowned jazz musician Ray Brown, proves that the limb never falls to far from the tree. You can tell his mother and father's music influenced this man, when you hear him sing Lights of Broadway or On the Dock of the Bay. But then he throws a curve at you by singing a country western song quickly followed by a jazz version of Misty. His Charlie Brown is outa sight and he takes you back in time, believe me, when he does some great scat at the end. A 6-piece band and two beautiful backup singers accompany him.
Following the show we had the chance to talk briefly with this new addition to the musical world of Las Vegas. "Because of my roots," Brown said, "people always assume I sing jazz or play jazz. That's what they ask when they meet me for the first time. People are surprised when I sing country or rock'n roll."
Showtimes for the Ray Brown, Jr., musical trip through time are 10 pm., Tuesday through Saturday. Call the Riviera box office for information at (702) 794-9433.
THIS AND THAT QUICKLY: While at the Riviera let me remind you that a very rare event will be taking place at the hotel on Oct. 11--an outdoor concert presented by the hotel in conjunction with Dr. Pepper (which is honestly my favorite soda pop) called Country Thunder starring Michael Montgomery and Lorrie Morgan with special guest host Michael Peterson. It's been over 20 years since the hotel staged an outdoor concert and at that time it was held in the pool area. The hotel staged a couple concerts and then suddenly they disappeared. Personally I love outdoor concerts... Opening Monday at the Comedy Stop at the Tropicana is Carl Banks along with Christine Steadman and Jeff Pirrami... This Saturday and Sunday at the Stardust, if you're into polka music and dancing, you can get your fill as Polkapalooza takes place featuring 13-time Grammy winner Jimmy Sturr & His Orchestra. It's in the Stardust Ballroom with a ticket price of $15... Engelbert Humperdinck takes over the showroom at The Orleans Hotel Oct. 9-12, with tickets priced from $39.95 and an 8 pm. showtime it should be SRO...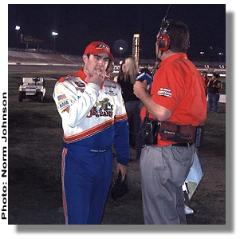 And let me congratulate Brendan Gaughan on his outstanding victory at the Las Vegas Motor Speedway in his Dodge #62 Truck. I talked with him just prior to the start of the race and told him he would win and he smiled. Darn if he didn't go out there and prove me right. How about that... And, a wonderful thing happened prior to the start of the race. The crowd (estimated to be nearly 70,000 plus) and a national television audience got to hear Ms. Patricia Welch sing the National Anthem. I've heard it sung by some of the best, but she blew me away as she did the mass of people who gave her a well-deserved screaming ovation. Well-done Patricia & Gang.

That's it for another week... I'm outa here!

CONTINUE ON TO...:
>It's The Norm Article Archives
>LVLG "Heard Around Town"
>Las Vegas Leisure Guide