Went to see and listen to some fabulous music as presented by Vocal Soup, last weekend at the Suncoast Hotel & Casino. If you don't know by now, the group is comprised of four wonderful people, who just happen to like each other and who can actually sing: Clint Holmes, Susan Anton, Domenick Allen, and Martin Nievera.
First, I watched and listened to them sing the National Anthem for the NASCAR Camping World Truck series Las Vegas 350 race at the Las Vegas Motor Speedway, Saturday evening. Oh, yeah, Johnny Sauter, driving a Chevrolet truck for ThorSports Club, won the race (his first) and now leads in Rookie of the Year points and is fourth in championship points.
There is very little wasted time with chit-chat with Vocal Soup. They start right off singing and leave singing. The first musical number by the quartet is "If Not Now, When," quickly followed by the groups theme song, "Vocal Soup" and "Sharp Dressed Man." There is no ego with this group (they all know they're stars and do not have to prove anything to anyone), so it's not surprising that during the 90 glorious minutes they are on stage, each takes a solo spot for a couple of songs.
Nievera is the first to take a solo spot and the Philippine Super Star hits the mark with "Be My Lady," "Forever" and "This is The Moment." All four return to the stage for a medley of love songs. Then it's time for my buddy to be introduced: Vince Falcone, the "Conductor to the Stars," who conducted for "The Man," Francis Albert Sinatra, for 10 years.
The four singers all loved the music of the late, great singer, and had asked Falcone to create a special 25 minute arrangement of Sinatra songs. Vinnie (I can call him that freely) opened with a fantastic piano solo of, "Witchcraft," that set the tone for the next 22 minutes. He explained the story behind the next song he would, not only play, but actually sing the words to. I've known Vinnie for a number of years, have been to parties, etc., and never heard him sing. I've heard his beautiful wife, Annette, sing, but never Vince. Joe Cocuzzo, who was a drummer for Sinatra, wrote the lyrics and asked Falcone to create the music. It all came about during an engagement at Caesars Palace, when the marquee read "He's Here!" The song titled, "The Singer" is dedicated to "Old Blue Eyes." And, guess what, Vince Falcone can sing! It's a beautiful song. Some of the other songs were: "Fly Me To The Moon,"(Martin) "There Used To Be a Ballpark,"(Clint) "Someone To Watch Over Me"(Susan) and "Come Rain or Come Shine,"(Domenick).
Ms. Anton's solo consisted of "She Works Hard for the Money," "There's Hope" and "What The World Needs Now," and she was wonderful. Domenick performed "Cold as Ice," "Urgent" and "The House is Rocking," and it certainly was during his solo spot. Clint, with Bill Fayne at the keyboards, did a terrific "On Broadway," and "West Side Story," medley including, "Maria" and "Somewhere," for a very appreciative audience.
Over all, this was one fantastic, fabulous, beautiful presentation by four very talented and equally beautiful people. I can't wait for their next engagement.
---
Took in the new edition of the hit revue, "Peepshow" at Planet Hollywood, the other evening. It now has two new stars, Aubrey O'Day of MTV fame, and Holly Madison of the hit reality TV show, "The Girls Next Door." The premise of the show has changed very little from when it opened, and I gave it a rousing review last April. The talent this time around, as previously, is top drawer.
Ms. O'Day can definitely sing a song and Ms. Madison is definitely a beauty to watch. The two ladies appear to be actually having fun during the performance. The entire cast, from the muscle guy who climbs a rope after soaking in a bathtub, to the dancers, are all at the top of their game. The choreography, by director Jerry Mitchell, is of course first caliber. I enjoyed this latest version of "Peepshow," and I'm sure you will too.
Producer Bob Kephart has booked three very diverse stand up comedians for the Comedy Stop, in the Congo Room at the Sahara Hotel & Casino, beginning Monday, Oct. 5 through Sunday, Oct. 11. Ruben Paul, a star on the rise, will share the stage with Canadian sitcom mockumentarian, Jon Dore, and veteran Al Romas.
Ruben Paul is one of the most unique and versatile comedians working today. His irrepressible energy, quick wit and vivid story telling take audiences on a hilarious ride from the moment he hits the stage. Paul was awarded one of the "Best of the Fest Comics," at HBO's prestigious U.S., Comedy Arts Festival in Aspen, Colorado. Ruben has toured extensively with Jamie Foxx, George Lopez and the late, great music legend, Barry White. Selected as one of 10 comics to watch by Variety in July 2009, Jon Dore is at last on the fast track to stardom. With the mockumentary becoming a predominant comedic subgenre from NBC's "The Office" to Universal's "Bruno," Canadian comedian Dore put his own spin on the format. "The Jon Dore Television Show," ran for two seasons on Canada's Comedy Network, and was given a stateside run this past August. Seasoned comedian, Al Romas, is at the top of his game, having cut his teeth in the open-mic circuit of Tidewater, Virginia, and New York. Romas worked all the clubs in Norfolk and Virginia Beach, honing his skill until he got a chance to perform for real in New York. Al has never looked back, and that was nearly 20 years ago. He has appeared on ESPN's Awards show, and has opened for Jerry Seinfeld and Dennis Miller among others. Romas is a regular at both the Comedy Stop in Atlantic City and Las Vegas.
Showtime for the Comedy Stop in the Congo Room is 9 p.m. nightly. Tickets are priced from $24.95 plus tax and fees, with a special ticket for Nevada residents (with Nevada drivers license) of $19.95 plus tax and fees. For information call (702) 737-2515.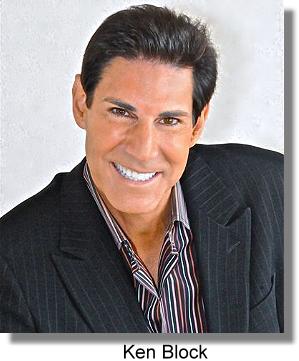 Comedian/impressionist, Ken Block, presented a showcase the other evening at the Hilton Hotel before an invitation only crowd of friends, booking agents, media and other entertainers. Block, to be honest, started out a wee bit slow, but after about 15 minutes hit his stride, and brought in a winning performance. I thought his Muhammad Ali and Howard Cosell bit was very good. When he did a salute to the Presidents of the United States, starting with Jack Kennedy and concluding with George W. Bush, I believed Ken had hit a homerun. But, I have to say, that when he closed out the show with a wonderful impression of George Burns, well… all I can say is "a job well done!"
Well, gang, that's about it for this week.
I'm outa here!

CONTINUE ON TO...:

>It's The Norm Article Archives
>Las Vegas News - "Heard Around Town"
>Las Vegas Leisure Guide<