In her first Las Vegas appearance in more than a decade, legendary entertainer Mitzi Gaynor will share personal stories, moving memories and behind-the-scenes anecdotes from her life and remarkable show business career at The Orleans Showroom, October 14-16, each evening at 8 p.m.
The Emmy-winning and Golden Globe-nominated star of classic musicals "South Pacific," "Les Girls," "Anything Goes" and "There's No Business Like Show Business" will appear in "Razzle Dazzle: My Life Behind the Sequins," a 90-minute musical memoir with stories, songs and video footage culled from her six-decade television, concert and film career. In 2010 she won an Emmy for her performance in the PBS musical documentary, "Mitzi Gaynor: Razzle Dazzle! The Special Years."

The Orleans appearance is a homecoming for Gaynor, who premiered as a Las Vegas headliner in 1961, and continued to perform in showrooms on the Strip for several decades, appearing with such stars as Frank Sinatra, Dean Martin and Sammy Davis, Jr. "I am over the moon to be coming home to Las Vegas!" said Gaynor. Showtime is 8 p.m. Tickets are available starting from $49.95, plus tax and convenience fees, and can be purchased at any Coast Casinos Box Office, by calling 702.365.7075 or visiting www.orleanscasino.com.
Las Vegas has always been known for coming to the aid of people deeply in need. On Sunday, October 16, the entertainment community will unite at the South Point Hotel & Casino to help a fellow entertainer. With the assistance of the Las Vegas Lions HealthFirst Foundation, a benefit will be held to help with medical expenses for Michaelina Bellamy, beginning at 2 p.m. and lasting for two hours.
Bellamy was one of the first to volunteer whenever the call went out that performers were needed for a benefit. Now, it's Michaelina who needs the help.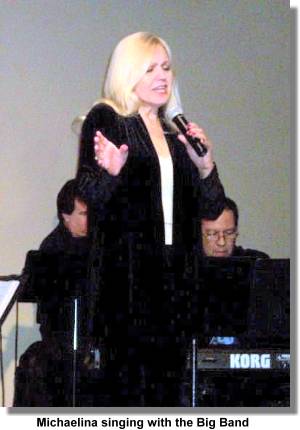 In 2010, she started feeling ill. Like many other entertainers, Michaelina had no insurance, so she put off seeking medical advice. Finally Michaelina saw a doctor, who sent her to a specialist, where she learned that she was a mighty sick lady. Bellamy was informed that she had leukemia, and needed immediate care.
Without insurance Bellamy found herself in a serious situation. However, as an Air Force veteran, she was eventually declared eligible for hospital care. A doctor, who deals with the disease, volunteered his service.
For the past eight months, Michaelina has been in and out of San Martin Hospital, 8280 W. Warm Springs Rd, where she has been under intensive treatments. Michaelina has been told that she will soon be transferred to a hospital in Seattle, Washington, where a bone marrow transplant will take place.
A cast, consisting of the finest musicians and entertainers in Las Vegas, has signed on to perform at the afternoon benefit. Emmy-winner, Gary Anderson, has assembled an 18-piece orchestra to accompany the performers. Conductor to the Stars, Vince Falcone, will be at the podium, as Deana Martin, daughter of the late, great Dean Martin, performs two songs. Other entertainers confirmed, as of this writing, are Gordie Brown, Santa Fe & The Fat City Horns, Dennis Bono & Lorraine Hunt Bono, Rob Garrett, Elisa Furr, Linda November and Artie Schroeck. Co-hosting the event will be Las Vegas Sun columnist and TV host, John Katsilometes, and Domenick Allen & Leigh Zimmerman.
Michaelina Bellamy was an "Airman of Note," as a featured singer with the famous United States Air Force Jazz Band. She was a principal singer in the "Folies Bergere" at the Tropicana Hotel and Resort, and toured the world with such stars as Engelbert Humperdinck and Wayne Newton.
Tickets for this benefit are priced at $25.00, and will be on sale at the South Point Hotel & Casino, beginning October 1. The Lions Health First Foundation is one of the sponsors, so your donation will be tax deductible. For purchase please call the box office at 702-797-8055.
THIS AND THAT QUICKLY:
The 7th Annual Las Vegas Ride for Kids, a motorcycle road ride benefiting the Pediatric Brain Tumor Foundation, will be held this Sunday, October 2nd. Registration, at the Las Vegas Motor Speedway, is from 8 to 9:45 a.m., and costs $35 per bike. The ride begins at 10 a.m. sharp, come rain or shine, with riders rolling south on I-215 to Town Square for lunch (included in the $35 registration fee) and a Celebration of Life ceremony. To date, Las Vegas Ride for Kids has raised more than $350,000 for the Pediatric Brain Tumor Foundation. For more information, call Dave Carter at Carter Powersports, (702) 795-2000, or e-mail him at davec@ carterpowersports.com, or log on to www.lvrideforkids.org.
The Pediatric Brain Tumor Foundation® (PBTF) is a 501(c)(3) nonprofit charitable organization that seeks to find the cause of, and cure for childhood brain tumors by supporting medical research, increase public awareness about the severity and prevalence of childhood brain tumors, aid in the early detection and treatment of childhood brain tumors, support a national database on all primary brain tumors, and provide educational and emotional support for children and families affected by this often life- threatening disease.
The Veterans Reporter Show is now broadcasting on VegasTV KTUD Cable 14, every Friday morning at 2:30 a.m. It began airing Sept. 16. It is hosted and produced by Chuck N. Baker, founder and managing editor of the monthly Veterans Reporter newspaper and the host/producer of the Veterans Reporter Radio Show on KLAV-AM. He is a Vietnam veteran and a recipient of the Purple Heart.
The radio show, which consists of news reports and interviews, will be videotaped and edited at the radio station, and used as the anchor studio for the TV version. "But the TV version will be much more than that," Baker said. "The TV show will also include exclusive video reports of veterans' events in Nevada and around the country. " Baker's reporting duties often require him to travel to various veterans events in other cities and states, and when possible, those activities will also be video-taped and featured on the show.
The gang of Presidents, which comprises the entire membership of a fun club called, F.I.O.R.E., assembles once a month at the Italian American Club on east Sahara Blvd., to do one thing — have fun, eat, and have more fun. However, earlier this month the group allowed the Ladies of F.I.O.R.E. to attend (this happens about four times a year), and of course it was still fun—but a wee bit more serious (if you know what I mean)?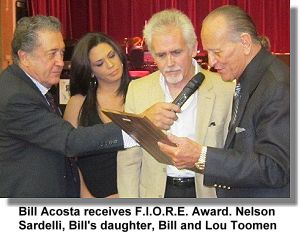 Nelson Sardelli, one of the Presidents (well, gang, he sorta founded it), presented some dynamite looking plaques to a few deserving members: Bill Acosta, Peter Anthony, Artie Schroeck, Babe Pier, Aldo Natoli and Esther Lynn. These awards were just a token for the many laughs, music and the written word the honorees bestowed on the club over the years. The next gathering of this fun group will be its annual Halloween Party on Saturday, Oct. 22nd.
Last, but not the least, Nancy Barr will be speaking at the Corner Galley, 1325 Arizona St. Boulder City, this Thursday, Oct. 6th at 6:30 p.m. Barr will talk about her experiences as a psychic, esoteric mysteries, about the Asian art of healing. The seminar will be free to the public as part of the Corner Gallery First Thursday event. Barr will be available for psychic readings following the event.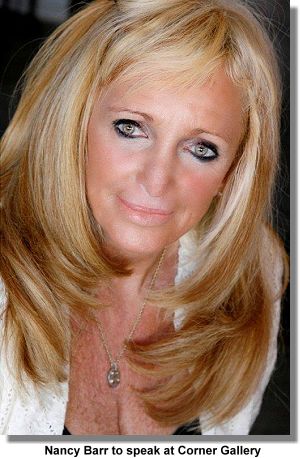 Well, gang, that is really it for this week. I'm outa here!




CONTINUE ON TO...:

>It's The Norm Article Archives

>Las Vegas News - "Heard Around Town"
>Las Vegas Leisure Guide<